The OpenShot video editor changes the aspect ratio, crops, trims, snaps, rotates, cuts, and adjusts your videos. Yes, this open-source software offers hundreds of properties and features everyone is talking about. In fact, it is being labeled as an award-winning software for its beautiful attributes. So, if you want to get rid of the unwanted parts of your video, why not use this talk-a-about tool, right? Besides, it is accessible with Chrome OS, macOS, Linux, and Windows, so it will be pretty easy for you to obtain it.
However, those who experienced this tool know that doing tasks would be cumbersome, showing uneasy procedures. In addition, some reports indicate that others had experienced glitches when they tried crop video in OpenShot, especially when it comes to importing files. Fortunately, this article will further make you realize how to crop your videos conveniently, effectively, and quickly.
Part 1. Detailed Steps on How to Crop Videos in OpenShot
As mentioned previously, working with OpenShot might be burdensome if you don't know how to use it. And so for this reason, we will give you the detailed steps below on how to crop video on OpenShot, which in the first place, is the very reason for the post. So without further adieu, let's get started!
Step 1Installation
First and foremost, download to install the software on your device. Remember that you must be vigilant for any alerts when doing this because this software will make you install it at your own risk.
Step 2Import the File
Once installed, get ready to import your file. To do so, simply click the Plus green icon, along with the ribbons at the top. Then once the file is in, right-click on your mouse, and choose to Add to Timeline. It brings your video to crop in OpneShot's timeline interface, ready to customize.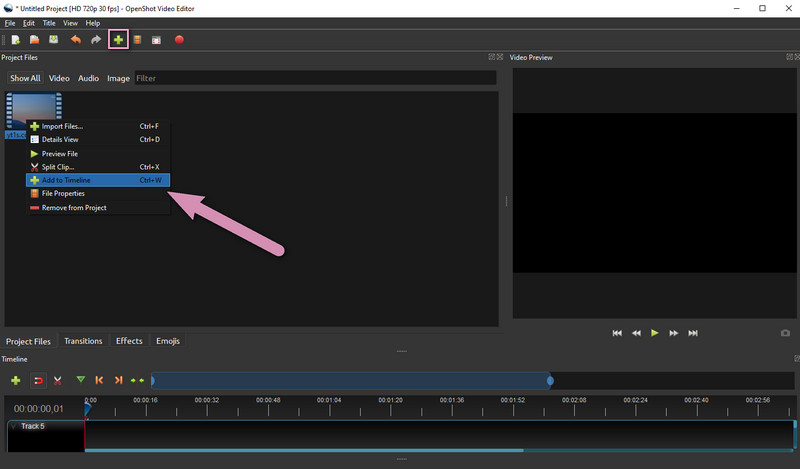 Step 3Begin Cropping
Right-click the video on the track portion to see the setting properties and choose Properties. The options will be shown on the left side of the interface. Scroll until you finally reach the Crop bar. Freely adjust the X, Y, Height, and Width to meet your target cut. For the ID portion, where you can adjust Location X and Y for the position of your kept frames.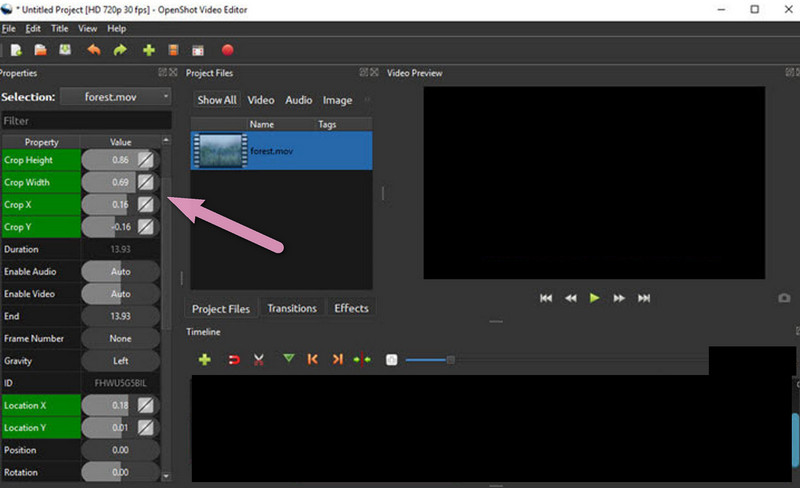 Step 4Export Your Cropped Video
Finally, save your video by clicking the Red Circle. Hit the Export Video button on the popped-up window and wait patiently until the export procedure finishes. Check then your local folder for the cropped video with OpenShot.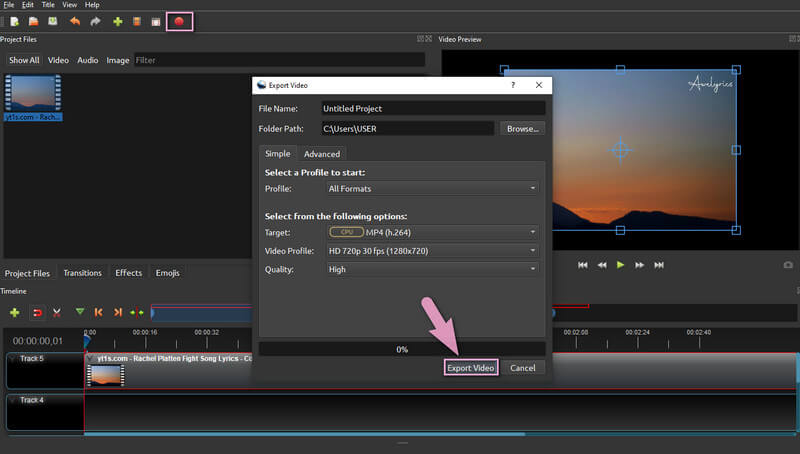 Part 2. The Fastest and Efficient Way to Crop Videos
If you want to have a better experience in cropping videos, try the most powerful AVAide Video Converter. We are very much confident that you will indeed have a better one, for this tool, just like the OpenShot, offers thousands of magnificent features and properties that will leave you in awe. One of its special emblems is its ultrafast technology, which shows its ability not only in converting videos but also in applying the adjustments done in your file. Imagine producing outcomes of your edited videos in just a minute!
What's more, the AVAide Video Converter, unlike the OpenShot, crops the video in very simple steps using its very facile interface. Not to mention the enhancements you can do to your video while cropping, rotating, trimming, cutting. In addition, this software's enhancing tools can even remove the noise and the shaking of your videos while optimizing the brightness and resolution! And so, to prove this, bring yourself on reading the detailed guidelines below in obtaining cropped and edited videos in an instant!
AVAide Video Converter - Crops and Converts Your Videos Awesomely!
It's the number 1 video converter and editing tool in 2021.
It supports around 400 various video and audio formats.
The world's user-friendly interface.
Can create movies, 3Ds, GIFs, video collages easily.
It comes with hardware and acceleration technologies.
With the most powerful toolbox, where you can trim, crop, rotate, edit media data, correct color, merge, reverse, enhance, control the speed, and boost the volume of your videos.
How to Crop Videos With AVAide Video Converter
Step 1Download and Install
First, acquire the software by installing it form clicking the download buttons available above. You will notice that the installation of this software will just take a minute. Then, once installed, launch it, and let's start the better way on how to crop video besides OpenShot.
Step 2Drop the Files
Start adding the files on the main interface. Simply drag the files to your computer, then drop them at the center. Also, you can click the Add Files button and choose between Add Files or Add Folder.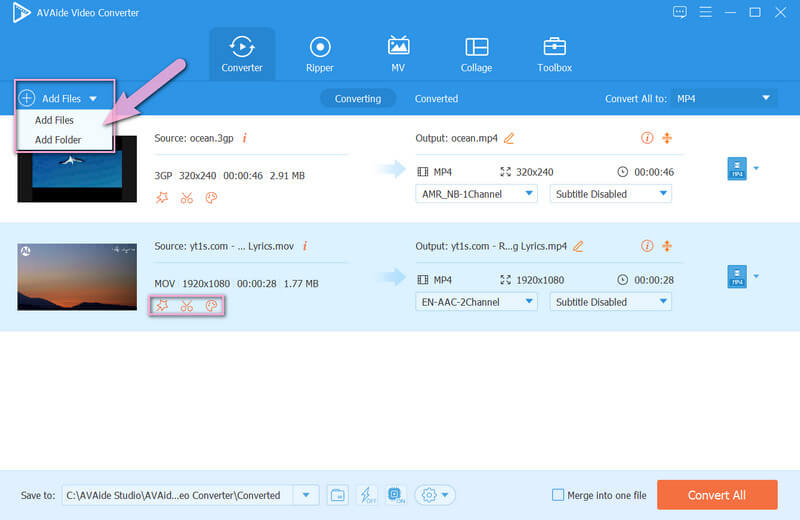 Step 3Crop the Videos
Now let us start adjusting the videos. Hit the Star icon to reach the cropping window. On that window, go to Crop Area and start changing the height and the width. Otherwise, you can get on the cropping bar and manually crop the video on your preference. Click OK once you get your target angle.
Note: This time, besides cropping video, open to shot Video Enhancer. How? Just click the icon next to the Scissors. Then, tick among the enhancer options you would like to use. Hit Preview to check how the changes will impact your video, and then the Apply to All if you want all your uploaded files to acquire the changes, then click Save.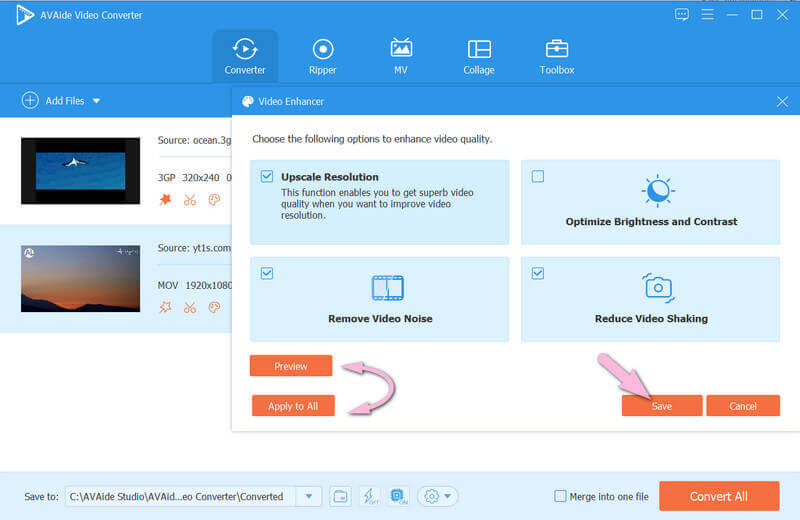 Step 4Save the Files
Finally, you can save your edited files. Hence, you might want to choose a location to keep the files. If so, click the Arrow tab from the Save To portion, and choose to Browse and Select Folder. Otherwise, hit the Convert All button, and check the folder after a short while. And that's the faster and simpler way to crop video besides OpenShot.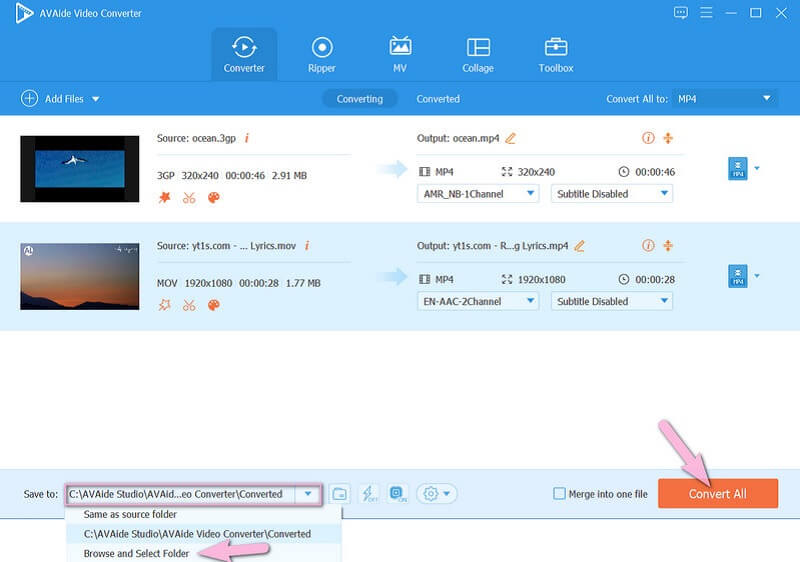 Part 3. FAQs Regarding OpenShot and Video Cropping
Does the OpenShot Video Editor offers free service?
Yes. The OpenShot is free software and can be used unlimitedly.
Will my video contain a watermark after cropping using OpenShot Video Editor?
No. This software doesn't have any watermarks. Hence, if you want to give a little spice to your video via a watermark, you can use the AVAide Video Converter. This tool will allow you to create personalized watermarks as another option for none.
Why doesn't my OpenShot Video Editor have the crop option?
The OpenShot crop video feature may sometimes be missing from the other versions or perhaps from errors or bugs. If that's the case, you have to ensure you acquired the tool's V.2.4.2.
Conclusion
To conclude, the OpenShot Video Editor is a wonderful and versatile tool. You can crop videos in OpenShot easily. Furthermore, it is an excellent tool to have, the fact that its a freeware. Hence, after reading this article, you should know by now that the AVAide Video Converter is elite. It is a better choice if after the performance, simple navigation, and versatility.
Your complete video toolbox that supports 350+ formats for conversion in lossless quality.