To crop videos in After Effects, you must have the skills to do so. Well, this program of Adobe is made as a digital motion graphics, compositing application, and visual effects. It is used in film making, post-production, television production, and video games. Meaning to say, it is not strictly an editing tool. After all, Adobe has made the Premiere Pro with that in line. Hence, you can still crop and trim your videos using this software but expect it with a bit of challenge. Luckily, this article will teach you how to do it the easiest way possible. And so, without further adieu, let's resize in After Effects.
Part 1. Guidelines on How to Crop a Video in After Effects
As mentioned previously, the After Effects would be challenging to use, especially for beginners, not until you finish reading this article. First and foremost, we conclude that before you hit this post, you have successfully and adequately installed Adobe After Effects on your device. And so, let's get started by looking at the steps on how to crop a video in Adobe After Effects.
Step 1Launch the software and start uploading the video there. To do so, click on the New Project, then upload the file from your storage by hitting the New Composition Footage.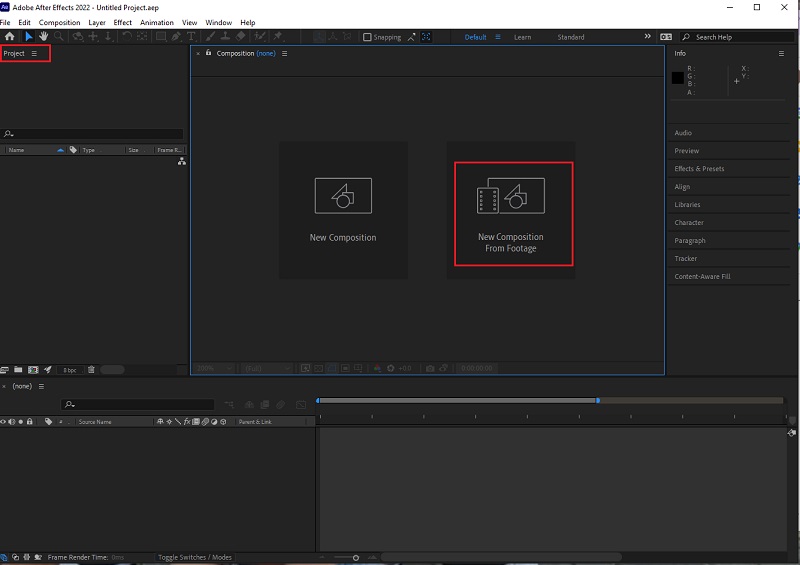 Step 2Once the video is in the interface, go to click the Magnifying tab and zoom out the video to 50%. Then, go and click the Grid icon and click the Proportional Grid.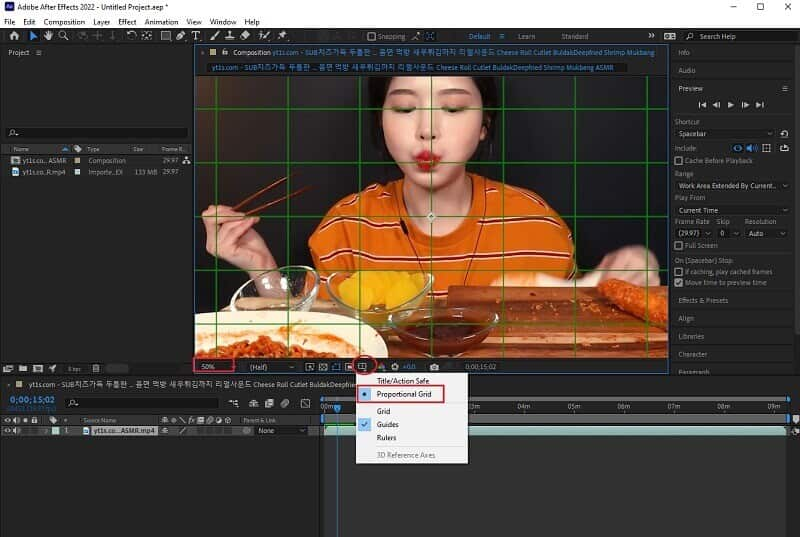 Step 3Go and hit the Square icon beside the Pencil icon at the top. We will use this shape to crop the video part that you want to keep. Once cut, unclick the Proportional Grid, and magnify the video to 100%. Subsequently, you may check the pixel aspect ratio correction in the After Effects going through on the video before saving your project.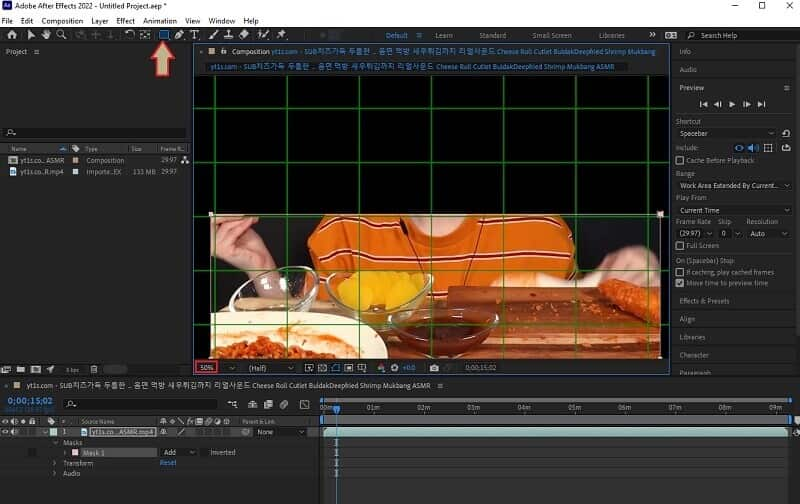 Step 4Save the newly cropped video by going to File, Export, and click Add to Render Queue . Then, at the bottom of the interface, check on the Render Settings to make sure the output is high quality. Subsequently, hit the Output To portion, and choose a folder from your device where you want to keep it.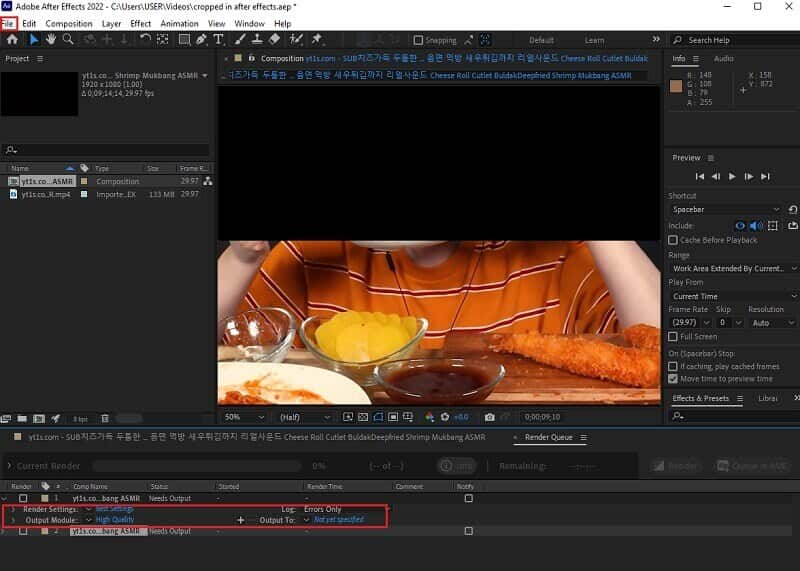 Part 2. How to Crop Video in a Much Easier Way
You should know by now how the After Effects Work. Yet, we have something that is much easier and much more powerful to use! The AVAide Video Converter is one of the most popular software when it comes to video editing. Furthermore, unlike After Effects, it crops videos with the most facile interface that even a kid would easily understand. Meaning to say, we are confident that you will be able to navigate it, even if you are a first-timer on it.
In addition, this AVAide Video Converter has all the video editing tools you need. In fact, it can turn the poor quality of your video into a spectacular one! As fast as three clicks on your mouse, you will get the perfect cropped and enhanced video that you never imagined a simple software like this could produce! Not to mention the beautiful features this software has to offer aside from cropping after putting effects on videos. Because you can relatively make your own music video, collages, 3Ds, GIFs, along with its DVD ripper and its phenomenal converter that converts bulk files 30x faster!
AVAide Video Converter - Crops Your Videos Easily
It's with the most facile interface of all time.
It has the most powerful presets that will bring you excellent video outputs.
It supports all versions of Windows, Mac, and Linux.
The most excellent video and audio converter of the year.
Convert in an ultrafast technology along with hardware acceleration.
Support more almost 400 video and audio inputs and outputs.
How to Crop a Video Easier Than After Effects
Step 1Download the AVAide Video Converter
Acquire the software by hitting the download buttons shown above. Don't worry because installing it won't give you a hard time at all.
Step 2Import the File
Launch the tool, and start importing your file by clicking the Add Files tab. Choose then whether to add an individual file or an entire folder. Also, you can do it in a drag and drop way, wherein you can just pull the files from your storage then place them at the center of the interface.
Step 3Crop Them Now
How to crop a video contrasting Adobe After Effects? So, once the files are uploaded, it's time to craft! Go and click the Star symbol of each file. On the next window, start moving the cropping bar to achieve your angle freely. Otherwise, you can toggle one of the lists from the Aspect Ratio, then hit OK.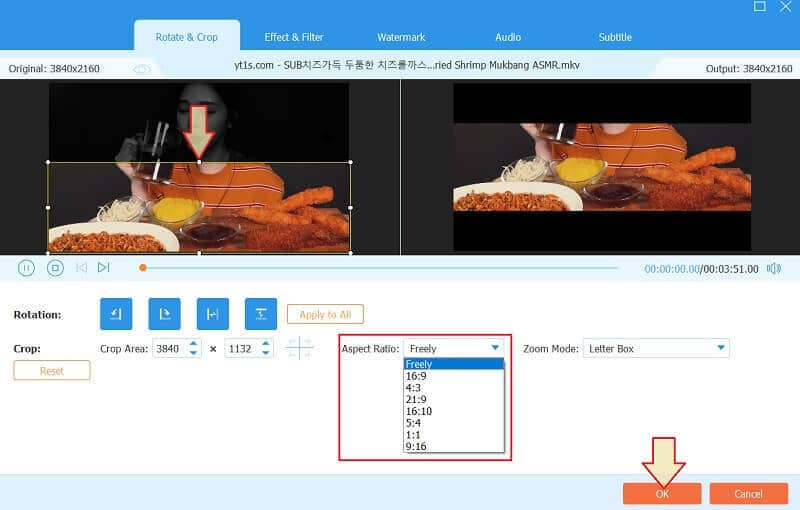 Step 4New Output Format
You can decide to have a different format for your output this time. To do so, go to the Convert All To arrow tab, then choose among the format list in the Video, afterward hit to select your preferred quality to apply the changes.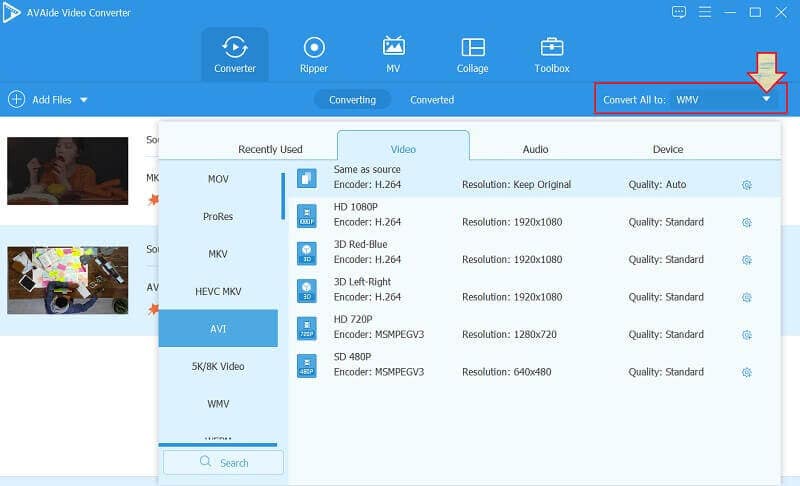 Step 5Take Effect the Video Crop After
To obtain the newly edited videos, hit the Convert All button. This time, you will see that the tool converts the videos to a new format in a super swift way. Subsequently, you may check the converted/edited files on the folder name shown in the Save To.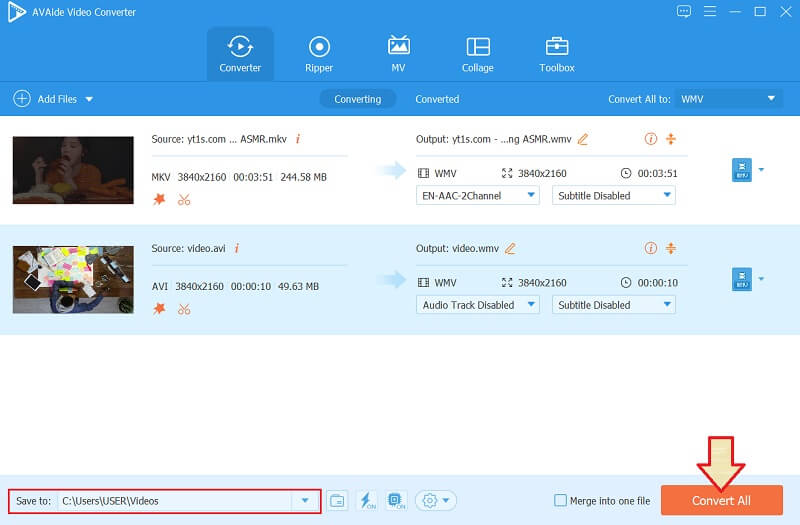 Part 3. FAQs about Cropping Video in After Effects
Can I change the aspect ratio of my video in After Effects?
Yes. The After Effects can change the aspect ratio of your video. To do so, go to the composition part, then look for the tab where you can adjust the pixel aspect ratio correction part.
How to crop a video in Adobe After Effects and obtain a new format?
Yes. After cropping, you can obtain a new format by going to the Composition and Adobe Media Encoder Queue, then choose among the presets you would like to have. However, the presets available in AVAide Video Converter are much more significant in range than the After Effects', aside from its simplicity.
Is it ideal for a beginner to use After Effects when cropping video?
No, it's not. The After Effects is ideal for skilled editors due to its professional-like navigation.
Conclusion
To conclude, in obtaining software, you must always consider its suitability on your level. It will always be wise not to use a complex tool. Nevertheless, you can still use After Effects to crop a video, but we still recommend the AVAide Video Converter more for you to execute tasks excellently!
Your complete video toolbox that supports 350+ formats for conversion in lossless quality.