Yes! You can resize a video on FFmpeg. But unlike others, this video editor program requires technical knowledge when using it due to the application it uses, which everyone calls command-based. In other words, if you are a beginner and you don't have an idea about this software at all, you might end up confused about navigating it. Honestly speaking, the FFmpeg is difficult to use but is one of the most effective ways to convert, crop, record, and trim your files instantly. On the other hand, this article will get you to the most convenient yet powerful best option to crop video time besides FFmpeg.
Part 1. How to Crop Video With FFmpeg
The FFmpeg is one of those well-known programs that are capable of maneuvering, editing, and converting audio video files. However, FFmpeg has a unique way of doing such, for it uses a command based process, which is not that good to know for others.
Nevertheless, you can effectively use FFmpeg to resize the video with the same quality if you use the correct command. For this reason, this part will show you what base you should use, along with the comprehensive guidelines to follow to do the task successfully. And so, without any further adieu, let us get started!
Step 1Install the Program
Make sure you have the program on your device. If not, go to its official website and download it to install it. Note that this step will be a little bit burdensome, unlike acquiring regular programs.
Step 2Begin to Crop
Once the software is successfully installed, launch it to start the purpose, which is to crop video with FFmpeg. Remember that one of the expressions or commands that this tool uses in cropping is out_w/output_h, where w is the width and h for the height. In addition, x and y are used to specify the top left corner of the output rectangle. You can use the following commands:
1. ffmpeg -i in.avi -filter:v crop=out_w:out_h:x:y
2. ffmpeg -i in.avi -filter:v crop=320/2:240/2:320/2:240/2
3. ffmpeg -i in.avi -filter:v crop=in_w:in_h-40
Step 3Apply the Change
To apply the PHP FFmpeg resize video commands, click the Enter tab on your keyboard. Then, see your folder for the newly cropped video.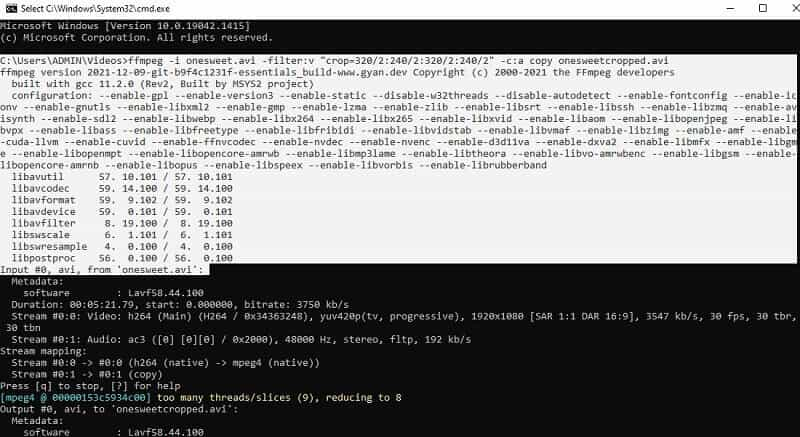 Part 2. The Simplest Yet Most Effective Way to Crop a Video
Wouldn't it be more significant to have those excellent cropped videos effortlessly? We bet you like that! For that reason, we bring you the AVAide Video Converter. Yes! This video converter is also an excellent choice to crop your videos on Mac and Windows as well as to enhance them. Furthermore, it has the most straightforward interface that even a kindergarten could understand. Yet, its capability is as effective and beyond how FFmpeg resizes videos to 720p because the AVAide Video Converter can do more up to a 1080p.
In addition, this software offers tons of tools that can set your file parameters beyond greatness. This includes the multiple filters that instantly remove the impurities of your video file while adding an effect of various choices to add radiance and beautify your content. So, don't settle on the tool that will add to your burden, where you can have this ultimate AVAide Video Converter!
Pros
Resizes and enhances video quality in real-time.
Comes with a very easy-to-use interface.
Offers lots of tools and features to use.
Gives terrific outputs of any kind.
Easy to download.
Cons
It needs to be downloaded.
Limited features for the trial version.
How to Crop Video with AVAide Video Converter
Step 1Download the Tool
Get the software for your device by simply hitting the download buttons above. Then, quickly install it to enable you to launch it.
Step 2Import the Video File(s)
Next, let us get the video file in by dragging them from your local folder and dropping them at the center of the interface. Otherwise, you can just click the Add Files button on the left side top corner to upload. You may upload to resize an MP4 FFmpeg edited file.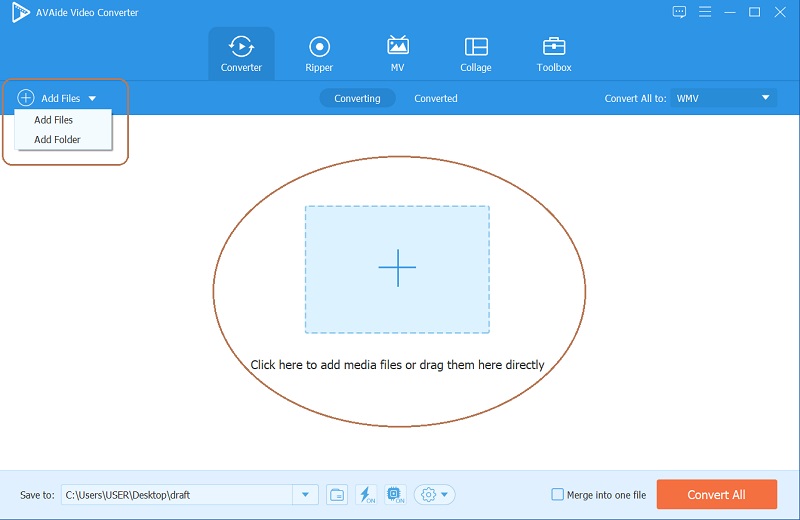 Step 3Set to Crop
Get ready to crop your file by clicking the Star icon. On the new window, under the Rotate & Crop portion, move your cursor to grab the yellow handlebars to crop the video freely. On the other hand, choose among the Aspect Ratio list if you need a specific size for the video. Don't forget to hit OK after.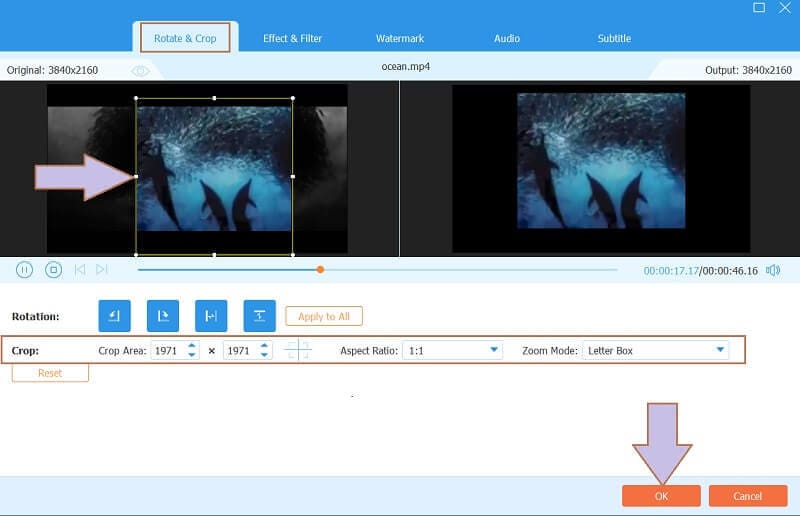 Step 4Set for the Output Parameters
1. New Format
To attain a new format for your file, you can click the Arrow dropdown button. On the popped-up window, choose your preferred format from the video list.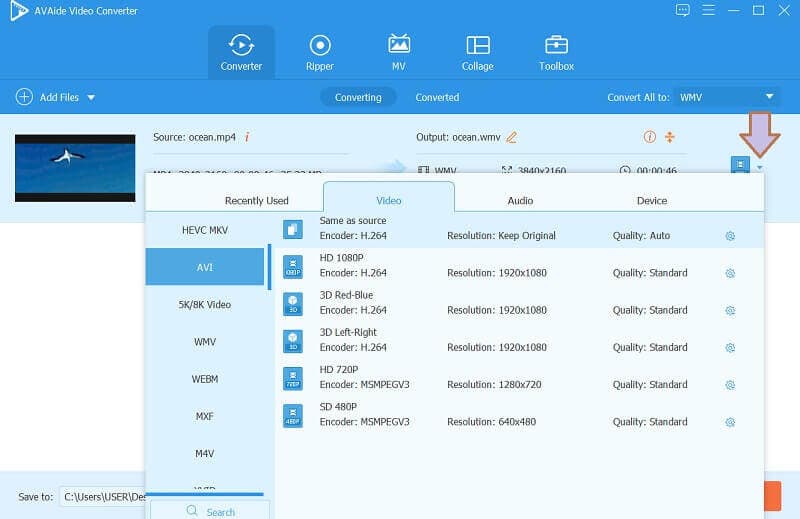 2. Predestinate the File
Unlike the FFmpeg, after you crop the video, you can choose a folder to quickly locate the file. Just go to the Save To part at the bottom, then click the Arrow to select Browse and Select Folder.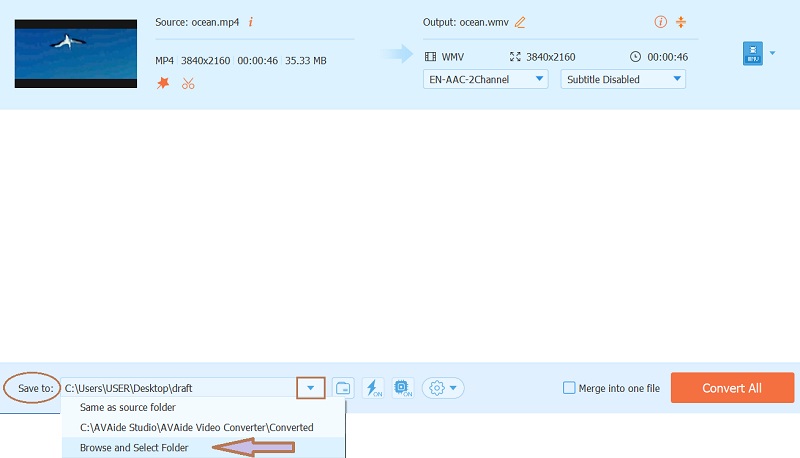 Step 5Convert to Save
When all are set, it's time to hit the Convert All red button. Wait for the conversion process to finish, then check your chosen folder after. Note that you will also have a copy of the converted files in the Converted portion.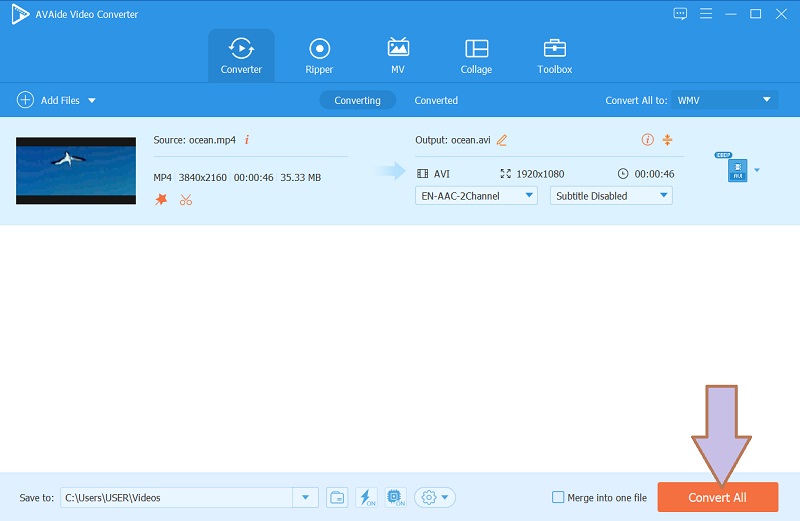 AVAide Video Converter
The most comprehensive media converter to convert video & audio & DVD without quality loss.
Part 3. Questions Frequently Asked Regarding Video Cropping
Can I crop the video with FFmpeg online?
Unfortunately not. FFmpeg is software that cannot be operated online.
How long does it take to crop a video using FFmpeg?
The duration depends on the size of your file. It takes time for FFmpeg to crop a video, especially with big files.
Why do I have blurred images on my video after cropping?
Sometimes, it depends on the cropping tool you are using. To maintain the high quality of your video, use the AVAide Video Converter to resize your video files. If you want to learn how to fix blurry videos, click here to learn more details.
Conclusion
There you have it, the steps to crop a video using the FFmpeg. Also, you have learned a great tool better than the FFmpeg program. Don't miss the chance and download the best video aspect ratio converter, AVAide Video Converter, now!
Your complete video toolbox that supports 350+ formats for conversion in lossless quality.