Cropping your video in DaVinci Resolve will be very simple if you follow our lead! But first, let us have a piece of more profound knowledge about this software. DaVinci Resolve is a versatile non-linear editing tool that can work on macOS, Linux, and Windows. Furthermore, it is a software developed by Blackmagic Design and soon became a competitor of Premiere Pro, Final Cut Pro, and Camtasia. It is without a doubt an all-in-one video editor, for it comes with visual effects, motion graphics, color correction, and audio post-production within a professional-like interface that everyone loves!
Needless to say, the DaVinci Resolve resizes, filters, and edits video with a mark of elegance and professionalism. However, not all users afford it. In fact, newbies won't probably acquire $295 worth of tools just to crop a video. Hence, others who switched to it got content due to its capability, but not its process. Therefore, you will learn the simple steps to crop your video using the DaVinci Resolve and also meet the best alternative tool that works better yet cheaper at a cost that's definitely worth the deal!
Part 1. How to Crop Videos Using DaVinci Resolve
How to crop a video in DaVinci Resolve? This is a primary concern of a person who wants to know the proper way of achieving the perfect cut on their videos with one of the most promising video editing tools today. However, it won't be as friendly as you think for a first-timer like you. After all, this kind of tool fits the skilled ones, which means not all can afford to navigate it based on the type of interface and price it has. Hence, for the urge to use it, see below the guides that will make you crop your videos in DaVinci Resolve using the three easy steps.
Step 1Go and Install the program successfully after the download process. Launch the software, and get ready to upload your video file. On the edit page, click the Cropping tab under the Inspector.
Step 2Cropping options will be shown, wherein you can freely navigate the handlebar to obtain your target cut. You can also explore the tool's other significant attributions.
Step 3Anyway, apply the changes you have done by saving the cropped file after. How? Click Apply.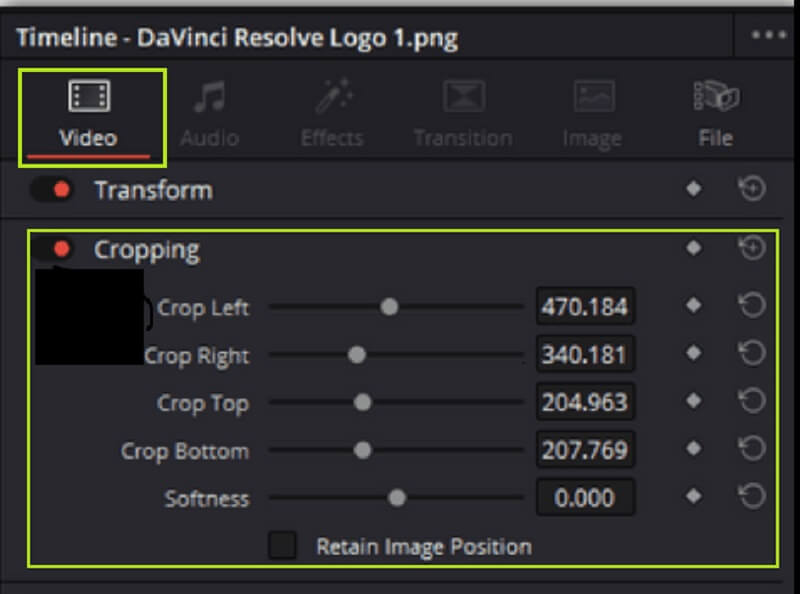 Part 2. Crop Videos with the Best Alternative of DaVinci Resolve
How to crop a video in the absence of DaVinci Resolve? Well, ability, capability, and quality-wise, the AVAide Video Converter possesses them beyond greatness. Furthermore, this software has thousands of video editing tools and features at a very affordable cost. Imagine at $36, you can already have its lifetime license and ultimately use its exclusive feature, wherein you can potentially create, edit, and convert the video files amazingly!
What's more? Everyone is so happy when using the AVAide Video Converter, for it gives the users the most schematic interface, which even a kid could comprehend. Hence, beginners and professionals alike are amazed at how great outputs you can get from this simple tool. Suppose your video needs to be resized and filtered on DaVinci Resolve to obtain a good outcome, but why settle for a good where you can have the best? Therefore, let us see how to crop videos in the best and most practical way.
AVAide Video Converter - Crop Your Videos Perfectly and Practically
It is the best yet economical video converter and editor.
It can crop, change the aspect ratio, and zoom your videos freely.
Make your cropped video radiant and unique by adding filters and themes to it.
Transform your video files into more than 300 various formats after cropping.
Share your edited videos instantly to your favorite social media using it.
It offers thousands of editing tools that will enhance and boost them.
How to Crop Video Without DaVinci Resolve
Step 1Obtain the Software
Get the software on your computer by clicking the download buttons available above. Choose the one that will fit your device. After all, it offers you one for Windows and one for Mac.
Step 2Upload the File
Once the tool is installed, launch it. Start putting your files in the interface then. To do it, click the Plus sign, the Add Files, or just drop the video files at the center of the interface once you drag them from your device storage.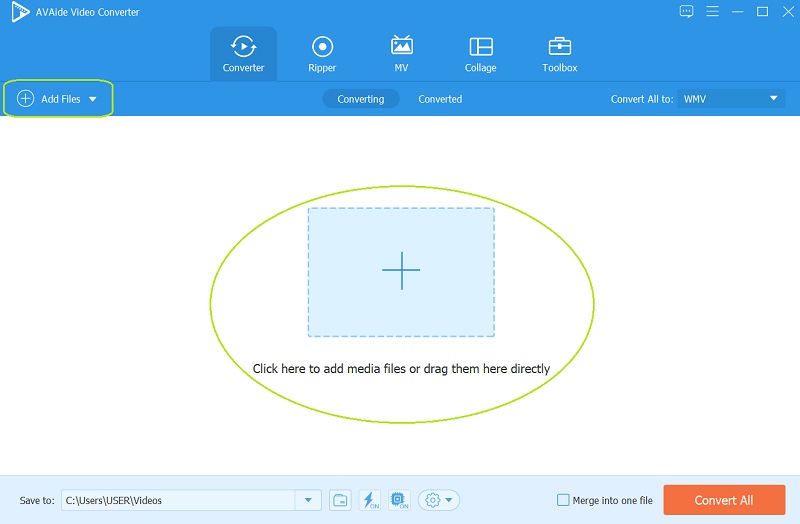 Step 3Work on Cropping
Simply click the star symbol under each uploaded file and see how simple to crop videos, unlike in DaVinci Resolve. Once you get to the Rotate & Crop window, get your eyes focused on the Crop Area, Aspect Ratio, and the Zoom Mode and adjust according to your preferred cut. Also, you can manually adjust the cropping bar on the first video. Then, click the OK button once finalized.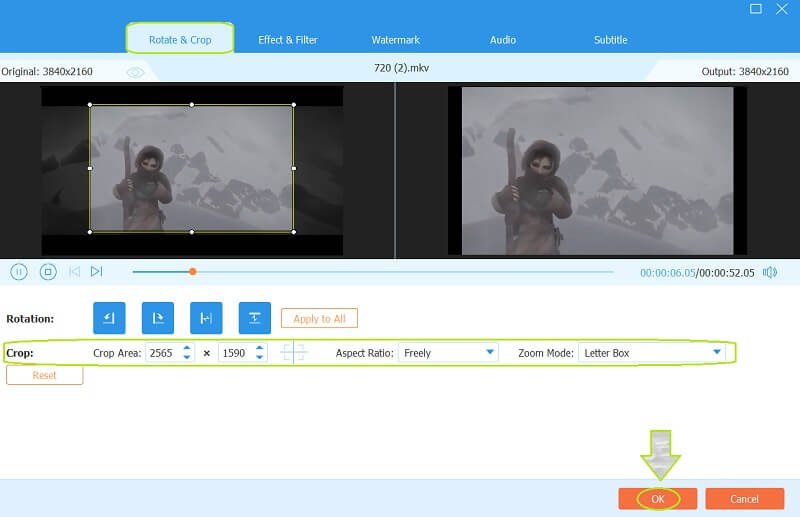 Tips:
This time, you can go and try the other features aside from cropping. You can try adding some spices to your video by applying some

Effect & Filter

, mixing some

Audio

, adding

Subtitles

, and creating a personalized

Watermark

.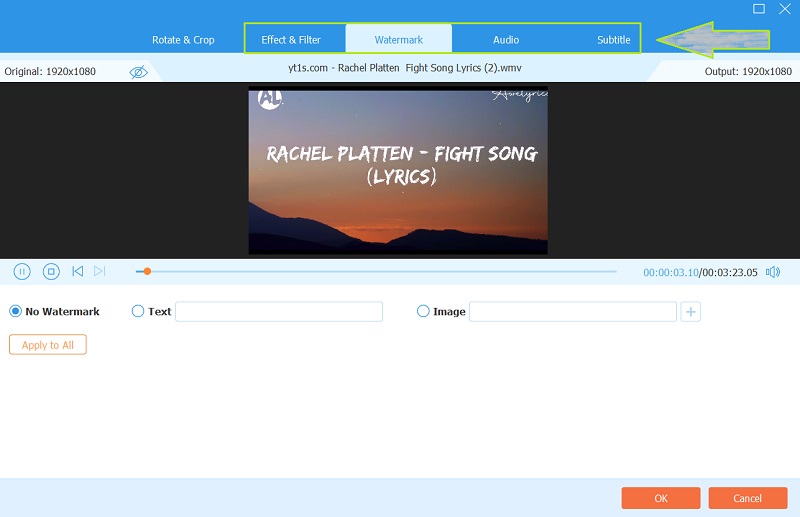 Step 4Save the Cropped File
Going back to the previous page, unlike how DaVinci Resolve crops videos, here you can click the Convert All button to save the newly cropped videos via conversion. Hence, note that you can predestinate your outputs before the saving process. To do so, go to the Save To portion and click the Arrow button to choose Browse and Select Folder.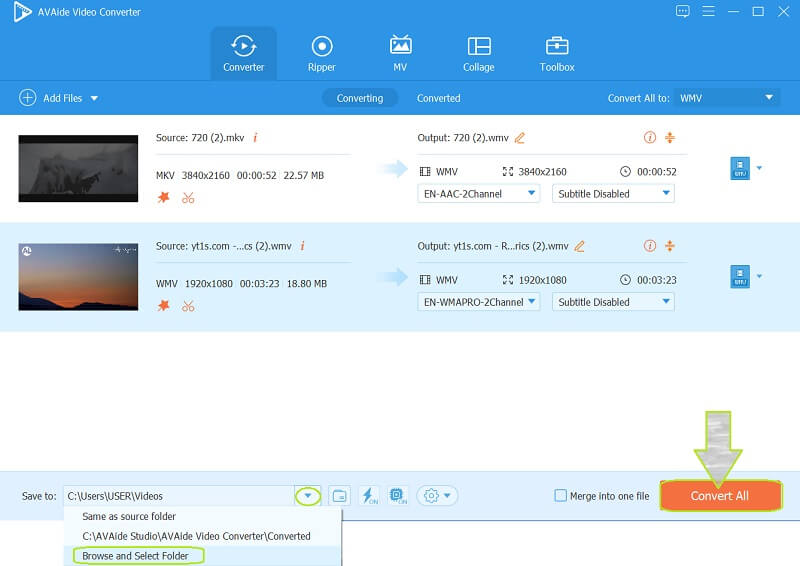 AVAide Video Converter
The most comprehensive media converter to convert video & audio & DVD without quality loss.
Part 3. FAQs Regarding DaVinci Resolve
Can I crop multiple clips in DaVinci Resolve? How?
Yes. DaVinci Resolve can crop your multiple clips at once. Just upload the video on the interface, then on the bottom part of the timeline viewer, hit the Crop to adjust. Then you need to copy the clip and choose the clips by clicking the box around them. Then, hit the Paste Attributes and hit the checkbox of the crop. Finally, click the Apply button to save the changes.
How does the DaVinci Resolve 16 change aspect ratio?
To change the aspect ratio on Resolve 16, upload the video, then go to the timeline, then right-click to go to the timeline settings. Next, go to Custom Settings and change the aspect ratio to aim at your target one.
Can I do an oval crop with the DaVinci Resolve?
Yes. This software allows you to use an oval and circle shape for cropping your video.
Conclusion
There you have it, folks, the things you need to know before using the DaVinci Resolve. Indeed, this software has a lot to brag about since it has tons of amazing attributes. However, that is reasonably expected for its price. Thus, the AVAide Video Converter gives the same level of features, attributes, and commitment within a lower and reasonable price. For this reason, we highly recommend you try it!
Your complete video toolbox that supports 350+ formats for conversion in lossless quality.