Are you looking for a simple tool to help you crop your video clips? We are all aware that cropping a video is a difficult task. Assume you're looking for the best tool for your video clips. Furthermore, various ready-to-use video cropping tools are available on the internet, but not all are reliable.
However, this article will discover the best software with an easy-to-use interface. We will not only inform you of the best software to use, but we will also walk you through the step-by-step process of cropping your videos correctly.
Part 1. Best Camtasia Alternative to Crop Videos
Camtasia is one of the tools for cropping your videos, but have you ever tried the most convenient yet simple-to-use software that will undoubtedly enlighten your loads and improve the quality of your clips?
Examine the most effective tool, AVAide Video Converter, because it supports over 300 video formats. AVAide Video Converter is a powerful tool for editing and converting videos. And it has been downloaded by over 18 million people, with 8 million of them being pleased. It also uses advanced encryption to protect user data. This tool can also be used for other purposes, such as video editing. Cropping, trimming, merging, flipping, and rotating are all options for your video.
Moreover, AVAide Video Converter is another tool for editing videos professionally. This software is ideal if you want your work to be done flawlessly on your Mac or Windows computer. Furthermore, it is very flexible and generous in terms of features and tools. It has every tool you need to enhance your file aside from cropping.
In addition, this fantastic desktop program includes high-end acceleration and malware protection, and it works incredibly fast and safely on its task. Many people are amazed by the AVAide Video Converter because it leaves a lasting impression on its users. How does this software crop video clips?
Here are the basic steps to crop your video clips using the best software.
Step 1Download and Install the Software
First, download and install the software by clicking the download buttons provided above. You will notice that installing this software only takes a minute. Then, once installed, you can begin the better way to crop video.
Step 2Upload the Files
Click the (+) Plus button to begin uploading files. Drag the files to your computer and place them in the screen center. You can also select Add Files or Add Folder by clicking the Add Files button.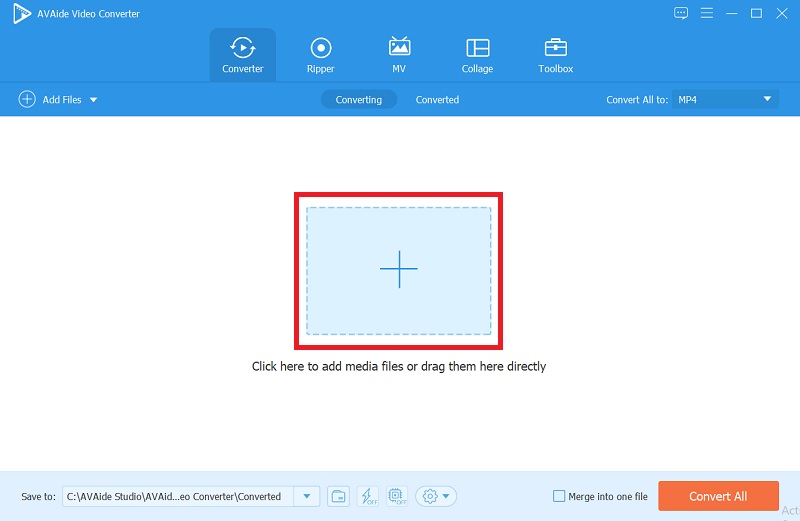 Step 3Crop your Videos
Before cropping your video clips, click the Star icon to open the cropping window. Go to Crop Area in that window and begin adjusting the height and width. Alternatively, you can go to the cropping bar and manually crop the video to your liking. Once you've determined your target angle, click the OK button.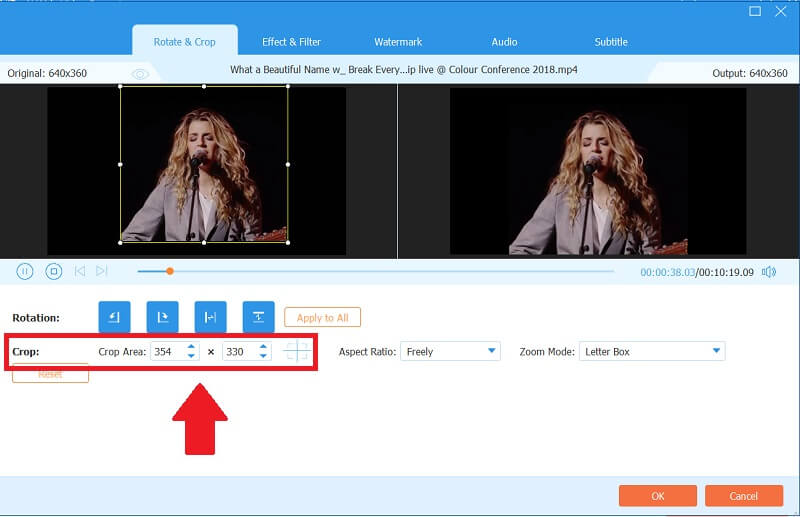 Step 4Save your Files
Finally, you'll be able to save your edited files. On the other hand, you may want to select a file location. If this is the case, select Browse and Select Folder from the Save To section by clicking the Arrow tab. Otherwise, click the Convert All button and return to the Folder after a few moments. Aside from Camtasia, this is the quickest and easiest way to crop video.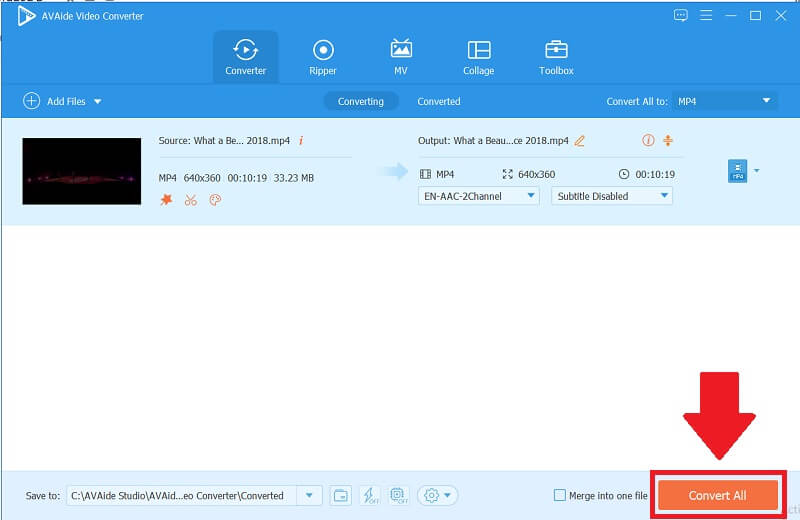 Part 2. Use Camtasia to Crop Video Size
Camtasia is one of the best tools when it comes to video editing. However, With this software, you can also crop, trim, and enhance your video clips. It enables you to provide workable solutions for video editing and cropping. This app is highly beneficial to users because it makes the most accessible option available. Furthermore, this app has editing features such as preset filters, rotation, crop, and adjusting features that allow users to modify their video without downloading a third-party application instantly. On the other hand, here are some simple steps for cropping your video in Camtasia.
Step 1Download the Tool
Before you begin, launch the software. The tool must be downloaded and installed.
Step 2Click New Project Button
To begin using the software, click the New Project button to get to the main interface.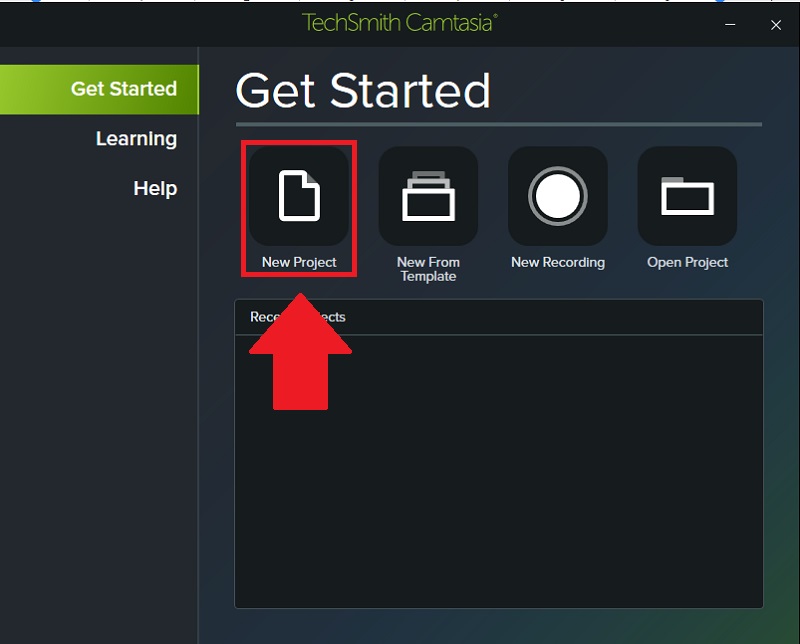 Step 3Crop your Video Clips
You can now crop your videos by clicking the Crop button above, you can also adjust the Scale wherein you can find it on the right side.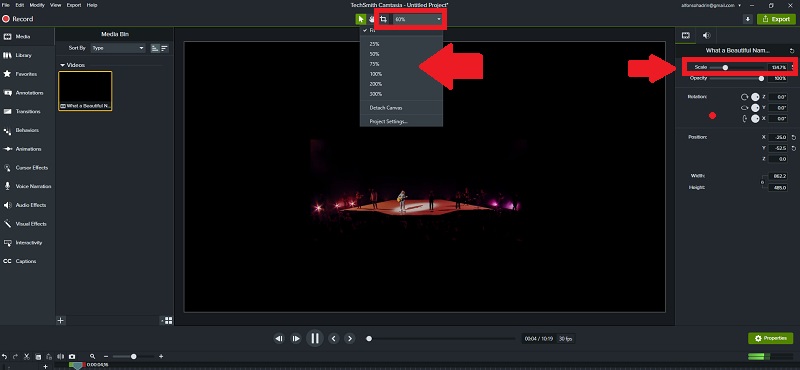 Step 4Import Media
You can upload your video clips by clicking the Import Media Tab, then you can select which video you want to crop.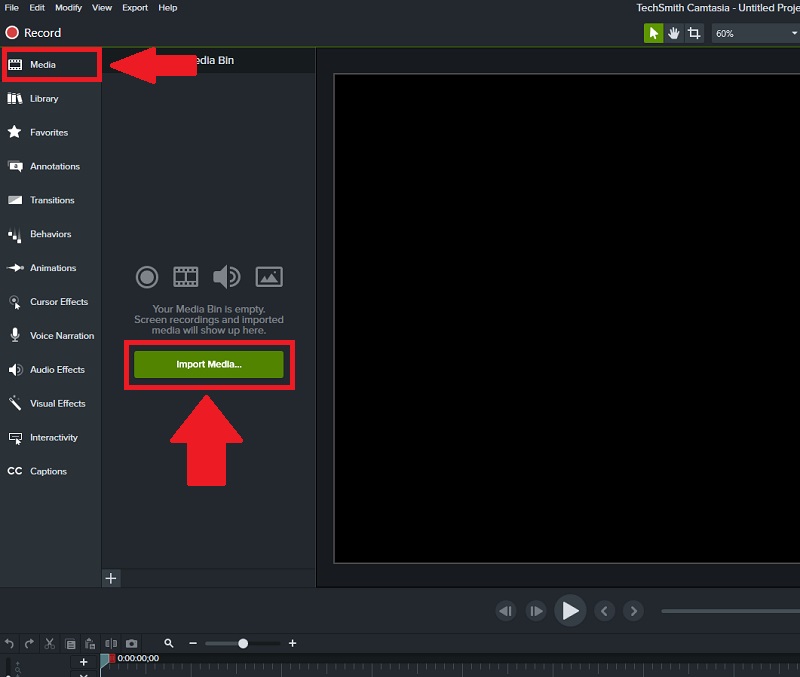 Step 5Save and Export
Finally, you can now save and export your finished video clips. You can export it in different formats.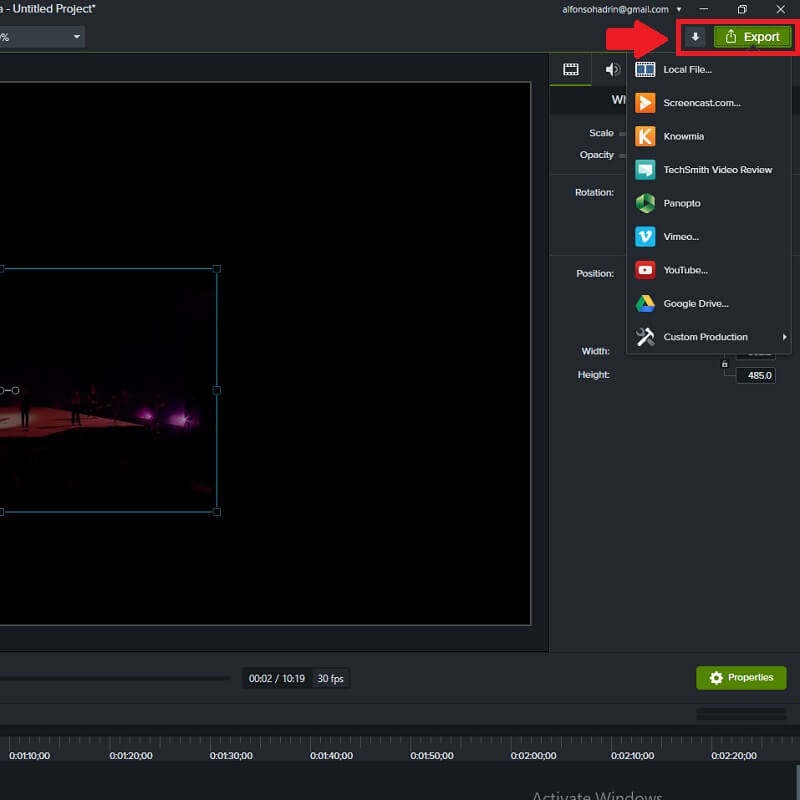 Part 3. FAQs About Cropping Software
Does cropping video affect the overall quality?
It depends on your video, but the resolution has a general effect on video image quality. The larger the file, the higher the clarity of the video.
Is it possible to crop a video to make it horizontal or vertical?
Yes, you can crop video either horizontally or vertically. It won't make a difference in most cases, but you might miss out on important footage.
Can I crop videos using AVAide Video Converter without internet?
Yes, because this tool is not only online software, but it can also be used offline, where you can install and download without having to pay. You can use this fantastic tool at any time and from any location, and it allows you to crop your videos in seconds.
Conclusion
To conclude, cropping your video in both tools is one of the easiest ways to use. Moreover, it is highly recommended that you carefully evaluate each app to determine which one is best suited to your needs. However, if you want convenient yet simple software, there is a perfect tool for you. The best option is to use AVAide Video Converter.
Your complete video toolbox that supports 350+ formats for conversion in lossless quality.