SWF which stands for 'Shockwave Flash' or 'Small Web Format'. This is a file format made mainly to publish different animations or applets on the internet. It was developed by Adobe and can be used within their products, such as Flex Builder and Flash. As already stated, the prime drawback of this format is compatibility. Files having this format can only be played through installing Macromedia Flash. Therefore, it's recommended to know how to convert SWF files into AVI videos. With the quality possessed by AVI, these following tools will surely help us.
Part 1. The Best SWF to AVI Converter on Your Windows & Mac
Use the Top-Graded AVAide Video Converter
The best and most recognized tool regarding AVI conversion is the AVAide Video Converter. You can never go wrong using this converter. No necessary skills required to maneuver the solution. Furthermore, it supplies distinctive features, namely, Video Enhancer, GIF Maker, 3D Creator, Video Compressor, and Media Metadata Editor. Let's learn how to convert a SWF file into AVI using this software.
Step 1Download the tool
From your device, go to the browser and search for AVAide Video Converter. Upon visiting, you need to download the tool so that you can install it from your device.
Step 2Drag your SWF files
You can import your SWF files by seamlessly dragging them into the Add button on the center of the interface.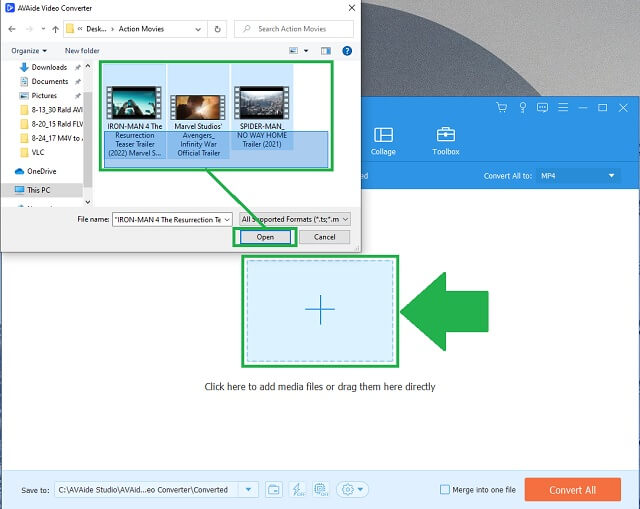 Step 3Change your file holder
Change to AVI format listed from the list of file containers placed once you click the format button.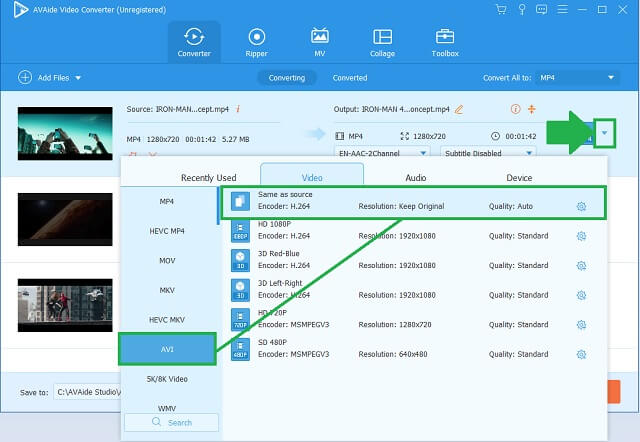 Step 4Start your conversion
Thereupon, you can start the operation by clicking the Convert All button. You can vividly recognize the percentage of conversion on each file.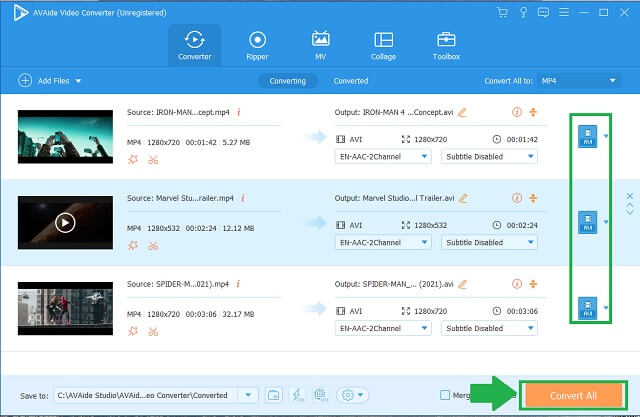 Step 5Check your AVI videos
Upon completion, the tool will show the location of your saved files so that you can scrutinize them.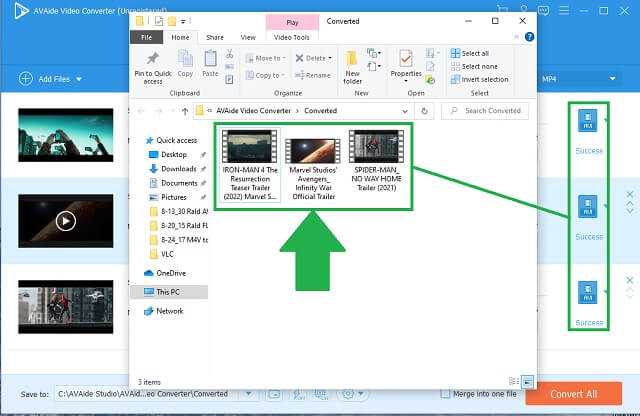 PROS:
The speed is undeniably faster.
Download and install conveniently.
Multi-format converter.
Additional media editor and enhancer available.
It can undertake group conversion.
CONS:
Non DVD burner from the software.
Part 2. How to Convert SWF to AV with Free Online Converters
1. Freely Utilize AVAide Free Online AVI Converter
If you are wondering how to convert SWF to AVI for free, the AVAide Free Online AVI Converter will absolutely cater you. The performance of this unique tool is widely attested by both first-time and common users. It will never require you prior knowledge and skills. With all the comfort and simplicity, it allows you to see high quality output files. To get started, seamlessly follow these basic steps.
Step 1Access the available browser
Open your browser and look for the AVAide Free Online AVI Converter.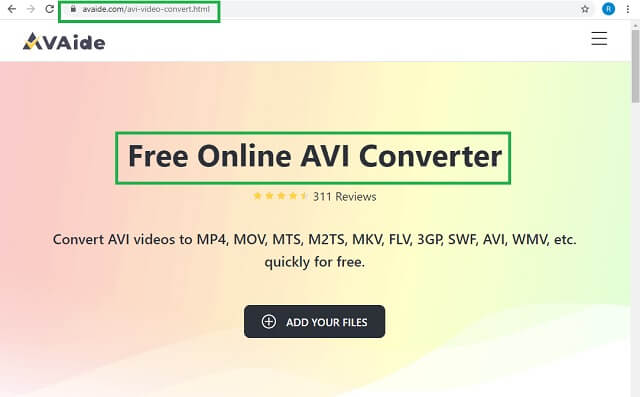 Step 2Add the selected SWF videos
Then, to import your selected SWF videos, you need to simply click the ADD YOUR FILES button. Check your files once again. Because the tool supports bulk conversion.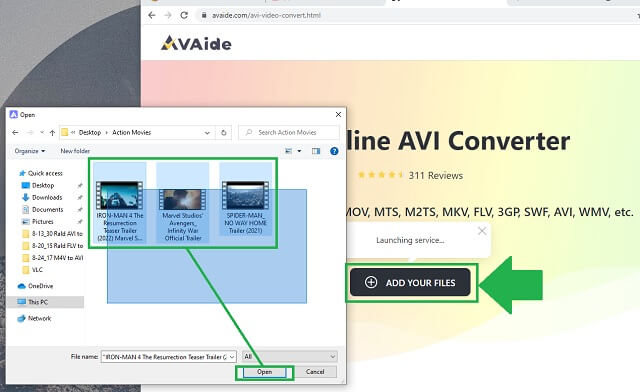 Step 3Set up the AVI format
From the wide list of file formats, find the AVI button and click it.
Step 4Set the file location and begin to convert
Now, click the Convert button to set the output destination. After this, the tool starts the converting process.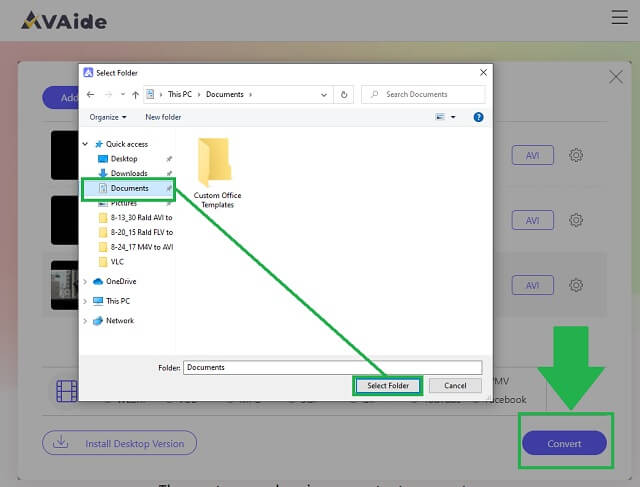 Step 5Check the finished AVI files
Simply click the folder icon placed beside the format button of each file.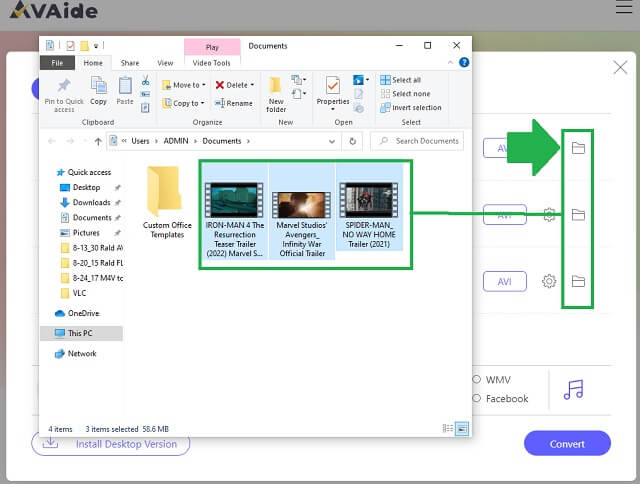 PROS:
Super convenient to use.
No need for expertise.
Service is unlimited.
An extra mile faster.
Built-in media toolbox.
2. HandBrake as Your Match Solution
Second on the list is the HandBrake converter. It's an open-source video transcoder available on Mac and Windows. It is one of the most reliable and best free SWF to AVI converters online. This can provide us a smooth experience for our media files.
Step 1Install and upload your files
Look for the Source button located on the left upper side of the interface.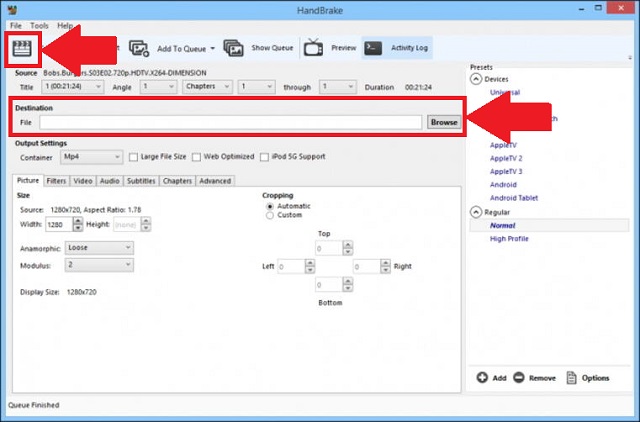 Step 2Modify the format
Change the format to AVI File and click the Start button.
PROS:
It can resize and crop videos.
It has a restoration feature.
CONS:
It cannot mix multiple video clips in one video.
It doesn't create AVCHD, DVD or Blu-ray discs.
3. Try the Converter of VLC
VLC Media Player is the worldwide media player used by many. Likewise, it's a SWF to AVI freeware tool. It means it can convert audio and video, sync subtitles, and others.
Step 1Enter and upload the files
Open the software from your device. On the Media tab, look for the Convert button. On the interface, add your files.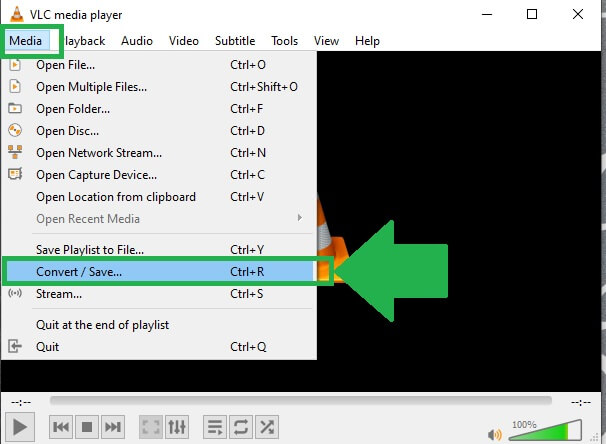 Step 2Change format and browse the location
Lastly, click the AVI button and browse your local storage for your output location.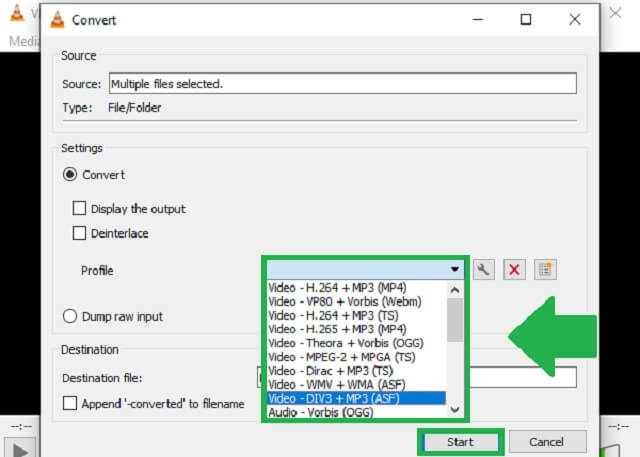 PROS:
The tool is capable of playing discs, media files, and streams.
It can convert video and audio files.
CONS:
Few lists of formats.
Not user-friendly interface.
It cannot play unfinished videos.
4. Make Use of Zamzar Converter
This tool, likewise, impressed its users. It does allow you to convert without downloading the software. It is totally an online video converter for SWF to AVI files. The tool takes you straight to the conversion process.
Step 1Import your local files
To begin, click the Add Files button to import your files.
Step 2Change the format and convert
The next step is to click the Convert To button to see the list of available formats. Finally, click the Convert Now.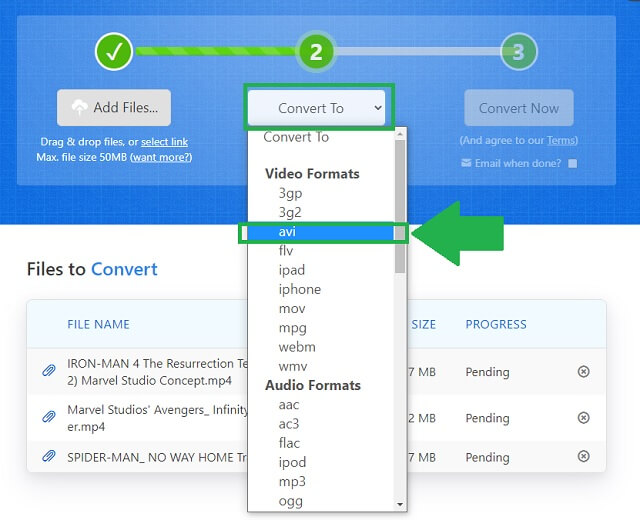 PROS:
Allows you to convert videos from URL.
It's a multiplatform converter.
CONS:
This tool is limited to 50 MB maximum file size.
No built-in editor and video enhancer.
Part 3. SWF vs AVI
To see the clear differences between the two video formats, let's carefully examine this illustration.
| | | |
| --- | --- | --- |
| File Extension | AVI | SWF |
| File Name | Audio Video Interleave File. | Shockwave Flash Movie. |
| Description | AVI format can absolutely contain both high quality video and audio data. It accommodates audio-video playback and multiple streaming as well. It's the standard viewing format for both PC and phone devices. | Created specifically by Adobe Flash. It contains raster graphics and vectors. It can usually be played in web browsers with installed Flash plug-in. |
| Company | Microsoft | Adobe Systems |
| Pros | An excellent audio-video holder. Most used format especially for movies and television advertisements. | It is the standard format for compressed Flash content on the web. |
| Cons | It doesn't contain fonts and subtitles attachments. They should be added in a separate file storage. | iOS and Android stopped supporting SWF. |
| Suggestions | The best format for mobile and PC viewing. | Good in terms of online streaming. |
Part 4. FAQs of SWF and AVI
Is there an alternative way to play SWF aside from Flash Player?
There is. The most popular common alternative is HTML5. However, you might opt to convert SWF to AVI online for compatibility to most used devices nowadays.
Is SWF format playable on Android?
There's no way to play SWF files on your Android. But you can rely suggestively on any third-party application or browser plug-in.
Are SWF media files safe to open?
Since SWF is an Adobe Flash file generally known for its vulnerability, it can contain malicious code. And this can damage your device.
Conclusion
SWF has been used a lot. But as a response to change, it isn't promoting a user-friendly attribute most especially in terms of compatibility. However, from our featured tools on how to convert SWF files into AVI easily, we can enjoy our videos without limits!