WebM was built and developed for the web. This file is undeniably useful for streaming sites. However, you can't play the videos without connecting to the web. Additionally, they can't be played on most portable devices and need plug-ins installation. Still, we can do something to enjoy these without internet access. Convert webm to avi for free is our matched answer to that. Changing into AVI format will surely help us to export our favorite videos and watch them offline.
Part 1. 3 Accessible Online Ways to Convert WebM to AVI For Free
The Distinct Features of AVAide Free Online Video Converter
You can never go wrong with AVAide Free Online Video Converter. This tool impresses the common users and even professionals to its vast features it can offer. Needless to say, it can conveniently convert WebM files to AVI format. You can experience it's converting, editing, and enhancing prowess within the reach of your internet connection. This converter has the advanced media flexibility that can surely aid you. Learn how you can partner with this tool by applying this basic instruction.
Step 1Access your browser
Go straight to the official website of AVAide Free Online Video Converter. Since it is a web-based tool, you need an internet connection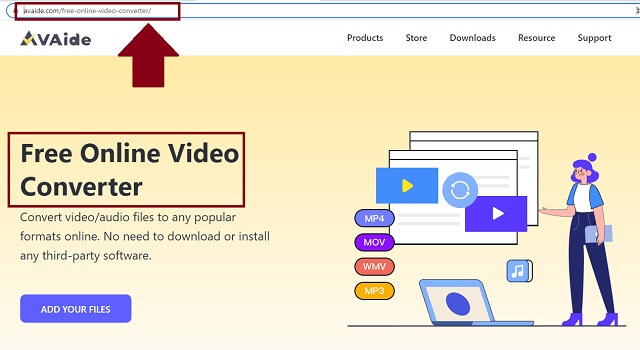 Step 2Import your videos
Transfer the WebM files by clicking the ADD YOUR FILES button.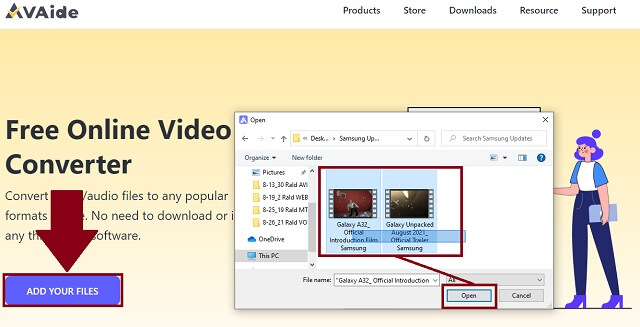 Step 3Change your format
Look for the AVI button placed on the list of the available formats.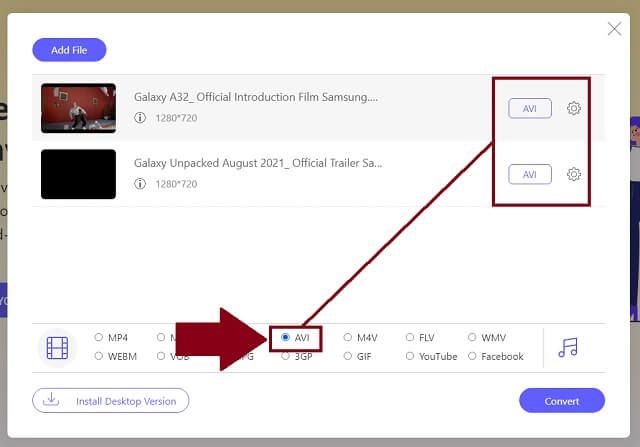 Step 4Select your storage and convert
Proceed to clicking the Convert button. Then, the tool will automatically show you the device's local storage to help you locate your file designation.
Step 5Done and ready
Upon completion, your converted files are ready to use. Click the folder icon to see your files.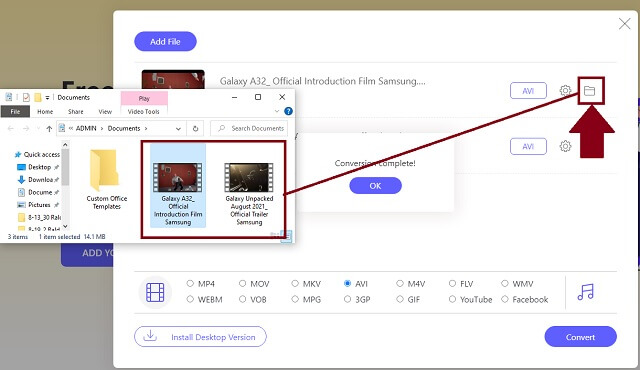 PROS:
The tool is web-based. It's free anytime.
The speed is exceptionally faster.
It has tons of formats we can choose from.
Batch conversion is supported without quality loss.
It offers a media tool box for editing and enhancing audio, video, and images.
2. The Credibility of Onlineconvertfree
This converter provides users the quickest ways in which it can convert WebM files to AVI. It's one of the reputable converters you can use online. This service is nice in the aspect of portability. It also embodies conversion features for PDF, document files, e-books, and audio-video media files.
Step 1Choose your files
Enter the Onlineconvertfree website. Click the CHOOSE FILE button.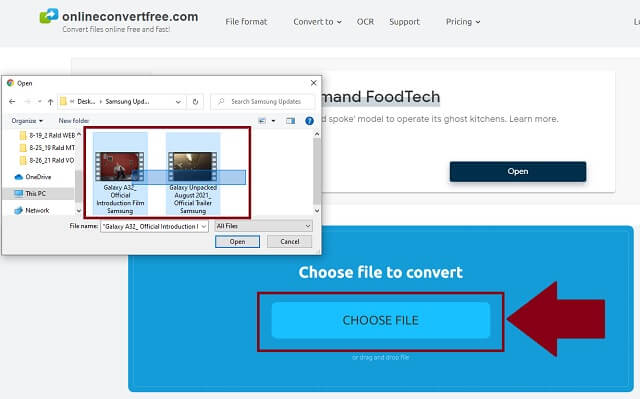 Step 2Convert your file
Then, click the CONVERT ALL TO button to select AVI format.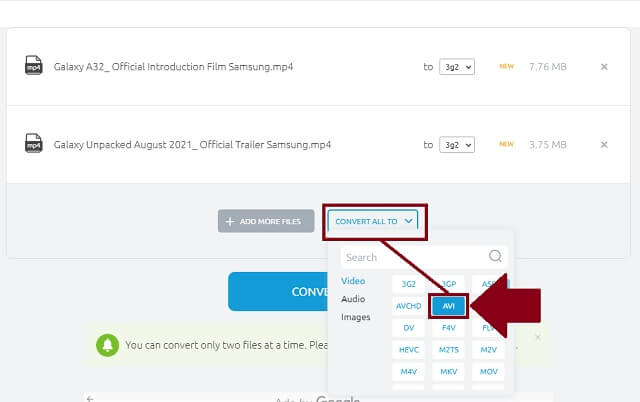 PROS:
Easy to add files and download the converted ones.
Almost all audio and video formats are available.
CONS:
Limited to 2 files per conversion on its free service.
Not suitable for batch conversion.
3. The Remarkable FreeConvert
As the name implies, FreeCovert is a free tool online. It doesn't need to be downloaded and installed. Undeniably, it is a decent tool and a solution on how to convert a WebM file to AVI. Additionally, it can compress videos by quality, size, and bitrate. Follow these steps to know how the conversion goes.
Step 1Choose the format
Look for the VIDEO Converters button. Click it and proceed to clicking the AVI button.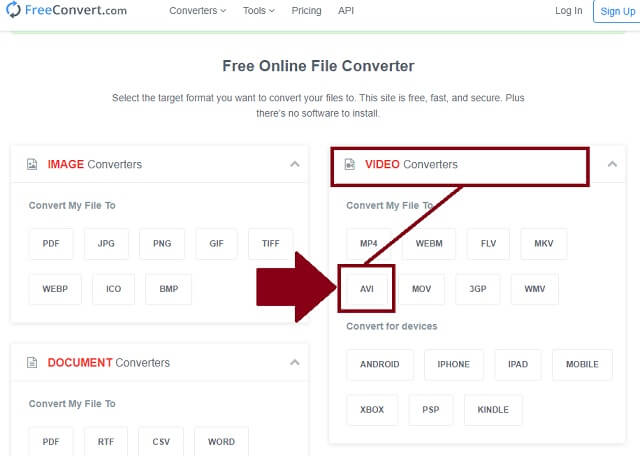 Step 2Select the files
On the tool's interface, look for the Choose Files button and click it to transfer your files.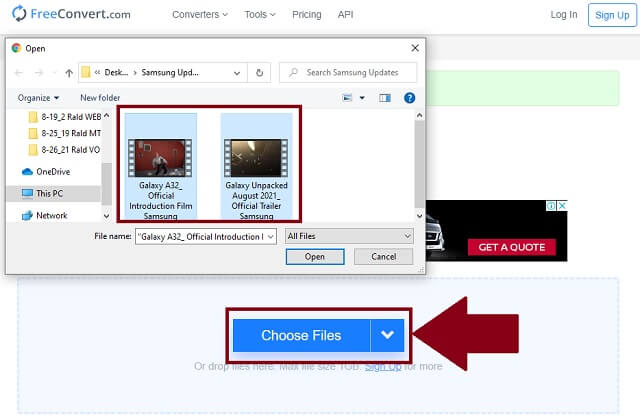 PROS:
It has detailed procedures to follow.
Options are flexible.
CONS:
You may find it having a hard time compressing clips.
There are some potential playing issues.
Part 2. Most Recommended Way to Convert WebM to AVI on Mac and Windows
AVAide Video Converter is a handy-all converter that supplies a numerous variety of audio and video formats. This WebM video to AVI converter gained a lot of positive feedback from both first and professional media users. Why did this happen? Because the tool supports most of the infamous devices we use. Hardly to believe, but this software is one of a kind among the converters we used to know. It is not limited as a converter. This tool is also a DVD ripper, movie, and collage maker. More so, it has an amazing toolbox that contains metadata editor, 3D maker, GIF maker, video enhancer, and compressor. Below are simple steps on how we convert WebM to AVI format using this tool.
Step 1Download, then install
Open your browser and visit the AVAide Video Converter official website. Click the Download button, then you can install it afterwards.
Step 2Drag the WebM videos
Upon installing, open the software immediately. You can see the dragging space in the middle of the interface. Or simply locate the Add Files button on the upper left part and click it.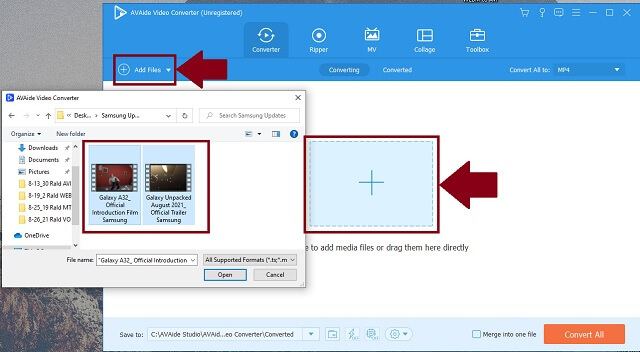 Step 3Choose the AVI format
On the format button, click the AVI button and you can freely adjust the setting to meet the desired preference.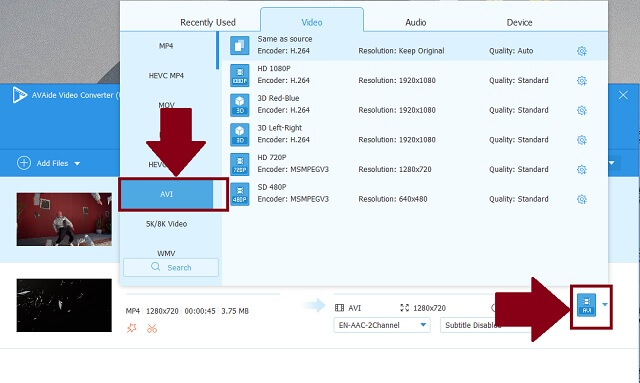 Step 4Start the conversion
Then, click the Convert All button to begin the changing and improving process.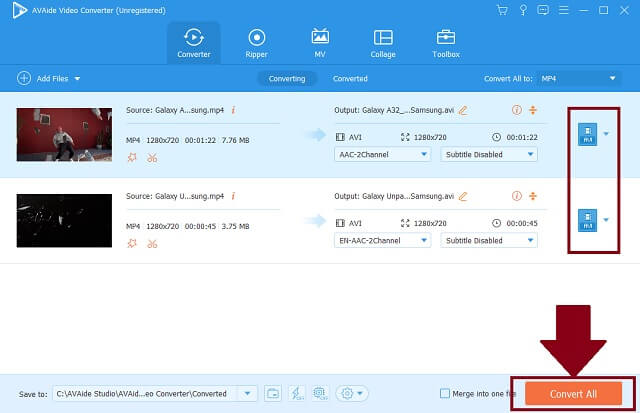 Step 5Conversion completed
Check your local storage. Your files are now in AVI format!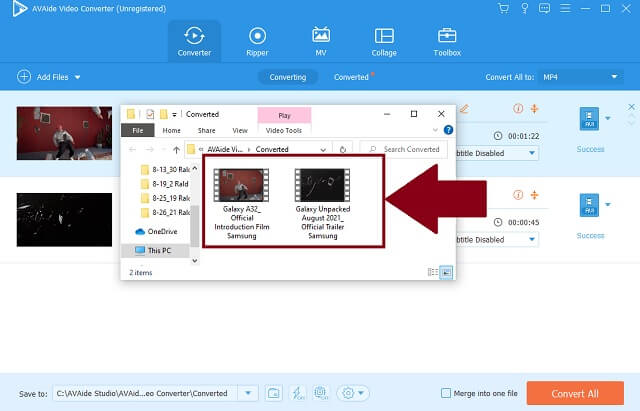 PROS:
It has an advanced conversion speed without compromising the quality.
High quality image and video resolution.
It provides a media tool box for editing and enhancing purposes.
Of course, it aids its users in multiple audio-video formats.
Downloadable WebM to AVI converter.
Part 3. WebM vs AVI
Given below is a simple illustration to have a further idea of the dissimilarity of the two video containers.
| | | |
| --- | --- | --- |
| File Extension | .webm | .avi |
| Type | Video File. | Video File. |
| Description | 1. An open-source format developed to deliver videos through the web. 2. Used the HTML5 version of YouTube. | 1. De-facto standard for containing audio and video data in PC. 2. Allow simultaneous playback. 3. Simple structure supported by different systems. |
| Accompanying programs | Google Chrome. VLC Media Player. Mozilla Firefox. | Apple QuickTime Player. VideoLAN VLC Media Player. Microsoft Windows Media Player. ALL Player. |
| Developed by | Google (Previously developed by On2, Xiph, and Matroska) | Microsoft |
Part 4. FAQs of WebM and AVI
Can I play WebM videos using Safari?
Before, iOS didn't support WebM videos. But now, iOS finally added the file format with MacOS Big Sur 11.3. WebM is now playable and supported for developers and users in the Apple Beta Software Program.
Does AVI contain good quality?
Absolutely, yes. Files having this format has distinctly excellent quality audio-video fidelity.
Will I consume much time to convert WebM to AVI?
Actually, it all depends on what tool you will use. As tested and recommended by many users, the AVAide Video Converter is the best tool to convert WebM to AVI file format 30x faster compared to other similar working tools. You can download it now for easy access.
Conclusion
Therefore, seize this wonderful chance to convert a WebM file to AVI. AVAide Video Converter, Onlineconvertfree, and FreeConvert must be your top choices. However, among the three, it was attested to go straight to AVAide Video Converter. This tool is incredibly superb and all in one media toll package!