MTS or short for MPEG Transport Stream is a defined video in the Advanced Video Coding High Definition (AVCHD) file holder. Despite its good attributes for digital recording and HD video playback design, videos with this type of format get difficulties when opening on TVs and smartphones. Also, they are not supported by Apple gadgets. It would be a better choice if you will convert MTS to MKV for free through the help of different reliable MKV solutions. Why MKV? MKV or Matroska Video file is highly flexible, it has a lossless option, non-proprietary, and it can store an unlimited number of audio, video, photos, and even subtitle tracks.
Part 1. The List of Excellent MTS/M2TS to MKV Converters
Make Use of the AVAide MKV Converter
The AVAide MKV Converter can change your local video formats to Matroska Video files. It's the most used tool to change your MTS or M2TS to MKV format. Exceedingly, outputs are in high quality production. The process takes only a few of your minutes. Correspondingly, it doesn't reduce the original quality of your old videos. Converted panel was created to look back on your converting history. There's a Convert All to button that is responsible for a single-clicking format adjustment. By considering that, you will not take a long time changing the output of each MTS file. Plus, there's a Toolbox that contains Media Metadata Editor, Video Compressor, 3D Maker, GIF Maker, and Video Enhancer.
The Online Ways to Use AVAide Free Converter
But if you are searching for a M2TS to MKV converter for free, AVAide Free Video Converter is your go-to partner to that. This tool is widely supported by different operating systems such as Windows, Linux, and Macintosh. The plentiful list of audio and video formats will surely overtake your expectations. Batch conversion works well. You don't need to download it or even install a third-party app! Experience all of these by following its quickest steps.
Step 1Access the official website
Open the web browser of your device and access the official website of AVAide Free Converter. Once landed, the tool gives you its intuitive view of the interface. Since it's web-based you can visit the tool anytime you want.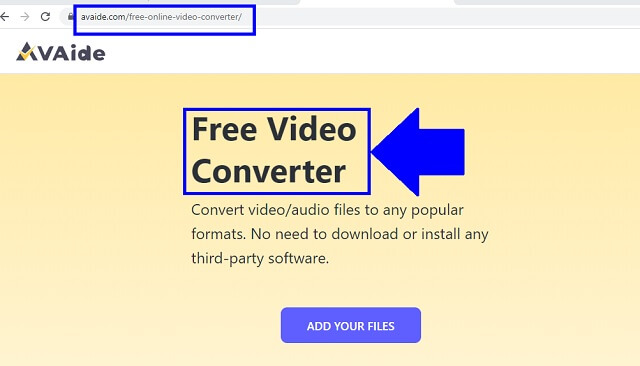 Upload the old videos
After that, upload your local videos by clicking the ADD YOUR FILES button. Upon clicking the button, your local storage will automatically be opened for you to select all the local videos.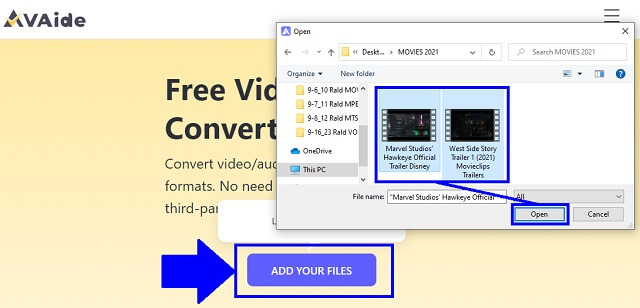 Step 3Choose the MKV container
On the bottom area of the interface, look for the MKW format and click its button. Change the setting of each added file.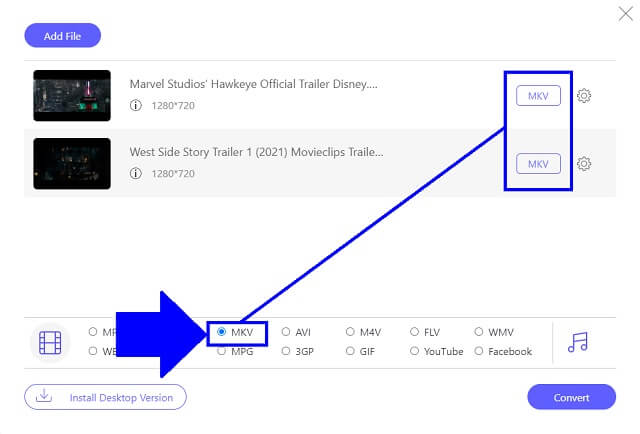 Step 4Start the quick process
Click the Convert button and the tool requires you to select the file destination of your converted videos after completion.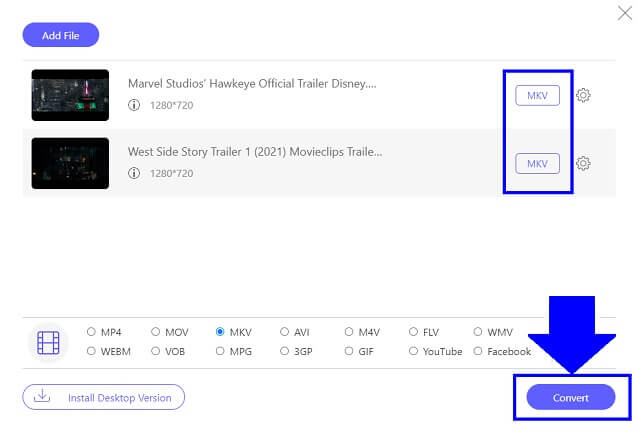 Step 5Check the new outputs
When the process is completely done, check your saved files by clicking the folder icon located on the right side of each file. The tool will lead you to them upon clicking.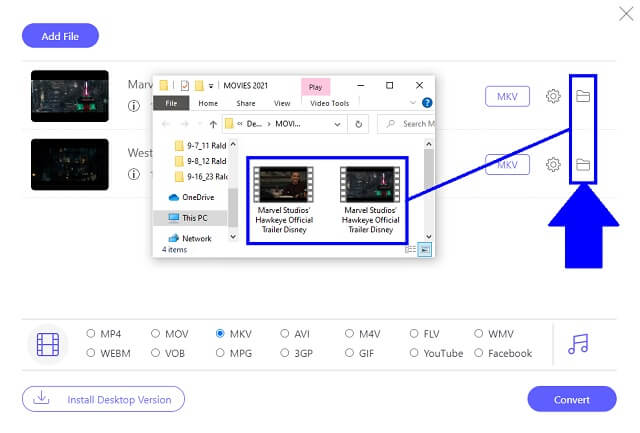 PROS:
No watermark added on the outputs.
No need to sign up. No ads seen.
Easy to use with its intuitive interface.
Compatible with any web browser.
History is 100% safe and confidential.
CONS:
No toolbox available like the pro version.
HandBrake is our Ideal Tool
The next freeware to be discussed is the HandBrake. This tool works well to rip a film or video from a DVD. It's available for macOS, Linux, and Windows. It can assuredly convert MTS to MKV files easily. Learn the procedures of this tool by following the steps below.
Step 1Install and upload your files
Click the Source button on the interface and add your local MTS videos.
Step 2Adjust to MKV format
Choose the MKV format from the list and after that click the Start button to convert.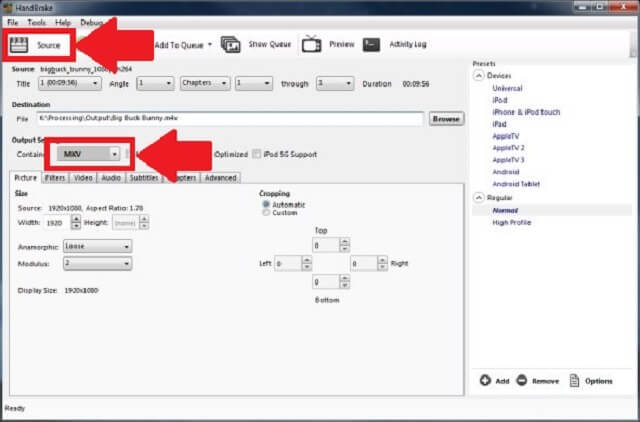 PROS:
Responsible for resizing and cropping files.
It's an open-source transcoder
CONS:
Needs a longer time to compress the file into a smaller one.
The speed depends on the CPU power and the file size of the source.
Quick Ways to Maneuver MakeMKV
This MTS to MKV converter is a freeware tool. MakeMKV is a good solution to change your local files. It doesn't require any special input. Additionally, the process is rapid. With this, it retains and saves the menu structure of your Blu-ray discs and DVDs. Know more when you undertake the methods on how to use it.
Step 1Open the program and import files
Click the Movie icon to import your local life.
Step 2Convert to MKV format
Click the Make MKV button as your format.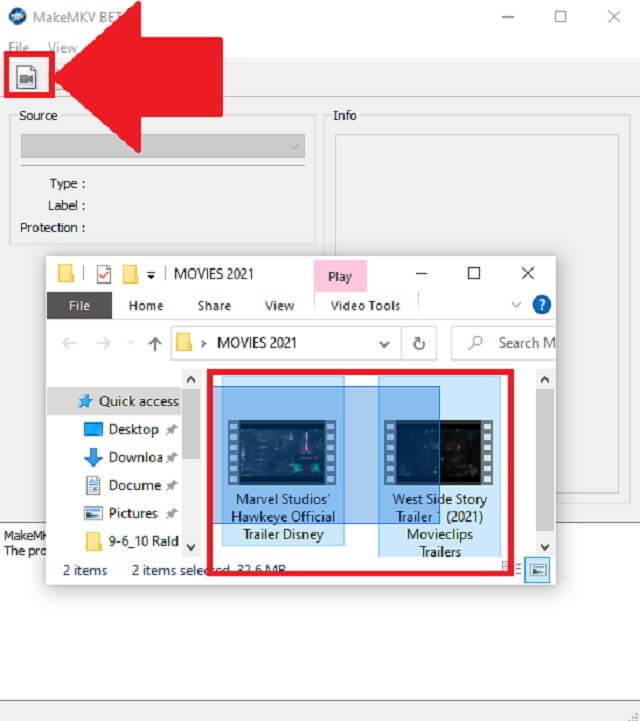 PROS:
Support for encrypted discs.
Can rip any DVD, even homemade DVDs on Windows and Linux
CONS:
Limited obviously to MKV format.
The service is time-limited. Exceeds only for 30 days.
Blu-rays take so much time to process.
Part 2. How to Professionally Convert MTS/M2TS to MKV
The Top-Performing AVAide MKV Converter
AVAide MKV Converter is the best M2TS to MKV converter among all similar operating tools. This can really help you reach your demands and outdo your presumption. Try the unlimited prowess of this video converter first-hand without any experience. With your simple efforts, you can meet your needs. Below are quick guidelines to undertake.
Step 1Install the software
Installing the program requires you to have access to its official web page. Once visited, you are opted to click the Download button and after that install it on your device.
Step 2Drop the videos
Secondly, look for the Add Files button to import your videos. Or the other way around by simply dropping them on the center panel.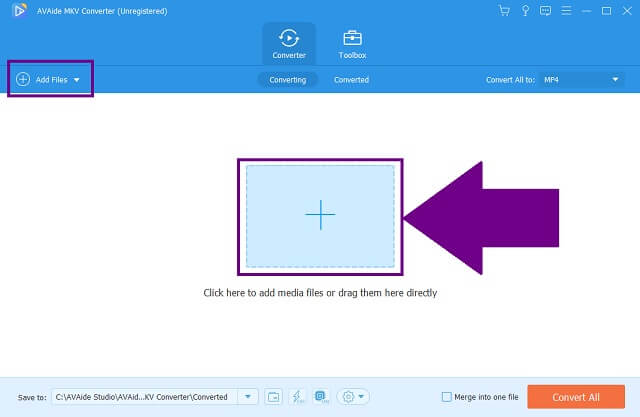 Step 3Choose the format
When your files are already on the interface, choose the MKV format from the list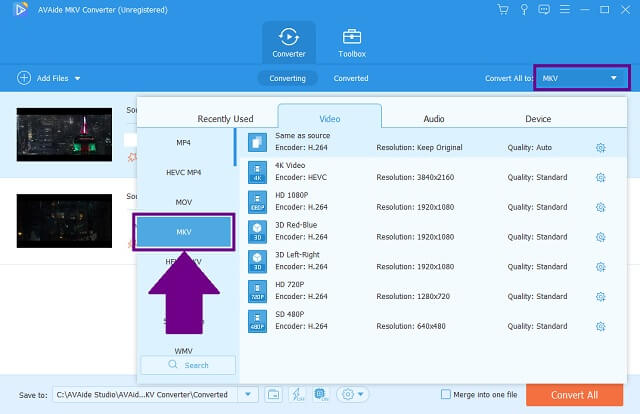 Step 4Start the process
Move to starting the conversion by clicking the Convert All button.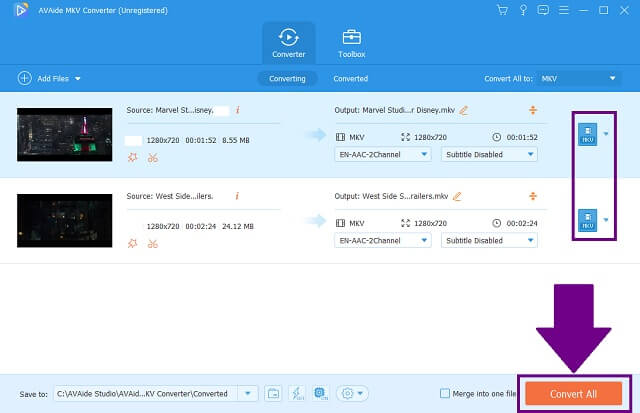 Step 5Complete by checking
Lastly, check your completed files on their designated local files.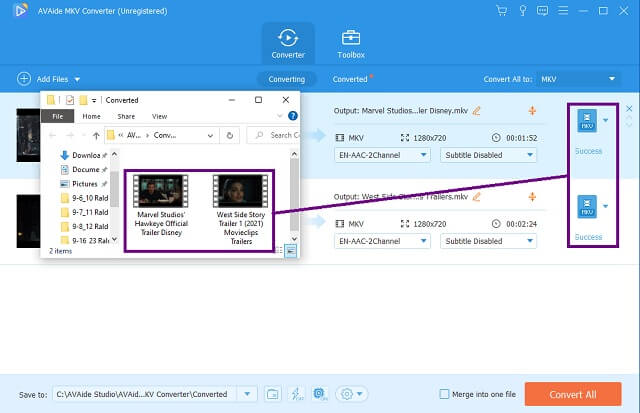 PROS:
Fast-speed processing tool.
Simultaneous conversion.
High resolution up to 4K.
Media toolbox provided.
CONS:
The tool has a ripper, but without a DVD burner.
Part 3. FAQs of MTS and MKV
How many MB does an MTS file contain?
An MTS file contains 450 MB.
Is there a way I can play MTS on TV?
Unfortunately, there's no way to play them on TV directly. But you can use mts or M2TS to MKV converters like the AVAide MKV Converter. This tool is popular to both first-time users or experts.
What media players support MKV?
The VLC media player can play your MKV files. This player is a built-in tool for Windows.
Conclusion
To end this article, AVAide Free Converter, HandBrake, MakeMKV, and AVAide MKV Converter are excellently ideal M2TS to MKV converters. But, among these, AVAide MKV Converter is the best solution you can use. It guarantees you a modern way of coping with media demands.
A powerful MKV video converter to convert MKV files to video & audio formats in one go.