When our videos were of bad quality, we became frustrated. There are times when you have no option but to discover a solution to make your films appear better. In that case, video quality enhancers are the tools you'll need to improve the resolution of a video. We require the ideal equipment to assist us in illuminating your loads. If you want to increase the quality of your video in Adobe Premiere Pro, read on to learn how to do so professionally.
Part 1. The Professional Way to Improve Video Quality in Premiere Pro
Premiere Pro is a video editing application for professionals that you may totally and professionally alter your movies and apply various effects to make them appear lovely and respectable. In addition, Adobe Premiere Pro is a robust video editing program that may help you improve the quality of your video. It is commonly acknowledged as one of the most comprehensive software packages used by professional video editors, with built-in functions such as video enhancement.
Furthermore, you may start the free trial by installing it on your Mac and Windows. Let's say you want to improve the video quality in Premiere Pro. In that case, you must understand the technique step by step. As a result, you'll need this guidepost to know what to do, and it'll lead you through the complete procedure.
Step 1Launch the Adobe Premiere Pro
To begin, go to the Adobe Premiere Pro official website and download the tool.
Step 2Import File
Next, go to the file in the upper left corner, pick Import, and select which films you want to improve. After that, drag your clip to the timeline. You may either construct a new Sequence or insert it into an existing high-resolution Sequence.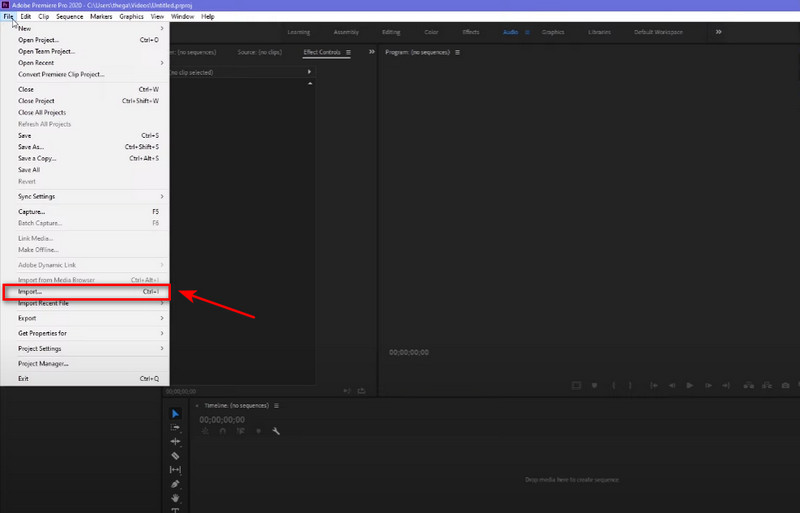 Step 3Go to Sequence Settings
After uploading a file, go to the main menu and choose Sequence Settings to specify the appropriate resolution. After you've finished, you should see your original low-res clip in the master window, surrounded by the darkness of the high-res sequence's blank area. It's time to take things up a notch.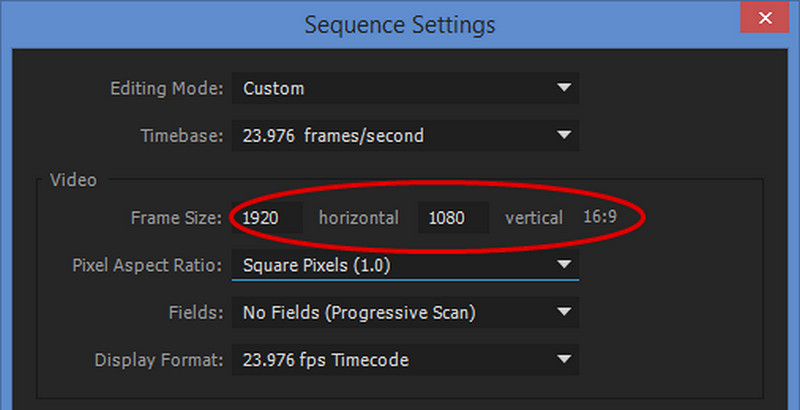 Step 4Improve Video Quality
Go to the Effects tab and look for the Infognition folder and the Super Resolution resize effect under Video Effects to improve video quality. However, to experience the full impact of Super Resolution, utilize full resolution mode or, better yet, perform a render.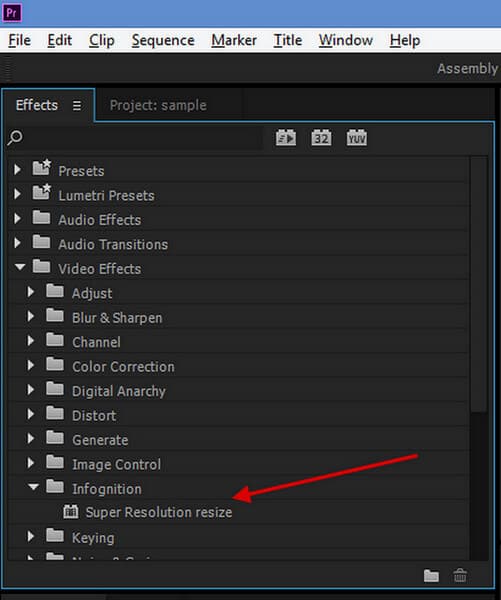 Step 5Export Video
You can use the shortcut key Cmd + M on Mac or Ctrl + M on Windows to export a video in Premiere Pro. You may do this by going to File Export, then clicking Media, and making sure the sequence you wish to export is selected. This will open the Export Options window.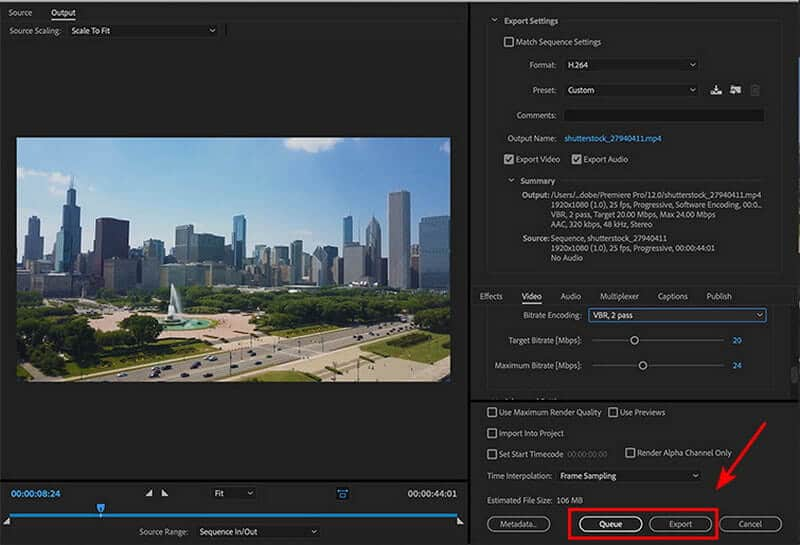 Part 2. A Much Easier Way to Increase Video Quality
Suppose you believe that improving a video in Premiere is difficult. You don't have to worry, and we've got your back. Suppose you prefer the most convenient, easy-to-use, powerful tool and one of the best video enhancers available. In that case, This fantastic software is the way to go. AVAide Video Converter simplifies improving video quality in the most natural way possible. You can enjoy enhancement while your file is converted to high-quality movies in 8K/5K/4K/1080p without compromising any of the original quality.
Furthermore, It is a full-featured program that most people use to enhance their videos effortlessly. It includes an easy-to-use user interface that even inexperienced users can utilize. Take a look at enhancing video quality using the most recommended and special software.
AVAide Video Converter
Performs and converts high-quality videos in 8K/5K/4K/1080p.
Stabilize video, apply visual effects, color correction, and other automatic enhancements.
It is a quick and effective tool for video improvement.
It is convenient software available for free installation and download.
Step 1Launch AVAide's Official Website
Run the AVAide Video Converter website to get the program. Or, click the download button above. After installation, you will be sent to the interface.
Step 2Navigate the Toolbox
Next, navigate to Toolbox, and select the Video Enhancer icon to improve video quality. It will take you a second to begin enhancing your film.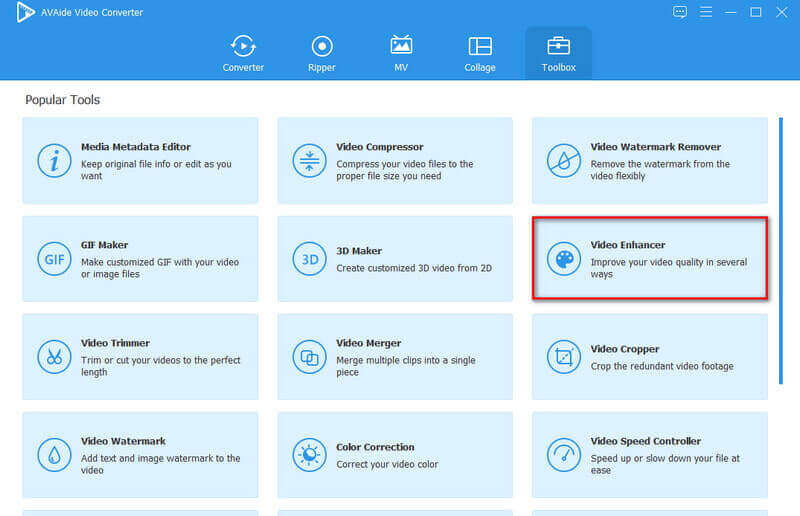 Step 3Add a Video
To import a media file, you can add a video file on the (+) Plus button by clicking it, then choose which video you want to enhance.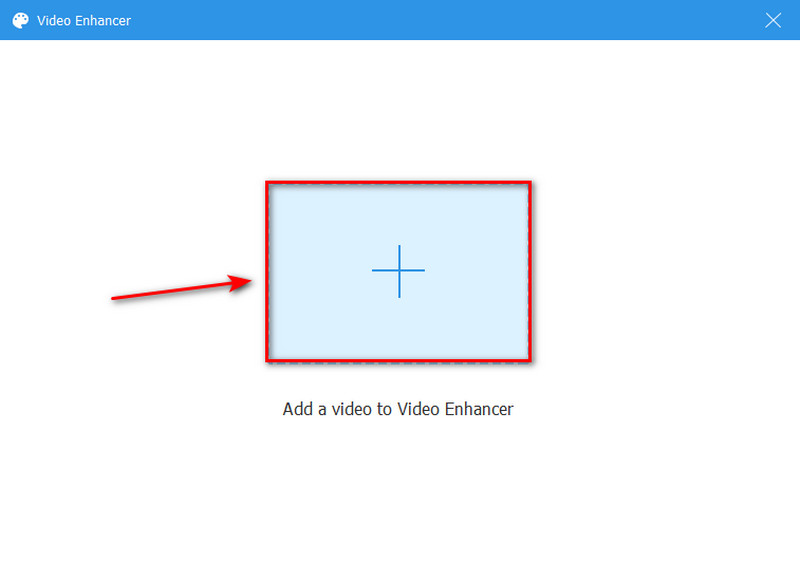 Step 4Enhance Video Quality
Here are four options for improving video quality: Upscale Resolution, Remove Video Noise, Optimize Brightness and Contrast, and Reduce Video Shaking. You can check the box ahead of the selection and choose depending on your preferences. Alternatively, open the Resolution menu and select your desired resolution from the list below.
Note: If you want to crop your video, you can use the Cut button by clicking it, and you can change the Format by choosing your desired format, including MP4, MOV, MKV, AVI, WMV, etc.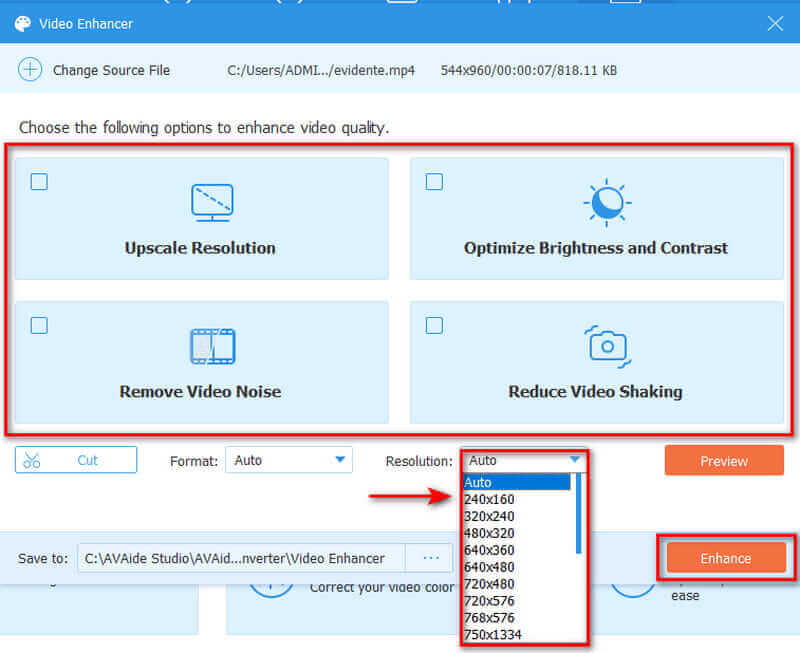 Step 5Export the Final Output
At last, you can click the Preview button to view the enhanced video. If you're satisfied with that, you can now change the file's location by going to Save To and start exporting the final output by clicking the Enhance button, which will save it automatically on the folder.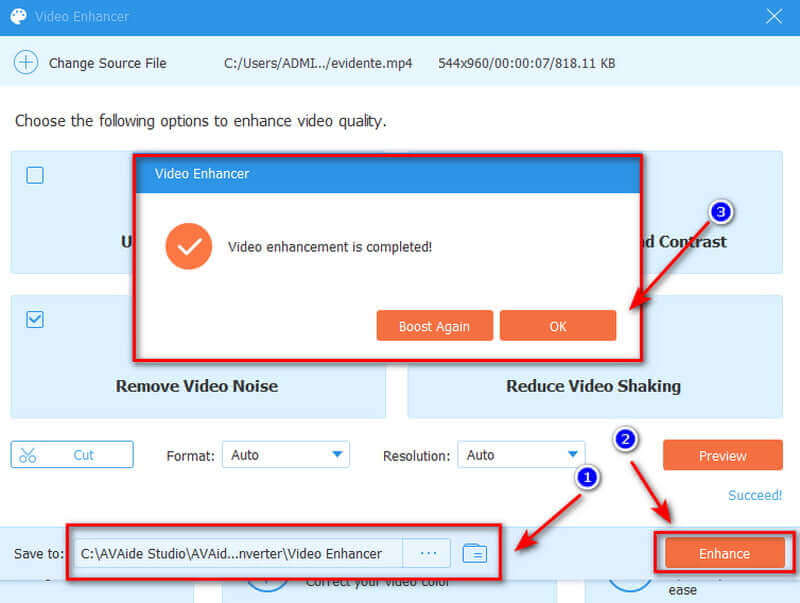 Part 3. FAQs about Improving Video Quality on Premiere
Why is my video in Premiere Pro blurry?
To begin, go into your sequence settings and raise the resolution to 1920x1080. To suit the new resolution, you'll need to resize the video. The low-resolution video will look the same when exported, but the text should be crisper. Otherwise, the export parameters appear to be appropriate for a 1920x1080 video.
What causes Premiere Pro to reduce video quality?
When you enhance video in Premiere Pro, the resolution is frequently reduced to allow faster playback and enhancement. The resolution is reduced when you render under most of the basic settings.
How can I export 1080p using Premiere Pro?
Set profile to High and level to 4.2. Then, ensure that the width is 1920 and the height is 1080. Next, you can select the frame rate to 23.976, enabling render at maximum depth.
How long would it take to learn how to utilize Premiere Pro?
Adobe Premiere can take 3-5 months to completely master the ordinary person devoted to studying and completing classes. However, even after years of continuous use, many experts who deal with Premiere daily believe they are always learning.
Conclusion
To conclude, Adobe Premiere Pro can fix your video quality problems. This application will undoubtedly teach you how to improve video resolution in various methods. Nonetheless, suppose you find Adobe Premiere Pro's learning curve to be too steep. In that case, AVAide Video Converter comes in useful. It is packed with several impressive features that will allow you to improve video quickly. Download it now and give it a shot; it will undoubtedly assist you in lightening your load.
Your complete video toolbox that supports 350+ formats for conversion in lossless quality.