We all know that old videos are an essential part of life and memories, especially if you have a collection of films you recorded so many years ago and want to restore them to good quality. However, if you have old movies and want to use them on your blog, you can restore them by using old video restoring software.
On the other hand, you have the option of performing a high-quality transformation by choosing the best program. If you require professional results, you've come to the right place. By continuing to read this guidepost, we will discuss how to instantly and wisely restore old videos and bring them back to their original state like a pro. We recommend the best tool mentioned in this article, listed below.
Part 1. Can Old Videos Be Restored
In today's technologically advanced society, there is no need to be concerned about restoring old quality videos because there are many tools that we can use to restore the better quality of our old films. Keep the videos in your collection because they are too valuable for you, and you want to regain their quality. You can use old video restoring software.
Moreover, Video restoration is an effective method for repairing video flaws. As a result, the first thing that comes to mind may be video restoration assistance that assures higher quality. In that case, you may require effective software to convert your valuable old videos from low quality to higher quality formats such as 1080p, 4K, and up to 8k for better preserving and reviewing the memorable moments in our films.
Part 2. Top 2 Best Video Restoring Software to Restore Old Video Quality
1. AVAide Video Converter
If you're looking for old video restoration software, AVAide Video Converter is one of the most recommended programs.This excellent tool allows you to restore your valuable old video most straightforwardly and professionally, and it can be used to restore video quality substantially. Likewise, suppose you want to upscale low-resolution videos burned from old discs. In that case, this old video restoration software will work a lot.
Moreover, AVAide Video Converter is designed to improve and restore video quality in all areas. Its video resolution can be increased from SD (480p) to Full HD (1080p) or from 1080p to 4K. It can enhance your old video with no visible film grains, objects, or distortions. In addition, This leading tool is available for download on Windows and Mac. Check out the video restoration tool below to learn how to restore the quality of old videos quickly.
Step 1Launch The Leading Software
You must first download and install it by clicking the download button above.
Step 2Click The Toolbox
To begin restoring your old video, click the Toolbox button and navigate the Video Enhancer tab. It is simple to find because its features are simple to use.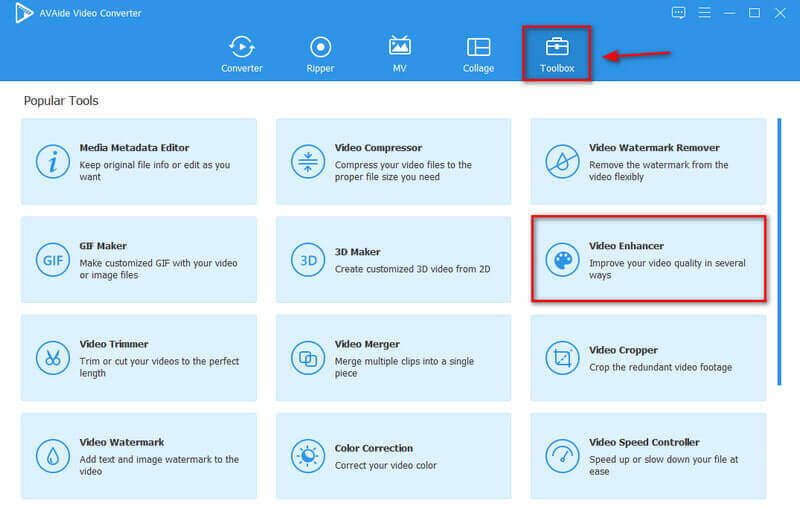 Step 3Add Video File
You can import your media file in the middle interface by clicking the Plus button and selecting which old video you want to restore.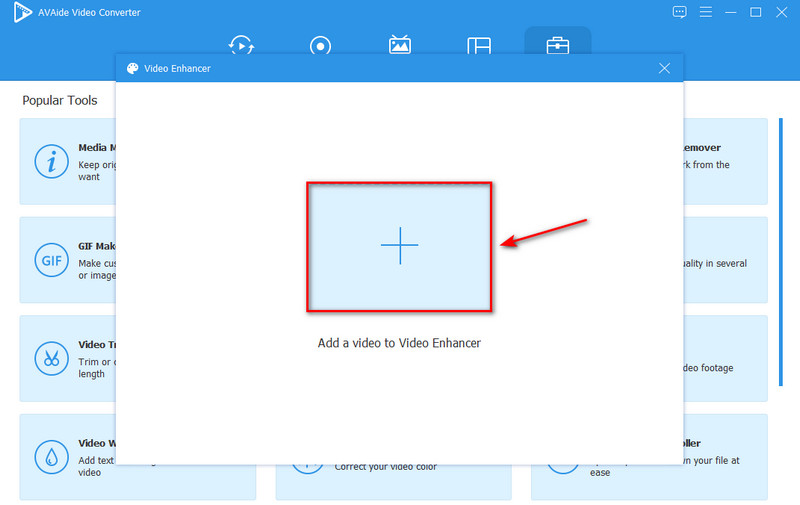 Step 4Restore Video Quality
You have four options for restoring video quality: Upscale Resolution, Optimize Brightness and Contrast, Remove Video Noise, and Reduce Video Shaking. Clicking on those four options will help you professionally restore your old video quality.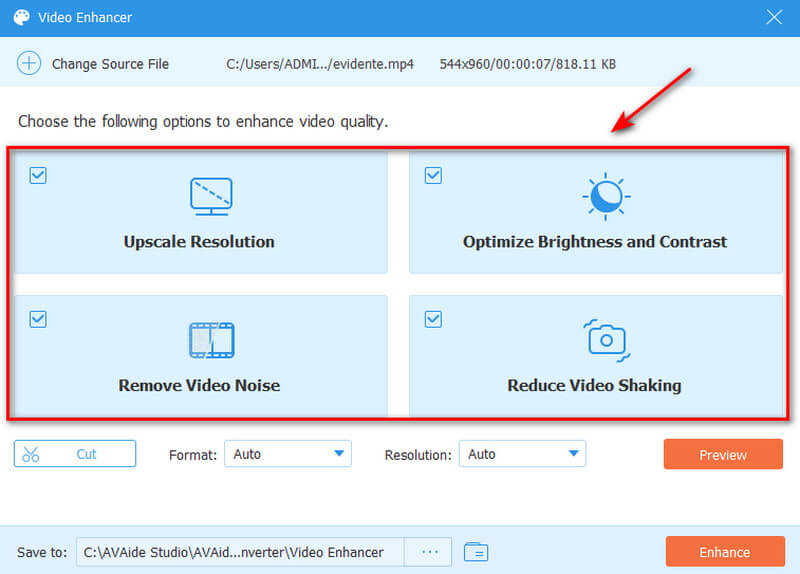 Step 5Upscale Resolution
Please keep in mind that you can access the various video resolution sets that this tool already provides by clicking the Resolution button. We recommend using the highest resolution to improve the quality of your old video. Moreover, you can also change the video Format by selecting your desired format provided below. If you want to crop your videos, click the Cut button.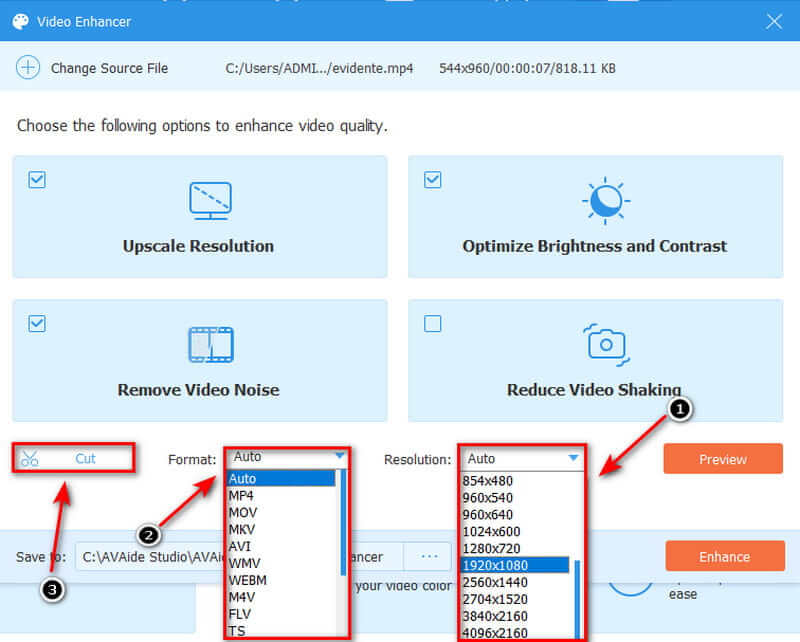 Step 6Enhance and Save
Before you export your video, click the preview to view the enhanced video; if you're happy with it, you can now change the file's location by navigating to the Save To field. If everything is in order, you can begin enhancing by clicking the Enhance button. After that, a pop-up box will appear on your screen, indicating that the enhancement is complete.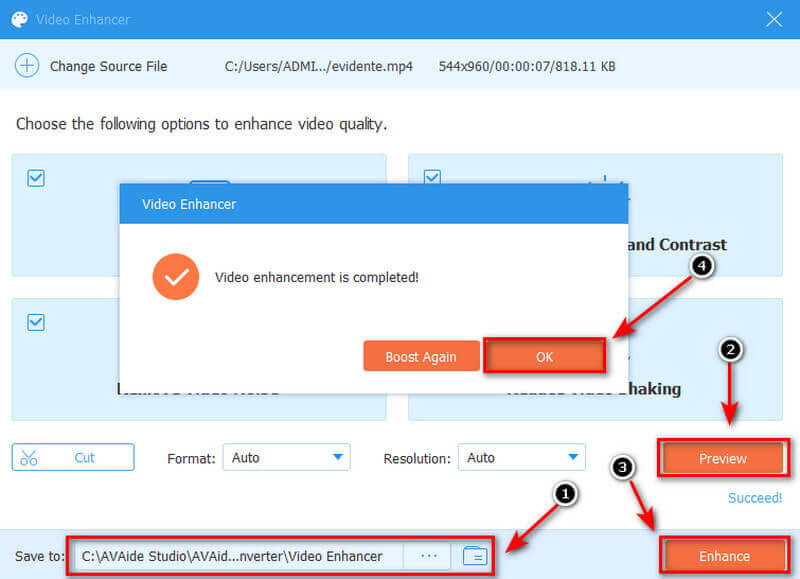 2. DVDFab Video Enhancer
Look no further if you're looking for an alternative tool to restore your old video quality. DVDFab Video Converter is among the programs on the list. This software can restore video processes automatically and produce unexpected video quality output. You can digitally remaster old videos for free with a few mouse clicks. You can also use this best free video restoration software for a trial period. Learn how to use this software to restore old video quality in the simplest way possible by reading the instructions below.
Step 1Start DVDFab Video Enhancer
By typing DVDFab Video Enhancer into the search bar, Navigate the download button, and you can freely install it.
Step 2Click the Add Video button
To proceed, please click the Add Video button and select the video file to be restored. Alternatively, drag and drop the video source onto the main UI.
Step 3Adjust the Video Output
Customize the output of your old video by selecting from various options such as upscaling video, removing video noise, fixing blurry videos, and so on. In addition, video color, brightness, and saturation will be improved. Select the AI Models you want.
Step 4Begin Restoring Video
Finally, you can begin restoring your old video. The entire video restoration process will be considerably reduced. However, your computer's system configuration and output video resolution determine the total processing time.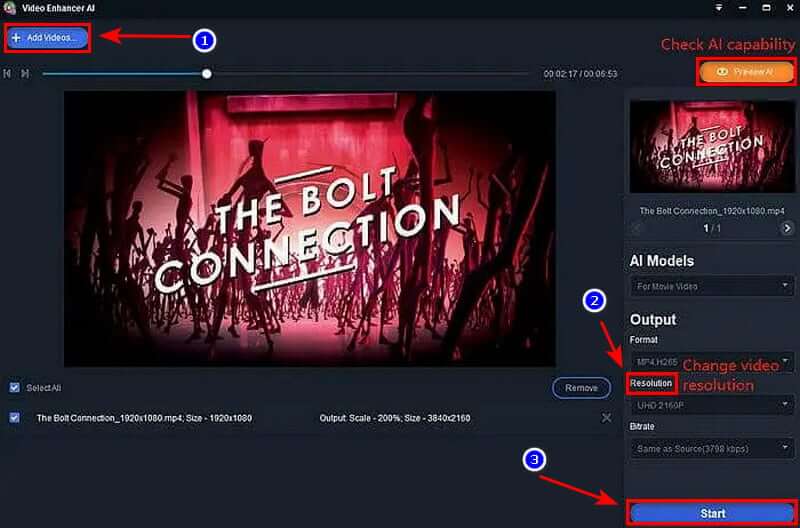 Part 3. FAQs about Restoring Old Videos
Why is the quality of old films so high?
Older films are frequently recorded in 35mm film format to answer your question. This digital standard has a lot more sharpness than non-HD TVs could display. Pixels are innately digital, and 35mm film has never had them. It could have sensitivity equal to x-amount of pixels.
How can old films be remastered in 4K?
The 4K versions are made possible by scanning the old analog masters with digital scanners. Some of it is used to restore/improve the old video and make the release more appealing.
Is it possible to improve a low-quality video?
You can stabilize and fix shaky, out-of-sync, old videos. Professional video restoration such as AVAide Video Converter can fix bad quality videos and improve the quality of full HD 4k and 360-degree videos.
How can I improve the clarity of a video?
To remove any blurriness, we recommend increasing the brightness and decreasing the contrast. It won't solve all of your concerns if your video is exceedingly out of focus, but it will certainly speed things up a little. When you're satisfied with your adjustments, choose an output format.
Conclusion
To wrap up, you don't need to be upset about restoring your old videos because effective software will undoubtedly support you. AVAide Video Converter is the most convenient option for restoring old videos without compromising quality. Download and install this fantastic tool and quickly start using it professionally.