Instances may occur if you had a blurry video clip or a little dark when your camera was out of focus while taking the video. Meanwhile, when our video is a blur, we get frustrated because we don't know how to fix it or what tool we can use to help us enlighten our load. Don't despair. Using the best sharpening tools gives it a nice appearance and improves it by providing a good view range. Furthermore, after reading this article, you will understand using the most recommended software to sharpen video quality.
Part 1. Why We Need to Sharpen Video Quality
Sharpening the video quality is crucial, especially when our video is poor. However, we must point out the video quality to increase the resolution and contrast of the video to make it clear. Assume you want to use better software to improve video quality in the simplest way possible. You can look at the software mentioned in this guidepost below and learn how to use it in the simplest way possible.
Part 2. Most Recommended Video Sharpener to Sharpen a Blurry Video
If you search for the most recommended and best video sharpening software, that will surely enlighten you. AVAide Video Converter is the most fantastic tool for effortlessly sharpening your video. This excellent software has popular tools, including Video Merger, 3D Maker, Video Compressor, Video Enhancer, etc. Isn't it amazing? It also has an up-to-date design interface for the best user experience possible, allowing you to sharpen your videos most simply and quickly attainable.
Moreover, because of the simplicity and user-friendliness of this tool, many people have been enticed to give it a try. Additionally, these functions are bundled into a single program that can be downloaded and installed on Windows and Mac computers. It is just not a converter, but it has a video enhancement. You can sharpen your video using the Video Enhancer feature on the Toolbox section. Take a look at the walkthrough guide below to learn how to sharpen video quality professionally.
AVAide Video Converter
It can sharpen over 300+ video formats at ease.
Additional features and functions can be found on Toolbox.
30x faster conversion empowered with acceleration technology.
It works without an internet connection.
Convert in bulk without interruption.
Option 1. Sharpen Videos by Adjusting Contrast & Brightness
Step 1Open the Software
First and foremost, open the software, and make sure the software must be downloaded and installed on your computer.
Step 2Add Media File
To proceed, click the (+) Plus button to add your media file. You can start sharpening your videos in a matter of seconds.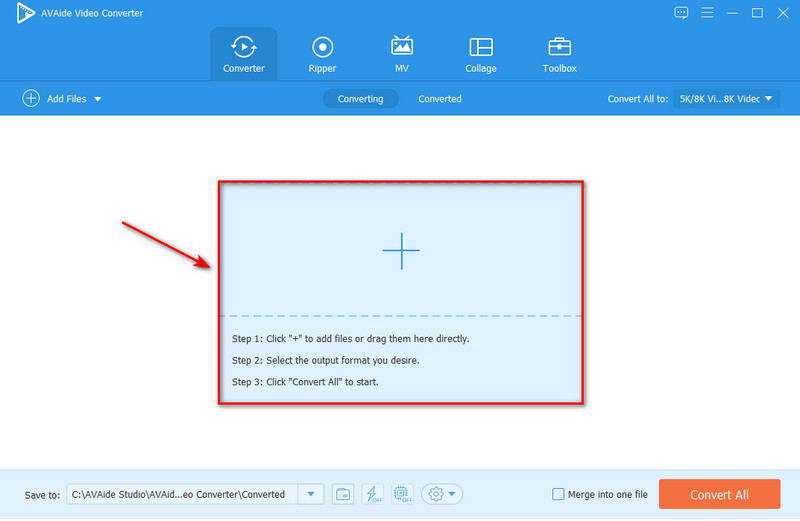 Step 3Adjust Contrast and Brightness
To sharpen your video, go to the Star icon, click the Effect & Filter menu, and adjust the Contrast and Brightness by adjusting the sliders. It will sharpen your video without losing the quality.
Note: To make your video clearer and sharpen, you can select the filters you want, then after you've chosen your desired filters, you can now click the OK button, then select the Convert All to start applying the effect and filters.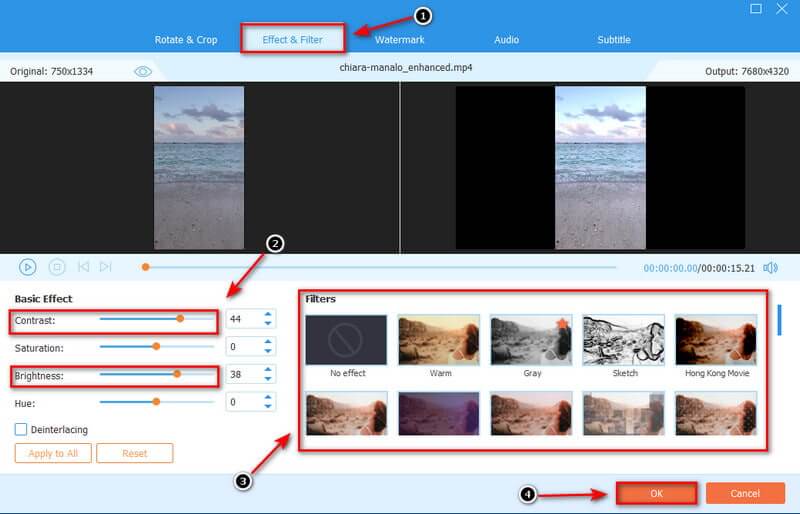 Option 2. Sharpen Videos Using Video Enhancer
Step 1Choose Video Enhancer
There's another option to sharpen your videos. Go to the Toolbox tab. Then, select Video Enhancer, and you can add a media file by pressing the button on the Plus icon before sharpening your video.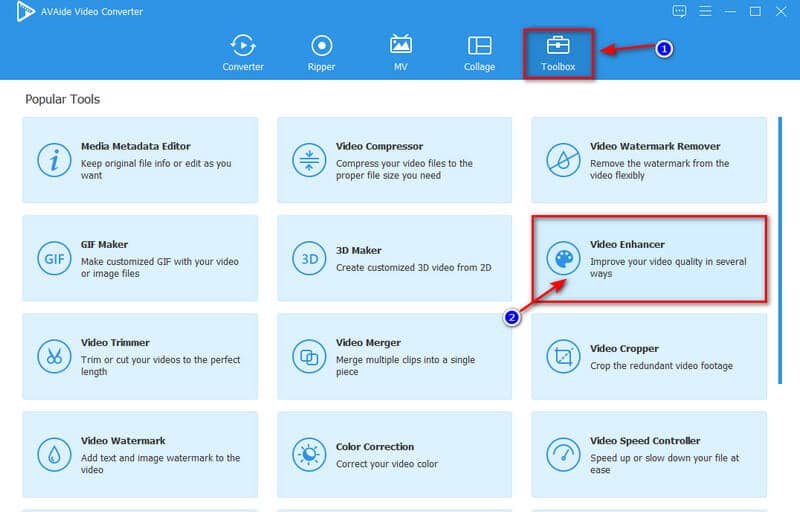 Step 2Sharpen Video Quality
Upscale Resolution, Optimize Brightness, Contrast, Remove Video Noise, and Reduce Video Shaking are the four options for sharpening video quality. Depending on your needs, you can check the box options. Alternatively, open the Resolution menu and select a resolution from the list below.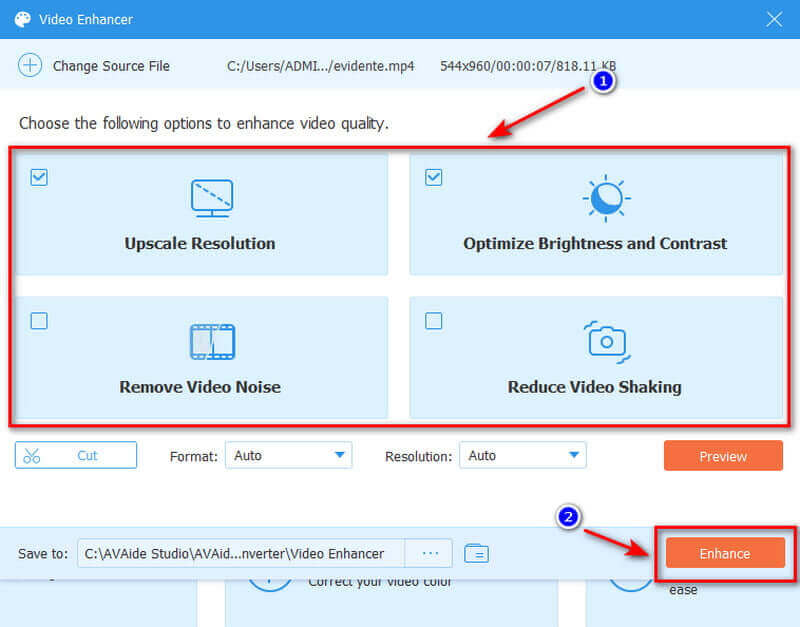 Step 3Save and Export the Sharpen Video
To save your video, click the preview to view the enhanced video. If you're satisfied with that, you can now change the location of the file by clicking the Save to. If everything is fixed you may now start the enhancement by clicking the Enhance button. As most straightforward as that, we have sharpened the video quality with the help of this fantastic software.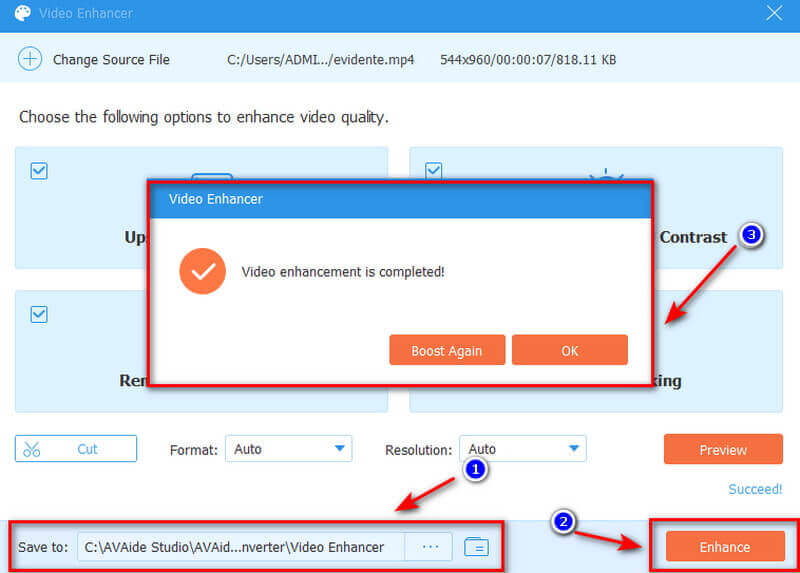 Part 3. How to Sharpen Video Quality in iMovie
One of the most highly rated for sharpening video quality on a Mac is iMovie. You can use this tool to modify the levels, exposure, brightness, contrast, saturation, and white point settings of any video clip you've contributed to a project. Furthermore, the Mac version of iMovie contains more presets, features, and tools than the iPhone version. Because the interface is displayed on a larger screen in this case, all of its components are available, including color balance and correction, stabilization, cropping, noise reduction, speed control, and beautification effects. Examine the straightforward step-by-step process for sharpening video quality in iMovie.
Step 1To begin, open the iMovie software on your Mac and select a video clip from the browser or Timeline.
Step 2Following that, after selecting your video clip, click the Enhance button in the upper right corner, and your video will be automatically enhanced in the quickest way possible.
Note: You can also highlight the other buttons in the adjustment bar, such as Color Balance and Color Correction.
Part 4. How to Sharpen Video on iPhone/Android
Do you want a video sharpener that works on both iPhone and Android? In today's generation, we have a plethora of video editors and enhancers applications. Let's say you want to improve the video quality on your smartphone. A built-in video editor can assist you in sharpening your video in the most straightforward way possible. Follow the steps below to sharpen video quality on your smartphones.
Steps for Sharpening Your iPhone Video
Step 1If you're using an iPhone, navigate through the videos and select the ones you want to sharpen.
Step 2Then, select the Edit button, adjust the icon, and finally, swipe right to find the Sharpness button.
Step 3You can now adjust the sharpness by swiping to the right, and that's it; you can quickly and easily sharpen your video.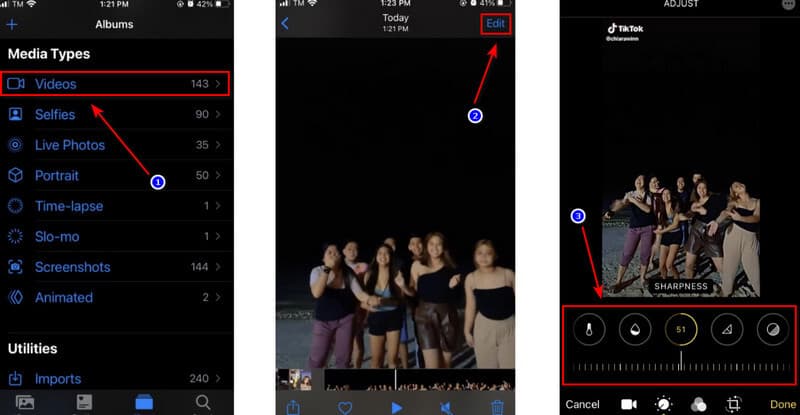 Steps on How to Sharpen Your Video on Android
Step 1If you have an Android phone, navigate to the Gallery, select the Video folder, and decide which video you want to sharpen.
Step 2Then, go to the Edit button and swipe right to find the sharpness to adjust it.
Step 3You can now save the video after you have adjusted the sharpening button.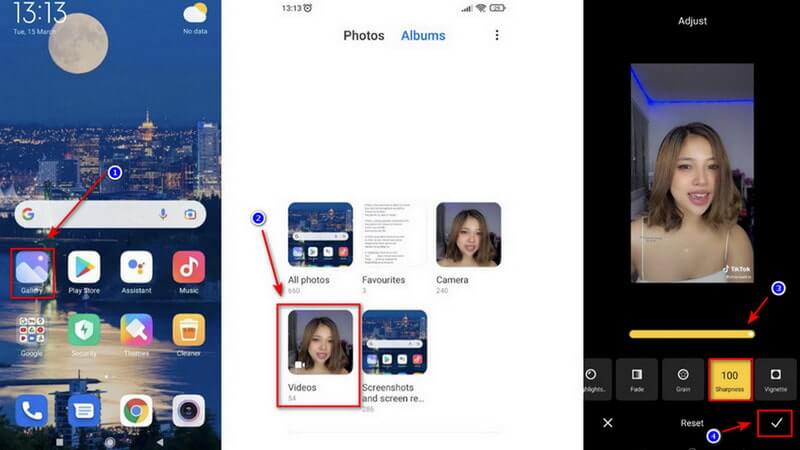 Part 5. How to Sharpen Video Online
If you're seeking an online tool to sharpen video quality most simply, Flixier is one option. This software is an online video enhancer that allows you to sharpen videos in a matter of seconds. Merely dragging the sliders on this video sharpener tool will allow you to change the contrast, brightness, vignette, and saturation. This online video quality sharpener is compatible with various formats, including MP4, WMV, MOV, VOB, AVI, and others. The fundamental steps are outlined below.
Step 1Import Video
You must first log in, click the Import button, and select the location you want to import your video. You can import videos from your computer.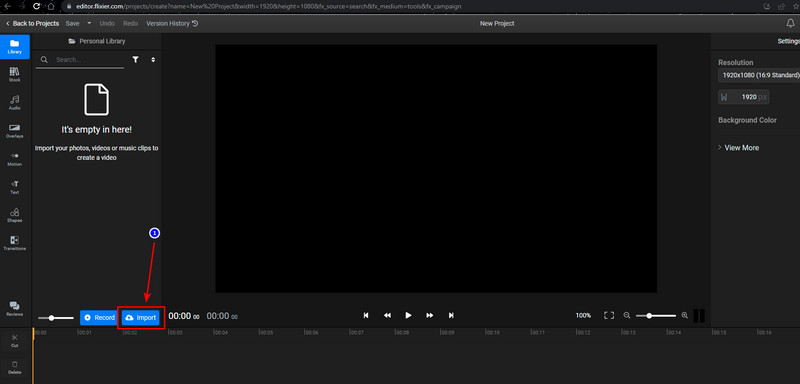 Step 2Sharpen Video Quality
Drag a video from your library to the bottom of the screen's Timeline. First, select the video, go to the Color tab, and select the Sharpen filter.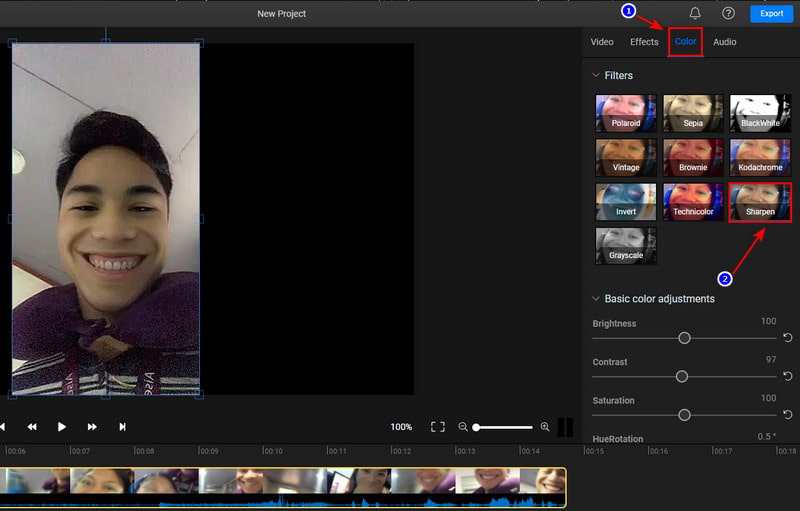 Step 3Export Video File
Finally, hit the blue Export button after you've applied your sharpen filter. Your video will be rendered in three minutes or less, and you will be able to download or publish it to up to seven different online destinations.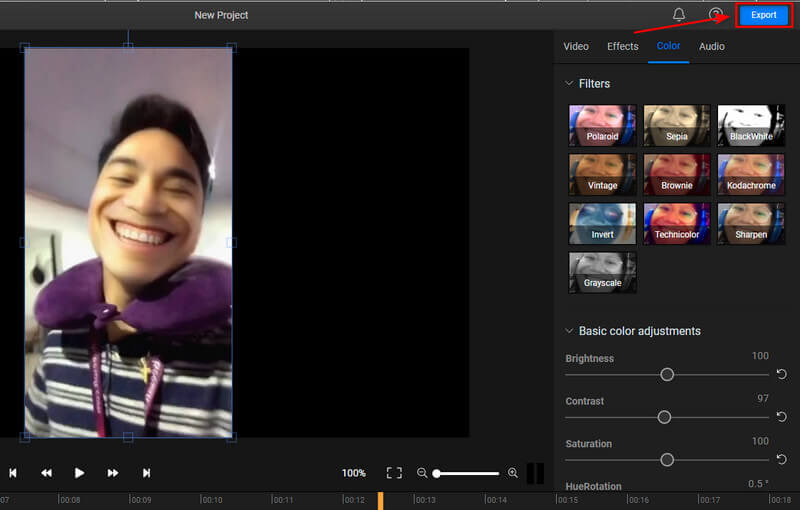 Part 6. FAQs about Sharpening Video
Can you fix a shaky video?
Whatever the cause of the blurry video, you can use third-party software to fix it to clear and have a visually new look. You can unblur videos using software such as AVAide Video Converter or a downloadable product.
How much should the video be sharpened?
You're unlikely to have enough time to adjust the sharpness of every clip on your Timeline. However, In general, a radius of 0.5 to 2 pixels and an amount of 25 to 100 percent is a good starting point.
Is there a distinction to be made between enhancing and sharpening a video?
On the other hand, Sharpening effects are more about edge enhancement increasing the contrast of the edges within your video, which adds definition to the details in your film.
Conclusion
In conclusion, this article demonstrated various techniques for sharpening your video. AVAide Video Converter is the best video enhancer that has been proven to be the most effective tool among all solutions mentioned. This fantastic software is intended to make any task as simple as possible. So seize this opportunity, and your load will undoubtedly lighten.