Are you seeking a magnificent video enhancer app? Well, you are right on track being on this post. We know how irritating it is to have a low quality of videos or movies, and it is more depressing finding out about the level of its quality a minute before you watch it. Most people who experience this scene tend only to forget and just walk out. But, if you enjoy enhancing videos, this will never be a problem. From now on, you can stop looking for software that can enhance your video perfectly because we will give you the top 10 video quality enhancer tools that you can immensely enjoy. After all, it takes two to tango, which is so true in beautifying videos, it takes you and the excellent tool to have the best video you are aiming for. And so, without further adieu, let's get started!
Part 1. Why You Need a Video Enhancer
As a continuation of what had been mentioned a while ago, video quality enhancer apps play a significant role in the video editing industry. It includes even freelance editing like you do. This is because, by using a video enhancer, you can turn your poor-quality video into a better one that pleases the eyes of the people watching it. Imagine watching a video with dark lighting due to the camera used, vague images, shaky, and a static effect. Are you still going to watch that video even if that video portrays the most important event of your life? Of course not!
However, if you let a quality video enhancer handle that video, it will experience betterment. A video enhancer tool will upscale your video's resolution, make it clearer, reduce the noise, and even fix its audio problem.
Part 2. Top 6 Best Video Enhancers for Desktop
Top 1. AVAide Video Converter
AVAide Video Converter is an AI-powered tool that will give everything you need in your video enhancement task. In addition, it is a multifunctional tool that contains a lot of beautifications such as filters, themes, and effects which are only one-fourth of its remarkable features and tools. Not just that, this fantastic video enhancement software can intelligently remove the dirt-like noise of the video, making it as clean as a Hollywood movie, aside from its ability to reduce the shaking, change the brightness and contrast, and upscale the resolution.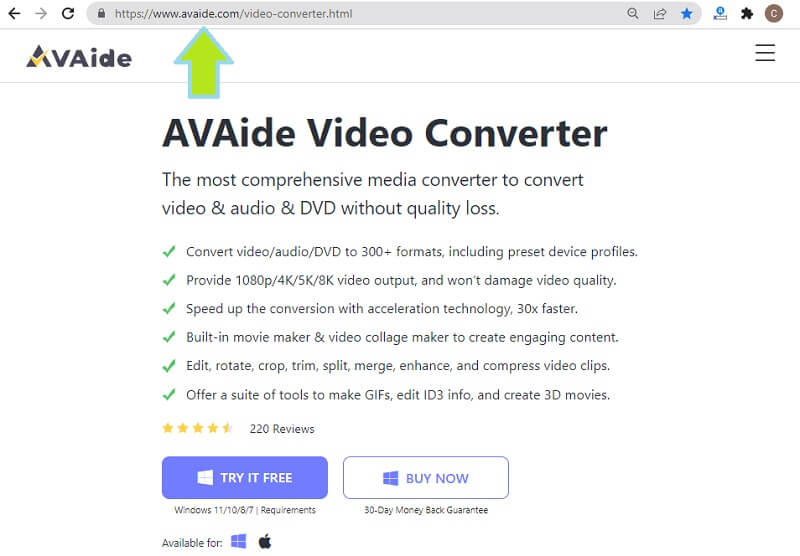 Features:
◆ A homemade DVD ripper.
◆ Ultrafast video conversion.
◆ Video and image collage maker.
◆ 3D maker.
◆ GIF Maker.
◆ Toolbox of all the powerful tools.
Pros

It's effortless to use.
It's powered by artificial intelligence.
It comes with advanced features.
It comes with advanced features
It supports all popular video formats.
Cons

It supports all popular video formats.
Top 2. CyberLink PowerDirector
Another world-class video editor/enhancer is the CyberLink PowerDirector. This video upscaling software comes with professional-like editing tools that are being updated monthly. Even though it has a professional-like feature, it doesn't mean that it is restricted to beginners. It's the other way around, actually.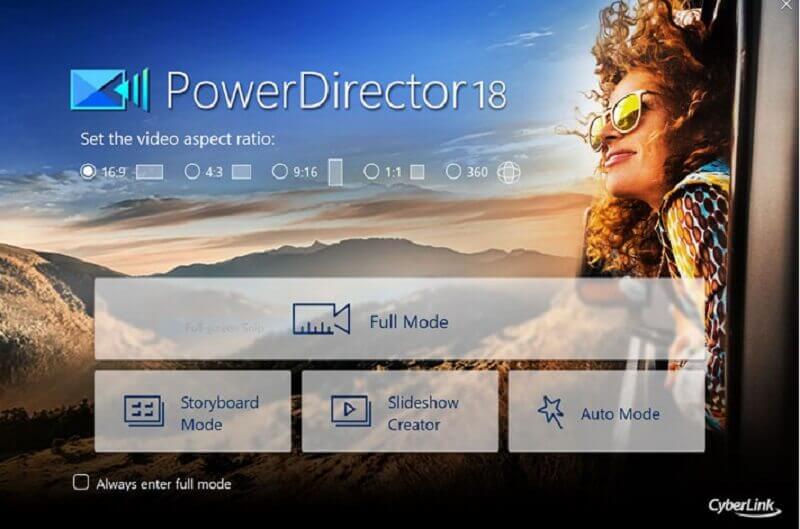 Features:
◆ Tools for an action camera.
◆ An accurate theater color.
Pros

It has almost everything you need.
With a very facile interface.
With a very facile interface.
Cons

It's pricey.
Watermarked outputs.
No mobile version.
Top 3. Filmora
Filmora by the Wondershare is another simple yet powerful software best for beginners. We can't deny the popularity of this tool, for it works similarly with popular editing tools like Camtasia. This 4k video enhancer comes with wonderful features and tools to produce a beautiful video after a transformation.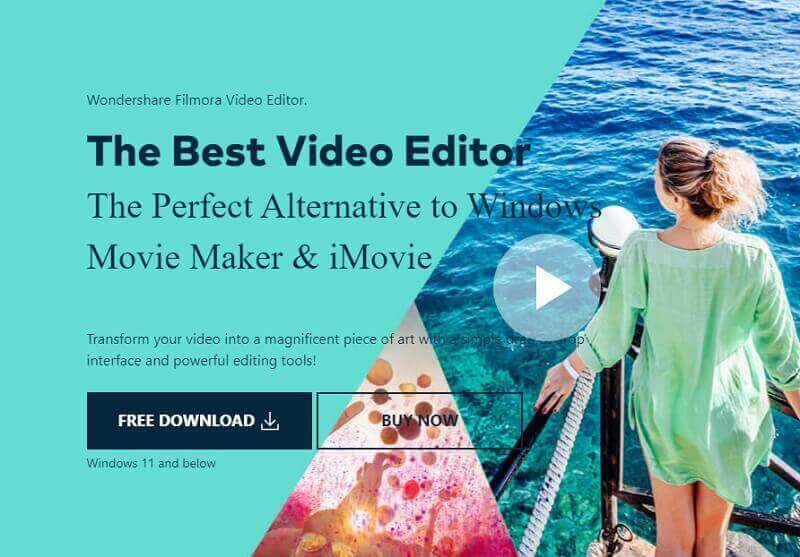 Features:
◆ With green screen mode.
◆ Tremendous effects and filters.
◆ Color controller.
◆ Noise removal.
Pros

It can stabilize the video.
It requires less RAM.
Easy to use.
Cons

Advanced tools are limited.
The saving process takes time.
It hangs during the trial.
For Windows only.
Top 4. Clipchamp
Next on the list is Clipchamp, one of the most used video editors on the web today. Furthermore, it can work in any format you want to use, and it comes with undeniably good editing tools. Moreover, this online video quality enhancer can be trusted to transform your worst video into one of the great videos instantly. However, its better tools and features can be enjoyed if only you avail its premium version.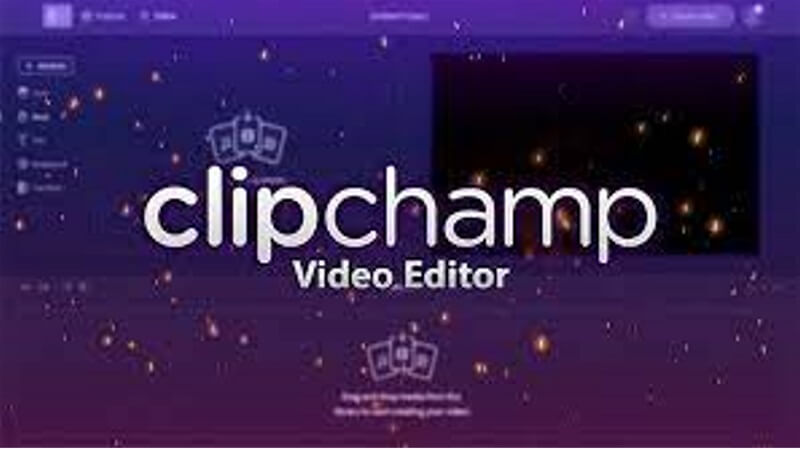 Features:
◆ Basic editing options such as trim, split, merge, etc.
◆ Green screen feature.
◆ Audio enhancer.
◆ Picture in Picture mode.
Pros

It is more accessible.
Easy to learn interface.
Cons

Free Version is limited.
Produce only 480P video for free.
Outputs in the free version are watermarked.
Top 5. Kizoa
Again, another best video enhancing tool that gives enhanced videos for free. If you were to use this free video quality enhancer online, you would also have the option to download it to use it offline.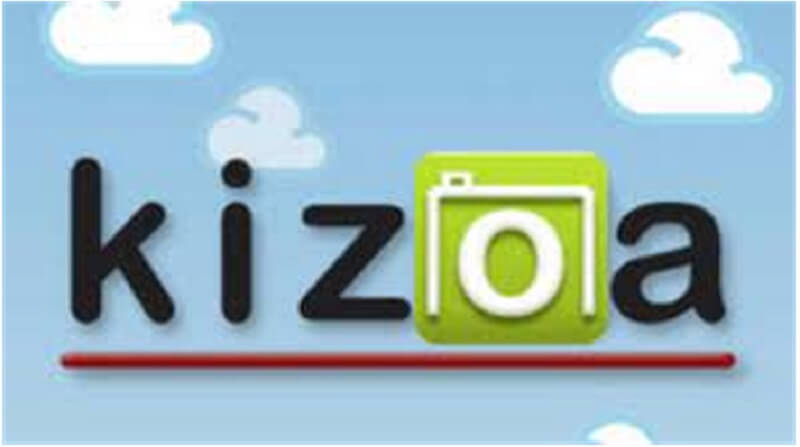 Features:
◆ Transition options.
◆ Green screen feature.
◆ Special effects.
◆ Pre-made templates.
Pros

It's affordable.
Easy to use.
Accessible.
Cons

Full HD is at a higher cost.
The cheap version is limited in features.
Top 6. Pinnacle Studio
Pinnacle Studio is senior editing software initially developed by the Pinnacle system and later acquired by Corel. From the day it was acquired, it gained so much improvement that it was even claimed to be one of the best video upscaling software up to this writing. Despite that, it can still give free service to its users. However, though it is significantly pricey, its ultimate version gives many wonderful features and tools.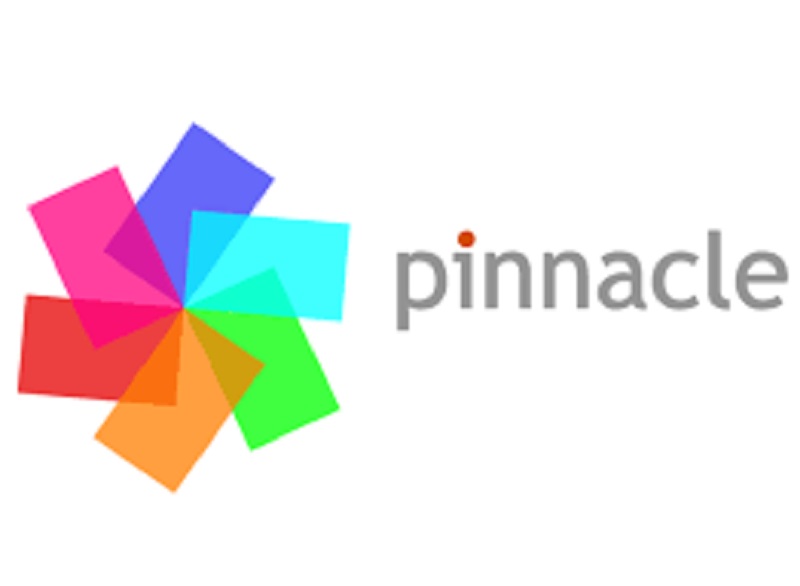 Features:
◆ 3D editing feature.
◆ VR support feature.
◆ Multicam editing tools.
◆ Title editor.
Pros

It has a very simple interface.
The tools are easy to use.
Cons

The free version doesn't support 4K videos.
It has limited motion tracking.
For Windows only.
Part 3. 4 Great Video Enhancer Apps For Mobile Devices
1. iMovie
iMovie is one of the iconic tools on Mac and iOS devices. Moreover, it is a free video enhancement software that allows the users to have the ultimate experience in video editing. Despite being free, iMovie provides a wide range of features and tools, for example you can make a movie on iMovie.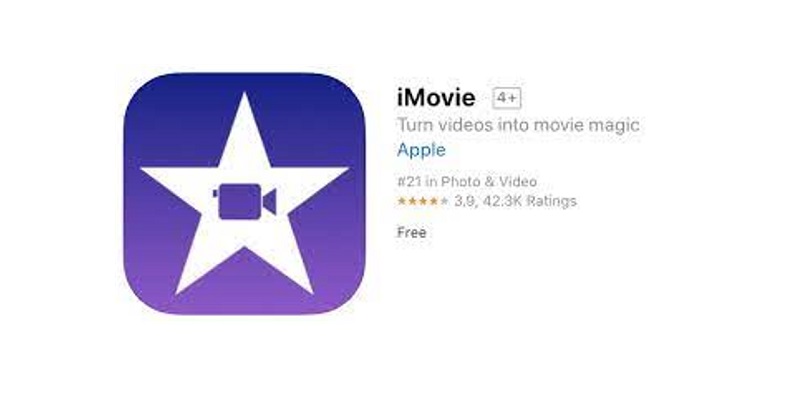 Features:
◆ Green screen.
◆ Tremendous effects.
◆ Movie Maker.
◆ Movie Sharing.
Pros

Free to use.
It supports high-quality videos.
It is flexible on computers and mobiles.
Cons

Not working in Windows.
Features on mobile are limited, unlike on Mac.
2. InShot
You can use InShot both on iOS and Android. This is undeniably one of the most downloaded apps in history. Furthermore, InShot makes another history in making movies and editing videos perfectly. Despite that, this video enhancer for Android and iPhones gives users a complimentary service.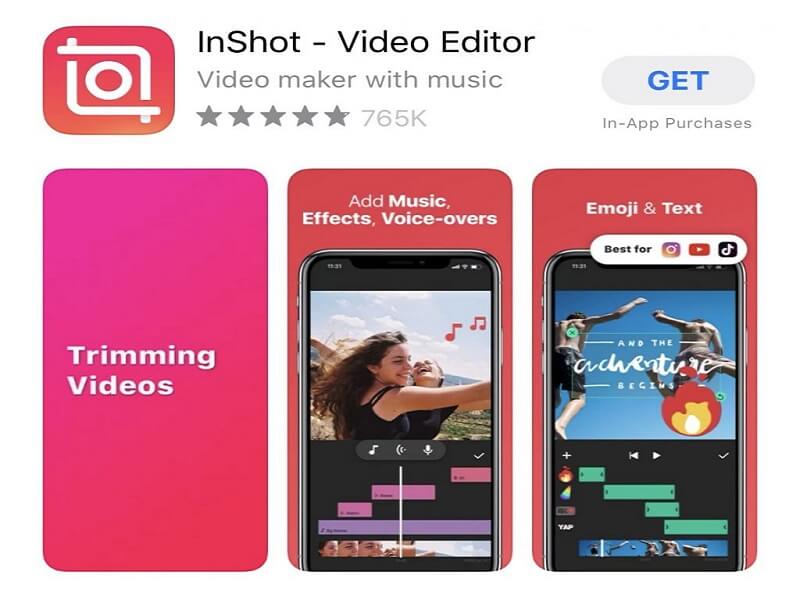 Features:
◆ Voice over effect.
◆ Color correction.
◆ Essential video editing tools are available.
◆ Movie Maker.
Pros

It's with the facile interface.
Versatile.
Cons

Ads bugging.
Sometimes crashing.
3. Kinemaster
Kinemaster is another popular video editing app that gives beginners a fresh and simple start. In addition, it contains tools that you will need to enhance your videos in a very convenient way. Also, the tremendous effects it offers will make your videos very special.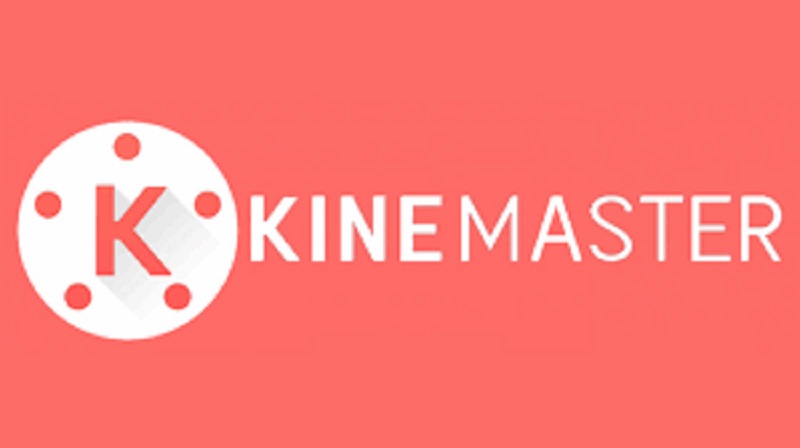 Features:
◆ Special effects.
◆ Downloadable animations, stickers, and fonts.
◆ Moviemaker.
Pros

Easy to navigate.
Versatile.
Free video enhancer.
Cons

Importing files takes time.
In-app features are pricey.
4. VivaVideo
Similar to the previous apps, VivaVideo possesses all the essential editing tools that prerequisite wonderful outputs. Moreover, VivaVideo enables slideshow making as well as music and sound enhancement. Not to mention the available stickers and icons you can add to your video screen while editing it.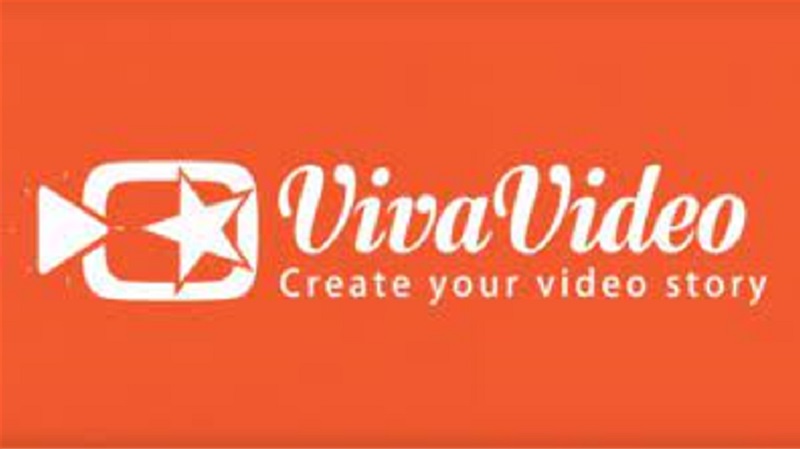 Features:
◆ Professional video effects.
◆ Blur video.
◆ Moviemaker.
◆ Music video maker.
Pros

Multifunctional tool.
It offers a wide variety of editing tools.
Cons

There are Ads all around.
Update issues.
Part 4. Bonus: How To Enhance Video With AI Enhancer
You may opt to use one of the online video quality enhancers, but no watermark outputs along with the world-class AI-powered tool? There's nothing to use but the AVAide Video Converter. So what are you waiting for? Download and install it now, then enhance the video by following the steps below.
Step 1Launch the AVAide, then proceed to its Toolbox. From the toolbox, choose the Video Enhancer. On the popped-up window, click the Plus sign of this AI video enhancer to import the video you need to enhance.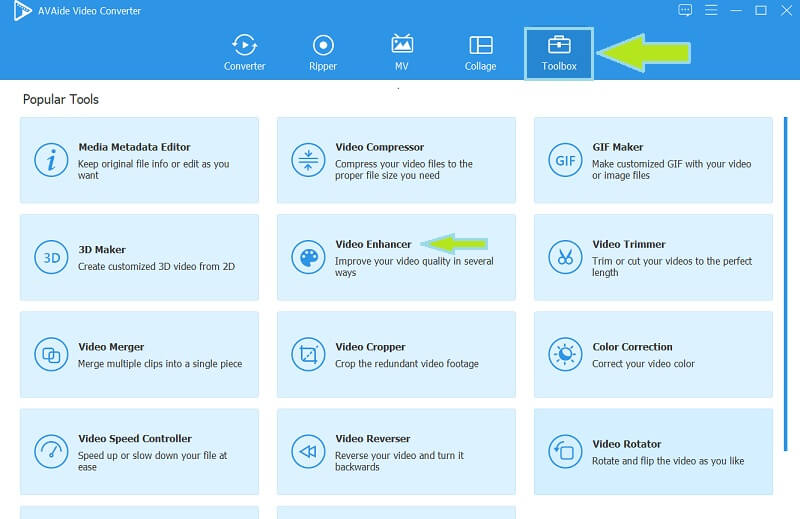 Step 2Now, toggle all the enhancer options you need on the new window. You may toggle it all if you want. Then, on the Resolution arrow, choose one for your output.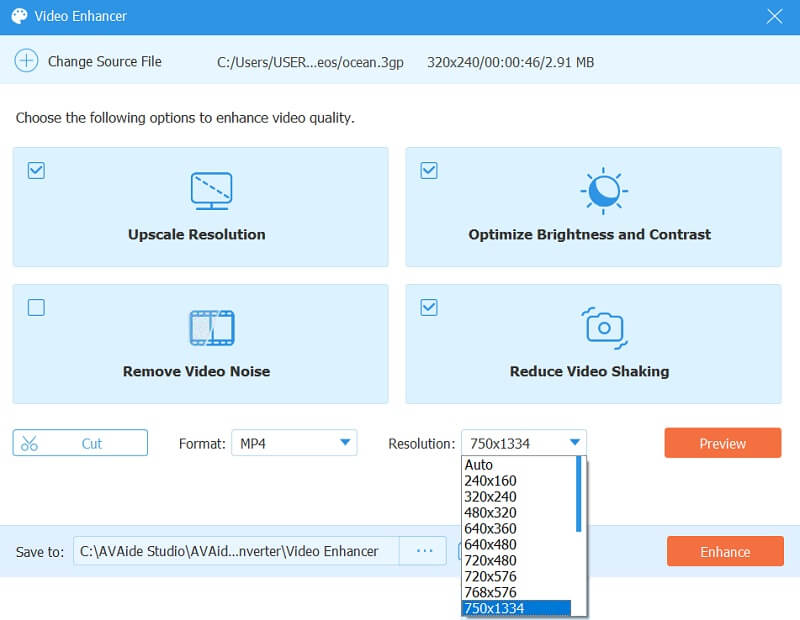 Step 3Click the Previewbutton if you want to see the pre-enhance video. Then, click the Enhance button anytime you want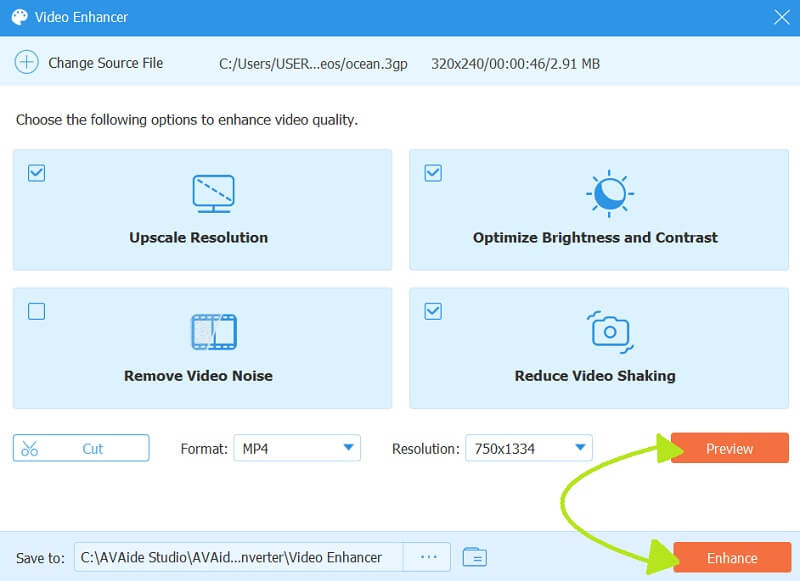 Part 5. FAQs About the Video Enhancer Tools
Can I enhance the movie from my DVD using AVAide Video Converter?
Yes. AVAide Video Converter enables the users to rip movies from the homemade DVD. And from there, you can enhance them easily.
What totally free video upscaling software can I use?
If you seek a totally free video enhancing software, use the iMovie. However, note that this tool only works on Mac and iOS.
Is it advisable to compress the video after the enhancement?
Compressing an enhanced video will result in a lower quality. So it makes no sense to compress it after enhancing it.
Conclusion
You can do your video editing task easier if you use a reliable tool. As we referred to the testings and reviews of the users, we have come up with these ten amazing video enhancers for you to choose from. Thus, we highly recommend the AVAide Video Converter, for this is the only software that is unleashed beyond excellence.
Your complete video toolbox that supports 350+ formats for conversion in lossless quality.