There will be times when you need to brighten your videos because you think your video has enough brightness while filming it but turns out dark afterward. For this reason, you must accept that everyone needs a video brightness editor because you will not always have good lighting when filming. There are a lot of factors why this kind of circumstance happens. Hence, the camera plays a big part in those factors, but most of the time, it is just because of the light of nature which is beyond our control. However, this is not something to fret anymore because there are great tools to help.
Speaking of those tools, we have gathered matchless video editing software that will splendidly do the job for you. After reading this article, rest assured that you have already mastered how to make dark videos brighter and clearer, with effortless guidelines!
Part 1. The Prominent Way to Brighten Videos on PC
The most prominent software that can quickly turn dark videos into perfectly lighted ones is none other than the AVAide Video Converter. This remarkable video editing tool has the most straightforward interface that makes users feel at ease. In addition, it is the beautiful effects, filters, and powerful video enhancement feature of AVAide Video Converter that makes a dark video brighter magnificently. This software enables users to lighten up their video in two unique ways. Let's find out how this tool does the magic with the complete guidelines below.
AVAide Video Converter the Most Prominent Video Brightener
The ultimate AI-powered video editor.
It adjusts the brightness manually and automatically.
It comes with acceleration technologies that protect your device.
It is the most trusted all-around video converter.
It supports more than 300 video and audio formats.
Perfect for beginners to attain professional outputs.
Perfect for beginners to attain professional outputs.
How to Brighten a Video With the AVAide Video Converter
Step 1Install Video Editor
As the software; you need to install it to your device, whether on Windows, Mac, or Linux OS-based. Once you have it, launch it and begin by uploading the video. Drag and drop the video at the center, or click the Plus icon to import the file manually.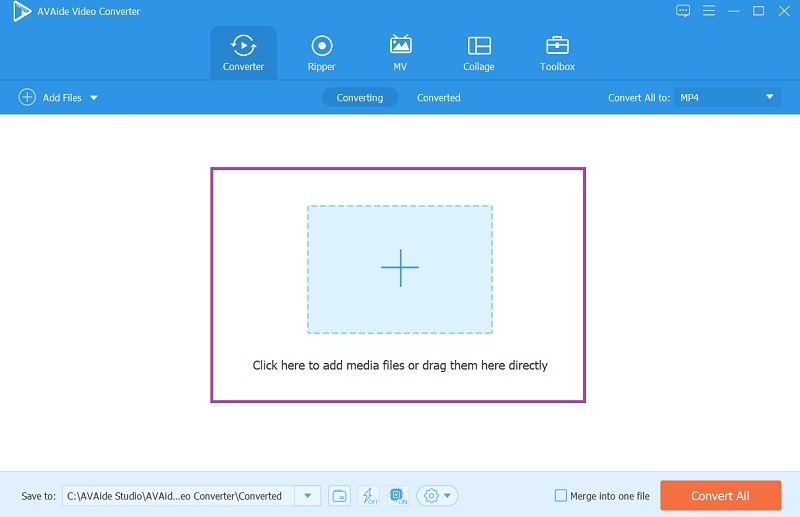 Step 2Edit the Video File
Now, click on the Star icon to edit the video. On the next window, go to the Effects & Filter and begin adjusting the brightness under the Basic Effect. Don't forget to tap the OK button to apply the changes.
Step 3Enhance the Video (Optional)
This video brightness editor gives you another option to lighten up your video with its AI-powered video enhancing tool. How? Click on the Coloring icon located next to the Edit button. Then, on a popped-up window, toggle the Optimize Brightness and Contrast and the other applications you want for your video. Then click Save.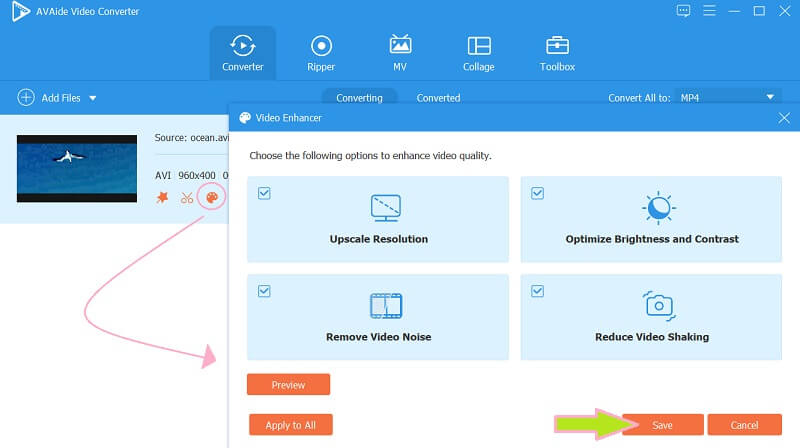 Step 4Choose a Format
Check the format of your output if it matches your preference. If not, click the Format icon at the tail of the file and select among the thousand choices from the next popped-up window.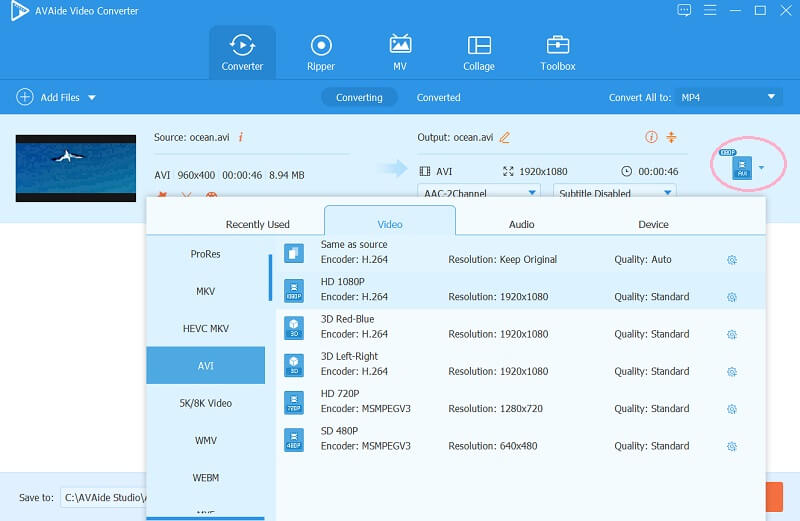 Step 5Convert Swiftly
Lastly, hit the Convert All button, and wait for the converting process to finish. That is how to adjust brightness on your videos ready to be uploaded on Youtube.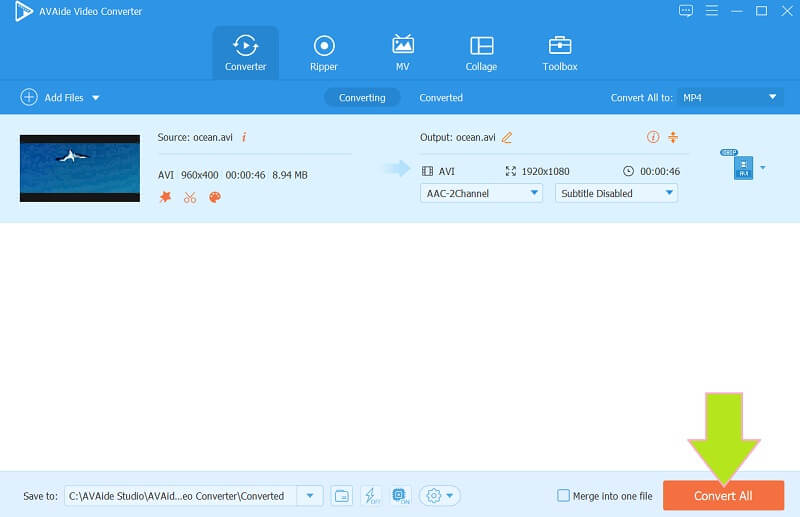 Part 2. Brighten Videos With the Power of After Effects
After Effects is a software developed by Adobe that creates digital visual and motion graphics effects in a movie. It is the perfect tool in movie making and video editing due to its powerful plug-in editing tools. With Adobe After Effects, brightening clips has become easy-peasy using an advanced editing tool. And you can crop videos in After Effects. However, if you will seek its other abilities in video editing, you might get confused about its technicalities. Thus, sticking to the main task makes the guidelines in brightening video with After Effects easy.
Step 1Start the After Effects software and immediately hit the File to create a new project.
Step 2Start uploading your video file by clicking the Import tab. Then go to the Effects and Presets to see the Brightness and Contrast setting.
Step 3On the next window, adjust the brightness to your preference. Then, Save the newly altered video.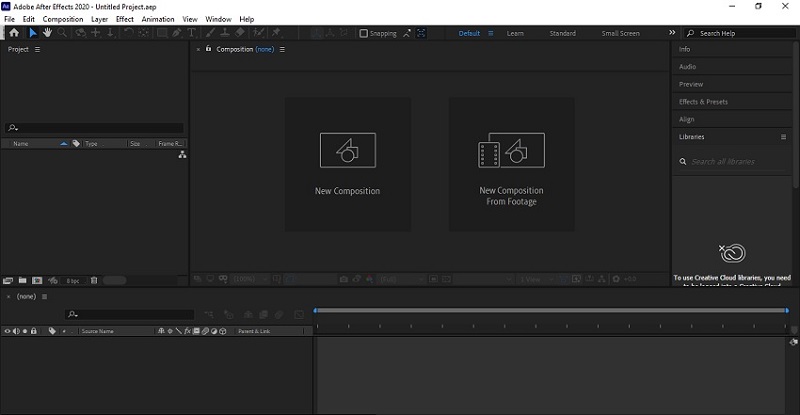 Part 3. How to Brighten Videos with Adobe Premiere Pro
Another robust software popularly known today is the Adobe Premiere Pro. In addition, this software is acknowledged as one of the most reliable movies, TV ads, and video editing tools in history. So, how to brighten video in Adobe Premiere Pro? Well, it is through the power of its potent tools, along with its advanced and professional features and effects, many professionals rely on it. You can also improve video quality in Premiere. However, just like the After Effects, acquiring it would cost you extravagantly. What is money if you could have a fantastic tool like this, right? Therefore, let's brighten your clips by following the simple steps below.
Step 1Import the video on the software once you launch it. Then, immediately get to its Brightness and Contrast tool right after searching Brightness on the search panel.
Step 2You can relocate navigation by dragging it from its original position to the preferred position. Then, start adjusting the brightness of your iPhone video.
Step 3Save it by exporting it to your device once you have the perfect lighting for your video.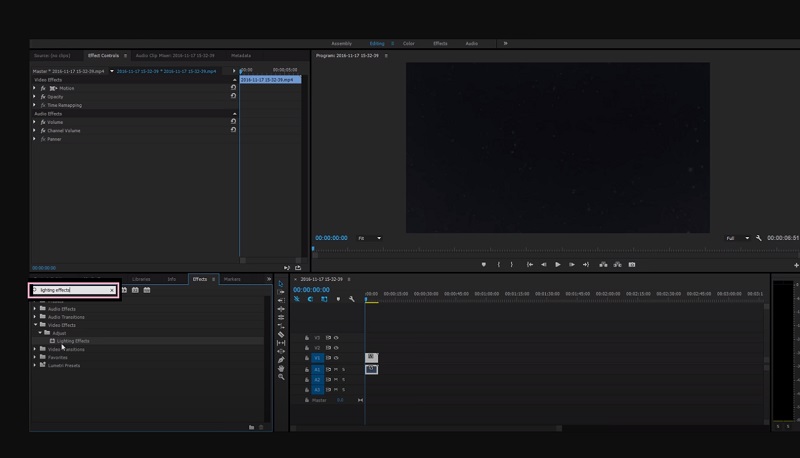 Part 4. The Best Way to Brighten Video on iPhone and Android
If you opt to use your iPhone or your Android on this task, the Photos app is the best way! Yes, this file storage management developed by Google can easily do the job for you! This fantastic tool can repair even your blurry photos and videos. Actually, Google Photos purposely functions as a manager and a keeper of numerous and large image and video files. Surprisingly, it also contains advanced features and tools that can work in repairing and embellishing files. Thus, let's observe the steps given below on how to make a video brighter on Android. Note that the steps given are also applicable on iPhone.
Step 1Launch the app on your Android, then select the video you need to brighten. Click then the Edit tab located at the center bottom-most part of the screen.
Step 2On the presets, swipe left until you reach the Adjust option. Then, hit the Brightness tool.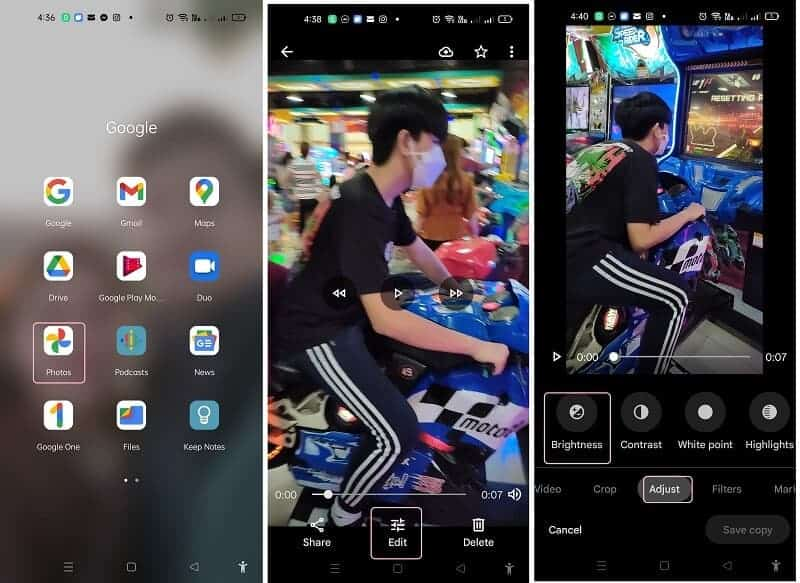 Step 3Adjust the brightness by swiping the navigation panel. Then, if you finally reach your preferred brightness, it's time to click Done, then the Save Copy button.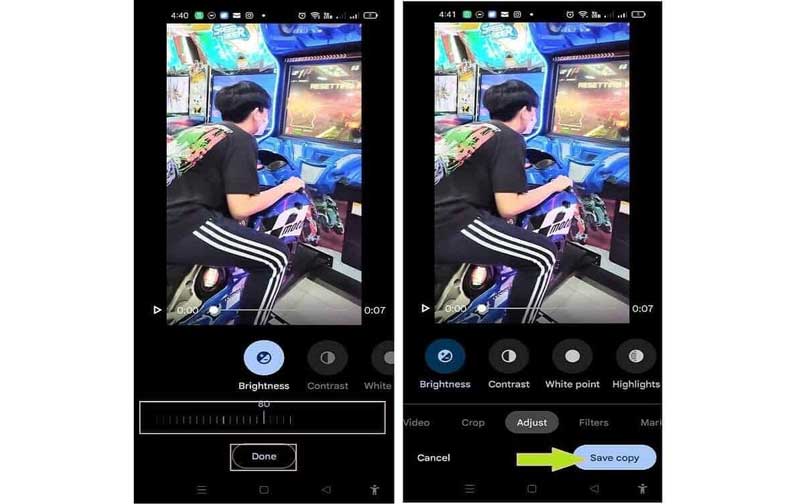 Part 5. FAQs Regarding Video Brightening
How to brighten a video using VLC on Android?
The VLC mobile version is not as flexible as the desktop version. If you wish to light your clip on your Android using VLC, we regret informing you that it's impossible to do
Will my video lose its quality if I brighten it?
No, adjusting the brightness of your video will not lose its quality as long as you also change the contrast.
Can I brighten the video that I compressed?
Yes. You could lighten the video even if it underwent compression.
Conclusion
This write-up recommends four robust tools for your video editing task. Rely on the ability of these tools, and surely you will get the best response on how to increase the brightness of a video. Mainly, use the AVAide Video Converter for your additional video editing task and expect extraordinary outputs!
Your complete video toolbox that supports 350+ formats for conversion in lossless quality.