When it comes to video upscaling, we require a powerful tool. When you can improve the quality of your video, it is best to use DVD upscaling software. However, if you don't want to be limited by the display's capabilities due to ineffective upscaling methods, watching movies should not be a nightmare. This guide will teach you how to improve the quality of your video by utilizing the right tools and equipment with simple features.
Part 1. How to Upscale DVD to 1080p/720p without Quality Loss
Look no further for excellent software for upscaling DVD formats without sacrificing quality. There is a tool that will work perfectly for you. One of the best tools for this is AVAide DVD Ripper. Using this incredible software can assist you in producing high-quality video. Furthermore, suppose you want to upscale your 1080p/720p in the simplest way possible. You can freely use this beneficial software.
When it comes to professional video conversion, AVAide DVD Ripper is unrivaled. On the other hand, this tool is simple to use and intuitive. This excellent software has a good way of making DVDs look better on HDTV. Moreover, it is a dependable program that runs smoothly on Mac and Windows computers. It can convert various formats and supports almost all output/input audio and video file formats. It also contains good tools such as a video/audio editor, which allows you to increase video resolution, change the bitrate, and add visual effects, among other things. Take the time to look at the simple steps below to learn how to use this fantastic software to upscale DVD to HD video.
AVAide DVD Ripper
Increase the converting procedure's speed by 30 times.
Using the DVD Ripper, you can make visually high-quality videos.
Converts files quickly and handles files of any size.
All video formats are supported, including MP4, AVI, MKV, etc.
Automatically or manually improve video quality
Step 1Download the Converter Software
Launch a browser and navigate to the AVAide DVD Ripper page on the Internet to get started. The program must be installed, configured, and run on your computer. To get a quick download, click on the button above.
Step 2Inject DVD Disc or Drag your File
You can now browse your drive and select the DVDs you want to load by clicking the Load DVD button in the top left corner. You can also load a DVD ISO file or a DVD folder by selecting the Load DVD ISO or Load DVD Folder option.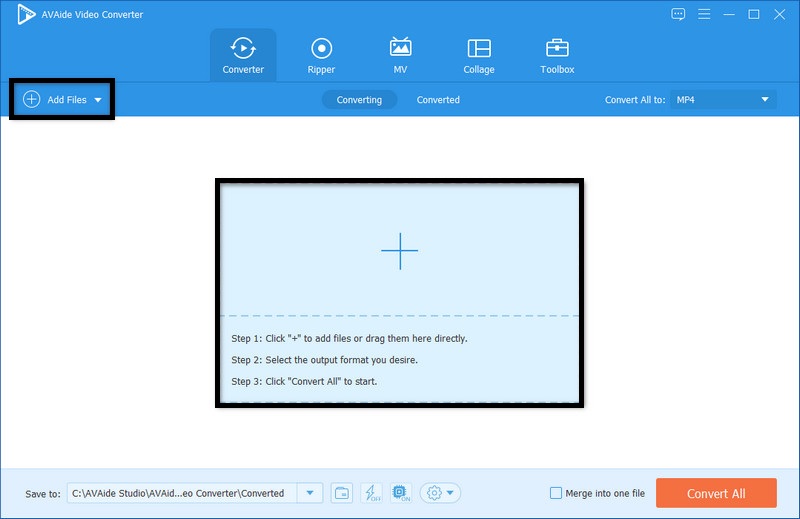 Step 3Select Output Format
Following the loading of the DVD, the DVD's information, such as complete title list, title, subtitle, duration, and so on, will be displayed in the file list. Now, select your desired output format by clicking and dragging the output drop-down list from the Rip All to option. Because you're ripping a DVD to HD, select 720p or 1080p from the Video tab.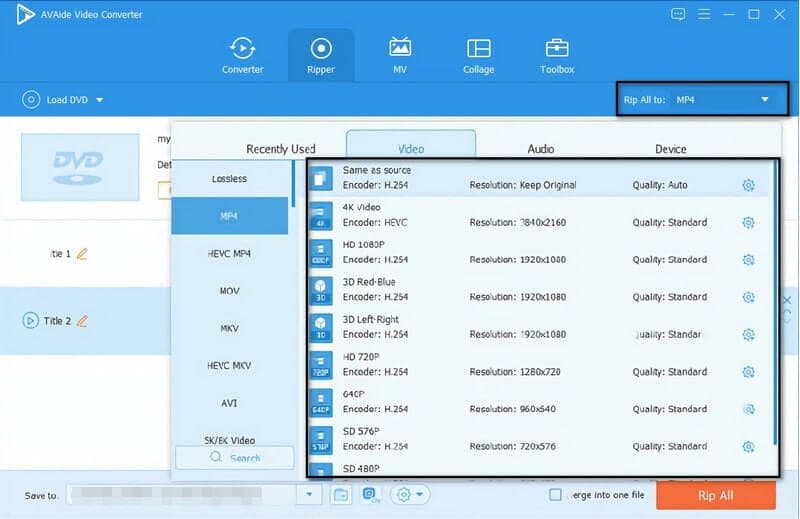 Step 4Start Ripping your DVD
You can click Rip All to begin ripping your DVD to HD right away. Once the conversion is complete, the output files can be found in the destination folder.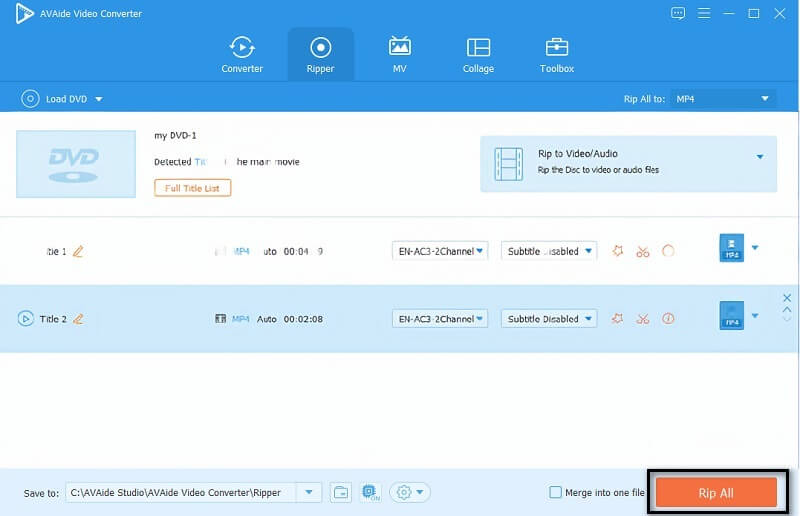 Part 2. How to Use Other Software to Effectively Upscale DVD
If you're looking for software to upscale your DVD on Windows and macOS, Leawo DVD Ripper is an excellent tool for you. Like AVAide DVD Ripper, it's a convenient software to upconvert DVD to 1080p, and it also works on both Windows and macOS. It can also convert DVDs to HD quality videos in MP4, MKV, AVI, and iOS and Android devices. In that case, the faster your computer rips, the more powerful it is. The steps below will demonstrate to you how to use Leawo DVD Ripper. The images are from Windows, but the steps apply to the macOS version because they look and perform the same.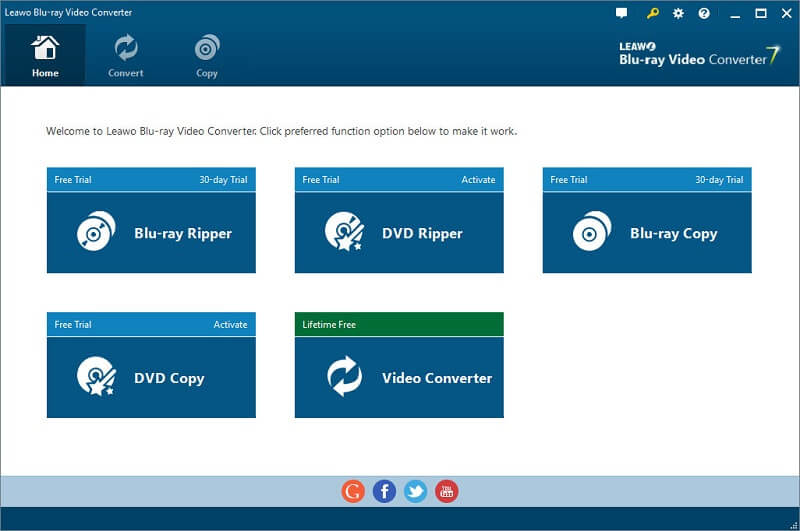 Step 1Download the Tool
First and foremost, install and download the tool by clicking their official website.
Step 2Insert DVD
By clicking the DVD Ripper or the Convert tab at the top, you can load the DVD for upscaling to 1080P. To proceed, select Add from a folder or Add iso file.
Step 3Upscale your Video
At last, Select HD MP4 Video from the Format-HD Video menu. If you want to upscale the DVD to 1080P, set the resolution by clicking the Edit button below.
Step 4Save your File
To convert DVD to 1080p HD video, set the resolution to 1920x1080. You can also change the codec and bitrate and save it as your own.
Note: Use HD format and HD MKV as the output to rip and convert a DVD to 1080P MKV. To convert a DVD to HD quality, simply press the convert button.

AVAide DVD Ripper
Rip DVD movies to various video & audio formats, as well as popular devices.
Part 3. FAQs about Upscaling DVD to HD
Does DVD upscaling reduce quality?
This can sometimes display lower-resolution content on the entire 4K screen, depending on the tool. Upscaled 1080p content on a 4K screen frequently looks better than standard 1080p content.
Are DVD movies in 1080p resolution?
The DVD Video format doesn't entirely promote 1080p or 720p video; instead, Blu-Ray Video is required. DVD video resolution is limited to 480 lines, whereas Blu-Ray supports 1080p.
What is the highest quality DVD rip?
An ISO image is an uncompressed, sector-by-sector copy of a disc. It's the best format for ripping a DVD to digital preservation with 1:1 quality and size. It is compatible with most video players, including VLC. Users can quickly burn it to another DVD in full quality.
Conclusion
Finally, You'll be able to convert quickly and confidently now that you know how to upscale DVDs to HD resolution and which tools to use. It's up to you to make a choice. To get the most out of AVAide DVD Ripper and other desktop apps like it, you'll need to download them. However, instead of downloading an app to convert files, you can use a free online tool. AVAide DVD Ripper is very easy to use, as evidenced by the screenshots above. It is the right solution for advanced users who want to edit DVD movies before ripping. It can rip protected DVD movies to FLV, MOV, AVI, WMV, 3GP, and portable devices.
Rip DVD movies to various video & audio formats, as well as popular devices.