Taking videos is one of our hobbies, especially when we want to capture special moments in our lives. We're all aware that we won't post and share a plain and simple video on our social media accounts without first modifying it. It's the same as losing interest in watching video footage due to poor quality.
Furthermore, because we live in a technologically advanced era, various software programs have been developed to resolve this problem. The basic solution is to find useful software to improve the clarity of our video. In this article, we'll show you how to make a video clearer by using the top four software and step-by-step instructions.
Part 1. How to Make a Video More Clearer on Desktop
Assume you're looking for the most effective way to make your video clearer as easily and quickly as possible. There is a perfect tool for you; AVAide Video Converter is one of the most outstanding and remarkable options for video enhancement. This tool will assist you in improving your video for a better viewing experience. It has a modern and well-organized interface, making it a popular tool for improving video quality. By making your video clearer, you can use the toolbox by selecting a video enhancer to freely upscale video resolution and use its enhancement features.
In addition, it does not require any additional plug-ins to function, and you can improve the quality of your video as soon as the program is loaded on your computer. Moreover, it is adaptable and quick to use, and it is compatible with both Mac and Windows PC. Follow the step-by-step method below to learn how to use this fantastic program to make a video clear in the easiest and simplest way.
AVAide Video Converter
Instantly clears the video quality of multiple files simultaneously.
The function is as simple as a click away.
It offers a straightforward and user-friendly interface.
It can be downloaded and installed on Windows and Mac.
Step 1Launch AVAide Video Converter
Use the download buttons above to acquire the usage, or go to AVAide's official website. After that, the program will be installed and launched on your desktop.
Step 2Go to Video Enhancer
Navigate to Toolbox after downloading the software and click the Video Enhancer tool to improve the video quality.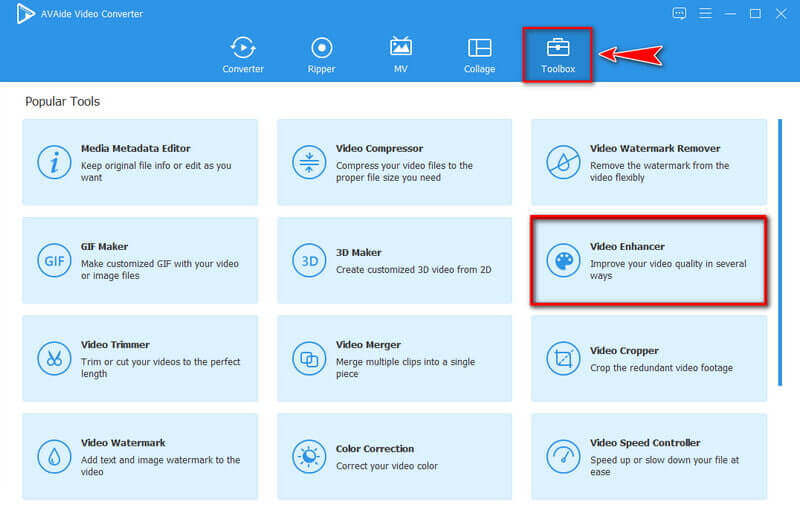 Step 3Upload Video
Click the (+) icon to add a media file. Then select the video you want to use to make your video clear.
Step 4Make your Video Clearer
After uploading your media file to the tool, select Upscale Resolution to improve video resolution. However, suppose you want to enhance the brightness and contrast of your video. In that case, you may choose the Optimize Brightness and Contrast option. You can also select Remove Video Noise, and Reduce Video Shaking to make your video clearer and cleaner.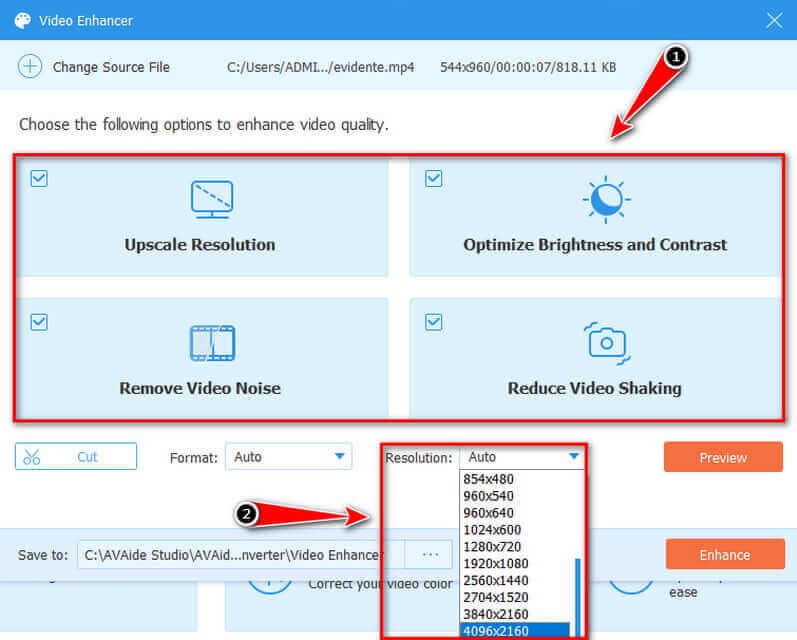 Step 5Video Enhancement Completed
If you're satisfied with your work, you can click the Preview to view the enhanced video, and you can now change the file's location by clicking the Save to before you export it. If everything is fixed, you may start the enhancement by clicking the Enhance button and waiting for several seconds. The dialog box will show on your screen, indicating the enhancement is completed.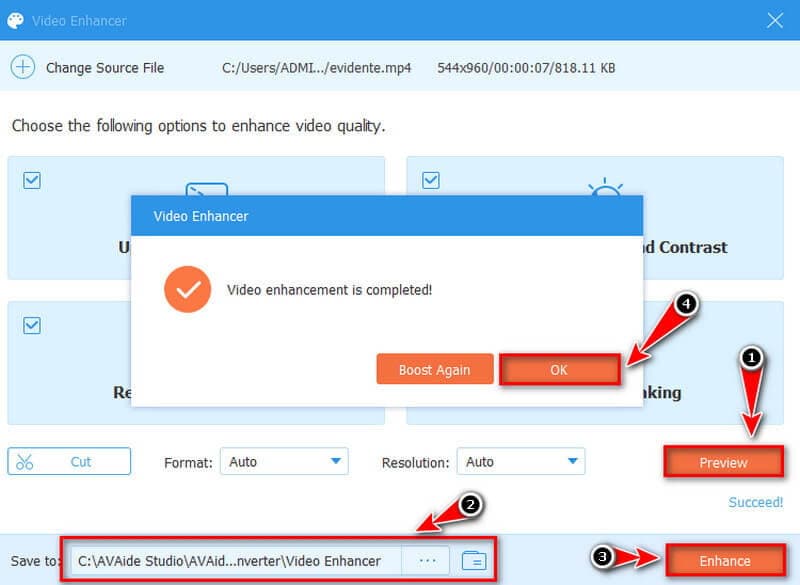 Part 2. How to Make a Video Clear on iPhone and Android
1. Use Videoshop Video Editor
Suppose you want to clear up a video. In that case, Videoshop Video Editor is one of the most popular free video enhancer apps for iPhone and Android devices. This application contains an enhancing feature that allows you to make your video clearer while having fun. You can use this app to upscale your video display by adjusting the Brightness, Contrast, Saturation, and Resolution to achieve the best possible output. Also, a set of filters are one click to your finger if you want a different kind of view to your video. Here are quick steps on how to make a video clear easily.
Step 1Open the application, and import the video you want to make clear by clicking the Video File.
Step 2On the main interface, navigate to the Adjust button, wherein you can adjust the brightness, contrast, temperature, etc.
Step 3You can also use the Filter button if you want your video clearer and more enjoyable. Then when you're finished improving the video, click the Check button.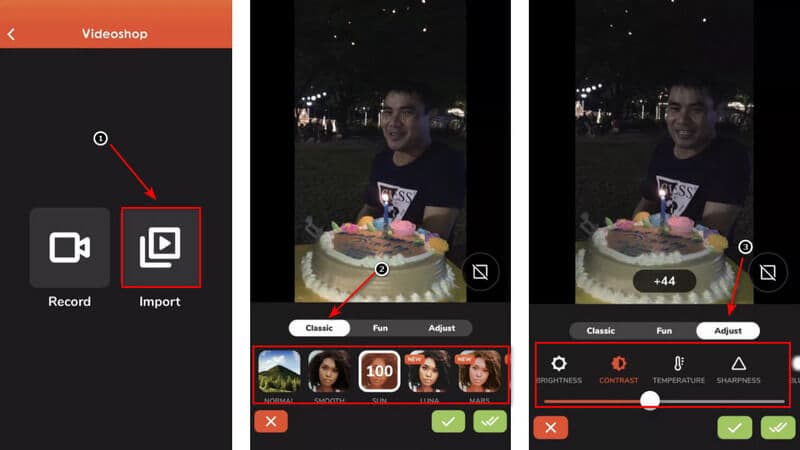 2. Use InShot
This program is one of the free apps to enhance video quality in an artistic and idealist way. This app is embroidered with stunning video editors, which is undoubtedly helpful in upgrading the quality of a video. Furthermore, you can embed various animated stickers on your video and add text and music to make it extra special. But it doesn't end there because you can set the quality of your video at 720p and 1080p. Utilizing this app will enable you to create a magnificent piece of art that you can proudly share online with your friends and loved ones. Take a look at making your video clearer using this convenient app most efficiently.
Step 1Launch the program, select the Video button and choose which video you want to improve.
Step 2After choosing a video, go to the Filter button. You can freely select the Adjust button to adjust the lightness, contrast, saturation, etc. Suppose you want to make your video clearer. You can select the provided effects.
Step 3After you've finished enhancing your video, you can save the final output by clicking the Save button above, wherein you can adjust your preferred resolution.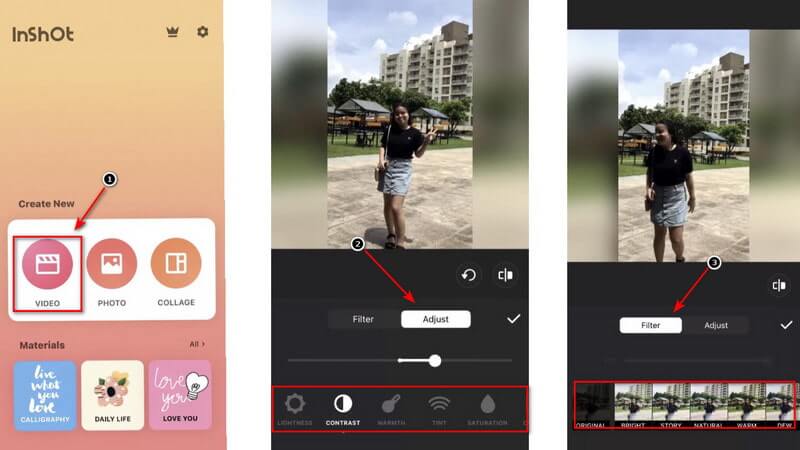 Part 3. How to Make a Video Clearer Online
If you're searching for an online tool for making your video clearer, Clideo's is a workaround solution that will help your blurry video look clearer. It doesn't require downloading any third-party apps. Moreover, the service can be accessed on any device, so if you want to know how to make a video clearer on iPhone and Android and Windows or Mac computers, you've come to the right place. Follow the step-by-step procedure of making the video clearer using this online software below.
Step 1First, navigate to the program and click the Video File button above to upload a video that has any blurry or grain issues you'd like to clear up.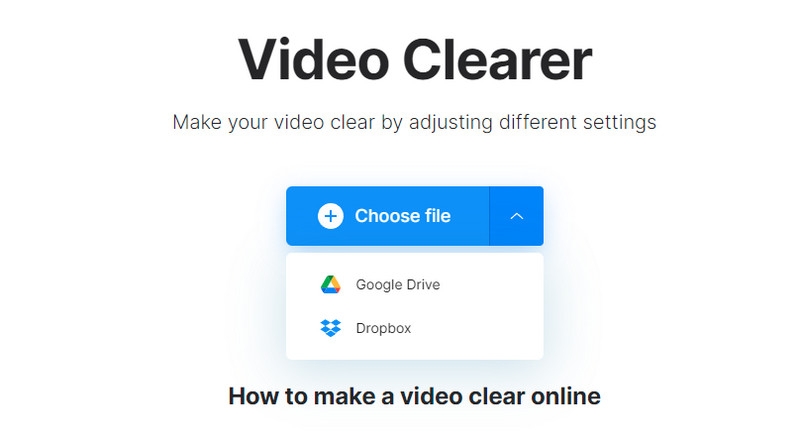 Step 2After uploading your video file, go to the adjust video section. Then, you can freely make your video clearer by adjusting the brightness, saturation, contrast, and other settings.
Note: To remove blurriness, we recommend upping the brightness level and bringing the contrast down slightly.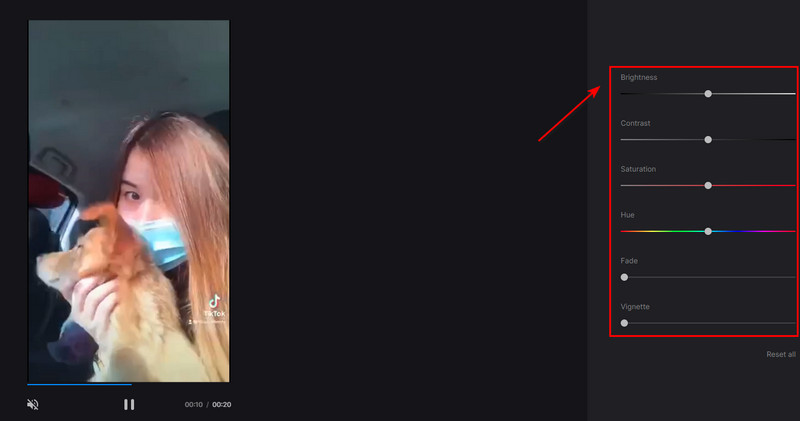 Step 3When you're satisfied with your adjustments, you can choose an output format, and we recommend selecting MP4.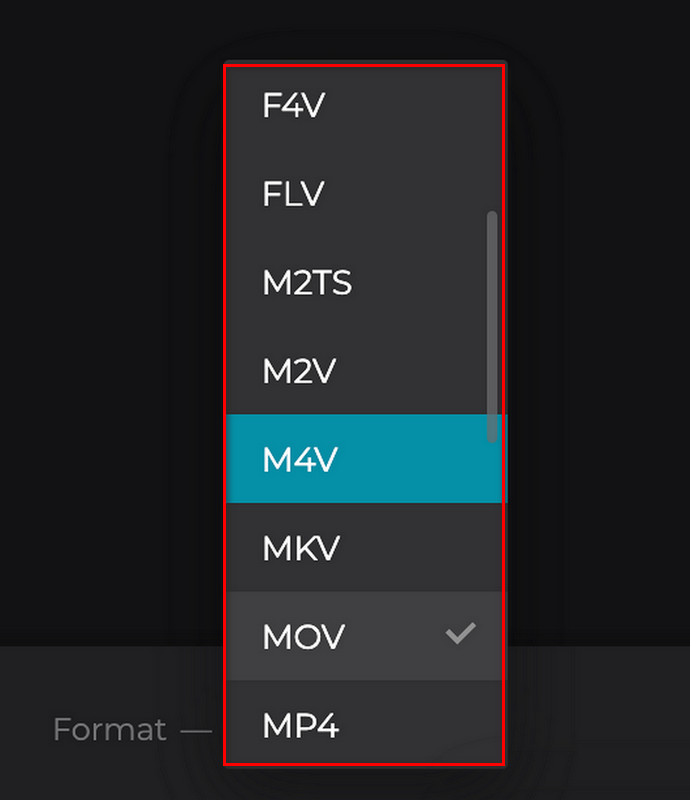 Step 4Before you download the final video output, you can check it first, and then when you're happy, you can click the Download button. However, the down-arrow is there if you'd like to save the clip to your Dropbox or Google Drive account.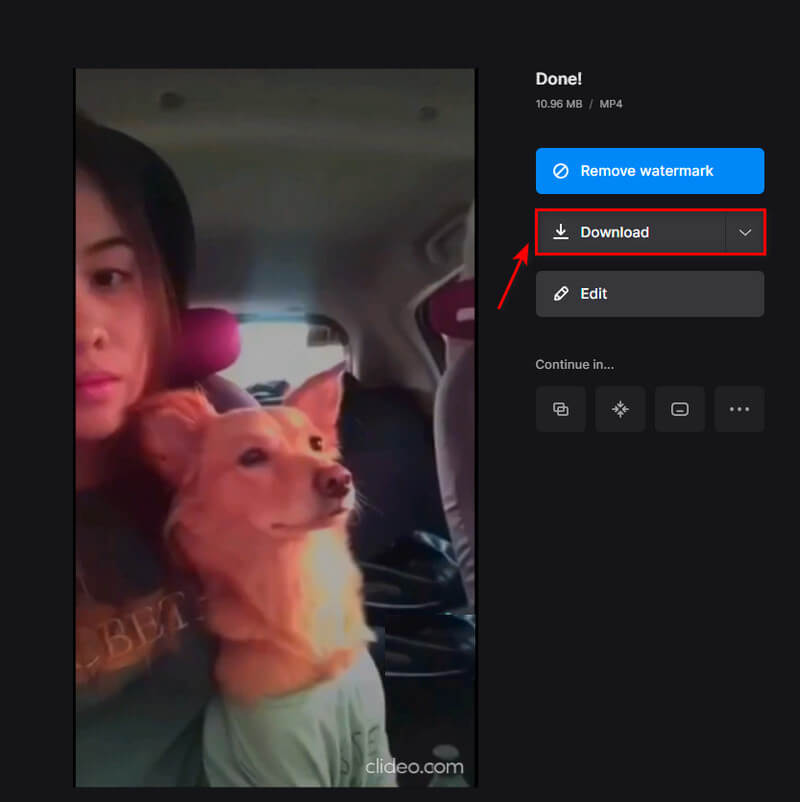 Part 4. FAQs about Making Video Clearer
What causes blurry video on iPhone and Android devices? Is there a way to fix this?
A video can become pixelated and blurry due to a defective camera. A low-quality video will result from using a faulty and dirty camera lens. However, the most likely cause is a pixel rate and frame rate imbalance. You can use the video enhancers mentioned above and select the best software for resolving pixelated and blurry videos to solve this problem.
What factors contribute to the clarity of a video?
To remove any blurriness, we recommend increasing the brightness and decreasing the contrast. It won't solve all of your problems if your video is extremely out of focus, but it will certainly speed things up a little. When you're happy with your changes, choose an output format.
Does the size of a video file depend on its resolution?
Yes, because the higher the resolution, the more clear the video. Video file size is also affected by resolution. As a result, a High Definition video has a larger file size than a Standard Definition video of the same duration.
Conclusion
To conclude, choosing the right tool to make a video clearer is difficult because there are many options we can use. We recommend using AVAide Video Converter as the most outstanding program if you seek the best application to assist you in making your video clearer professionally. This incredible program is a superior alternative and solution for video improvement. To give it a go, download it and run it on your Windows or Mac computer!