We're all aware that Instagram and other social media platforms express our thoughts and moments through videos and photographs. This popular app is an excellent program for remembering our day because it also offers a feature called Stories, which enables you to share a moment that makes your day visible for 24 hours. We become upset when our Instagram videos or stories are of low quality. Especially when we share it on our Instagram post feeds, Instagram video posts, Instagram stories, and reels.
In that case, suppose you are one of those people in that situation. Have you ever wondered how to maintain video quality on Instagram? If this is the problem, we will show you how to do it using realistic yet user-friendly software that you can use right now.
Part 1. Why Is My Instagram Videos Blurry
Because your Internet connection is unstable, your Instagram videos may become blurred because they are not filled. Suppose you post a video to Instagram while connected to a slow Internet connection. In that case, Instagram will instantly lower the video quality to post it. In that case, you could be asking how you might improve films suitable for Instagram's posts, videos, stories, or reels. Fortunately, there is another option by reading this article and relying on the practical guidelines below.
Part 2. How to Improve Instagram Video Quality Using Video Enhancement Software
If you're seeking dependable video enhancement software to assist you in improving the quality of your Instagram videos, look no further. AVAide Video Converter is a go-to program and one of the most recommended solutions for improving video quality in the simplest way possible. Assume you're interested in a way that allows you to enhance the video and make an Instagram high-quality video professionally. AVAide Video Converter is also a one-stop shop for all of your video enhancing needs. It functions as a video enhancer, video rotator, and video converter all in one.
Furthermore, it supports a wide range of video codecs, including MKV, MOV, AVI, WMV, and MP4. In other words, it can convert virtually in any video format. Take a look at making better quality videos on Instagram using the most user-friendly software.
AVAide Video Converter - Toolbox (Video Enhancer)
An easy-to-use user experience with clearly marked choices and buttons.
Enhance video by stabilizing it, adding visual effects, color correction, and other automated improvements.
The function is as simple as a click away, making it a quick and effective tool for video enhancement.
Fix blurry videos and improve the quality in a few clicks.
Step 1Download and Install the Program
Go to the AVAide Video Converter website to get the program. Or, click the top download button. After installation, you will be sent to the interface.
Step 2Locate the Toolbox
Select the Video Enhancer from the Toolbox tab in the upper right corner of the screen.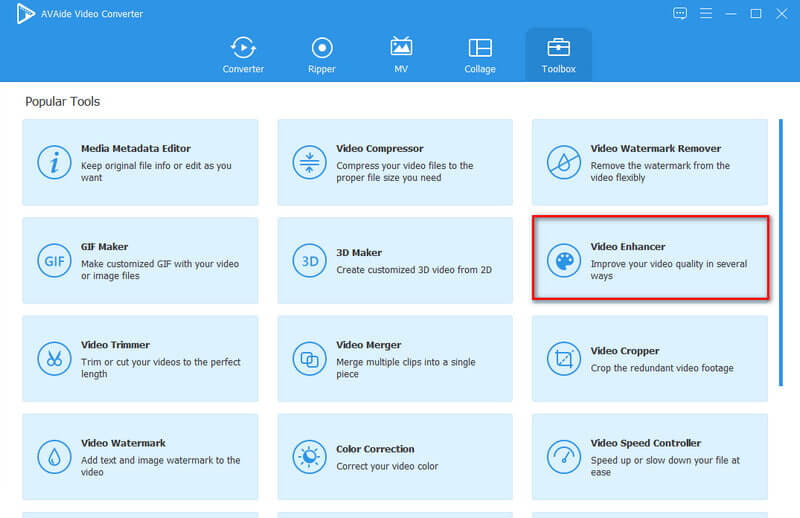 Step 3Import a Media File
To begin uploading your media file, click the Plus (+) icon in the middle of the video enhancer interface.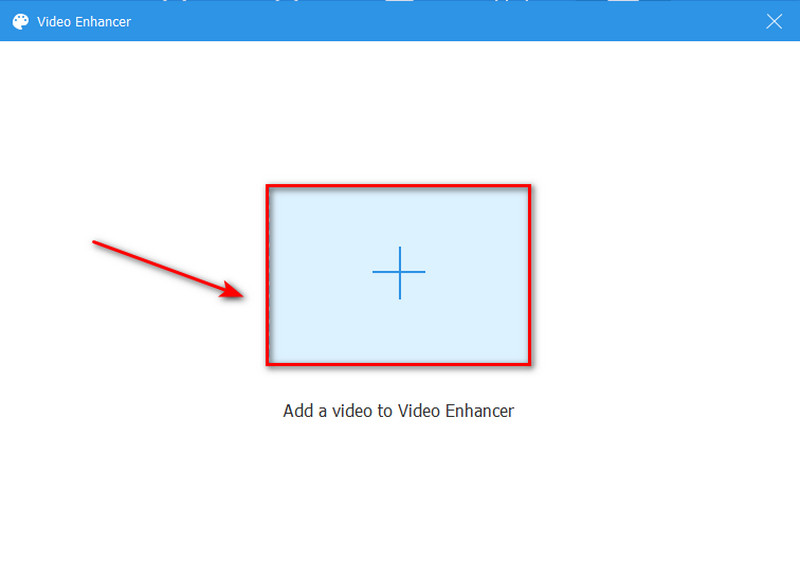 Step 4Improve Instagram Video
After you've added your media file, you can now improve your video resolution by clicking the Upscale Resolution button. You can also change the resolution by selecting it below. The higher the resolution, the higher you make your video quality. Then when you're done, click the Enhance tab.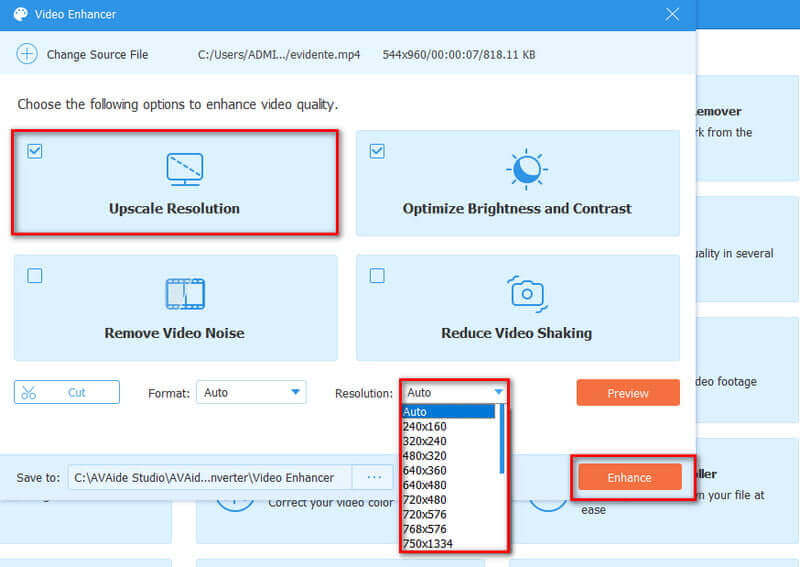 Part 3. How to Increase Video Quality on Instagram
Instagram users are well-known for taking aesthetically beautiful photos and videos. Similarly, you want to attract viewers by including an aesthetically attractive and high-quality feature in your films. Furthermore, Instagram consumes a significant amount of mobile data. To avoid and prevent this, Instagram offers you options that may be altered to reduce data use. The video quality on Instagram will suffer as a result of this. In rare cases, you may want to post an Instagram-worthy video that is wrongly oriented. As a result, you'd like to use video enhancer software to restore it. Still, you can also fix it using your Instagram settings. Regardless, look at the top methods for improving Instagram video quality below.
Step 1Open an Instagram account and tap on your profile icon to open your profile.
Step 2Next, click on the three horizontal lines in the top right corner.
Step 3Go to Settings and from there, locate the Account button.
Step 4When that opens, scroll down and click the Data Usage.
Step 5Then turn on the High-quality uploads.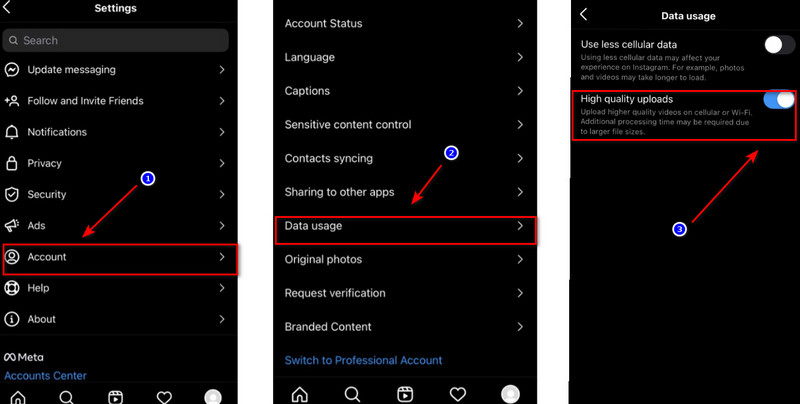 Part 4. Tips on How to Post High-Quality Videos on Instagram
◆ Adjust the camera settings. One of the reasons your Instagram videos are poor quality is that you forgot to adjust the camera settings. You must adapt it to your smartphone by locating it in your settings and changing it to maximum resolution.
◆ Reduce the video size in many ways before you upload your videos or stories.
◆ Another tip is to upload a high-quality video, Then make sure you have a strong internet connection.

AVAide Video Converter
The most comprehensive media converter to convert video & audio & DVD without quality loss.
Part 5. FAQs about Improving Instagram Video Quality
What are the usual Instagram Story aspect ratios?
Shoot your video at a resolution of 1080 x 1920p if you want your narrative to occupy the whole screen without any boundaries. However, Instagram Stories have aspect ratios ranging from 1080 x 608 pixels to 1080 x 1920 pixels. To quickly change aspect ratio for Instagram, you can also turn to an aspect ratio converter.
Is it preferable to shoot in 4k or 1080 for Instagram?
No, because publishing 4k or films with a high bitrate on the site is worthless. The trouble is that you can only submit video clips with a maximum width of roughly 1080 pixels.
Is it possible to post a 1080p video on Instagram?
Yes, because Instagram supports videos with a resolution of 1080 px in the post feed, IGTV, video posts, and Stories.
Does Instagram recording have limitations?
If you have a longer story to post, you can divide it into a section of 1 minute each. But If you want to post a video on your main Instagram feed, the video duration must be within 60 seconds.
Conclusion
There you have it. This post should guide you on how you can improve the video quality on Instagram professionally, regardless of the system you use. The truth of the matter, you don't have to worry about enhancing video resolution at all because there's another way to help you, such as AVAide Video Converter. This most special software is worth trying for more professional post-process video enhancement.
Your complete video toolbox that supports 350+ formats for conversion in lossless quality.