We live in an age where everything is running with advanced technology, especially with AI upscaling video. It plays a crucial role nowadays, for everyone prefers high-quality videos because that contradicts the world's standard today. Luckily, video enhancing has been possible not only for professional videographers because even noobs can reach the pro's ability by using excellent video editing tools.
On the other hand, video enhancing is not a simple task, for you still need to consider standards. Fortunately, this article will introduce you to the most powerful and reliable AI video upscaling software that will give you world-class videos to upload online. So let's check them out!
Part 1. Top 6 Best AI Video Enhancers ]Online and Offline]
Top 1. AVAide Video Converter
AVAide Video Converter is a fascinating tool grafted with beautiful features to enhance your videos. Moreover, its powerful tools as part of its toolbox are everything you need to turn your recording clips into the most beautiful videos you have ever imagined! Not to mention the AI video enhancer it possesses that works not only to upscale the resolution but also to optimize the brightness and contrast, reduce shaking, and remove the noise of your video. Not just that, but it also enables you to produce the video in different formats depending on your needs.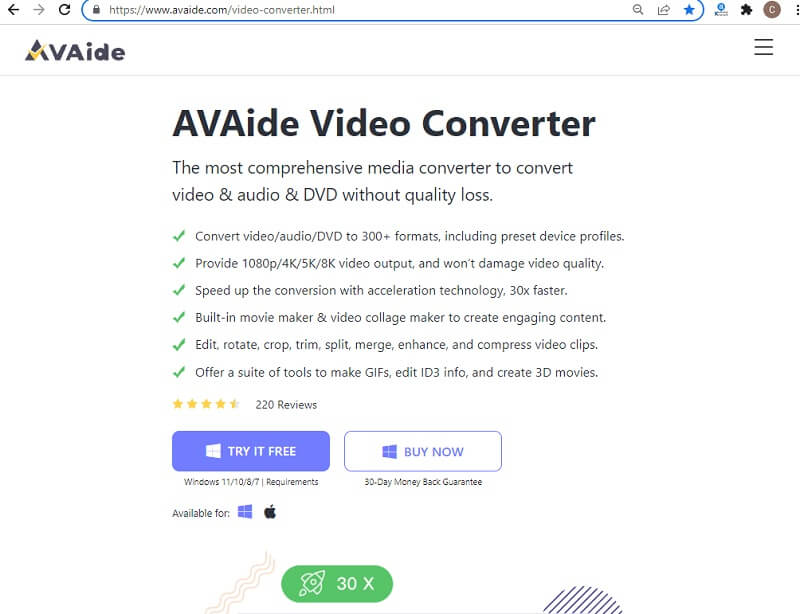 Key Features:
◆ It has a swift video converter 30x faster than others.
◆ Media metadata editor.
◆ It comes with fascinating 3D, GIF, and video collage makers.
◆ It has a significant homemade DVD ripper without quality loss.
◆ Powerful toolbox.
Pros

Support more than 300 formats.
Links with various social media accounts.
It comes with a facile interface.
Lots of advanced features.
It's with AI upscaling up to 4K resolution.
Cons

For computers only.
Top 2. DVDFab Video Enhancer AI
As its name suggests, this software is an AI-based tool. Moreover, it makes significant enhancements to videos regarding the quality and its other technical kinds of stuff. Well, that is not surprising, for it possesses a super-resolution technology that can turn low-quality videos into HD ones.
Key Features:
◆ Homemade DVD/Blu-ray disc burner.
◆ Homemade DVD cloner.
◆ Essential tools for editing videos and homemade DVDs.
◆ Super-resolution enlarger.
Pros

Easy to use.
With advanced features.
Cons

Pricey.
Limited for Windows OS.
Top 3. AVCLabs Video Enhancer AI
Next on the list is this AVCLabs Video Enhancer AI. Again, this AI upscaling video software shows greatness in artificial intelligence enhancement, for it is its purpose in the first place. Video lovers always enjoy this tool due to its wonderful devices that gain high-resolution videos, clips, and movies.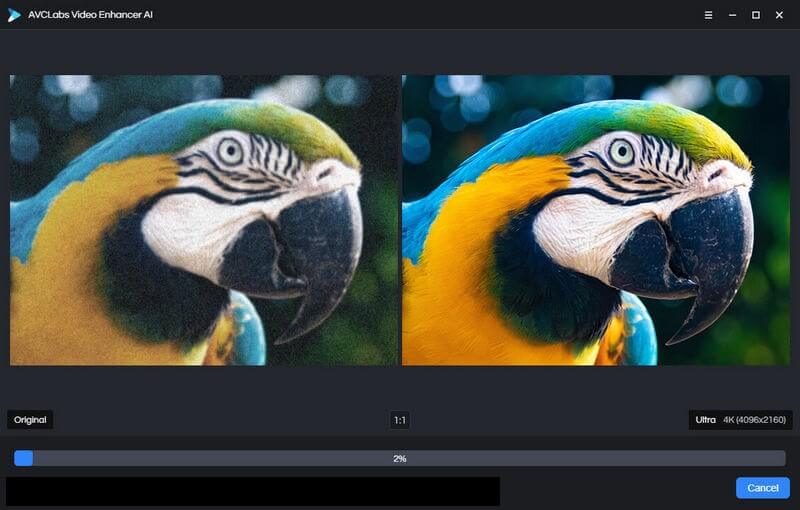 Key Features:
◆ With a multi-frame enhancer.
◆ 4K video upscaling.
◆ Video denoiser, sharpener, and color enhancer.
Pros

It supports commonly used formats.
It contains a straightforward interface.
Cons

High system requirement.
For Windows devices only.
Top 4. GDFLab
The GDFLab is a Korean AI company created with AI enhancement technology. In addition, this tool can brighten up your video freely with its ai upscaling tool 4x of the video's original resolution. It can even upscale a 480p HD video to 1080p. However, we can only experience its maximum ability with its premium version.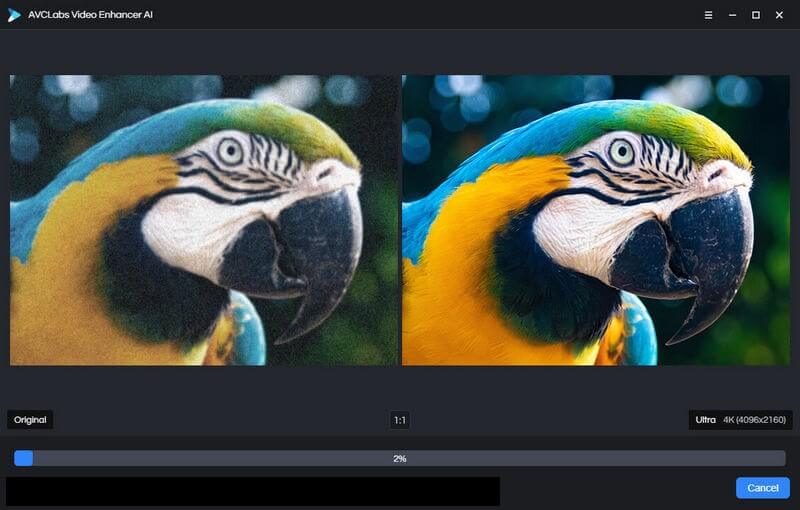 Key Features:
◆ With a multi-frame enhancer.
◆ 4K video upscaling.
◆ Video denoiser, sharpener, and color enhancer.
Pros

Link with social media sites.
Easy-to-use.
Advanced technologies are available.
Cons

Internet-dependent.
The enhancing process takes time.
5. Topaz Video Enhancer AI
This Topaz Video Enhancer AI is one of the best software today. It has this technology that intelligently enhances the video clips. Moreover, as part of the power of its AI video enhancement, it easily controls the motion and the crispiness, turning them into exquisite 8K quality.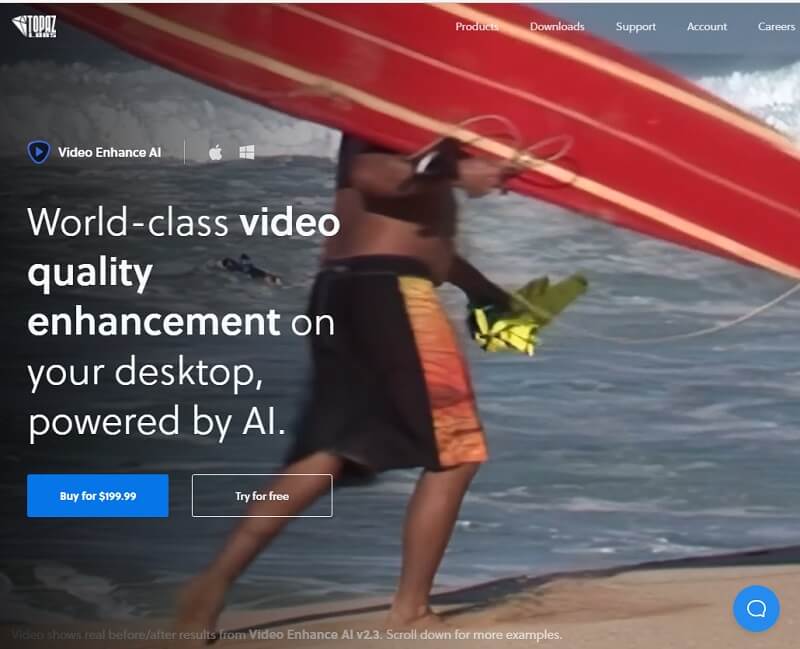 Key Features:
◆ Frame rate developer.
◆ Slow-motion effect tool.
◆ It offers multiple frames for video editing.
Pros

It upscales SD-4K videos.
Uses graphics card in optimizing videos.
Cons

It's pricey.
Available for Windows.
It takes time to navigate.
6. iSize
Finally, we have this iSize, the online video upscale tool that uses the newest learning algorithms. So, it is the ideal tool that produces professional touch videos after a perfect upscaling. However, this online AI video enhancer requires users to pay for the upscaled videos they want to download.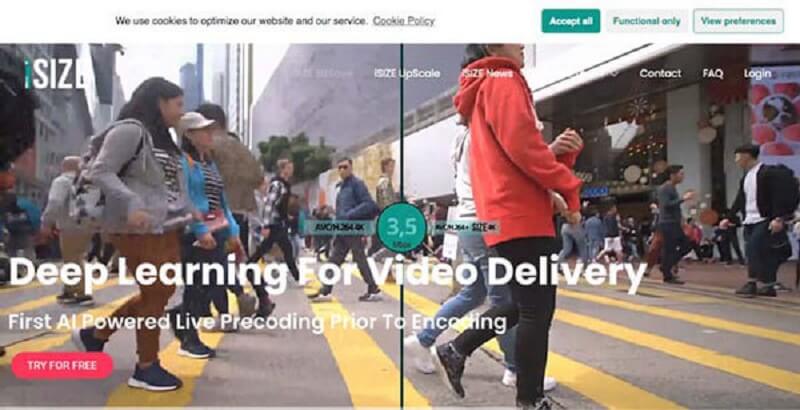 Key Features:
◆ Quality booster technology.
◆ Bitrate saver.
◆ Content and codec independent.
Pros

It decodes files fast.
It filters smaller sizes.
It enhances video files automatically.
Cons

With an upgrade issue.
Not for beginners.
Requires payment to obtain the video.
Part 2. Bonus: How to Upscale a Video Using AVAide Video Converter
Here comes the bonus part, where you will learn how to upscale videos efficiently, for instance, you can use this software to upscale a 1080p HD video to 4K. So, without further adieu, let's check out the complete guidelines using the powerful AVAide Video Converter.
AVAide Video Converter- The Finest AI Video Enhancer
It can turn your poor-quality video into 8K instantly.
A multifunctional software.
It secures your desktop device with its hardware acceleration.
It improves your videos in many ways.
It converts your files to various formats besides enhancing them.
Step 1Acquire the tool on your computer for free. Open it, go directly on its Toolbox, and hit the Video Enhancer tool. Subsequently, a popped-up window will appear, where you need to click the Plus sign to upload the video, you need to upscale.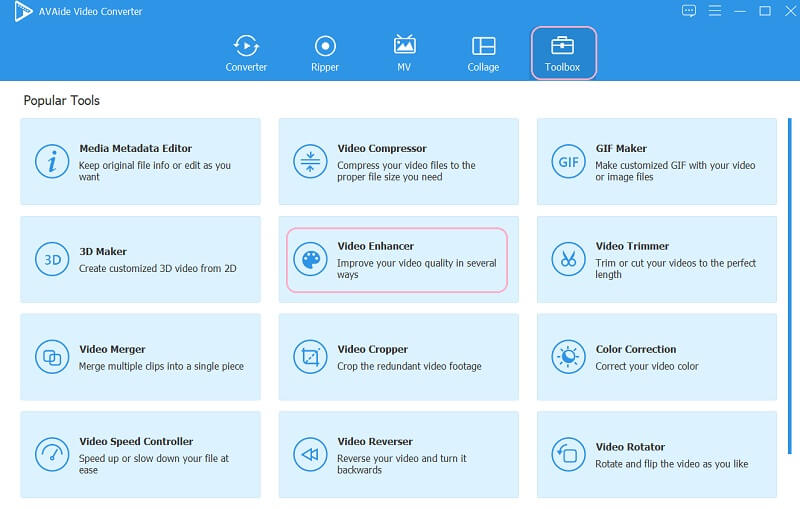 Step 2When the video file is uploaded, it's time to tick all the enhancements you want to acquire besides the video ai upscaling. This time you can also toggle on the Format portion if you're going to produce the upscaled video into a different one.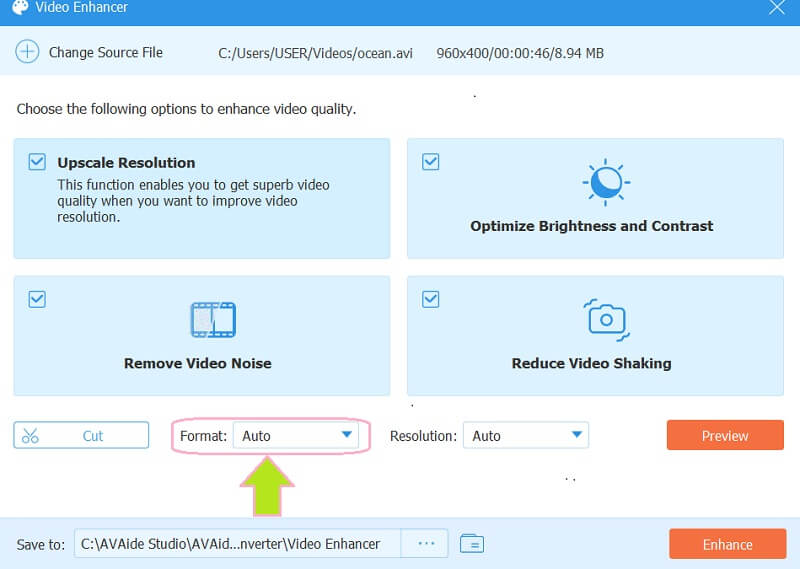 Step 3Then, tick on the Preview tab to have a glimpse of the video. You can finally hit the Enhance button to produce the file when all is good.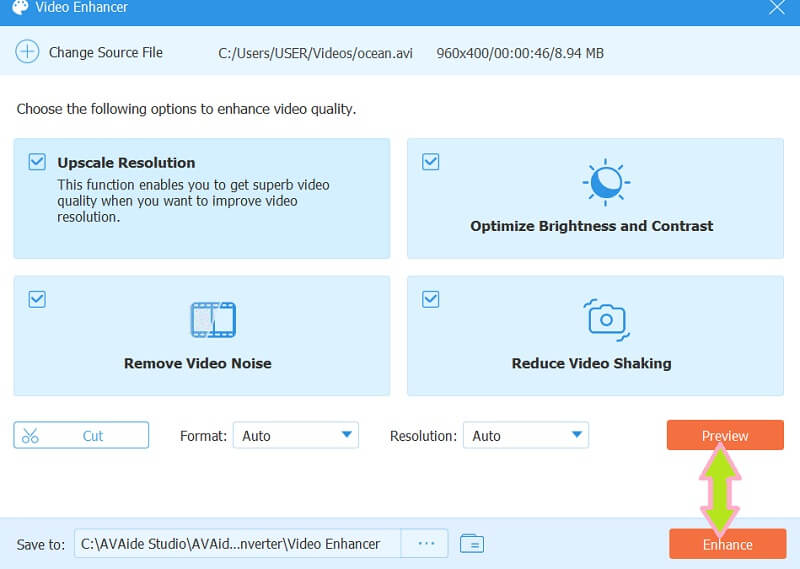 Part 3. FAQs About AI Upscaling Video
Is video upscaling mean video enhancing?
Yes. Because if you want to upscale the resolution of the video, it means you want to have an improved quality of it.
What does the AI 4K upscaling mean?
4K upscaling is the attempt to upgrade your video with a more intelligent approach using artificial intelligence.
Do upscaled videos produce bigger file sizes?
Probably yes. It is because upscaling the video will increase its pixel count. Thus, it can increase its size as well.
Conclusion
See, we introduced you to the finest AI video upscaling tools that use artificial intelligence. Most of them are paid, but they are indeed worth their price. For this reason, you can acquire any of them depending on your preferences. But, we recommend the AVAide Video Converter due to its versatility, and it is more worthy of trying.
Your complete video toolbox that supports 350+ formats for conversion in lossless quality.