Indeed, there will be times when you will need a reliable video editing tool or a video resolution converter that will tweak your videos with confidence. In addition, a tool that will give you the appropriate resolution display for your video. There are various tools in the market today, but only a few work in a superb way. Fortunately, this article will educate you on what you need on your list before getting a great video resolution editor.
Part 1. Things to Observe in Choosing a Video Resolution Converter
Before you get a video resolution converter free to download, you must examine it first. Most importantly, that tool should meet the following standards given below.
1. It should have an intuitive interface. For a start, a tool should have an easy-to-understand interface that will let users, especially the rookies, easily navigate it. This way, as a user, you will get to have a joyful experience while forging ahead quickly.
2. It should be flexible. Of course, you don't just settle on a single function software. As much as possible, the tool should function well in other tasks, too, aside from modifying video resolution. Also, it should be flexible in providing a wide range of resolution options.
3. Hight video quality output. One of the unique attributes that a video resolution converter must have is the ability to produce maximum and guaranteed video outputs. But of course, it is understandable that other videos with a format of 3GP have low quality. Still, if the tool provides ways to improve the video, then you should go for it.
4. It should have a wide range of support in various formats. As a pre-requisite of the last attribute, your chosen tool should support the video you have. So that, whether you have a video with an unpopular format, it will still be possible for you to amend its resolution.
Having these standards on your list will let you obtain the best video resolution converter like AVAide Video Converter. Yes, having these been said, the AVAide Video Converter is the one that can give you all of those standards. From having the most intuitive interface that will not require your expertise in converting video resolution to providing you with superb video outputs in the most rapid way.
AVAide Video Converter - The Best Video Resolution Converter
Support up to 8K videos to convert resolution.
Versatile in video conversion, video editing, ripping, movie making, video collage making, etc.
Improve your videos with an AI-powered resolution enhancer.
Come with a video noise remover and video shaking reducer that will help you attain neat and steady video content.
Make your video more amusing with its brightness and contrast optimizer.
Pros
It is a multi-purpose video resolution converter software.
It provides 1080p, 4K, 5k, and 8K outputs.
Downloadable on Windows and Mac.
It supports 300+ various formats.
With a user-friendly interface.
Cons
It's a paid software, but with a free trial.
Part 2. How to Convert Video Resolution with the Best Converter Software
Of course, this article will not be completed without letting you see the guidelines for converting the video resolution using the best AVAide Video Converter.
Step 1Get the Resolution Converter
First and foremost, you need to download and install the software to your desktop or Mac by clicking on the download buttons.
Step 2Upload the Video File (s)
To convert low-resolution video to high resolution or vice versa, launch the tool and click the Toolbox where the Video Enhancer is located. Click the enhancer option, and on the popped-up window, hit the Plus icon to upload the video file you need to upscale or downscale.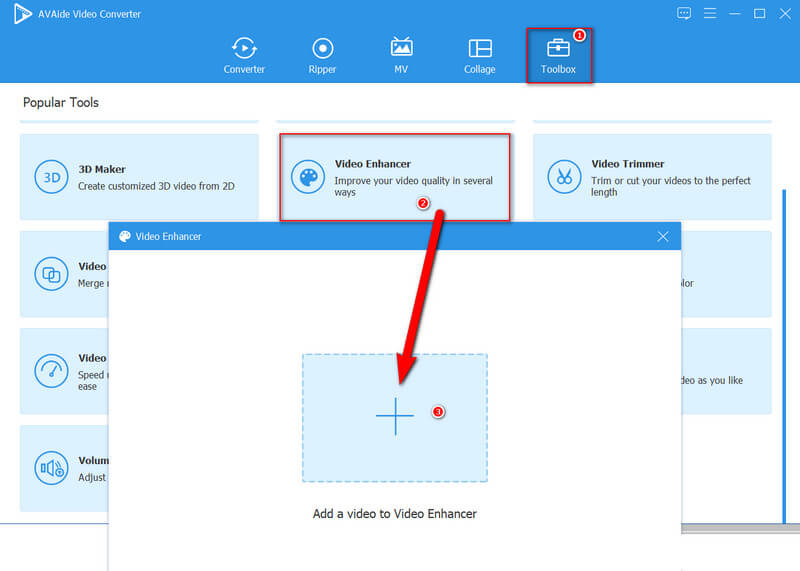 Step 3Start Modifying the Resolution
Once you upload the video, it will show you a window where the magic starts. Options in video enhancement are just clicking away—toggle one or all the enhancements you need for your video if you want. Then, go to the Resolution option below, and choose the one you need for the video.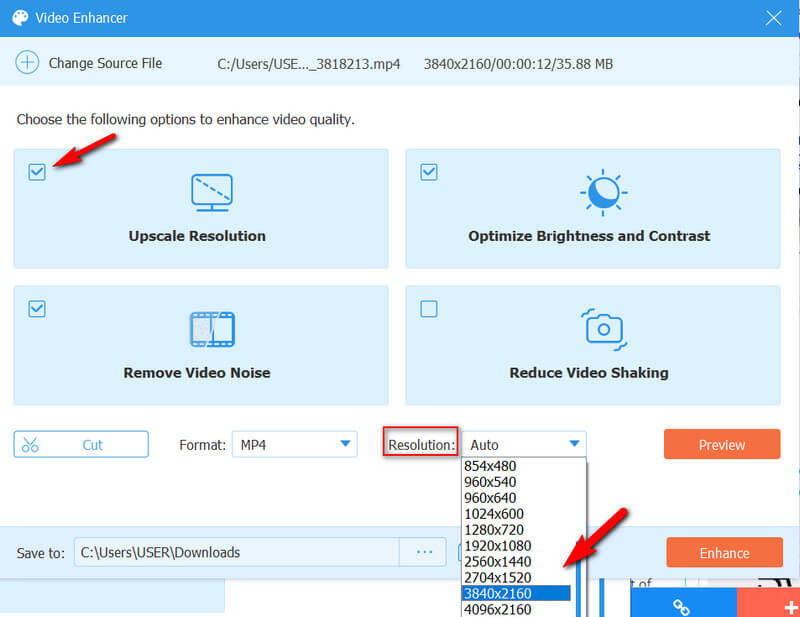 Step 4Set Format and See Preview
After choosing the option to convert video to the low resolution or high, you may want to choose from various formats for your output. Then, click the Preview button to see the changes you are about to apply.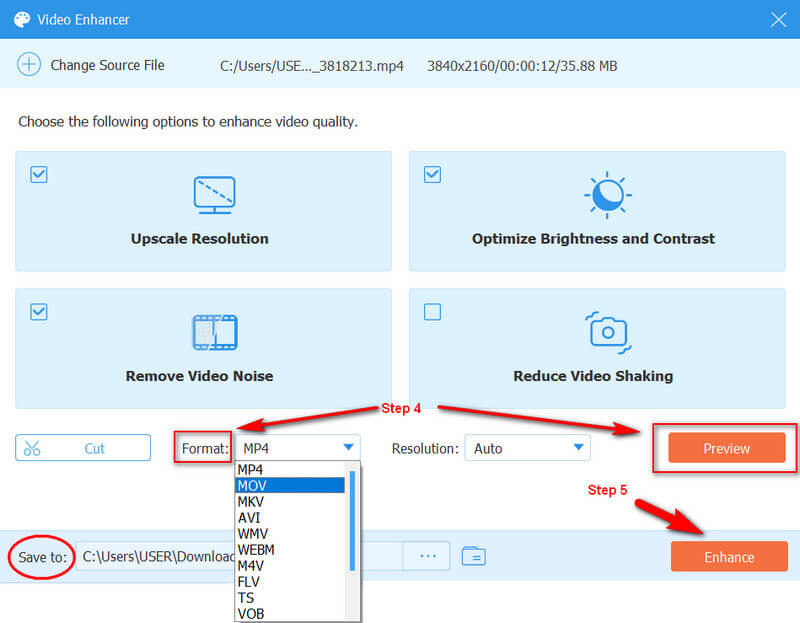 Step 5Apply the Changes
Lastly, hit the Enhance button to apply the changes. After that, look for your enhanced video in the folder shown in the Save To option.
Part 3. The Best Way to Convert Video Resolution Online
If you prefer to use an online solution, then use the AVAide Free Video Converter Online. The online extension of the best software provides valuable settings to convert HD video to lower resolution online or lower resolution to a higher one for free. By just installing its launcher, you will be able to facilitate its video conversion along with the editing tools that can manipulate the resolution, video encoder, frame rate, video rate, and other settings for audio.
How to Change Video Resolution Online
Step 1Go to the official website and install the launcher by clicking the ADD YOUR FILES button. Once the launcher is installed, click the same button to upload your video files.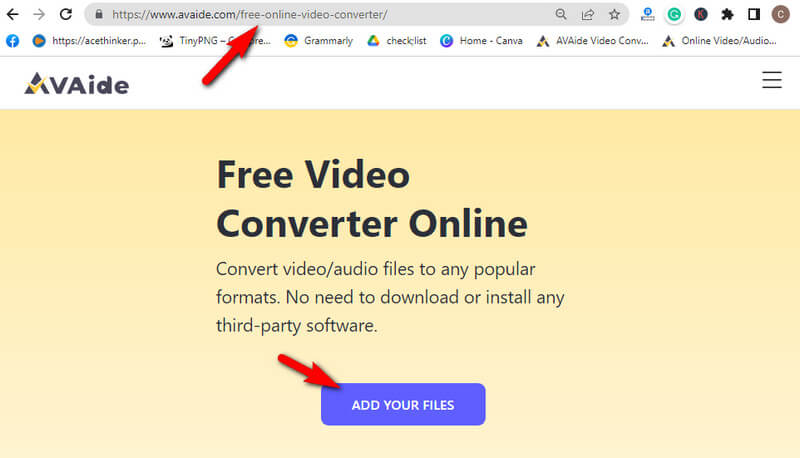 Step 2Now on the main interface, click the Coggle icon located at the tail part of the uploaded file to see the settings. This is how to convert video resolution online. Click the Resolution option and select your preferred quality on the settings window. Then, click the OK tab to apply.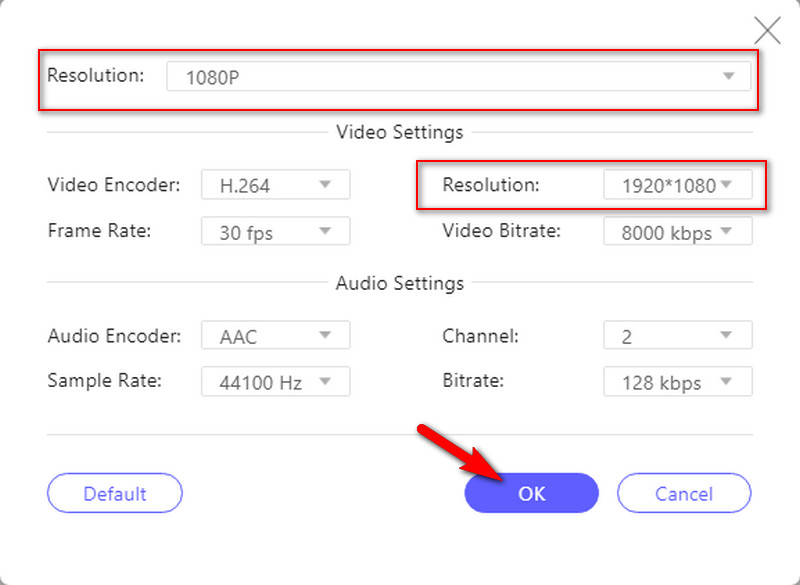 Step 3After that, it's time to click the Convert button to apply the settings you made for the file.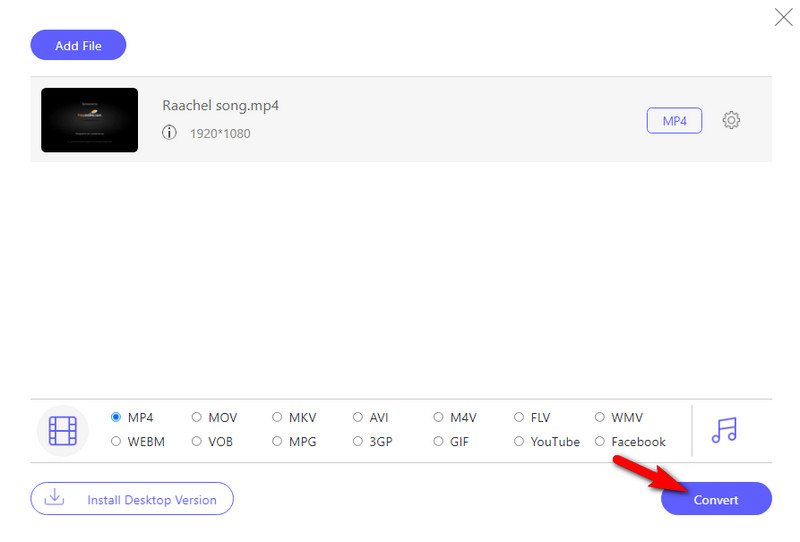 Note: This online converter won't imprint a watermark on your output, even if it's free.

AVAide Video Converter
The most comprehensive media converter to convert video & audio & DVD without quality loss.
Part 4. FAQs about Converting Video Resolution
Can I downscale a 1080p video?
Yes. You can downscale 1080p videos to 480p or 720p. Just load your 1080p and convert it to the 720p or 12080x720 megapixel option.
How to convert video resolution on Android?
To convert the video resolution of your existing video on Android, you will need the help of a third-party app. However, to change the quality of the video that you will record, go to the settings of your camera app. Then, scroll to look for the video resolution selection.
Can I convert video resolution on VLC?
Yes. When you open the VLC, click tool > Preferences. Then, move to the Input/Codecs selection and pick your preferred video resolution.
Conclusion
Always remembers to examine the tool that you will obtain. Don't cling to the tools that you see anywhere. With your video resolution conversion task, pick a tool that will give you more options for the specific job. A tool that can help you on any job you need for your video, just like the AVAide Video Converter!
The most comprehensive media converter to convert video & audio & DVD without quality loss.