Having noisy and shaky videos are pretty normal. There comes a time when you record a video that will carry an unwanted noise due to the natural ambiance where you documented the event. You must remove background noise from video when that circumstance hits you. Whether you agree or not, even professional videographers have the same struggles. Therefore, you don't need to fret experiencing it. However, if those professionals can work it out, how about those who don't have that great experience with video optimization, like you, perhaps?
Fortunately, this article will let you know the three excellent tools that can give you an efficient performance in removing video and audio noise. Suppose this information excites you, which we believe it does. In that case, we expect you to continue reading all the details about the three software and apps to remove background noise from the video.
Part 1. The Ultimate Way to Remove Background Noise from Video on Windows and Mac
Initially, we will bring you the ultimate tool that you can use to remove video noise. AVAide Video Converter is suitable for solving your problem with noise-full videos. Aside from being the best video converter, this software has a powerful toolbox that contains great tools to remove noise from the video as well as to enhance it in less than a minute. This AVAide Video Converter is powered by AI and acceleration technology that helps users produce their outputs swiftly and efficiently. Imagine, by just clicking on your mouse, you will be able to transform your videos superbly!
How to Remove Background Noise from Video with AVAide Video Converter
Step 1Open the ultimate software after the download and installation process. Then, click the Toolbox to see its wonderful tools. Upon seeing them, select the Video Enhancer option.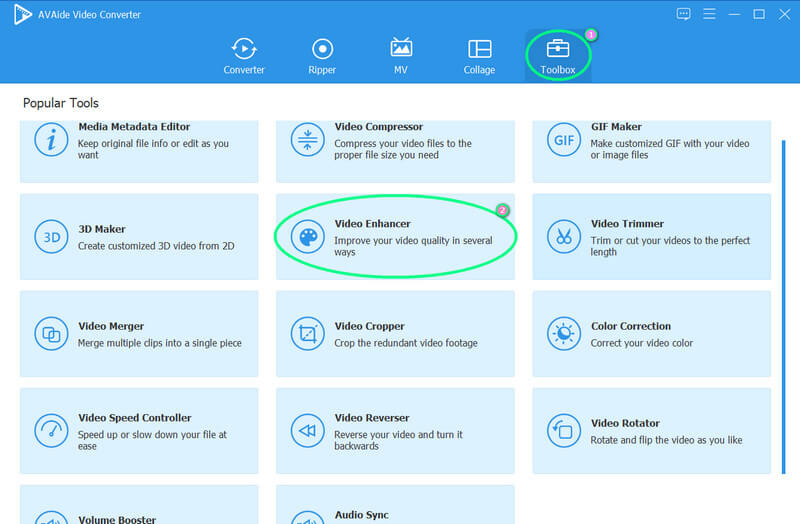 Step 2After clicking the selection, it will bring you to the window where you need to click the Plus icon to upload the video file.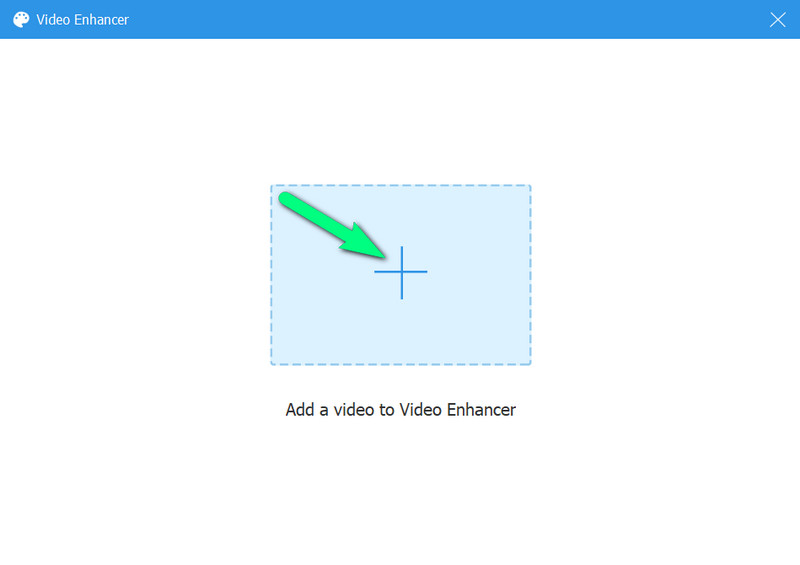 Step 3Next to that is the selection of the video enhancer options that include the noise remover tool. Please tick the box in the pertaining option to have its application. Also, it is your chance to tick the other options for as long as your video needs them.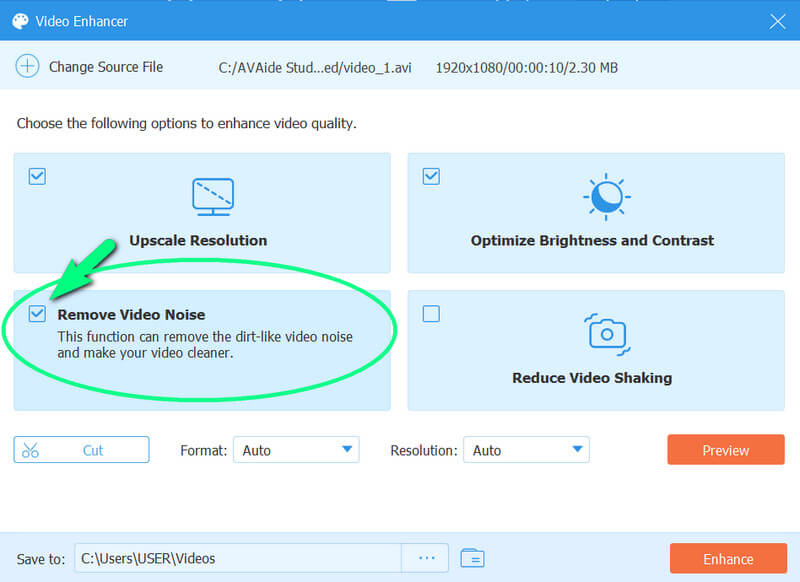 Step 4Now you can check the first ten seconds of your video by hitting the Preview button. This way, you will be able to see how the changes will go. Otherwise, hit the Enhance button to start the denoising and enhancing process. Check on the newly cleansed video in less than a minute!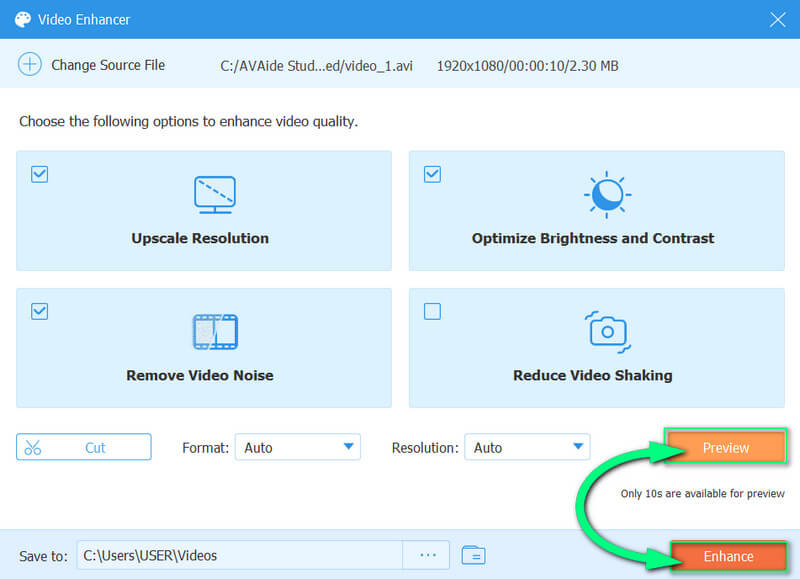 Part 2. How to Remove Background Noise of the Video on Android
For your Android and iPhone devices, try this Audio Video Noise Remover. As its name suggests, it's an app to remove background noise from video and audio. Aside from that, it can be a great tool to cut and convert your audio files to various formats such as MP3, WMA, OGG, and AAC. Meanwhile, this app lets you remove the noise easily and fast. Moreover, it can also let you share your outputs online for free. However, you may be bombarded with the ads in contains on its interface. Regardless, the simple guidelines below will let assist you in doing the task efficiently.
Step 1Launch the app using your mobile device. Then, click the Remove Noise then choose the type of file you need to denoise if it is a video or audio.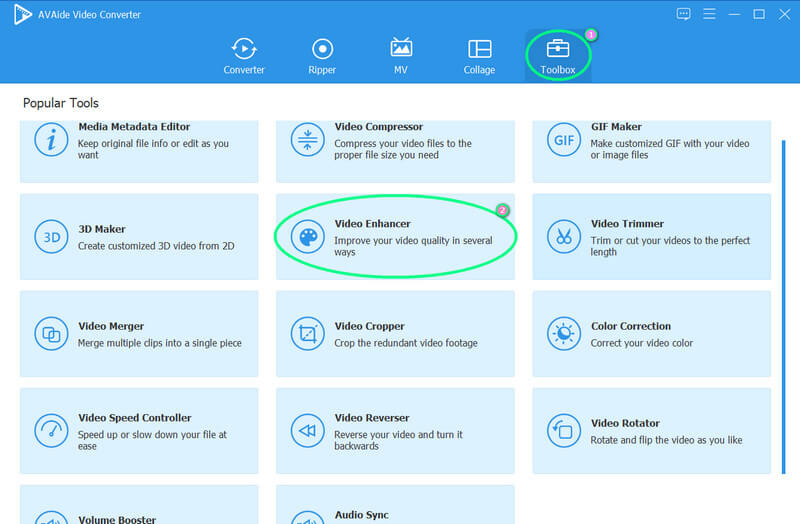 Step 2After that, browse the file from your gallery to upload it. Instantly, you will see the result on the interface. Hit the Play button if you want to check it, or hit the Save button to export it.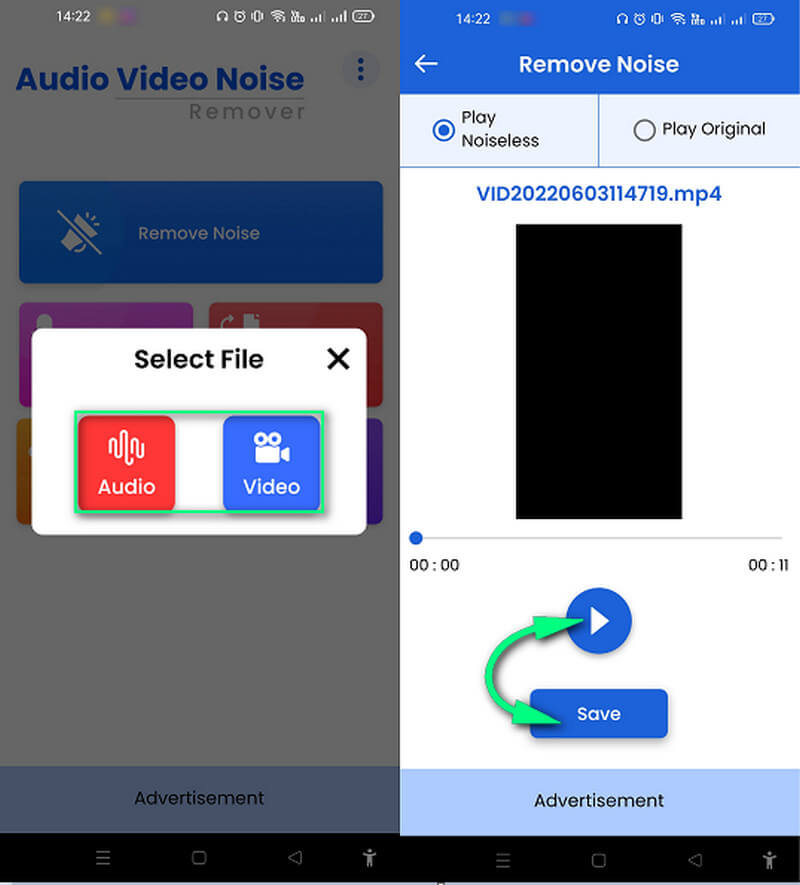 Part 3. How to Remove Background Noise from Video in Audacity
Now bringing you one of the most popular free and open-source software, the Audacity. It is well known to be a multi-track audio editor that works on Mac, Linux, Linux, and Windows. For this reason, you can expect a lot of beautiful tools for your audio, such as filters, cutters, splice tracks, a vocal isolator, and its powerful noise remover. Check out the guidelines below on using Audacity to clean your audio.
Step 1Launch the Audacity on your computer device, then from its main interface, click File > Open. After that, browse for your file and click Open to upload it. Note that for you to upload a video file and remove noise from a video, you need to download the FFmpeg Library first.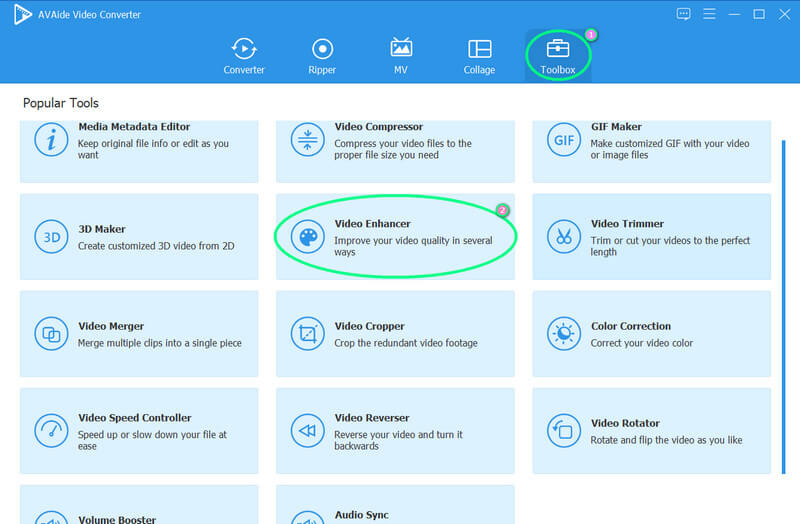 Step 2Once the file is in, go to the Effect option. From there, look for the Noise Reduction option. After a while, click the File option again and choose the Export selection. Choose your preferred format for your newly denoised file.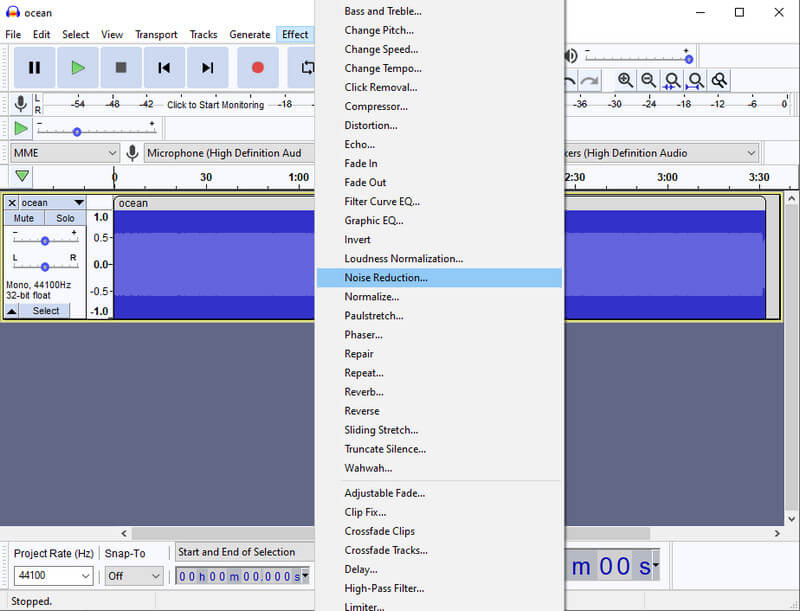 Don'torget to check your file if it was denoised based on your preference. Otherwise, you can re-denoise it again.

AVAide Video Converter
The most comprehensive media converter to convert video & audio & DVD without quality loss.
Part 4. Comparison Chart
Name

AVAide Video Converter

Audio, Video Noise Remover

Audacity
| | | |
| --- | --- | --- |
| Features | Video Enhancement | Witd Audio Enhancement |
| Video enhancer, converter, ripper, and maker. | Video noise remover; upscale resolution; brightness and contrast optimizer; shaking reducer. | |
| Audio cutter, audio converter, audio recorder. | Noise remover | |
| Converter, voice recorder, and audio editor. | Audio enhancement. | |
Part 5. FAQs about Removing Background Noise from Video and Audio
How to remove background noise from video in iMovie?
To remove the background noise using the iMovie, first, you need to upload the video in the timeline. Then, go to the buttons on top of the viewer and hit the noise reduction tab. After that, you must toggle and set the percentage of the reduction you prefer.
Is there a built-in noise removal on a Windows desktop?
No, if you are referring to software. However, you can reduce the background noise of your microphone that is connected to the desktop. To do so, go to the recording option, then move your cursor to the microphone and right-click to see the properties selection. Click the properties, navigate to the volume level of the mic, which you need to set to 100, and increase the boost level to +10dB.
How to remove background noise from video in Shotcut?
Unfortunately, Shotcut doesn't have a noise reduction feature.
Conclusion
There you have it. You can use three different noise removal tools. Indeed, those three apps require minimal to no effort for the task. Now, please share them with your friends who are struggling on the same matter. Also, if you need a broader software that can work great for your video and audio files, rely upon the AVAide Video Converter!
The most comprehensive media converter to convert video & audio & DVD without quality loss.