We are all aware that Facebook is a popular social media platform to share your life experiences. Depending on what you're posting, you can use this app to post a photo or video with a caption. But are you one of those users who became enraged after uploading a low-quality video? Suppose you don't know how to improve video quality on Facebook. In that case, you can follow this step-by-step guide and learn how to use another tool to enhance the quality of Facebook video most simply and quickly.
Part 1. Why Videos Look Bad on Facebook
Many users relate to why videos look bad on Facebook because the video quality we upload is sometimes poor. As a result, we require a better solution for posting high-quality posts on Facebook. If you want to know why your videos on Facebook are of poor quality, here are some reasons that will help you learn more about the problem.
◆ It sometimes depends on the smartphone unit; if you have a low-quality smartphone, it will almost certainly upload your video to Facebook in poor quality. Many users are concerned about this issue, but one thing is sure. If you want to improve the video quality of your phone, change the resolution in your camera settings because some users are unaware that they can change it through their phone's settings.
◆ One of the reasons for the video's low quality is poor filming. When you record a video with shaky hands, it appears terrible, making your video look bad on Facebook. In this case, one can consider low light issues while filming, or the lens may be dusty or in poor condition, resulting in the dissatisfying video.
◆ When it comes to video uploading, the internet is crucial. However, the internet connection is also essential in ensuring that everything runs smoothly. However, one of the reasons you're uploading a video to Facebook is because you have a terrible internet connection. When we upload a video to Facebook with a slow internet connection, it can impact the quality of our film.
Part 2. Upload High-Quality Videos to Facebook on Desktop
We recommend AVAide Video Converter as the best software for uploading high-quality videos to Facebook. When it comes to video enhancement software, this excellent program is one of the most recommended and outstanding programs that will undoubtedly assist you in uploading a high-quality video. Unlike other conventional programs, AVAide Video Converter was designed to be a video converter with many video editing tools. It allows you to automatically and professionally enhance your videos most simply.
Moreover, It is the best video enhancer you can easily use to manipulate the resolution by your own choice. This software can take your video resolution to the top as higher as 4k or as lower as 144px. To experience an easy way of improving the video quality and If you want more ideas about the tool, you can read the key features this tool can offer you.
AVAide Video Converter
Straightforward to improve video quality, and you won't need to read or watch a tutorial to do so.
Provides free video resolution support up to 1080px.
Takes advantage of the technology of AI video upscale.
It is a multi-purpose video enhancer and converter.
Compatible with Mac and Windows operating systems.
With an internet connection, you can easily access the tool on the web at any time and from any location.
Step 1Launch AVAide Video Converter
First, you need to download/install it by clicking the download button above. It is easy to download because it will not take an hour.
Step 2Press The Toolbox
Next, click the Toolbox button and navigate the Video Enhancer tab to start improving your video.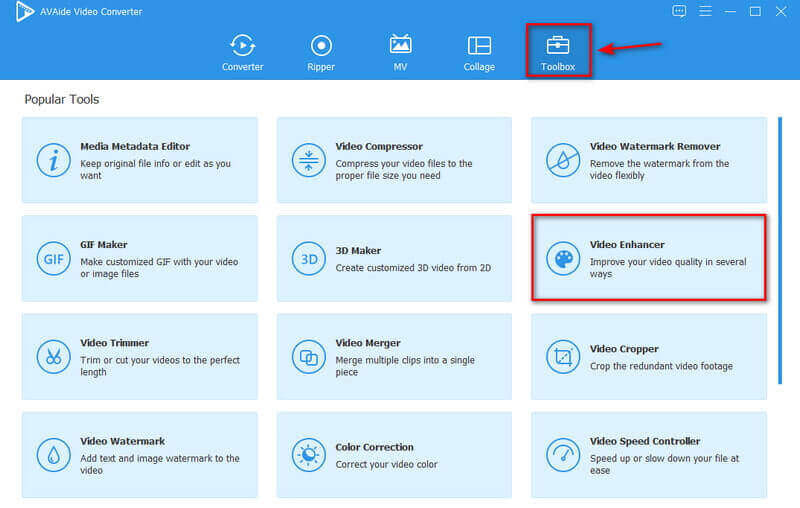 Step 3Add Video
You can import your media file by clicking the Plus button and selecting which Facebook video you want to enhance using this tool.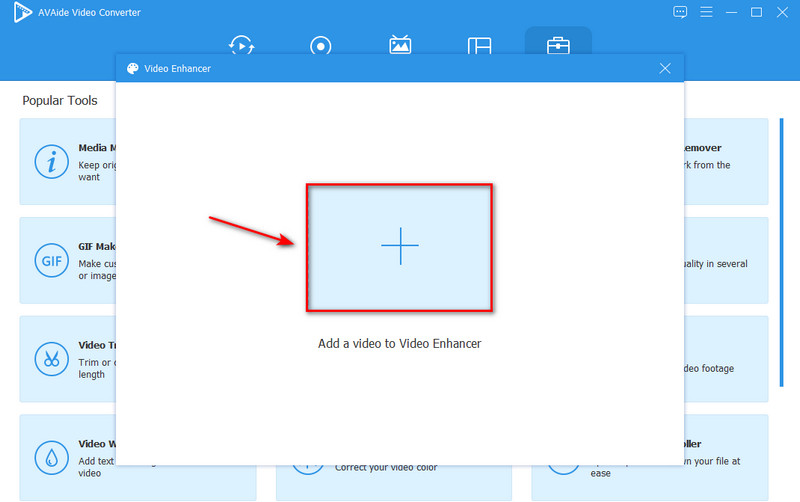 Step 4Improve Video Quality
Finally, to improve video quality, choose one of the four options: Upscale Resolution if you want superb video quality, Optimize Brightness and Contrast if you're going to make your video more enjoyable, Remove Video Noise if you're going to make your video cleaner, and Reduce Video Shaking if you want to stabilize video shaking. Then if you're done, click the Enhance button.
Note: By clicking the Resolution button, you can access the various sets of video resolutions that this tool already offers.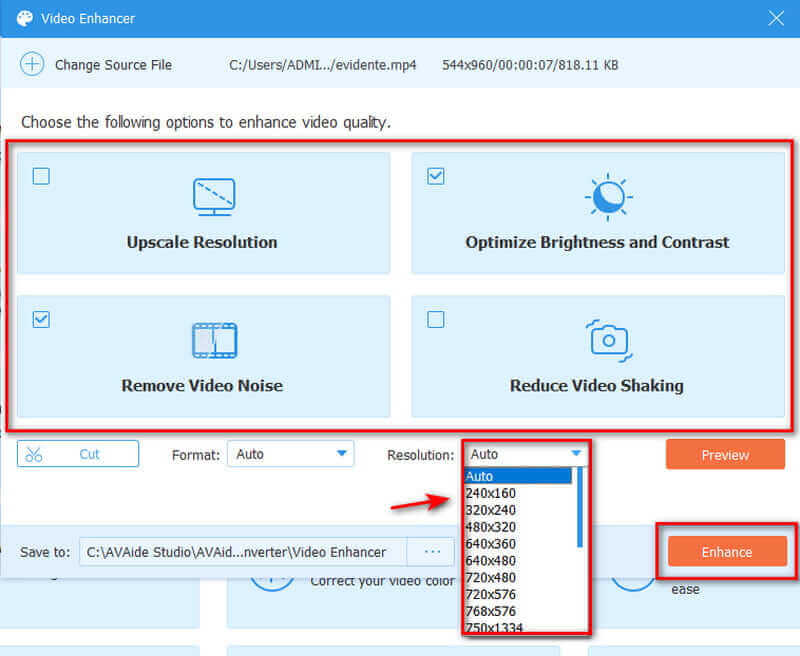 Step 5Save Final Output
You can save the final output by clicking the Enhance button. It will automatically save on the folder of the video enhancer. When enhancement is complete, a window will pop up automatically and then you can view your enhanced Facebook video.
That's all for upscaling the Facebook video quality. Also, you can use this tool to improve the video quality of TikTok, Instagram, YouTube, etc.
Part 3. Upload High-Quality Videos to Facebook on iPhone/iPad
Uploading a professional video to Facebook is possible if you understand the designed features and have backup options. All the same, learning how to improve video quality is simple, and you can easily upload high-quality videos. If you're an iPhone or iPad user, you can upload high-quality content to Facebook. However, there's a specific setting inside the Facebook app that you should enable to start uploading HD videos on Facebook. Take a look at how to upload high-quality videos by utilizing your iOS device's Facebook settings.
Step 1Please select the three horizontal lines menu icon in the bottom right corner.
Step 2Next, go to Settings & Privacy and expand the menu by pressing the arrow.
Step 3Select Settings, then scroll down to Media and Contacts and select Videos and Photos.
Step 4Turn on Video upload HD in the video settings to upload HD videos.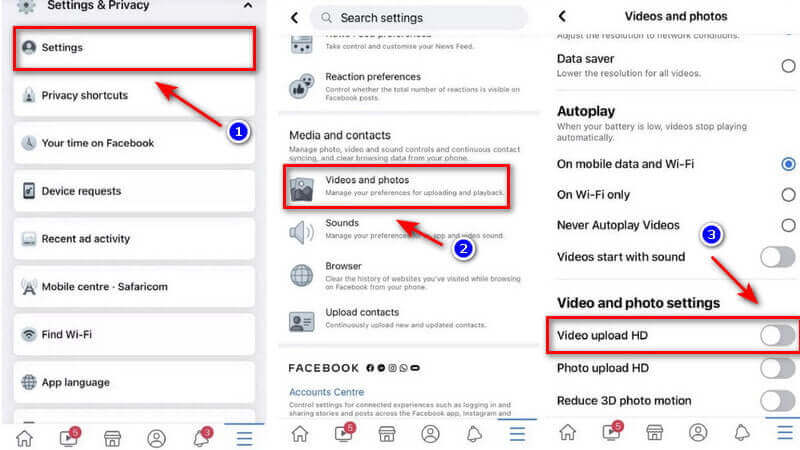 Part 4. Upload High-Quality Videos to Facebook on Android
There are distinct setting options available on the Facebook app to customize the app's operation. There are options for uploading an HD video, just like in Android/iPhones. You can easily configure the program's settings if you have an Android device. However, the process is slightly different because the menu icon is in the top right-hand corner rather than the bottom. Here's a brief step on how to use your Android phone to upload high-quality videos.
Step 1In the top right corner, click the Menu icon.
Step 2Navigate to the Settings & Privacy section and then click the Settings button.
Step 3Press the section Media and Contacts and click Media and contacts.
Step 4To upload HD video, make sure upload videos in HD are turned on.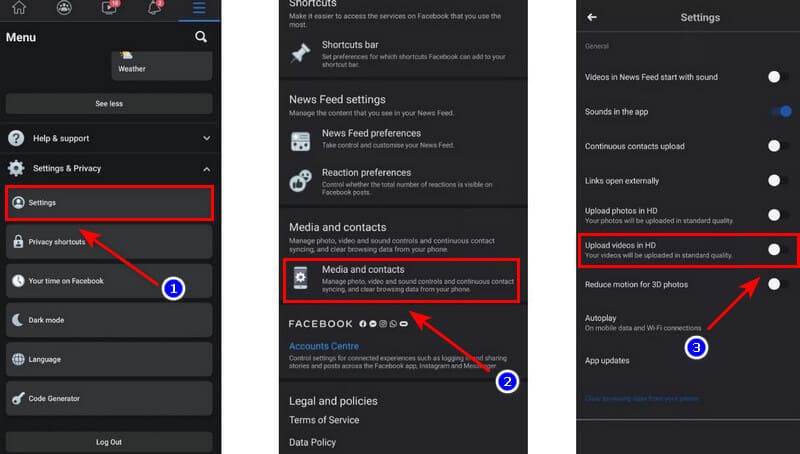 Part 5. FAQs about Facebook Video Quality
Why are my Facebook videos so blurry?
If your videos are immediately blurry, Facebook is likely adjusting to your internet connection. Check that your internet connection is stable. Also, set your resolution to the highest available.
Is 1080p video supported on Facebook?
Facebook apps accept almost all video files, but the MP4 format is preferred. The resolution should be 1080p or less—upload HD videos to improve the quality of your videos. Moreover, Videos must be no longer than 60 minutes in length.
Is Facebook capable of handling 4K video?
Facebook now supports 4K video, but It's taken a long time. Users have previously been limited to using lower resolutions.
What is the resolution of a Facebook video?
The resolution should be at least 1080p. However, larger files may take longer to upload on slower Internet connections.
Conclusion
So there you have it. One of our aspirations is to upload high-quality videos to Facebook. That is why we recommended excellent software for uploading a higher-quality Facebook video. When it comes to improving video quality, AVAide Video Converter is one of the best options. Start using and sharing this tool, and it will undoubtedly assist you in lightening your load.
Your complete video toolbox that supports 350+ formats for conversion in lossless quality.