Indeed, pixilated, choppy, and shaky videos will only cause irritation to the viewers. For those videos of you with this kind of complication, deleting is not an option. Instead, get an app to clean up the video quality. But how will you handle it on your computer? That is not to worry, for we have gathered the best online and offline tools that can do the job efficiently without a hassle! Yes, it's your lucky day today since you came to rest in this article. Imagine, in just a few minutes, you will be able to meet your new companion in video editing. So, without further adieu, let's get it started!
Part 1. Clean Up Your Videos with the Most Powerful AVAide Video Converter
AVAide Video Converter The Best Software to Clean up Video Quality
Import and produce any kind of video format to clean up.
It uses artificial intelligence in video editing.
Your device is 100 percent secured due to its hardware acceleration technology.
The best way to correct color, trim, crop, rotate, merge, reverser, compressor, boost volume, control speed, and sync audio with the video.
AVAide Video Converter can powerfully clean up video quality in several ways! This magnificent software is very versatile in any operating system you use because it supports Windows, Mac, and Linux. Furthermore, this award-winning tool amazingly shows its power despite having the most friendly interface, which professionals and beginners can easily access. In addition, this tool greatly enhances the video quality by just ticking boxes. Amazingly, that is how it works. With artificial intelligence, your videos will turn into the best video you could ever have with just a simple toggle!
Key Features:
◆ Ultimate video converter.
◆ Movie and music video maker.
◆ Photo and video collage maker.
◆ 3D and GIF Maker.
◆ Media metadata editor.
◆ Homemade DVD ripper.
Pros

Simple clean-up video quality process.
It's multifunctional.
It supports 300+ video formats.
It comes with beautiful themes and filters.
It's flexible.
Cons

Not applicable on mobile.
How to Clean a Video With AVAide Video Converter
Step 1Software Installation
You need to acquire the tool first on your desktop or Mac. You may click on the download buttons presented above to fast-track the installation.
Step 2File Importation
Launch the tool and directly go to its Toolbox feature. Then, click on the Video Enhancer, and it will lead you to the next window, where you need to click the Plus sign button to import the video file.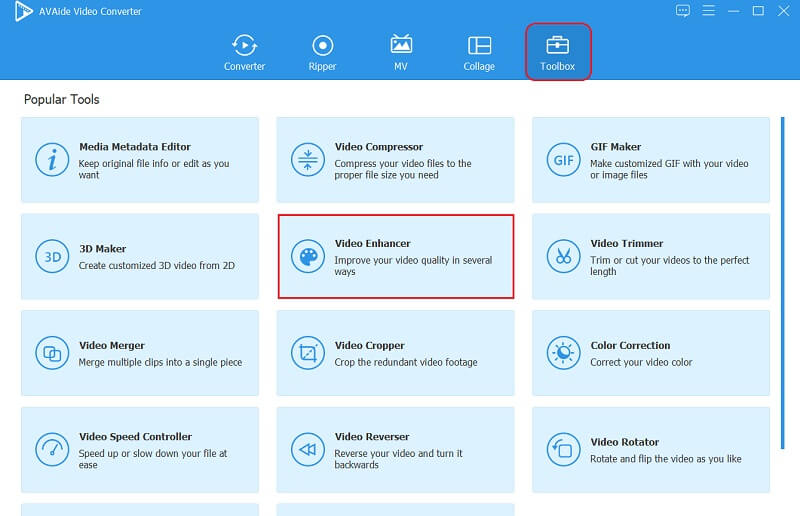 Step 3Enhance the Video
Clean up the video quality freely by ticking the Remove Video Noise and the Reduce Video Shaking options on the new window. Your video will be free from dirt-like noise and become stable in these ways. Please note that you may toggle the other options if you want to upscale the resolution and adjust the lighting of your video.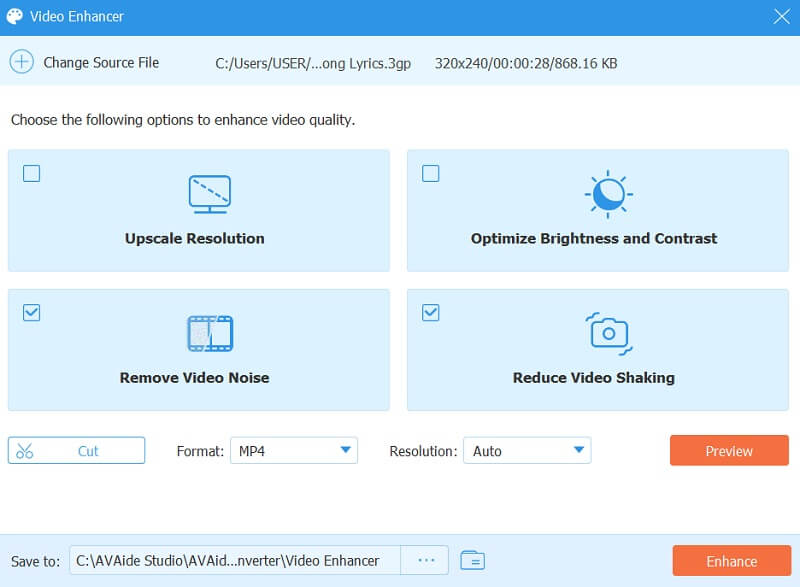 Step 4File Customization (Optional)
This time, you can choose to customize the file by changing its format, cutting, and upgrading the resolution. Don't forget to click the Preview button to see the pre-enhanced video before exporting it.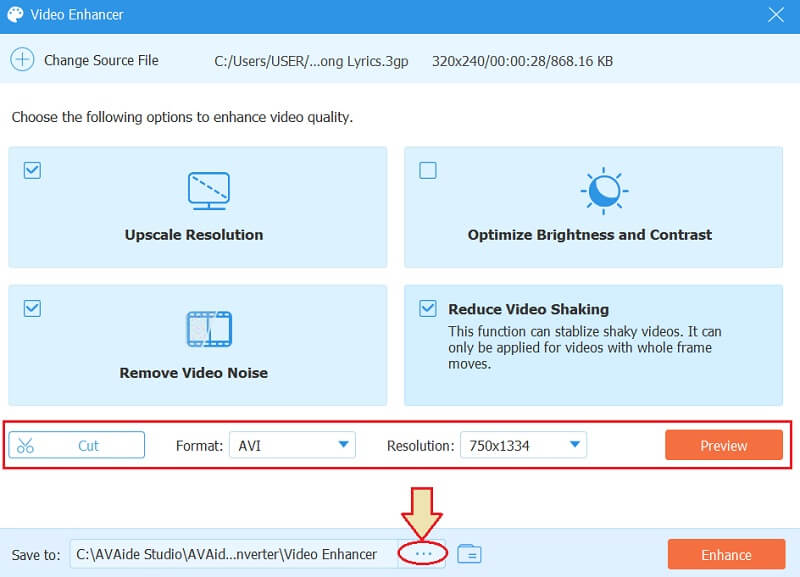 Note: Don't just focus on how to clean up the video quality. Also, feel free to customize the file destination. Just click the Elipys on the Save To, then choose a folder where you want to put your enhanced video.
Step 5Exportation
Finally, hit the Enhance tab to apply all the changes and, at the same time, export the enhanced video. Wait for the swift enhancement process to finish, then feel free to click the Boost Again if you suddenly want to apply another enhancement option or the OK to complete the process.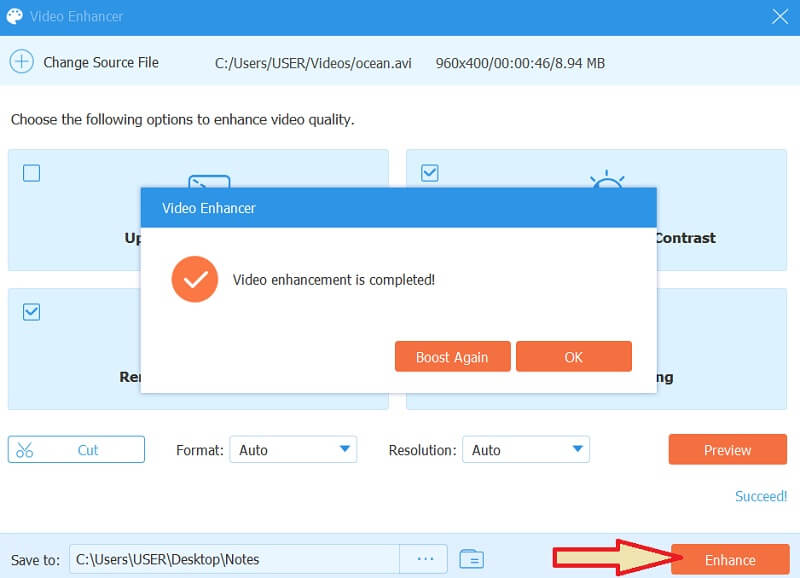 Part 2. The Best Online Way to Clean up Videos
From the most powerful software you can use offline, let's now move Ezgif. This most potent online tool cleans up video quality instantly! Video editing is made simple with this online image editor and animated GIF maker, enabling you to enhance your videos for free. One of its outstanding attributes is its ability to fix shaky videos aside from the standard tools that it offers, such as the crop, optimize, resize, and convert. However, Ezgif won't let you stabilize a video file that is larger than 100MB. On the other hand, let us see how it works by looking at it more profoundly.
Key Features:
◆ GIF maker.
◆ Resizer.
◆ Optimizer.
◆ Repair corrupted files.
Pros

It comes with a facile interface.
It's accessible.
It's free to clean up the video quality.
No need to download software.
It offers tons of editing tools.
Cons

Many ads on the page.
The filer size has a limit.
It's internet dependent.
Guidelines on How to Clean up Video With Ezgif.com
Step 1Visit the official website of the Ezgif and go directly to its Video Stabilizer tool under the Video to GIF feature.
Step 2Upload the file when you hit the Choose File. Ensure that the video file you will import is supported by this online tool. Also, it should not be larger than 100MB in size.
Step 3Once you have selected the video, click the Upload Video button. Let us start with how this tool works to clean up video quality by stabilizing it.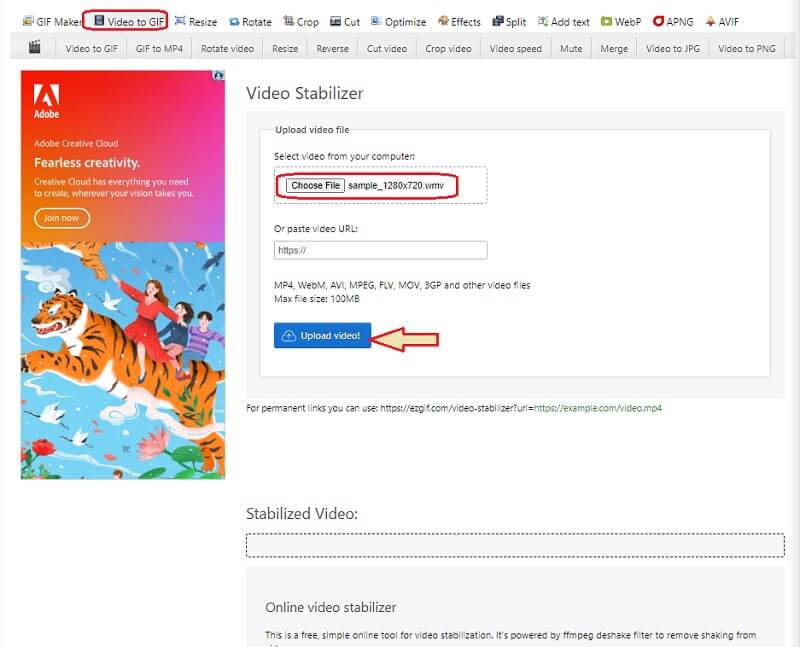 Step 4On the next page, where a video preview is shown, click the Stabilize button. Wait till the stabilizing process finishes, then check the video after.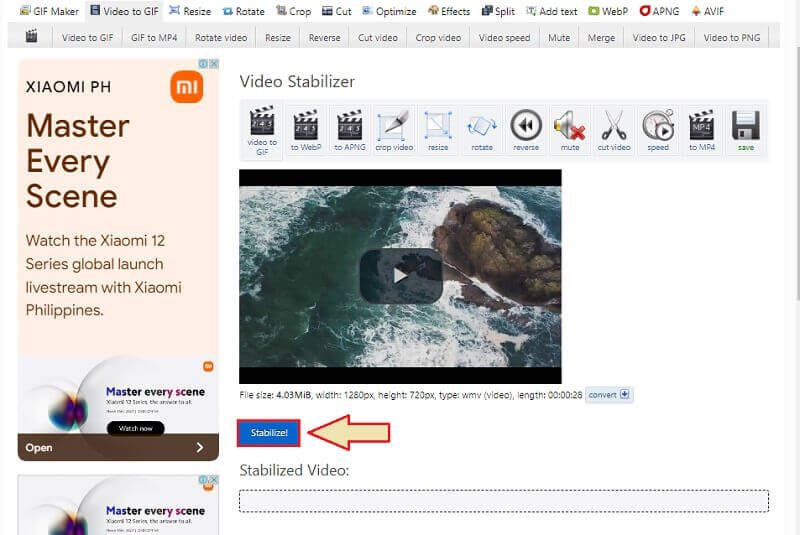 Part 3. FAQs about Cleaning up Videos
Does cleaning up video mean reducing only the background noise?
No. cleaning up videos doesn't only talk about cleaning the background noise of the video because it is also a task in cleaning the image itself and other technicalities of the video that needs to be enhanced.
How to clear up video quality on Android?
In clearing up the video quality using Android, you can use the default setting on its video gallery. Or better to use a third-party tool that will do the job quickly and efficiently. Try to use the AndroVid or the Kinemaster for this task.
Why do I need to clean up my video?
Cleaning up a video will make it look more beautiful and perfect. After all, every viewer seeks an ideal video to watch. So, everyone makes an effort to produce clean and clear videos worth seeing.
Conclusion
To conclude, we hope you see the importance of software to clean up the video quality. We are now in an era where everything needs to be perfect and your videos. For this reason, we encourage you to produce a high-quality video that everybody will enjoy watching. Use the most recommended video enhancer today, the AVAide Video Converter!
Your complete video toolbox that supports 350+ formats for conversion in lossless quality.