Taking TikTok videos is one of the generation's hobbies these days. On the other hand, users enjoy their time on TikTok because they are delighted by the unique content they discover and feel safe expressing themselves with their content video. All of this contributes to an understanding of why TikTok has been so popular in recent years. And how people use it to kill time when they're bored. This article teaches how to improve TikTok video quality using the most excellent software in the most straightforward method.
Part 1. Why Are My TikTok Videos Blurry
If you're going to publish a video on TikTok, be sure it's of high quality. However, they can get grainy at times, and the quality of the video decreases after we've posted it. When we see the footage in drafts, the quality is fine, and it is also lovely when we save it, but when we post it, the quality is much worse.
The question is, why are our TikTok videos becoming blurry? Because you are most likely utilizing the app's Data Saver feature, the quality of your TikTok video is low. Similarly, recording a video with a phone's front-facing camera degrades its quality. Furthermore, using your phone's front-facing camera to capture your video will reduce the quality of your video. But if you're still concerned about the low quality of your TikTok video, keep on reading the reliable guide below using Video Enhancement Software.
Part 2. How to Improve TikTok Video Quality Using Video Enhancement Software
If you're looking for a tool that will surely help you improve the video quality of your TikTok content. There's the best video enhancement software for you. AVAide Video Converter is the most recommended and outstanding tool that allows you to improve the resolution of your video most easily and quickly. Furthermore, this program is more than simply a converter; it also contains a video improvement setting that will undoubtedly decrease your load. You don't need to be concerned because this is the ideal enhancer for your TikTok's poor quality. In addition, AVAide Video Converter will effortlessly do the service for you, and you don't need any expertise in enhancing or converting. Examine how to use this fantastic software to enhance TikTok video quality professionally.
AVAide Video Converter - Toolbox (Video Enhancer)
It has powerful video enhancement tools
It can be used with or without internet access.
It is compatible with Windows and Mac.
It allows a variety of video formats and allows you to share videos online.
Step 1Install/Download the Software
First, you must install and download the software by clicking the download button above.
Step 2Select Video Enhancer
After downloading the program, navigate to the toolbox and select the Video Enhancer button to boost your TikTok video.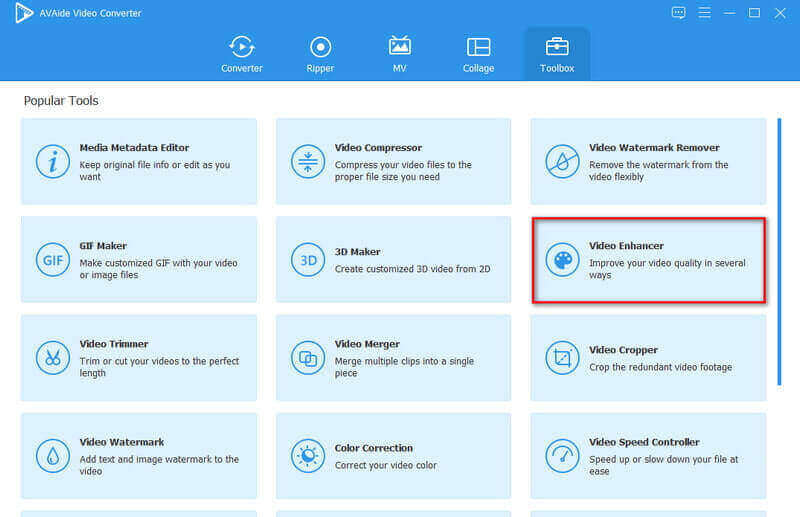 Step 3Add TikTok Video File
You may now upload your media file by clicking the (+) button and selecting your TikTok video from your files to increase the video resolution.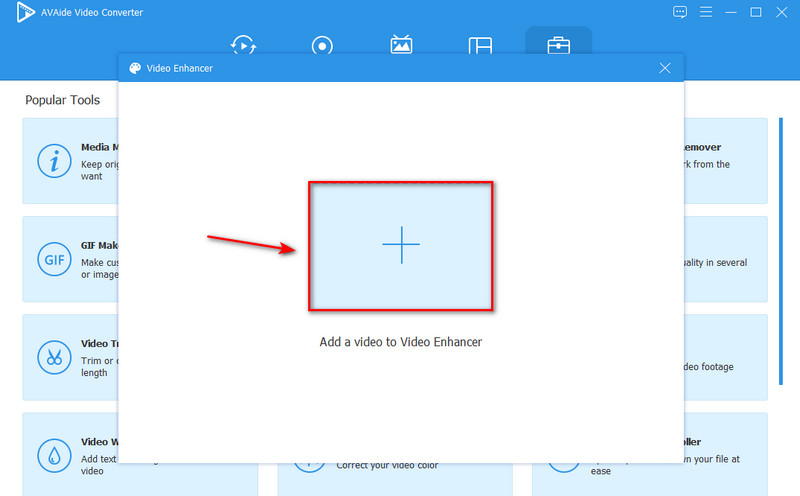 Step 4Improve Video Quality
You can now improve your TikTok video quality by clicking the Upscale Resolution, and then you can also adjust the resolution below. However, you can also select the Optimize Brightness and Contrast button if you want your video more enjoyable. Click Remove Video Noise for a video cleaner, and Reduce Video Shaking to stabilize video shaking. Then when you're done, click Enhance.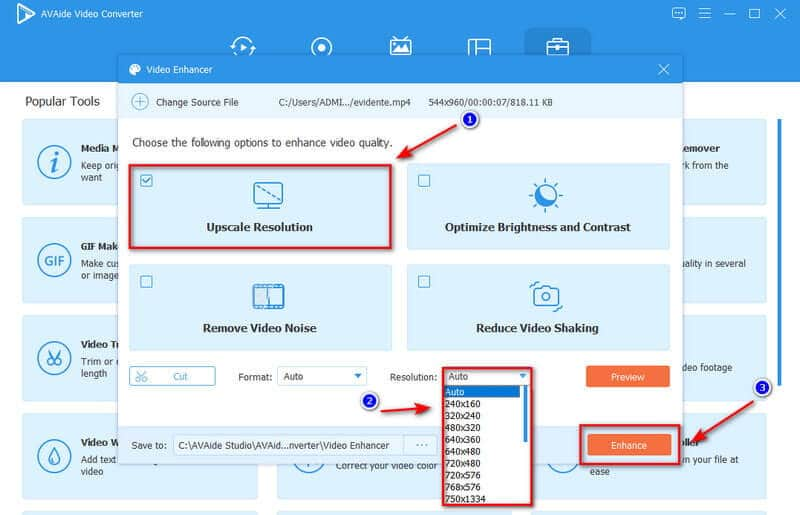 That's all for enhancing your TikTok videos quality. In addition, you can use this program to edit your video clips, like cropping, trimming, rotating, etc.
Part 3. How to Increase Video Quality on TikTok
High-quality videos outperform low-quality videos on TikTok. That is why we need high-quality video content. If you want to increase the quality of your TikTok videos, there is a program that can undoubtedly help you. If you want to do it directly in your app, there are additional options to increase the video quality in your TikTok account. Take a look at the steps stated below.
Step 1To begin, launch the TikTok app on your mobile device.
Step 2Click the three dots in the upper right-hand corner of your TikTok profile to create high-quality videos.
Step 3Finally, disable the Data Saver mode, which reduces your cellular data use and must be disabled to create higher-quality videos.
Note: Rather than using the front-facing camera. Try using the rear camera if you want to make a high-quality TikTok video. Because it only has 7 megapixels, the front camera seems to be of lower quality than the rear camera, which has 12 megapixels.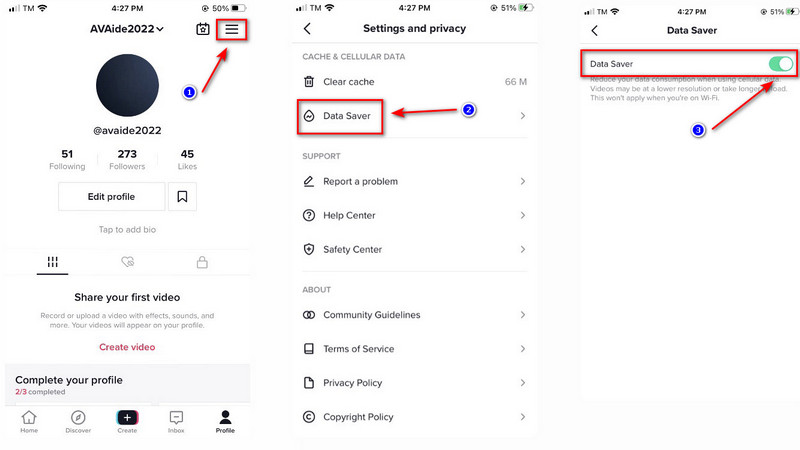 Part 4. How to Improve Video Quality by Changing Camera's Video Settings on iPhone & Android
Suppose you have an iPhone or iOS smartphone and use TikTok. In that case, you may enhance the resolution of your video by going to settings, scrolling down until you locate the camera, and then selecting the record video option. When you're in the Record Video options, choose 4K at 30 fps. This will allow you to record higher-quality TikTok videos.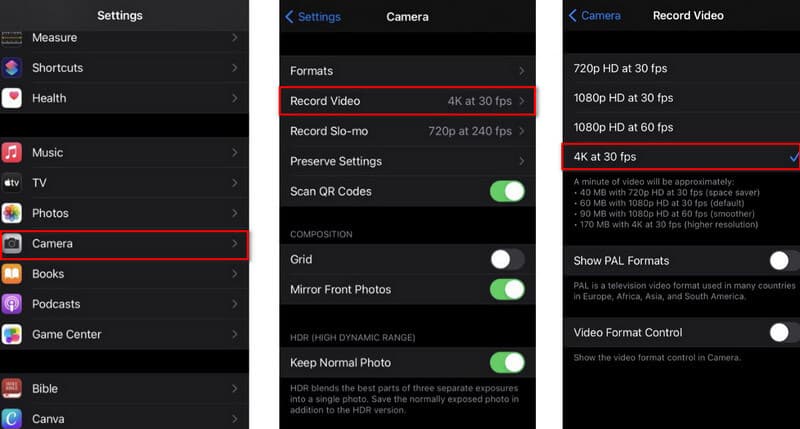 If you have an Android device, you may change the video resolution to increase its quality. Go to the Camera menu, then select the resolution and quality and the mode and camera. However, not every Camera app adheres to these specific requirements. In the sample Android Camera app below, choose Settings, then Settings icon again, and select Photo Size from a menu.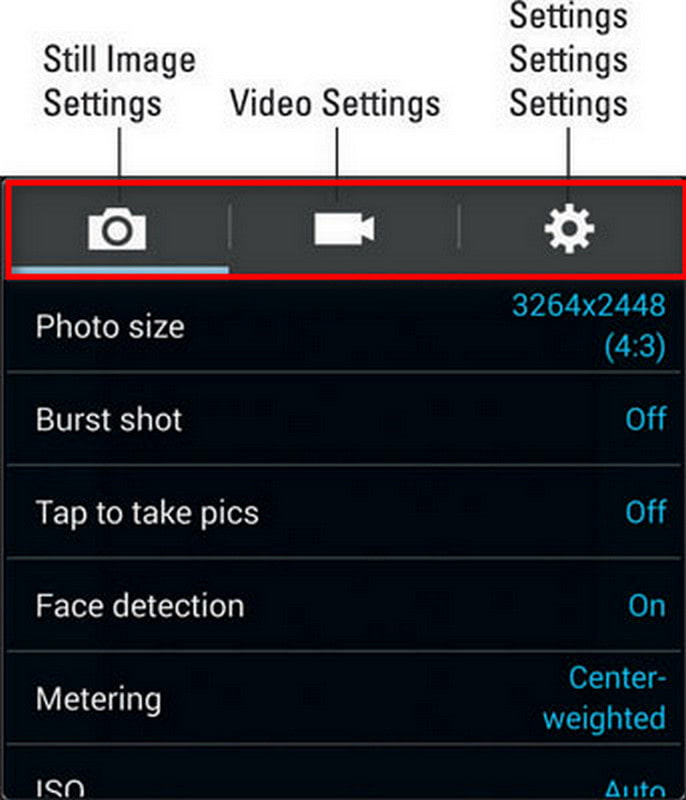 AVAide Video Converter
The most comprehensive media converter to convert video & audio & DVD without quality loss.
Part 5. FAQs about TikTok Quality Video
What is the highest resolution for TikTok?
For the optimal visual experience, the TikTok aspect ratio is 9:16. 1:1 is also an option. For the greatest effects, TikTok video resolutions must be 1080x1920.
Does TikTok have an HD quality option?
Yes, TikTok has an HD quality option. When you've finished making and modifying your TikTok video, touch the Next button in the bottom-right corner of the screen. Then, on the Post screen, tap More options, and Tap the toggle to the right of Upload HD.
Can I use AVAide Video Enhancer offline?
Yes, it allows you to access all its features without needing an internet connection that includes improving the quality of your video, editing, converting to other formats, etc.
Conclusion
There are many easy ways around that will help you enhance TikTok video quality. You may choose the best video quality enhancer - AVAide Video Converter for the work based on your demands and desires. As friendly advice, it would be the best and recommended tool as these tweaks and enhancements play an essential role in the quality of your video.
Your complete video toolbox that supports 350+ formats for conversion in lossless quality.