Video editing has become a more manageable task today because of AI. Everyone must know how important AI video upscaling is, especially during these days when everyone seems to be running on the track. What we mean is that people nowadays are moving in a fast-paced environment. It is not actually shocking because even the days are passing so fast, and so are the tasks. Therefore, to help you get the video editing task quickly, follow the tips and guidelines that we will give you as you read this article. Assume that we will present only the fantastic video editing tools. So, without further adieu, let's get the ball rolling and begin to upscale videos with AI on Android, iPhone, and desktop.
Part 1. What is AI in Upscaling Video?
First and foremost, AI or Artificial intelligence is the ability of a technology gadget such as the computer, mobile phone, and others to perform a human task with discernment and human intelligence. This is also true with the AI video upscaling. A video enhancer without AI only transforms the videos manually by a person controlling the tools of the software or app. On the other hand, a video upscaling app for Android and other editing tools will make the task much easier. Also, every detail of the video that is not seen by the naked eye will also be part of the enhancement.
Part 2. The Phenomenal Way to Upscale Video Using AI on PC
The AVAide Video Converter is the phenomenal video-enhancing tool that works with artificial intelligence, and by simply hitting the particular enhancement, it applies to the video perfectly. Furthermore, this wonderful software can drastically change your poor video into the most beautiful one by decluttering the noise, stabilizing, and enlightening it as simple as ABC. Not just that, you can also apply beautiful filters, themes, and music while upscaling video with AI! Don't worry about the kind of PC you are using because the AVAide Video Converter is perfectly working on Mac; Windows, and Linux alike!
What's more? As its name suggests, the AVAide Video Converter was initially the most remarkable video converter, movie maker, and homemade DVD ripper around the globe. Imagine converting video and audio files simultaneously into more or less 400 different formats. Not to mention the ultrafast and hardware acceleration technologies it possesses, which are very helpful for you and your device! Anyways, feel free to try it by following the complete and detailed guidelines below.
The Phenomenal AI Video Upscaling Software - AVAide Video Converter
Enhance your video in several but quickest ways.
It secures your device with its hardware acceleration technology.
It's a great 3D, GIF, Movie, and Video Collage maker.
It supports all popular input and output formats.
The most intuitive interface you could ever have.
Amazing features and tools await you!
Step 1Download the Software
Acquire the software for your device, and for you to do it efficiently, click the download buttons available above. Select one applicable for your device, then launch this AI video enhancer once you have installed it.
Step 2Upload the File
On the main interface, explore the Toolbox and select the Video Enhancer. Once you click it, a pop-up window will appear, where you can upload your video file when you hit the Plus icon at the center.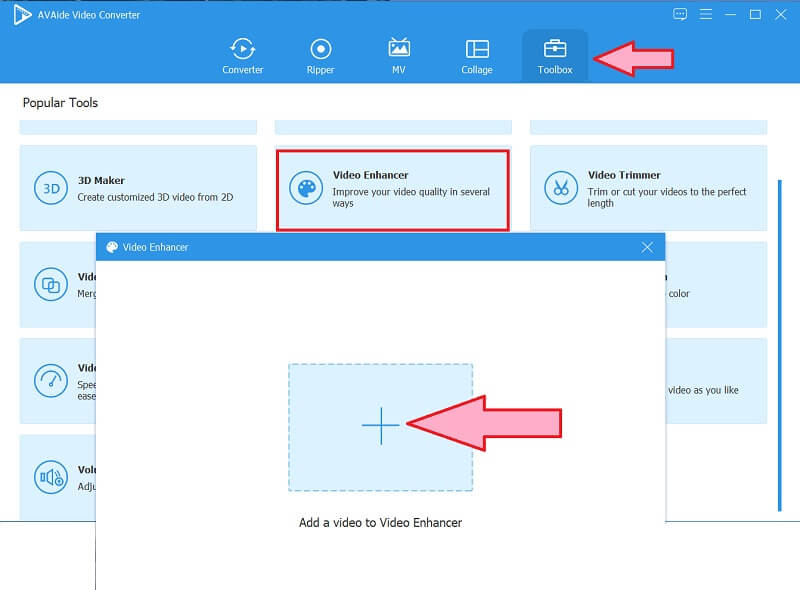 Step 3Customize Enhancement
On the new window, choose from options that you just need to toggle. The options are the Upscale Resolution to make the quality superb, the Remove Video Noise option to make your video cleaner, Reduce Shaking to make it stabilize, and the Optimize Brightness and Contrast to attain perfect lighting for your video.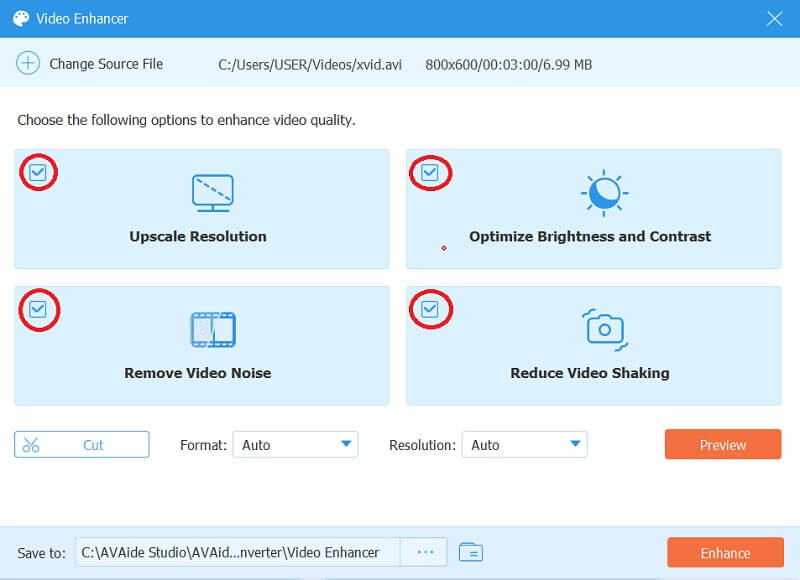 Step 4AI Upscale Video Resolution
This time, you need to decide on the proper resolution you want for your video. To do so, just hit the arrow icon on Resolution, then choose among the multiple options. Same with the format you want.
Step 5Save The Video
If your video is good to go, go ahead and click the Enhance button. Wait for the enhancing process to finish, then check it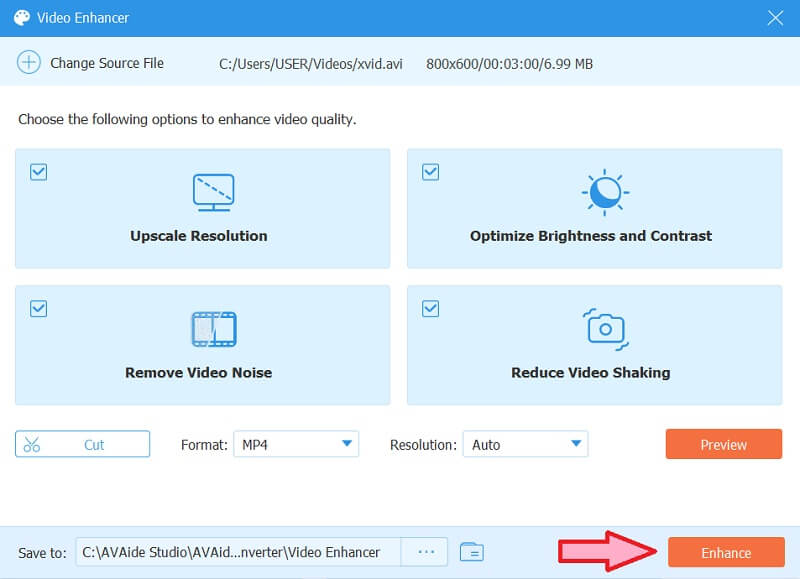 AVAide Video Converter
The most comprehensive media converter to convert video & audio & DVD without quality loss.
Part 3. How to Upscale Videos on Mobile Using AI
For your mobile usage, it is practical to use the VideoShop. This excellent application has everything to boast about. It is a video upscaling for Android and iPhone that possesses beautiful effects and filters, tags along with its animated transitions, and more features for beautifying your videos. Furthermore, it enables users to apply voiceovers and sound effects into their enhanced videos as part of its advanced feature. However, its importing and exporting process might be problematic to you, as many first-time users have experienced it. Hence, let's see the steps below on how VideoShop works in enhancing videos. Please note that the guidelines are applicable for how to enhance video quality on Android and iPhones.
Step 1You need to download and install this video up scaler on your Android or iPhone. Then launch it, and click the Import button.
Step 2Select the video you need to enhance on the next page, then click Done. After the successful importation of the video, go and click the Filter tab.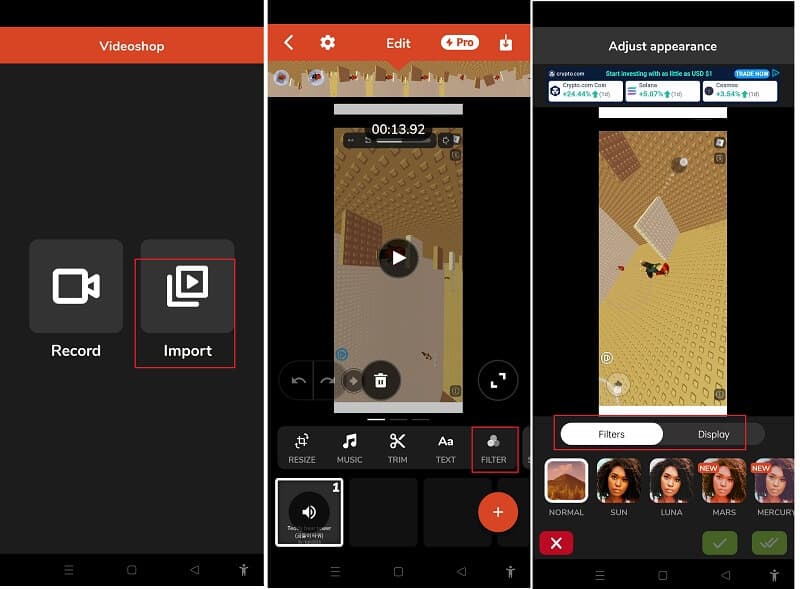 Step 3From the new page, choose among the numerous filters available. Next, click the Display tab to customize your video's brightness and contrast, sharpness, saturation, and temperature. Then, click the green Check button to apply the changes.
Step 4Finally, export the newly enhanced video by hitting the Export icon. Then, click the Save to Gallery option. And that is how to upscale video on Android and iPhone.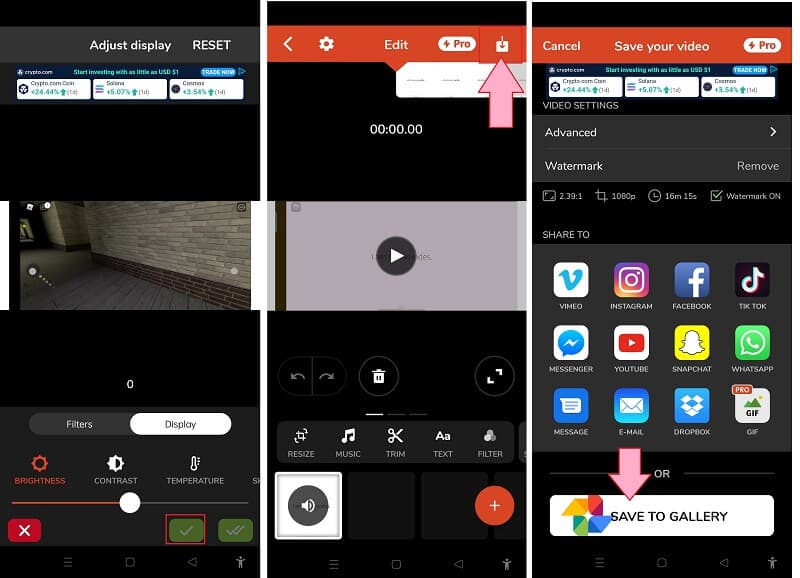 Part 4. FAQs About AI Video Upscaling and the Tools
Can I upscale my video using AVAide Video Converter on my phone?
No. In the meantime, AVAide Video Converter only caters to computers. But in the long run, as part of its innovation, you would surely enjoy it with your phones. If you need to upscale 480p to 1080p, click here to learn more details.
Can I enhance my video using the Photos app on my Android?
Yes. The Photos app is also a good tool to enhance your videos and photos. However, unlike the other enhancing apps, the Photos app has limited tools.
How to upscale video on iPhone without a third-party app?
Go to the photo album, then select and open your video file. After that, click the edit button, and customize the presets available. However, this procedure is not as efficient as using a third-party tool.
Conclusion
There you have it, friends, the two most astonishing ways to enhance your videos with AI on Windows, Mac, Android, and iPhone. Indeed, there could be a lot of options out there besides them. But, these two video-enhancing tools have shown greatness beyond our expectations. Therefore, follow the suggestions and instructions given in this article for you to obtain perfect, enhanced outputs.
Your complete video toolbox that supports 350+ formats for conversion in lossless quality.