When an actual meeting is impossible, video conferencing systems like Zoom allow participants to connect and communicate productively. This makes faraway interactions much more intimate, vital for feeling and interest. Suppose we're in a zoom meeting or class. In that case, we'll be upset if our video quality is poor because of the slow internet connection. Luckily, we found the best way to improve the quality and avoid being upset. Furthermore, this post includes tools to show you how to increase zoom video quality in the most straightforward methods. Read on to discover more about these programs.
Part 1. Easiest Way to Improve Zoom Video Quality
Are you looking for a video enhancer tool to improve your zoom video quality? Well, there's a perfect tool to help you. AVAide Video Converter is on the go when it comes to video enhancement. This outstanding tool is one of the most recommended video enhancers because this software is not just a converter. Furthermore, suppose you want to enhance your zoom video quality, you need to record your zoom meeting first. It will automatically be saved on your files. Then you can freely upload your video file in this software, and it will enhance the video quality quickly and easily.
In addition, AVAide Video Converter has many powerful features that allow you to be more creative in professional ways. Moreover, It is a complete package tool that most people use to customize their video quality easily. It has a simple user interface, so even inexperienced users can use it. It creates high-quality videos with resolutions ranging from 1080p to 8K. Not only that, but it also includes an editor that allows you to trim, edit, change the output settings, improve the color, flips and rotate, split, and crop your videos before converting them. This tool's most intriguing feature is its Toolbox Kit, which allows you to compress, enhance, reverse, cut, sync audio, merge, and speed up your video. Follow the complete guide below on improving the video quality using this outstanding software.
Pros

Even though you don't have a stable internet connection, you can use it.
It works with multiple conversions without quality loss.
It has a powerful and professional toolbox kit.
Cons

Downloading is necessary to use the tool,
You need to purchase the software to access its excellent functions and features.
AVAide Video Converter
It can improve your Zoom video quality most efficiently.
It has powerful features that allow you to make it more creative.
It enables you to produce video outputs in more than 300 different formats.
The best choice to enhance your Zoom videos using its countless editing tools.
Step 1Navigate the Software
Install and download the tool first by clicking the download button above.
Step 2Open the Video Enhancer
By improving your video quality, press the toolbox button, select the Video Enhancer icon, and start uploading your zoom meeting recording by clicking the (+) Plus button.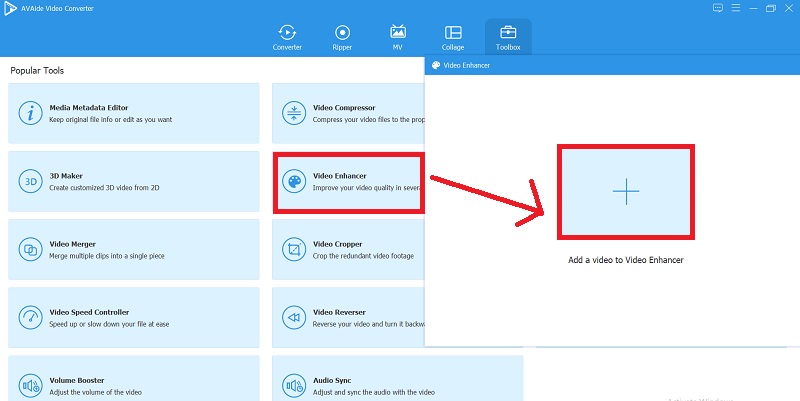 Step 3Open the Video Enhancer
After uploading your video file, you can improve your video quality by selecting Upscale Resolution. If you want your video more enjoyable, you can optimize the brightness and contrast by clicking it. Then finally, click the Enhance button if you're done.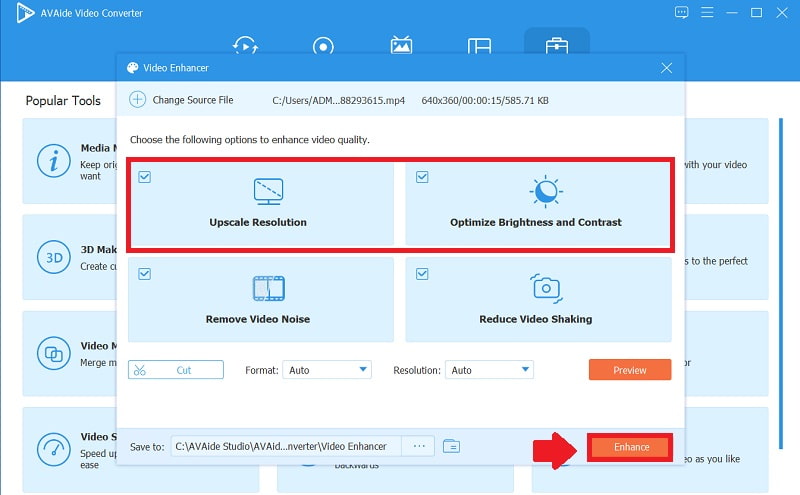 Part 2. How to Improve Video and Picture Quality in Zoom
Do you want to discover the simplest way to improve video and image quality in zoom? When we use this popular video conferencing program, our video and photos occasionally turn to low quality, especially when we want to put up a virtual conference or class. One of the reasons we like Zoom so much is its professional features. It may appear insignificant, but it makes a difference by brightening our features and appearing more focused and ready for work.
Moreover, using this video conferencing software allows users to schedule virtual video, webinars, audio conferencing, live chats, and face-to-face meetings at any time and from any location. In addition, you don't need an account to access this tool because it is compatible with Windows, Mac, Linux, and even on your smartphones. If you want to improve video quality while using it, here's a look at how to use this program to enhance video and picture quality.
Step 1Open the Software
First and foremost, launch the video conferencing software, then go to the settings option in the upper right corner.
Step 2Click HD Video
To acquire a high video quality during the Zoom video calls, Go to the Zoom camera setting, click the Video button, then select the HD tab. This improves the overall quality of your video. However, 720p meeting video is only available to professional users, and 1080p is only for special-use cases
Note: Don't enable HD if you have a terrible internet connection.
Step 3Enhance Zoom Quality
Another way to make you look good at Zoom meetings, go to the My Videos section. If you want to improve your display picture, you can enhance your display picture by pressing the Touch up my Appearance button.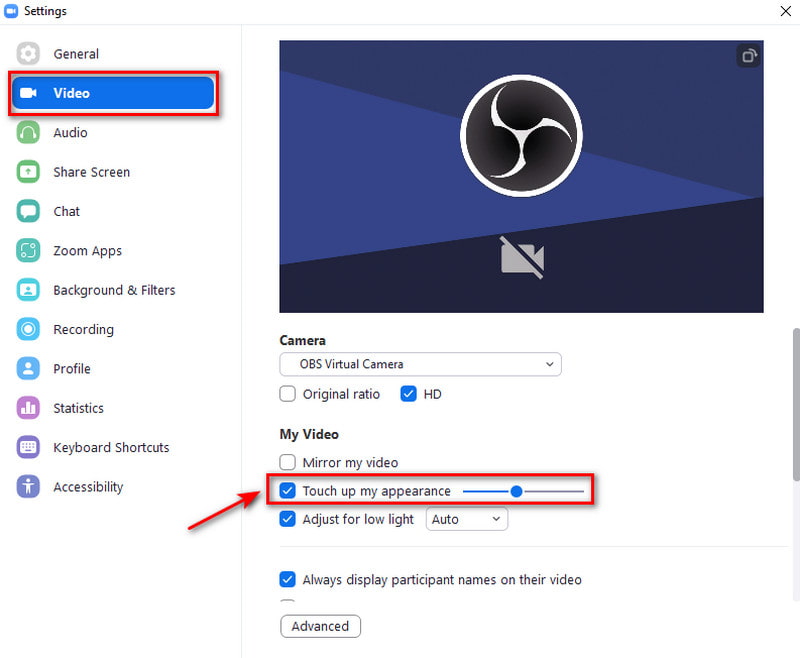 Step 4Adjust Low Light
Lastly, you can enable the Adjust for low light, and it will be set to Automatically. Otherwise, you can click the Auto, select the Manual, and drag the slider to adjust brightness. This option allows you to brighten your video.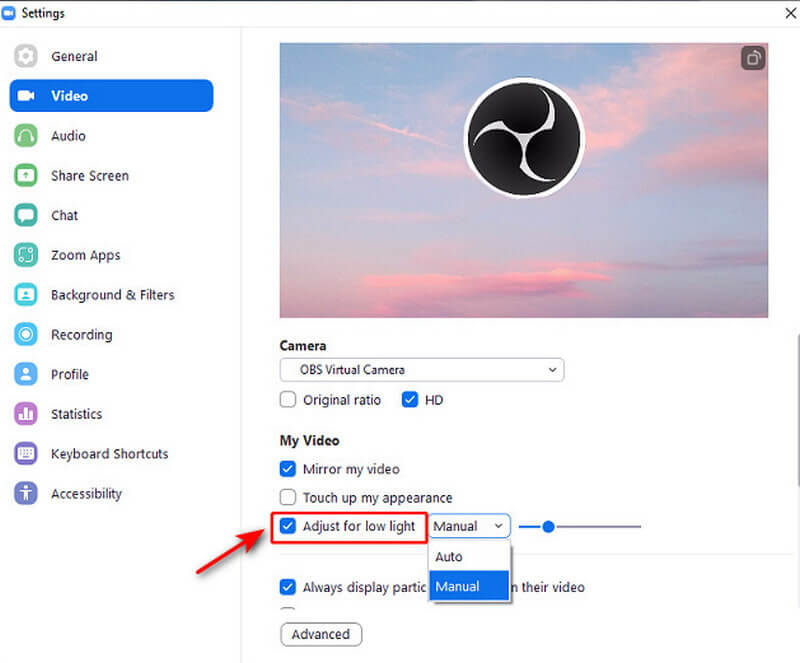 Part 3. FAQs about Improving Zoom Video Quality
Why is the Zoom video of such terrible quality?
The main reasons for blurry Zoom footage are insufficient lighting and video noise from small picture sensors. In low-light conditions, the camera will attempt to brighten the image by amplifying the signal from each pixel on the sensor. However, it does increase video noise, which shows as grain in the picture.
What is the finest Zoom video quality?
Zoom video quality is most fantastic at 720p. Several webcams can deliver professional video quality, making Zoom's high-definition and high-quality video quality stand out. A camera with a resolution of 720p (1280x720) will be enough for this.
Does Zoom reduce video quality?
Depending on your internet connection's speed, Zoom may lower video quality to maximize your overall experience. In that case, this is mainly due to Zoom doing everything possible to ensure that everyone's connection is flawless for real-time online interactions.
Why is my screen share so distorted?
Because the screen mirroring output resolution of the paired device is low. Even though the video was created in high quality, it may appear blurry due to the connected device's low output resolution. Therefore, you may ensure that the played content has a 1080p resolution.
Conclusion
Here you go. It is possible to improve the video quality in zoom quickly. However, if you're looking for another tool to enhance your video quality, AVAide Video Converter is the best option. It can also be used as an excellent video enhancer. This application is simple, but it also has a wide range of useful video editing features. You may easily and rapidly boost the quality of your video with a few clicks.
Your complete video toolbox that supports 350+ formats for conversion in lossless quality.