Are you wondering how to make a film? We all know that one of our hobbies is watching movies, vlogs, and other content videos. When it comes to video or film production and editing. We need a more effective tool to help us with our needs. In this article, we'll learn how to make a movie using the most incredible software, which will undoubtedly enlighten your needs.
Part 1. How to Make a Movie on the Desktop
Suppose you are looking for great software for making a movie. There's a perfect tool for you. However, this fantastic tool is one of the best tools for making movies of high quality. We bring you this top leading movie maker AVAide Video Converter with the ultimate capability to produce awesome video content. Moreover, this fantastic software offers thousands of editing tools, themes, filters, and effects crucial in making applaudable videos. Those editing tools mentioned enable the users to create and customize watermarks, subtitles, and music tracks laid on their videos. Once and for all, this software is not just a powerful video converter but also the most beautiful video collage maker, DVD ripper, video editor, and of course, the movie creator of all time.
Without a quality loss and with vast high-definition output, AVAide Video Converter is one of the best apps you can consider using without a quality loss and with high-definition extensive production. Converting an AMV to an FLV file can be done as fast as three clicks. Aside from that, the speed process accelerated 30X more quickly than the other converters. Plus, not all converters possess notable features like compressing a video, making a movie out of photos, and ripping a DVD. You will find these extra features in most paid apps individually. But with AVAide Video Converter, everything is incorporated.
Furthermore, AVAide Video Converter is a video editor capable of creating movies of your own for free. Yes, this tool can serve you without spending time. However, not all free software on the web can exceed your expectations until you try this easy-to-use software. Meanwhile, if you want to try it, you can refer to the steps below.
AVAide Video Converter - Make Professional-Quality Movies
Extract audio tracks, background music, and sound effects with ease.
Convert your files 30 times faster than standard converters.
It is available for download and installation on various operating systems, including Windows and Mac.
It is available for download and installation on various operating systems, including Windows and Mac.
Capable of converting multiple files at once.
Step 1Install the Tool
To begin, click the download button above to download and install the software.
Step 2Upload Files
After downloading the fantastic software, click the MV button to upload files. Then click the (+) Plus button to select which video you want to edit with the excellent tool.
Step 3Add Theme
After you've uploaded your video, you can add a theme by clicking the Theme button and browsing through the available articles.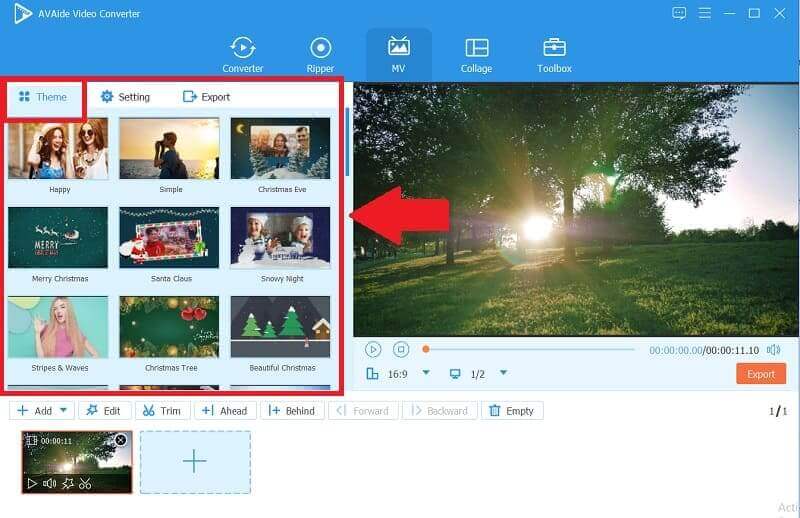 Step 4Add Audio
To add background music, just click the (+) to add audio. You can change the volume and delay.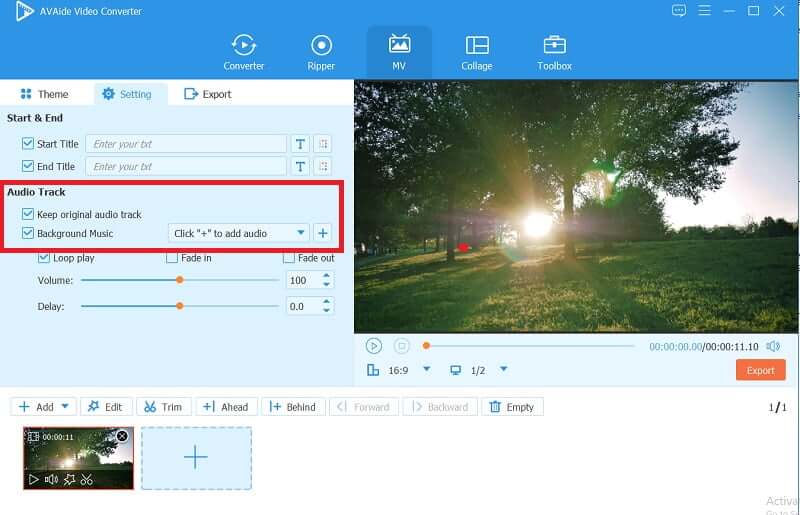 Step 5Start Export
Finally, you can begin exporting your movie and modify the presets and formats of your video file.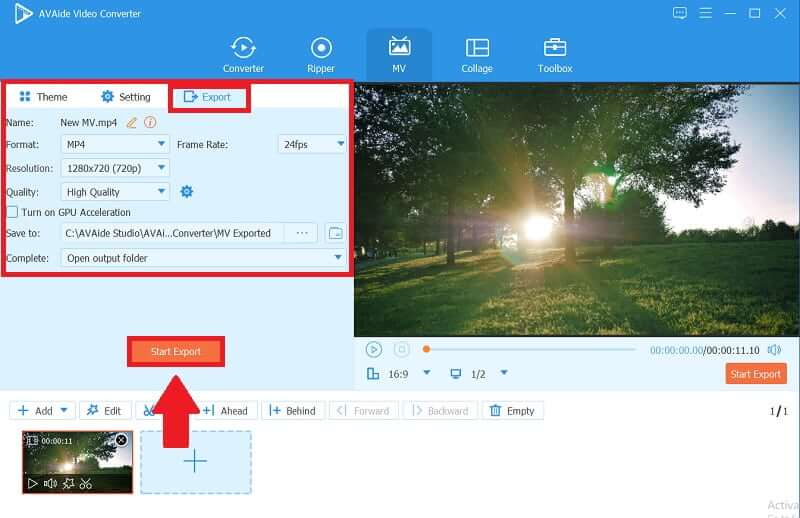 Part 2. How to Make a Movie on iPhone and Android
Making a film can be a difficult task. However, when it comes to filmmaking and editing. You can use a variety of software. Did you know that? You can create your video with your phone. Yes, you can easily create your film using your iPhone or Android. We can explore and expand our creativity by using these smartphones.
Furthermore, iPhone filmmaking is more accessible and self-sufficient. You can easily create your movie if you have an iPhone. It is ideal for making a professional film, even if you are not a professional and are just getting started. Similarly, you can make an essential movie if you have an Android phone. However, if you have an older version of your device, you may not create movies.
Whether your phone is IOS or Android, you can create a movie using the Google Photos app. This application is free to install and download from the Google Play Store and the App Store. In that case, here are the fundamentals of making a movie from video clips on your smartphone, as well as a step-by-step guide on how to make a movie on iPhone and Android.
Step 1First and foremost, open the Google Photos app on your iPhone or Android and sign in with your Google account.
Step 2To continue, navigate to Library > Utilities > Movie
Step 3To select which videos to use, click the New Movie button.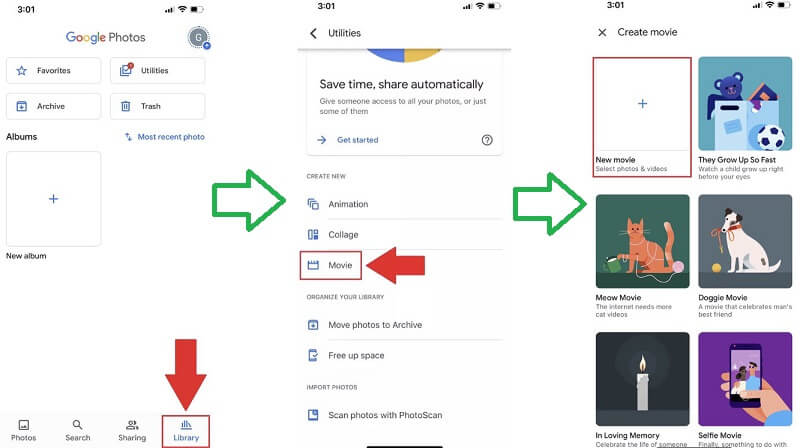 Step 4You can now edit your video by choosing music, tapping the music button, and choosing which song to use as the background video.
Step 5Click the three dots or ellipsis icon to edit your clips, from which you can trim, duplicate video, and insert clips.
Step 6Finally, you can save your video by clicking the Save button above.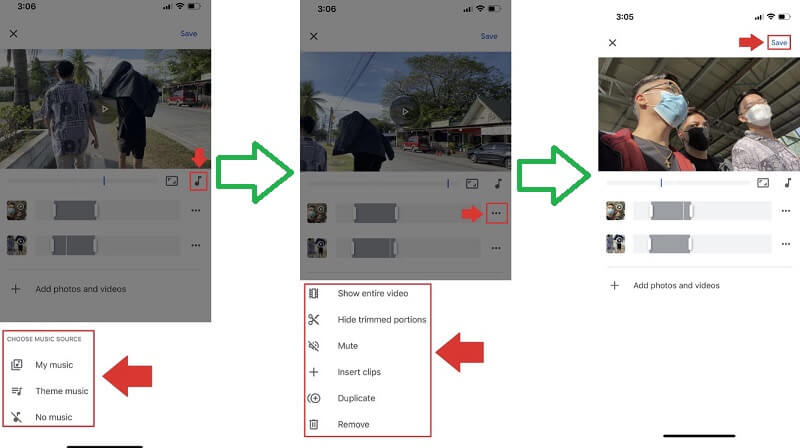 Part 3. How to Create a Movie Using an Online Tool?
When it comes to making a movie online, a tool will undoubtedly help you. On the other hand, One True Media is on one of the lists. This well-known web program creates films, slideshows, and montages. You may add audio and video effects and upload your media assets. Such a scenario provides a simple interface that allows you to modify films effortlessly. When you're finished, you may quickly upload your videos on numerous video-sharing sites, and you can even create your DVD cover for the video.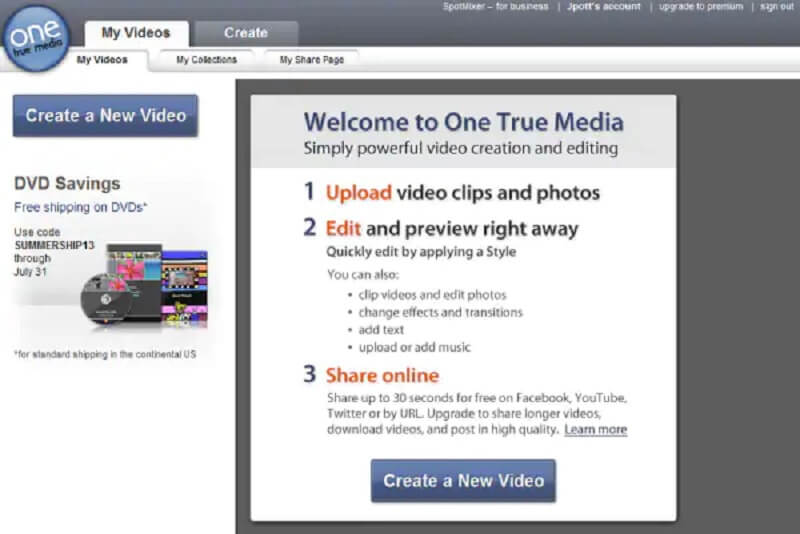 Platform: Browser
Features:
It has professional features.
It has unlimited virtual storage.
It is simple to use and has an intuitive UI.
Part 4. FAQs About Making a Movie
How long does it take to make a movie?
Well, that depends on the length of the film. If you want to film 1 to 2 hours of the movie, it will most likely take more than a year, including editing. However, if you're going to make a short film, it will most likely take you a day.
How to create my own movie?
Before you begin shooting, you must first determine what the topic is all about. Following that, you must generate ideas for the location, plot twist, plan, and story itself. Following that, you must shoot a film based on the subject matter. Finally, the most crucial step is editing. Use the best editor on the market, such as AVAide Video Converter.
Can I make a movie with the Photo app?
Yes, You can make a movie with a photo app, but not as expertly as you can with other editors.
Conclusion
To conclude, making your own movie with the most convenient tools is simple. However, suppose you want a perfect tool for professionally creating a film. In that case, AVAide Video Converter is one of the best options to use. Using this unique software, you can become a high-quality professional filmmaker.
Your complete video toolbox that supports 350+ formats for conversion in lossless quality.