There are many free movie editors for Android worldwide, but do all of them deserve your time? We all know that relying on hearsays will not assure how good or bad the thing or the person is, same with the tools such as the video editors we are using. Good thing that while searching for the best movie makers, you have turned to this post because this write-up will be talking about the ultimate video editing apps that will give you the service you deserve. And when we say you deserve, we are not only talking about reaching your standard but to reaching beyond it. Therefore, let us review the six best Android movie maker apps for 2022 below.
Part 1. Top 6 Movie Maker Apps For Android
1. Kinemaster
Kinemastarter is one of the perfect movie maker apps for rookies. With its intuitive interface, every beginner or professional can enjoy it. Furthermore, it consists of tremendous special and advanced effects and tools together with powerful tools to cut, crop, and splice the videos. With more than 2000 downloadable transitions, stickers, fonts, and animations made, this Android movie maker is one of the best. However, those downloadable in-apps are for purchase and not included in the tool's free version.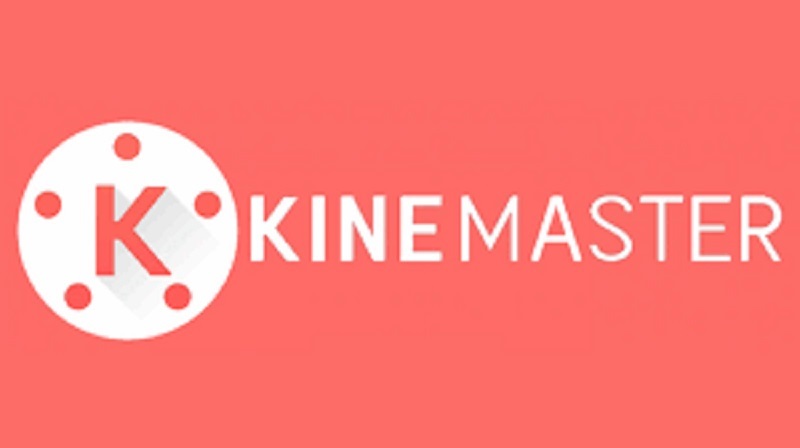 Pros

Easy to use.
It is a free app.
Many potent tools.
Versatile.
Cons

Costly in-app purchase.
With problems in importing files.
2. Filmr
Speaking of simplicity, the Filmr is in the race. This incredible video editing app is not only applicable on Android phones but also on iOS devices. Since it's one of the most straightforward apps today, Filmr is perfect for users of any kind. Everyone can enjoy the hundreds of fonts, transitions, filters, effects, and other essential video editing tools that will give you outstanding solutions on how to make a movie with your phone. Although, this app could not provide you a free service, which is indeed a little costly for its iOS version, which is worth its price.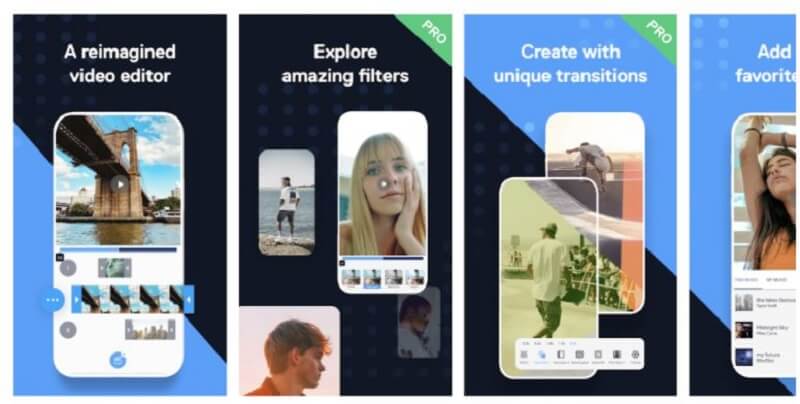 Pros

Intuitive interface.
Tons of powerful tools.
Can produce without watermark.
No ads.
Cons

Its iOS version is much better than Android.
No video resolution options.
Restricted filters.
3. VivaVideo
Vivavideo is another popular video editing tool for Android. Aside from the essential functions it has, it also comes with beautiful features that users can enjoy while creating movies. Its features include its ability to create videos from pictures, slow down, speed up, and blur the background, together with its beautiful effects. On the other hand, for you to enjoy this movie maker app for Android, try purchasing its VIP membership.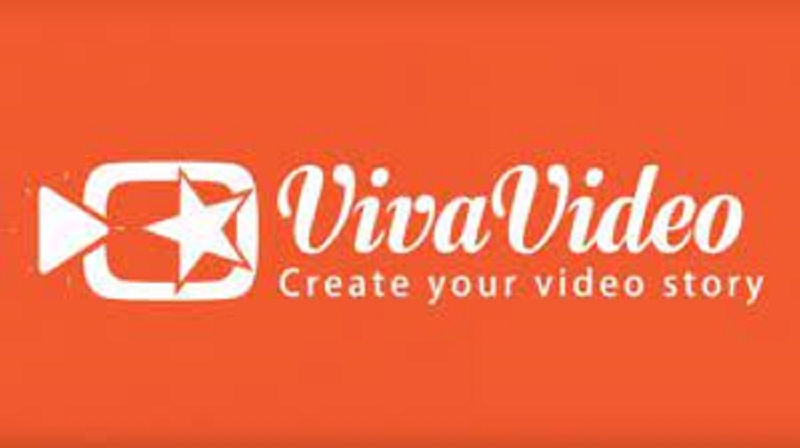 Pros

Best for beginners.
Can create music videos.
With hundreds of editing tools.
Can export videos up to 4K.
Cons

With tons of ads.
Difficult to add music to the video.
Issues occur on every update.
4. VideoShow
Another blockbuster video editing app is this VideoShow. We cannot argue about the greatness of this mobile application, which is why everyone loves it. Imagine how simple this app is, yet it contains excellent features that create beautiful subtitles using thousands of fonts and styles, doodle on video, reduce the video size, and more. However, others grumble at this Android movie maker's low-quality output during tryouts.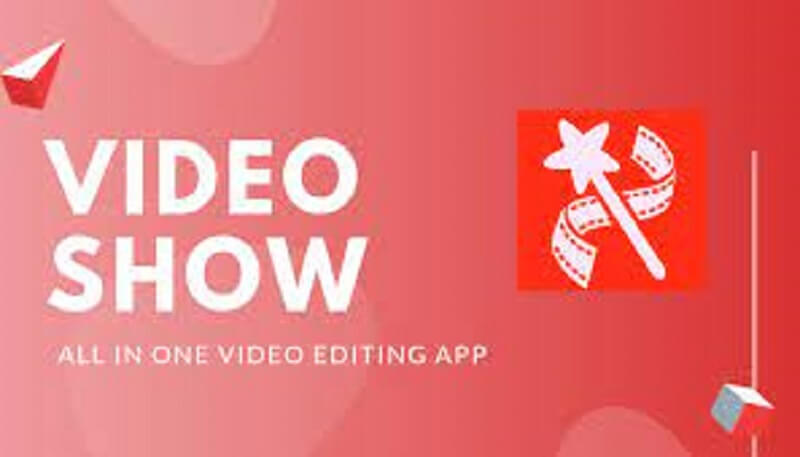 Pros

It comes with beautiful themes.
Can add bulk images in the video.
Easy to use.
Cons

It has an issue with sharing videos online.
Watermarked outputs.
The free version only caters to 2K and lower videos.
5. InShot
Like the others, InSHot is an incredible video editor/maker that enables you to create awesome video content ready to be uploaded to your social media accounts. Furthermore, this app will allow you to enjoy its features and presets within seven days for its free trial, and the subscription follows after. Additionally, this free movie editor for Android supports a wide variety of ratios/formats and powerful tools that will enhance your videos, such as music adjuster, video splitter, cutter, trimmer, merger, and more!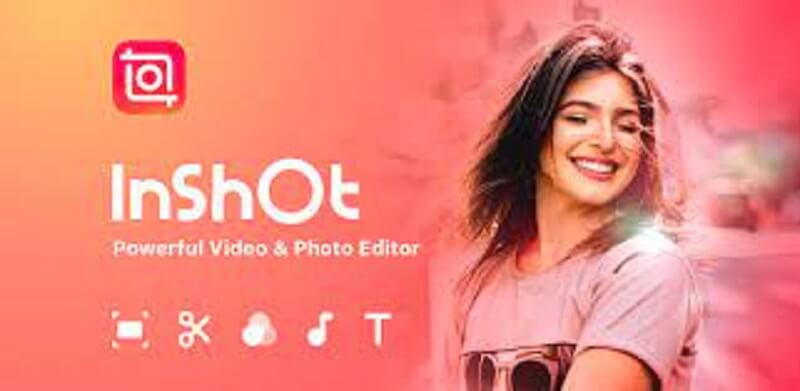 Pros

It comes with unique filters.
An easy-to-use tool.
It comes with a color correction feature.
Cons

There are Ads all around.
Trimming the clips can be cumbersome.
Without the undo selection.
6. AndroVid
Lastly is this AndroVid. This movie maker and editor can create remarkable movies and slideshows with the help of its advanced tools that will make your heart pound for greatness. In addition, this movie maker app for Android fits any type of user, which means even if you are new in movie making, you can definitely grasp this tool quickly. However, as its name suggests, AndoVid only takes place on Android and Kindle Fire, so you cannot use it to make movies on iPhone.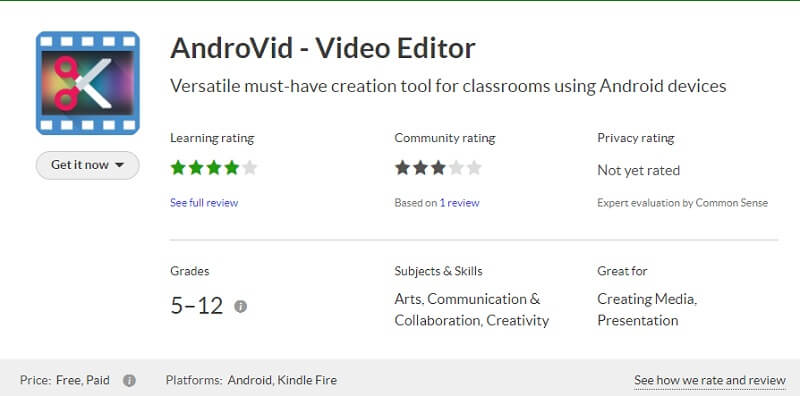 Pros

Tons of powerful tools.
Easy to use.
It comes with many special effects.
Cons

Watermarked outputs.
Issues when applying effects on video.
Issues in delayed audio.
Part 2. Steps on How to Make a Movie on Android
As your curiosity arises, we would also want to raise everything you need to know regarding this matter. This includes the steps on how to make a movie on your phone using the VivaVideo.
Step 1Launch the VivaVideo app, and hit the NEW PROJECT. Next, toggle all the files to include on your video, then click NEXT.
Step 2Once the files are imported, go to the tools presented at the bottom part of the screen and edit and enhance the movie. Then, click EXPORT to choose among the available quality you prefer. Check the saved movie afterward.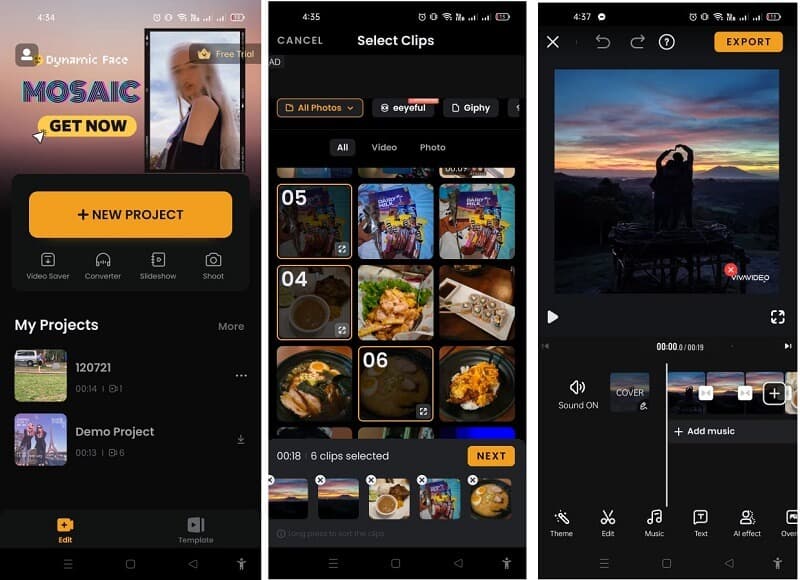 Part 3. The Ultimate Software to Create Movies
If you also seek the ultimate software for your Windows, Mac, or Linux OS, we highly recommend the AVAide Video Converter. If the six best movie maker apps are for Android phones, this software is the best for computers. Furthermore, this wonderful video converter/movie maker comes with the most powerful features and tools that can help you produce Holywood-like outputs instantly. Not to mention the most facile interface it has, where everyone, even a kindergarten, can navigate!
AVAide Video Converter Creates Movies Fabulously
Fabulous themes, filters, and effects are available.
It comes with numerous enhancing tools.
It produces outputs of up to 8K resolution.
Bulk videos and photos can be added to your movie.
It supports more than 300 different formats.
How to Create a Movie With AVAide Video Converter
Step 1Launch the best movie maker not on Android but on your computer, then go to its MV feature. Start importing all your files by hitting the Plus button at the bottom.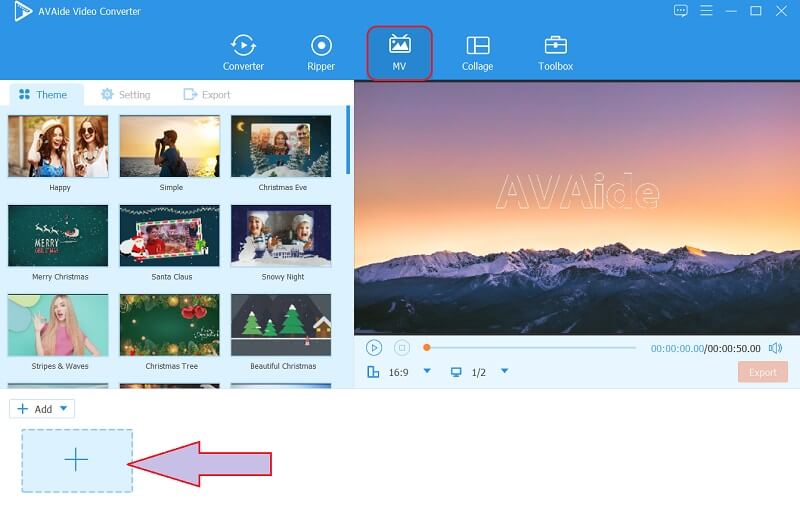 Step 2Begin beautifying your movie by hitting the Edit tab. Once hit, another window will appear, where you can navigate whether to customize the watermark, add effects and filters, rotate, and crop the clips to your movie. Otherwise, you can just choose a theme which you can choose among the presented ones.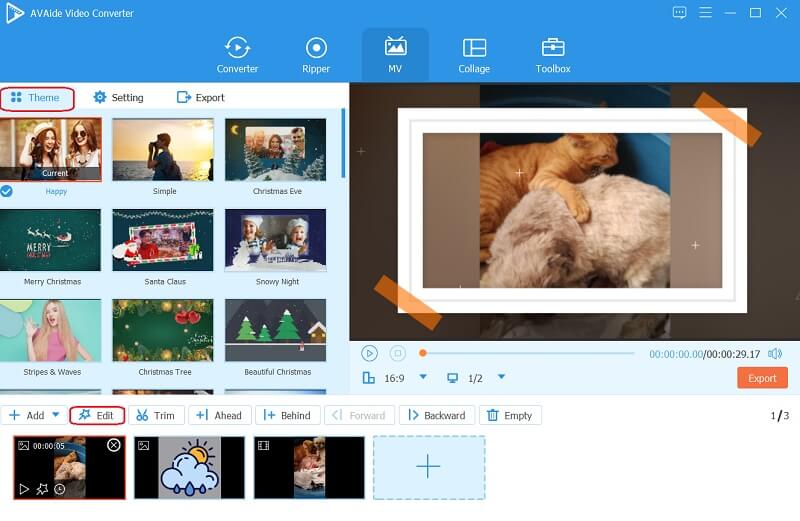 Step 3Now go to the Setting portion, and customize a title for your movie. Also, you can add music or audio tracks to it easily, unlike the movie maker for Android.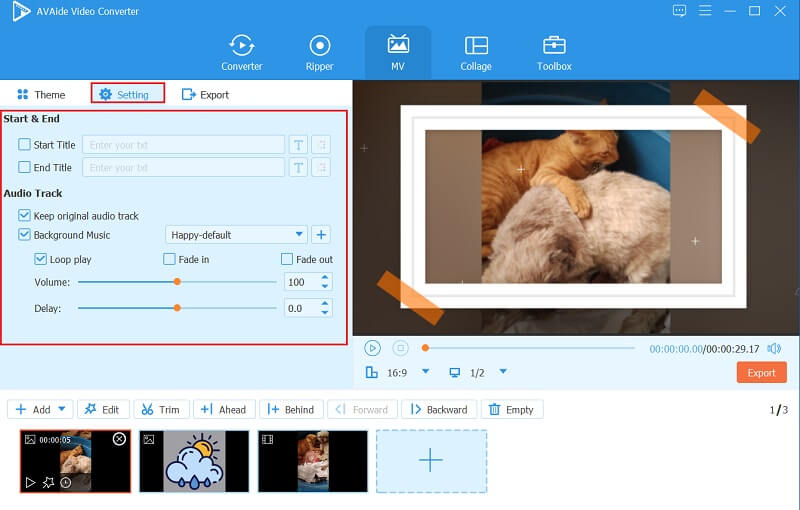 Step 4Save the movie by hitting the Export button, where you can also make some adjustments to the presets of the movie. Then, click the Start Export to acquire your output.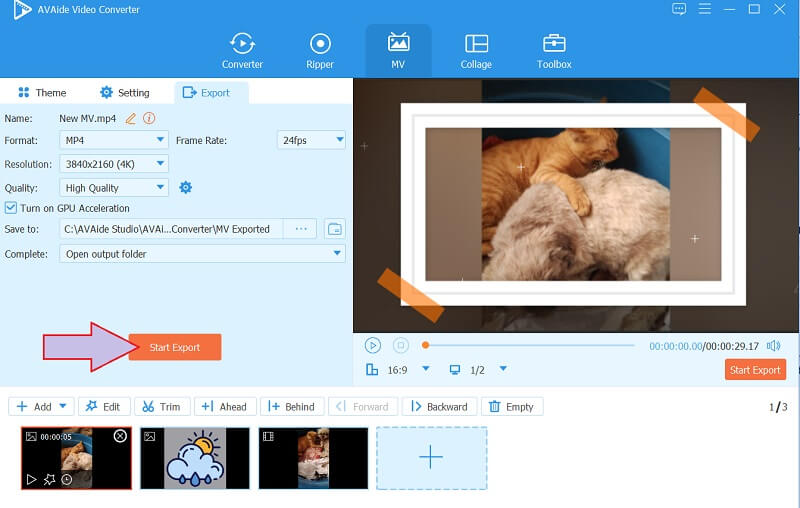 Part 4. FAQs About Android Movie Maker Apps
1. Can I use the Kinemaster on Desktop?
No. Kinemaster is only available on mobile devices.
2. How much will it cost me to have the VIP membership of VivaVideo?
While VivaVideo offers a free version, its VIP version costs $11.85 per year.
3. What movie maker for Android costs much?
We must say that according to the trials and reviews, the most pricey movie maker app is the VideoShow, for it amounts to $135.19 yearly and $225.78 for the one-time purchase.
Conclusion
Indeed, all of the movie makers for Android presented are great. However, each of them has its own drawbacks. Almost all of them have advertisements bugging; therefore, if you choose to use your computer instead of your Android, it's best only to use the AVAide Video Converter!
Your complete video toolbox that supports 350+ formats for conversion in lossless quality.