Because of the pandemic this world is going through, many people have switched to making video content uploaded on different social media sites for revenue. For this reason, countless people are recorded seeking free movie makers that are definitely useful in making the videos pleasing and unique to catch viewers and likes. Indeed, this kind of software, along with an editing tool, can turn your ordinary video into an extraordinary one. Therefore, sit back and relax as we indulge in the 12 magnificent moviemakers, with their profound utilization, platform, and their pricing to be exposed.
Part 1. 12 Best Movie Makers of 2022
1. The Ultimate AVAide Video Converter
Firstly, we bring you this top leading movie maker, AVAide Video Converter, that has the ultimate capability in producing awesome video content ever. To boot, AVAide Video Converter offers thousands of editing tools, themes, filters, and effects that are crucial in making applaudable videos. Those editing tools mentioned enable the users to create and customize watermarks, subtitles, and music tracks laid on their videos. Once and for all, this software is not just a powerful video converter but also the most wonderful video collage maker, DVD ripper, video editor, and of course, the movie creator of all time.
Create Your Movie Ultimately With AVAide Video Converter
Support hundreds of various input and output video formats.
Help creates video content creatively using tons of beautiful presets.
It comes with a full GPU acceleration.
Offers to convert videos using an ultrafast conversion process.
It provides multiple options to beautify your videos.
Platform: Desktop program for Windows, Mac, and Linux.
Price: Free Trial, $18 for a month, $36 for a lifetime license.
Pros

Best for both beginners and professionals.
Contain a wide range of presets and tools.
Come with hardware acceleration.
Fast and efficient to use.
Can fix shaky and low-quality videos.
Cons

Downloadable.
Not applicable on mobiles.
2. A Great Movie Maker On Windows 10- Ezvid
The Ezvid, as mentioned, is one of the great tools for Windows OS. Furthermore, this screen recorder/ movie creator software offers users a service that won't cost them any penny. Hence, after a 30-day usage, this software will encourage you to donate some. Despite this, Ezvid still gives a variety of beautiful effects for your video, and this is one of the reasons why many love this software. In addition, just like the AVAide, Ezvid enables the users to customize the watermark to the point that they can upload their own photo to be their logo.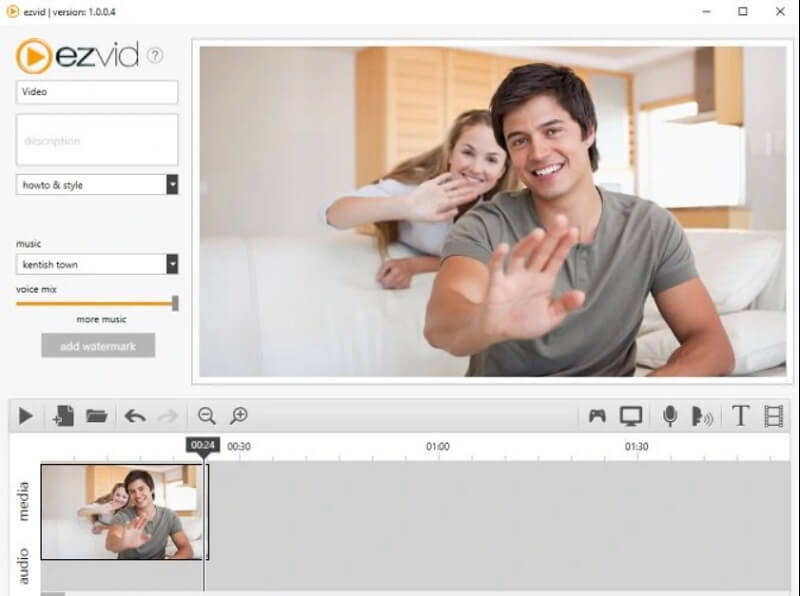 Platform: Desktop program for Windows only.
Price: Free Movie Maker.
Pros

Offer music on its own.
No purchase is needed.
Come with a screen-recording and multiple effects.
Cons

It limits the video to 45 minutes only.
For Windows only.
Downloadable.
3. Explore the Wonder of Clipchamp
Clipchamp is an online video editor that is capable of creating movies of your own for free. Yes, this tool can serve you without spending a dime. However, not all free software on the web can exceed your expectations, just like this tool's capability. In fact, for its free trial version, you can only have an up to 480p video output resolution. This is why aside from this online moviemaker free trial version, it offers a premium plan where you can stock unlimited video, audio, and image with up to 1080p exports. Also, tons of unique templates, layouts, and video editing presets will come your way.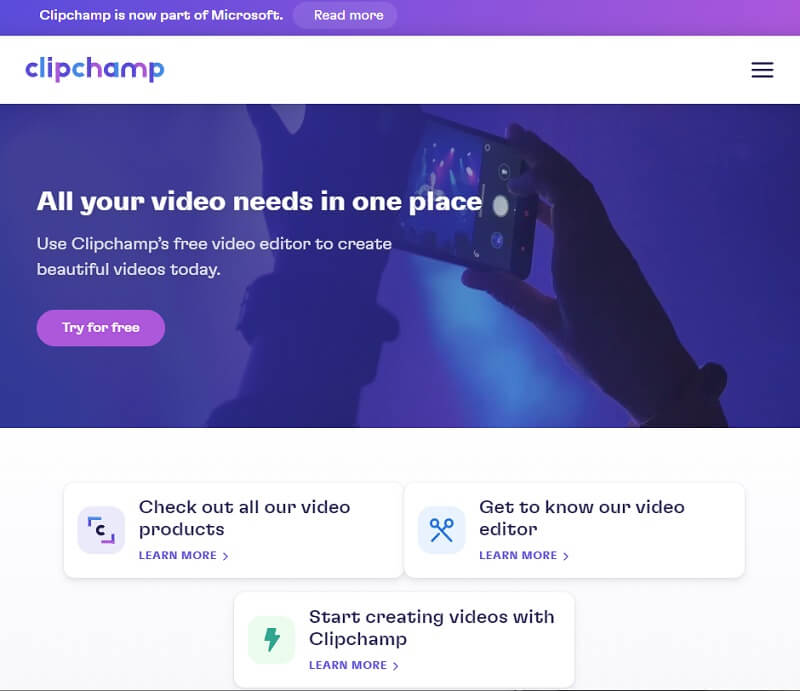 Platform: Web-based
Price: Free, $9 to $39 per month plans
Pros

An easy-to-use tool.
It compresses the videos.
Multiple editable templates are available.
No need to download it.
Cons

Limited features on the free plan.
Dependent on the internet.
It sometimes crushes.
4. Get to Know the Unique Jahshaka
Yes, Jahshaka is special editing software that is capable of distributing, monetizing, and creating virtual scenes, worlds, and assets by publishing and hosting your creations online. Furthermore, this movie maker possesses and as well offers the users free tools in making mesmerizing 3D dimensions within a usable and neat interface. Jahshaka must be one of the innovative video editing software nowadays, for it also contains an upgraded particle effect system in a surprisingly utterly free service. However, since it is an advanced tool, it is linked to virtual headsets that are not that yet widely used.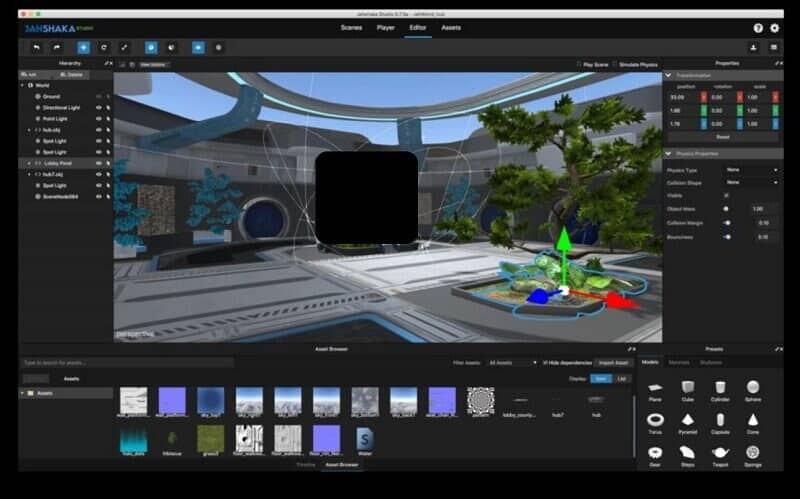 Platform: Desktop Program for Mac, Windows, and Linux OS
Price: Free
Pros

An open-source.
Safe to use.
Advanced settings and tools are available.
Cons

Confusing interface at first.
Downloadable.
Crashing at times.
5. The Free Movie Maker App - KineMaster
KineMaster is a mobile app that can help you create beautiful videos or movies for free. Despite being free, it also enables users to achieve a fun editing experience along with the powerful tools within it. In addition, KineMaster has been updating weekly for the users to experience better and faster. However, its iOs version has a slight edge over the Android's, for when it comes to outputs, users of iOS can obtain a resolution of 4K with 60fps, while 4K with 30fps only for the Android users.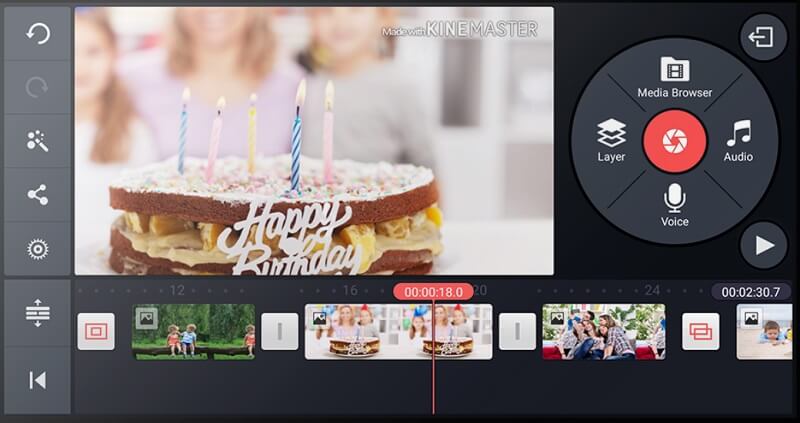 Platform: Mobile App. Android, iPhone, iPad
Price: Free. Hence options of $4.99 monthly and $39.33 yearly subscriptions are available
Pros

A multipurpose editor and movie maker.
Easy-to-use.
It offers social media integration.
It provides multiple features.
Cons

Bugs reported.
The outputs are with watermark.
6. The Great iMovie
A lot of people who know the iMovie must agree that this software, for Mac, definitely gives the editing life to the fullest. Due to its support on multiple video formats, iMovie has been the number one choice of Apple devotees. Moreover, this software is capable of creating PIP effect tags along with excellent filters that you can use in your videos. Hence, if you are a noob about it, you may probably find this Mac/iPhone movie maker cumbersome to use, most especially in importing files, specifically the MP4 ones.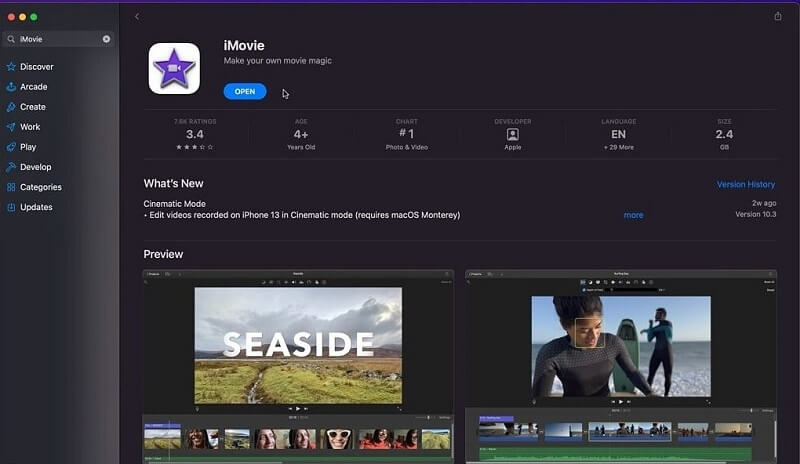 Platform: Mac OS, iOS 15 or later
Price: Free
Pros

It can edit high-resolution videos.
Offer tons of features and editing tools.
It can fix shaky videos.
Cons

Cumbersome to learn.
Longer time to import and export projects.
Not applicable on Windows.
7. Work Like a Pro With HitFilm Express
If you are an advanced video editor, well, this HitFilm Express is for you. On the contrary, for the non-experienced ones, this tool will be a challenging one. In all fairness, HitFilm Express lets the users produce video outputs like Hollywood. In fact, i's one of the best movie makers that can stabilize and smoothen your video files and add 3D and various special effects and filters to them for free. All these can attain on its express version, what more on its Pro plan.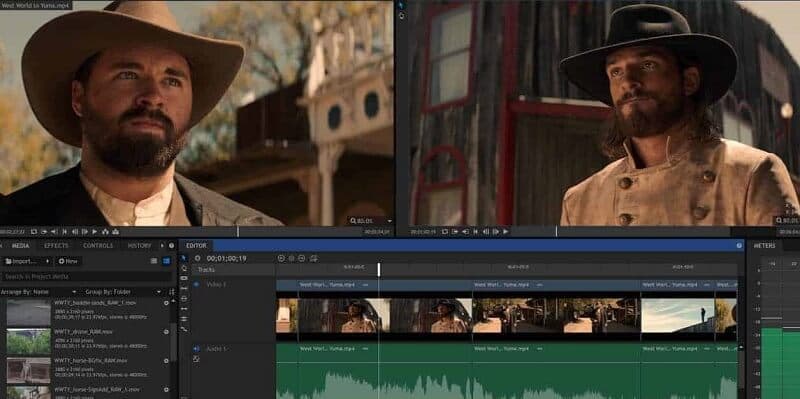 Platform: Desktop program for Windows and Mac
Price: Free, but it's Pro version amounts to $349
Pros

It comes with advanced features.
It can animate 3D models.
It offers Sci-Fi effects visually.
Reliable.
With great export features.
Cons

Not suitable for beginners.
Some options get rid of effects.
The export process is substandard.
Its famous functions are available in the Pro version.
8. The Fast Editing Software - DaVinci Resolve
One of the well-known YouTube movie makers today is DaVinci Resolve. Similar to the previous one, this software is ideal for professional users. Hence, this doesn't mean that beginners will lose hope in using it, for, at the same time, noobs can also engage and enjoy making magnificent movie projects powerfully. Moreover, DaVinci Resolve offers its users a massive range of beautiful effects, 2d/3d titles, library transitions, and potent editing tools for its free and studio versions.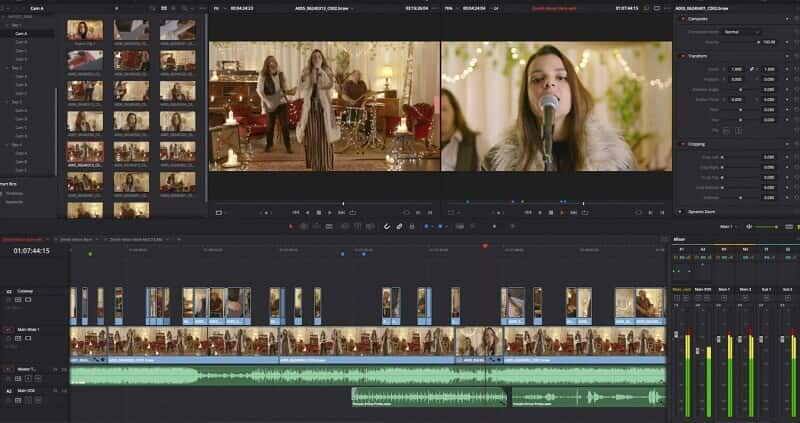 Platform: Desktop program for Linux, Mac, and Windows
Price: Free Studio Version amounts to $269
Pros

It offers professional-like outputs.
It comes with a wide range of presets.
The free movie maker supports 4K and 60fps videos.
Cons

The studio version is way much better.
With a high system requirement.
9. The Wonders of PicPlayPost
Another 4K quality video maker is this PicPlayPost, a mobile application that creates video collages, live video wallpapers, slideshows, and of course, movies creatively. Furthermore, it is a full-featured app that contains complete editing tools that can edit, trim, and control the speed of your file. Many Android and iOS users have started to enjoy this tool, particularly making video content ready to publish online.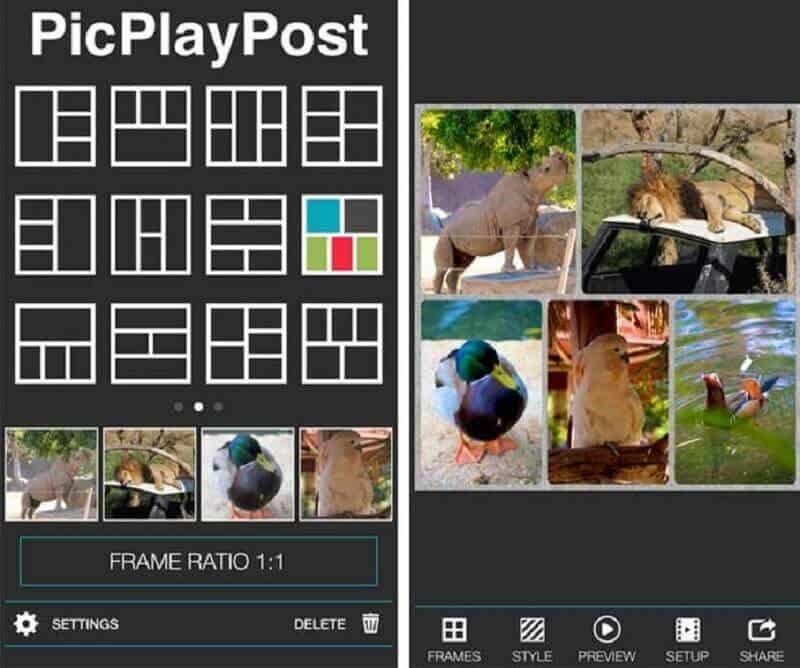 Platform: Mobile app for Android and iOS
Price: $6.99 per month with a free trial
Pros

Accessible movie maker app.
A user-friendly app.
Capable of customizing watermarks.
Cons

The free trial has limited features.
It has a high system requirement.
Some bugs were reported.
10. A Totally Free Movie Maker - OpenShot
Another free of the best moviemakers around, is OpenShot. Yes, it offers full free service for Linux, Mac, and Windows devices. People who encounter Openshot should know how friendly and intuitive this software is. Despite this, its interface possesses excellent editing tools that will allow users to access 3D animation, keyframes, time effects, and other tons of stunning video effects.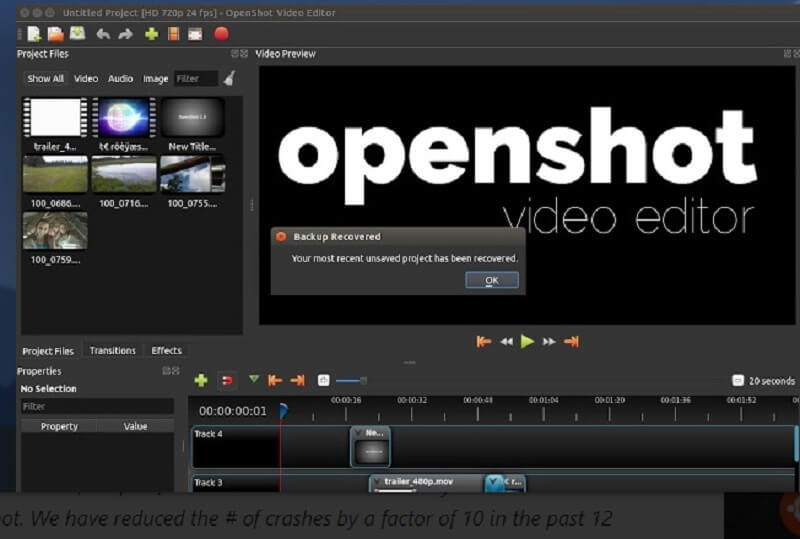 Platform: Desktop program for Linux, Mac, and Windows
Price: A totally free movie maker
Pros

Intuitive interface.
It offers unlimited tracks.
With tons of editing tools available.
Cons

It's not regularly updated.
Few of its features don't work.
11. The Iconic Windows Movie Maker
Everyone must know the Windows Movie Maker, which used to be the leading video editor of windows-based computers. As you may know, this software from Microsoft was discontinued last January 10, 2017. This means all Windows versions today, except for version 7, won't be able to experience its power. Hence, others who want to grasp some of its potency may wish to acquire it by downloading it as part of the Microsoft essentials. This free movie maker iconically provided the users' ability to cut, add titles, and trim the video but provided filters and effects.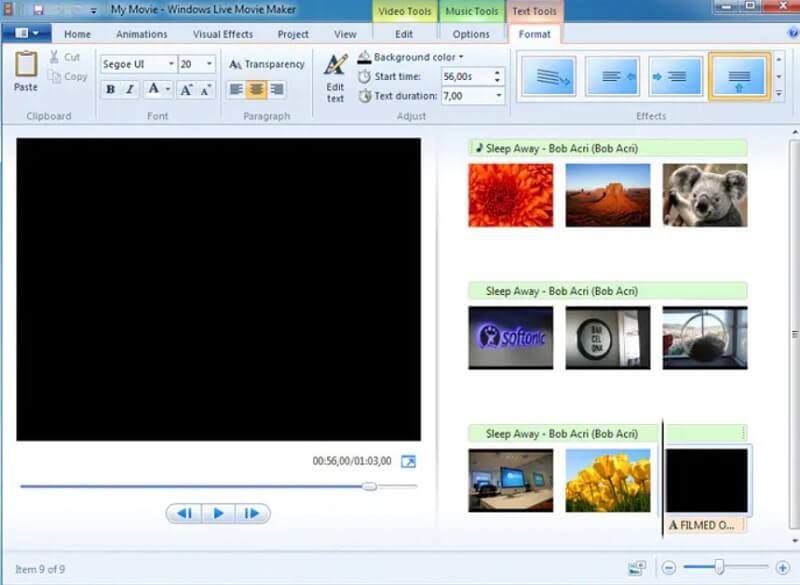 Platform: Windows desktops
Price: Free
Pros

Easy-to-use.
Free.
Cons

Offers limited features.
It is being used as a plug-in today.
12. The Fascinating VivaVideo
The VivaVideo is a multifunctional video editor that brings the videos their best radiance and creativity. Furthermore, this video editing program contains potent editing tools, animations, and effects that everyone is looking forward to. Not to mention its ability to create image slideshows that look phenomenal due to the presets made.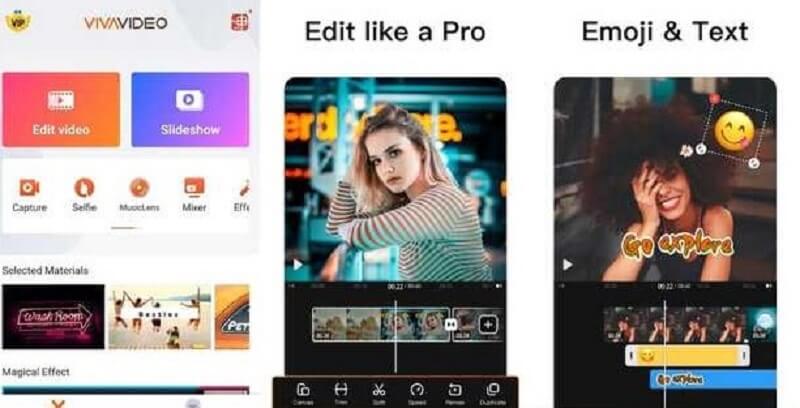 Platform: Windows PC, Android, and iOS
Price: $10 per month for the premium. With Free trial
Pros

It is a user-friendly movie maker app.
Beautiful features and editing tools are available.
Cons

It produces watermarked outputs.
The free trial version has minimal features.
Part 2. How to Create a Magnificent Movie with AVAide Video Converter
Step 1Add Your Clips
Launch the AVAide Video Converter and proceed to its MV feature. Hit the Plus sign button at the bottom to add your video clips to the interface.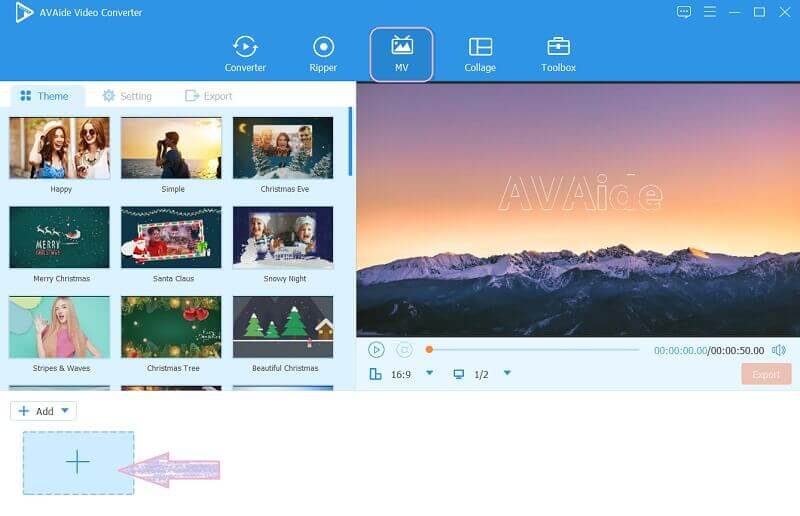 Step 2Choose Your Theme
Once you have all the clips uploaded, choose a theme to apply to the combined clips.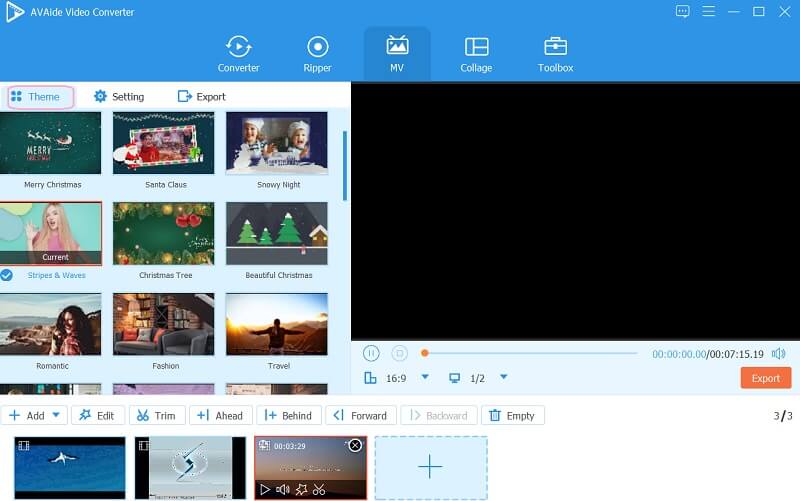 Step 3Customize
To customize your project, go to Setting and navigate your movie's audio track and title options. Otherwise, adjust the movie maker presets available at the bottom to edit it.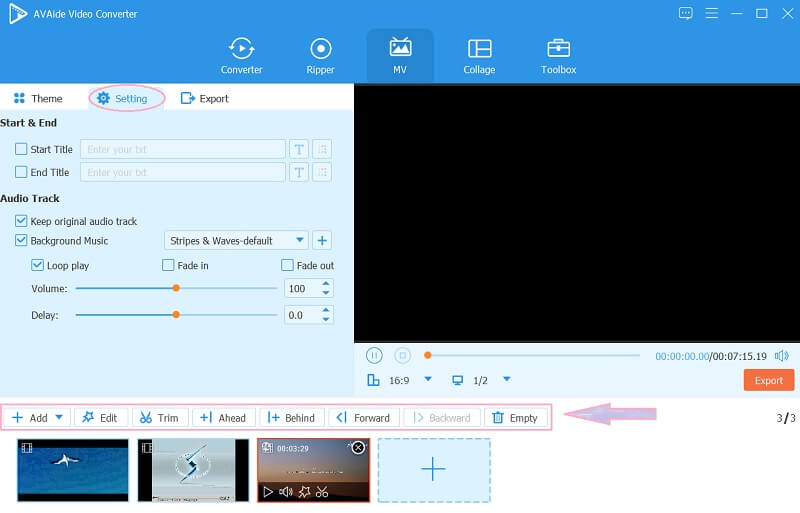 Step 4Export
Once you have decided to save the file, go to Export. Adjust to your preferred format, resolution, and quality. Then, click the Start Export tab to begin the changing process. Subsequently, check for the final output in the C:AVAide StudioAVAide Video ConverterMV Exported folder.
Part 3. Questions Frequently Asked Regarding Movie Makers
Is it easy to download the Windows Movie Maker today?
Downloading the Windows Movie Maker is not an easy task today since there are some prerequisites needed before obtaining it.
Is VLC a movie maker?
VLC is a media player but can also be used in creating movies.
Can I make a movie using the Photo app?
Yes. You can use the Photo app to create a simple movie.
Conclusion
Creating video/movie content has been made easier using the best movie makers presented in this post. Make time to explore their capabilities, and see how well they fit your needs. Thus, try the AVAide Video Converter and start making phenomenal content that will bring you to fame.
Your complete video toolbox that supports 350+ formats for conversion in lossless quality.