Want to know how to make a movie on iMovie? Don't worry, for we got your back! Today, we will let you know the detailed steps in using the iconic movie maker tool for Apple devices. iMovie has been one of the best tools for movie making and video editing. In addition, it offers various features and potent tools that will help you produce beautiful outputs.
On the other hand, we will reveal a more significant way to achieve your ideal movies on Mac and devices with Windows and Linux OS alike. We know how crucial movie making is nowadays, and we only want you to have a world-class experience with it. Therefore, let's start learning the best ways to create a movie using and besides iMovie!
Part 1. How to Make a Movie in iMovie Using iPhone
iMovie started on iOS in 2010. Since then, iPhone users have become more confident in video editing anytime and anywhere as long as the internet assists them. Furthermore, this app version can give you adequate themes, filters, backgrounds, and various soundtrack settings for your projects. Hence, we give you the steps on how to make a movie on your iPhone with iMovie.
Step 1Download and install the iMovie on your iPhone and launch it. Once opened, hit the Plus icon, and choose the Movie from the popped-up window.
Step 2Select the images and clips you want to include in your movie. Then, hit the Create Movie tab located at the bottom-most part of the screen. If you're going to add a theme and a filter to it, just hit the Setting icon, and start navigating on the next page. Click Done after.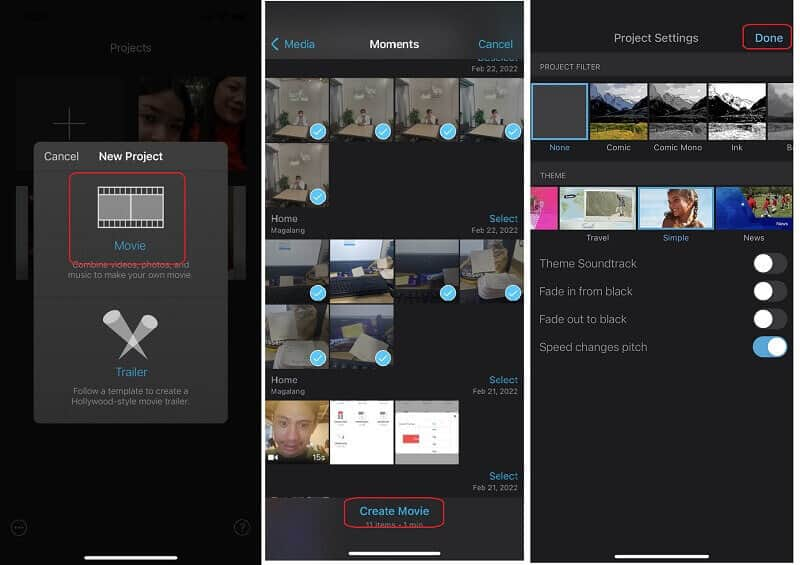 Step 3Adding a background when you hit the plus sign will let you put a portion in your movie where you can add text. Otherwise, proceed to save it. How to keep the created movie on iMovie? Just click Done.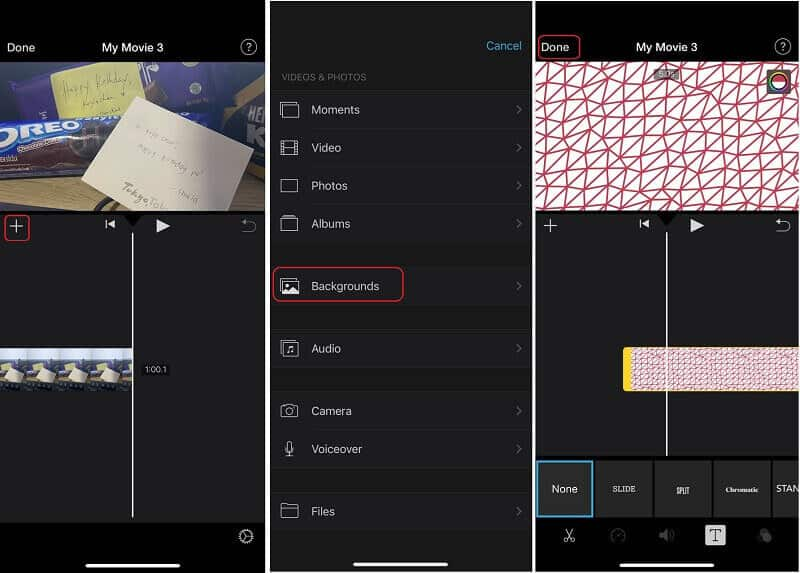 Part 2. Complete Guidelines on How to Make a Movie in iMovie Using Mac
Step 1Of course, you will need to download and install the software on your Mac. Launch it, and see how we'll make a movie on iMovie. On the interface, start by hitting the Plus sign, then Movie.
Step 2Upon reading the main interface, begin to import your files by clicking the Import Files tab. Now, you must put all the uploaded files to the Timeline below by just clicking the Plus sign of each file.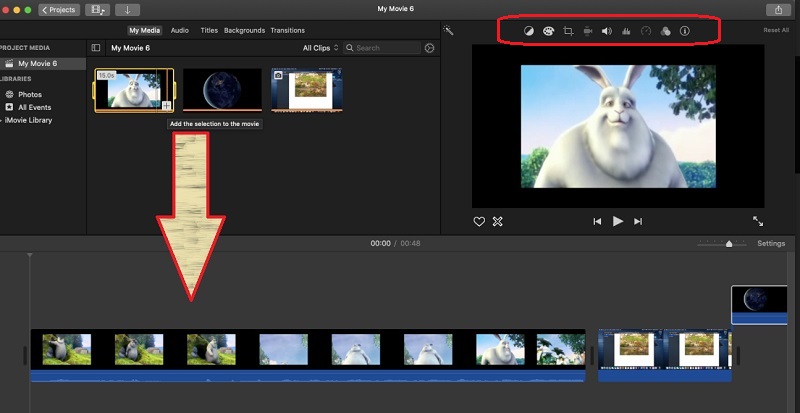 Step 3This time, you may start customizing and editing the movie. Feel free to use the tools provided on top of the Preview Panel. This might take time for you to do, but please be patient.
Step 4Once you reach your preferred output, it's time to learn how to make a copy of the movie on iMovie. To do so, click the Upload icon located at the right-top corner of the interface that says Share. Then, on the popped-up window, choose Export File to save the movie on your device.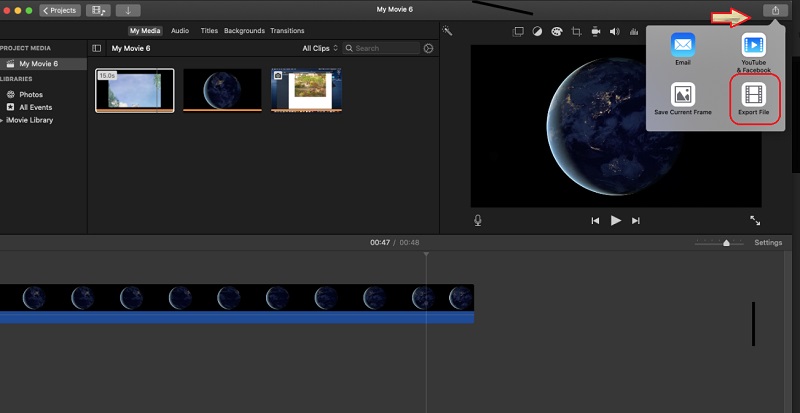 Part 3. The Ultimate Movie Maker Besides iMovie
iMovie is undeniably great. However, it still doesn't meet perfection, for it only holds basic functional tools for an iconic video editing tool. Hence we introduce to you the AVAide Video Converter, an ultimate tool for converting, editing, and creating movies. Furthermore, this software is giving users a more straightforward interface, more powerful, and much greater advanced editing tools that will make their outputs amazingly great! So, How to create a movie besides iMovie? AVAide Video Converter got you covered!
AVAide Video Converter - Brings Ultimate Movies For You!
It offers thousands of filters, themes, and effects to beautify your movies.
It enables users to stabilize, enhance, compress, correct color, crop, merge, rotate, trim, and boost their files.
The best video converter, movie, GIF, collage, and the best 3D movie maker of all time.
With vast support of almost 400 different formats.
No watermark! But it allows you to have a personalized one.
Hardware acceleration provided.
How to Make a Movie Using AVAide Video Converter
Step 1Acquire the Tool
Same as the initial step on how to create a movie using iMovie, you need to download and install the software on your device for free. Click the download buttons above to initiate.
Step 2Import the Files in MV
Launch the tool, and proceed to its MV feature. Then, start uploading your files by hitting the Plus sign or the Add button. As you see, you can upload a single file or even an entire folder to include in your movie.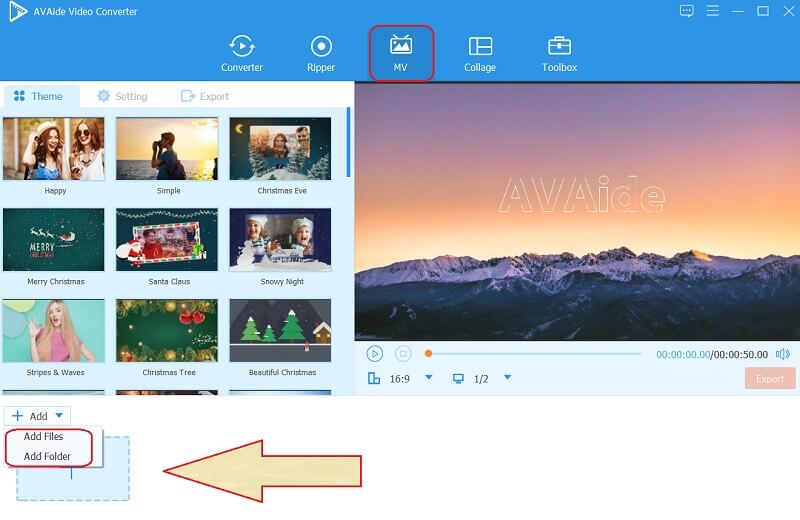 Step 3Beautify the Movie
Beautify your movie by clicking the Edit tab on top of the uploaded files. Choose among Rotate & Crop, Effect & Filter, Watermark, and Audio and see the advanced settings you can use in them. Just don't forget to click OK after. And that's an easier way to make a film besides iMovie.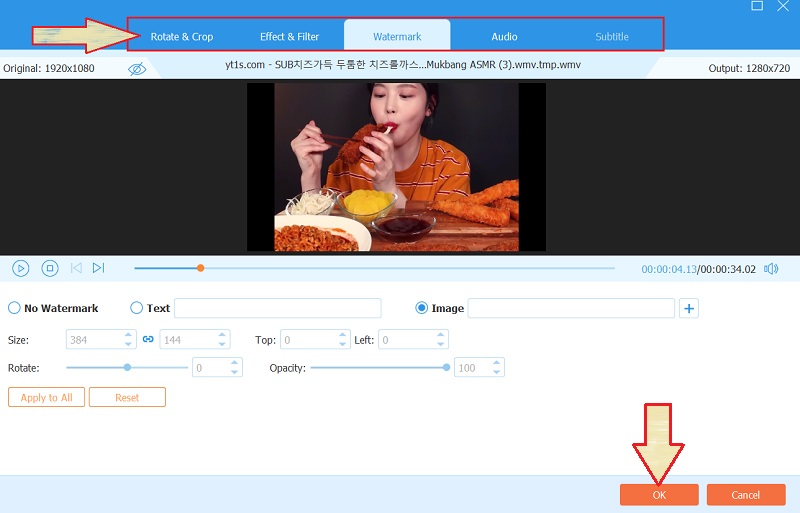 Step 4Add Title and Music
Feel free to add your music and your preferred title to the movie. To do so, go to the Setting portion, then toggle on the options given.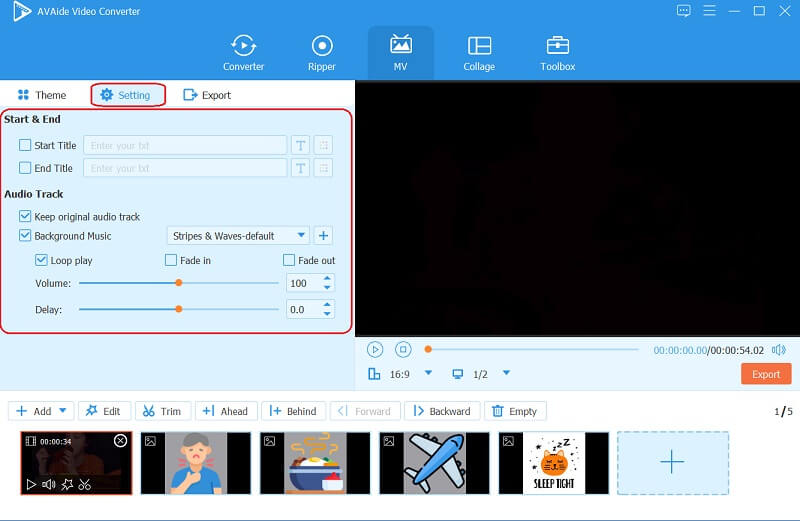 Step 5Export the Movie
You may now export the movie by going to the Export portion, then clicking start Export.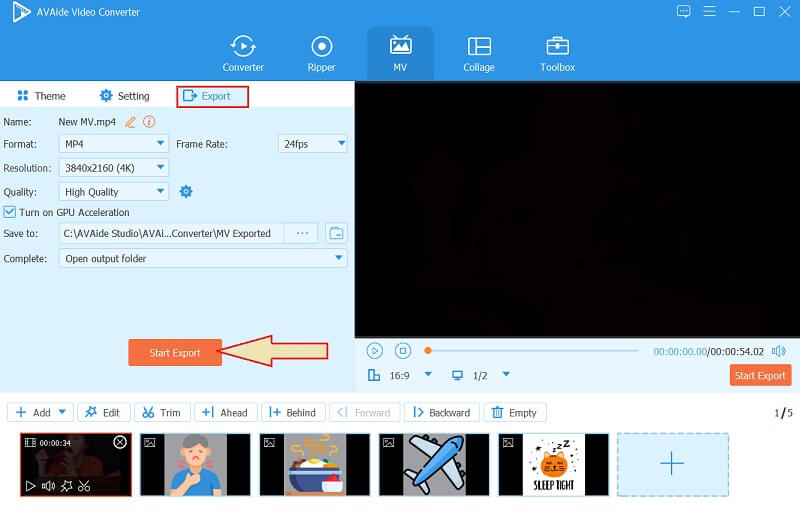 Part 4. FAQs About Movie Making and iMovie
Is iMovie a free software on Mac?
iMovie used to be pricey, and later in 2013, for some reason, iMovie and other apps affiliated with Apple became free software. Since then, you can use it unlimitedly at no cost.
How to create a movie using iMovie on Android?
iMovie is exclusive on iOS and Mac Os only. So, there is no way that you can use iMovie on Android and Windows desktops alike.
Can I produce an AVI formatted movie using iMovie?
iMovie supports very limited formats, including AVI. Hence, if you want a versatile movie maker that will let you produce various formats, go for AVAide Video Converter.
Conclusion
We acknowledge the greatness of iMove and get how to make a movie on iMovie, but why will you settle for it if you can have a more powerful, versatile, intuitive, and wonderful tool like AVAide Video Converter. You have seen how the two differ from each other. So, the choice is yours to make. Choose a tool wisely, and enjoy making a movie.
Your complete video toolbox that supports 350+ formats for conversion in lossless quality.