Are you bombarded by the various movie maker tools on the web today? Are you still torn on what to choose? Or maybe you already have the tools you need on your device, but you just don't know how to create a movie with photos and videos using them? Lucky you, for we will indulge the different popular tools that could help you produce iconic video content through the images you have on your device. We know how crucial movie-making is nowadays. In fact, many people exert many efforts just to create a beautiful movie just to upload on their social media account.
This sort of event has obviously been arising and has been very in demand today, which we can't oppose. Due to having great video content, many are earning a significant amount of money, and this is really a great deal. For this reason, come and see the ideal ways to make a movie from photos, and allow this article to help and lead you to the most practical and reliable moviemakers.
Part 1. The Ultimate Software to Make a Movie on Windows and Mac
Creating a movie on Windows, Mac, and even on Linux has never been great without using the AVAide Video Converter. This ultimate video and picture movie maker, offers every feature, preset, and editing tool a user would like to have. Nothing can beat the power and wonders of AVAide Video Converter as they have been manifested by the usage and reviews of its users. In addition, this software enables users to use thousands of filters, themes, and effects. Not just that, it will also allow you to enjoy your movie without the watermark or even have a personalized one!
AVAide Video Converter - Create Your Movie Excellently
Create movies using the most straightforward interface.
Offer great enhancing tools to make your output beyond perfect.
Make a movie with pictures and video clips unlimitedly.
It supports a broader range of video formats.
It secures your device with its hardware acceleration.
Great themes, filters, effects come your way!
How to Make a Movie With Photos and Videos Using AVAide Video Converter
Step 1Software Installation
First and foremost, you need to download freely and install the best movie maker on your computer device. To help you do it quickly, hit the download button presented above.
Step 2Videos/Photos Importation
Launch the software and go to its MV feature. Import your files by hitting either the Plus sign or the Add button at the bottom of the interface. See that with this photo and movie maker, and you can upload an entire folder when importing files.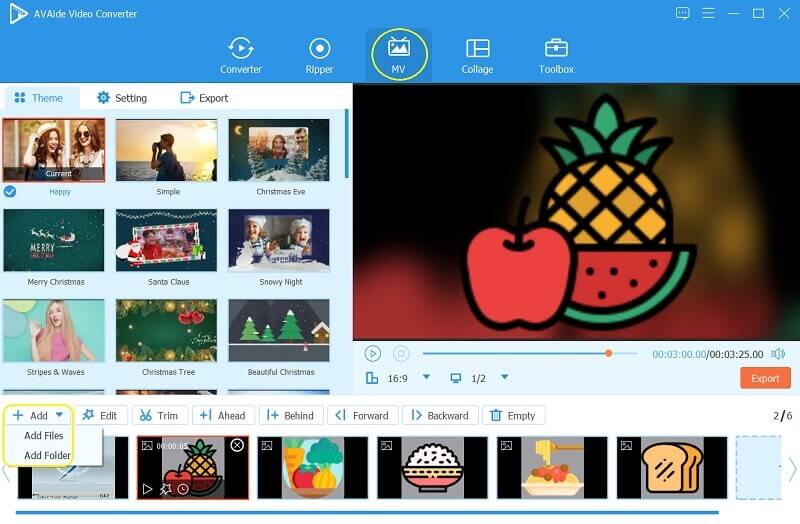 Step 3Personalize the Movie
This time, you can click the Edit button from the editing tools to adjust and personalize the watermark and filters.
3.1. Adjust Basic Effects and Filters - once you hit the Edit button, directly go to the Effect & Filter portion. Freely choose a filter among the hundred choices, and navigate the basic effect afterward. Don't forget to click Apply All; click OK if you want all your files to acquire the changes.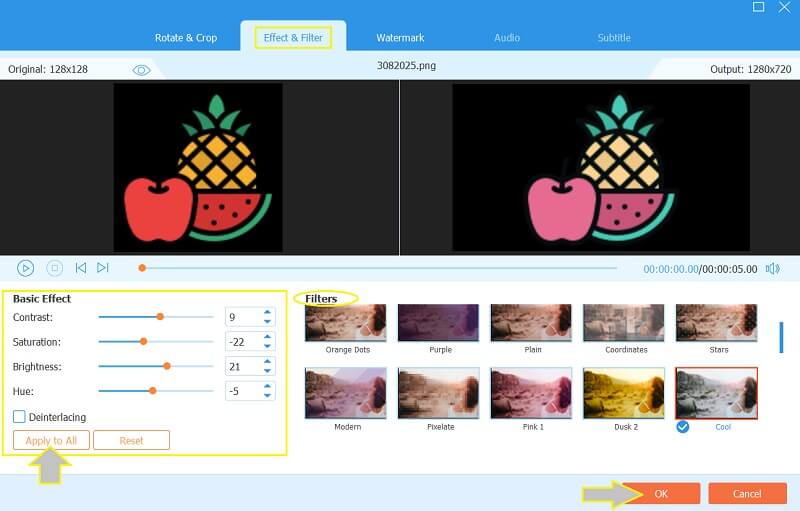 3.2. Personalize Watermark - go to the Watermark portion, then toggle a kind of logo you would like to have. Adjust the presets of this image to video movie maker to your preference, and click Apply All, then OK.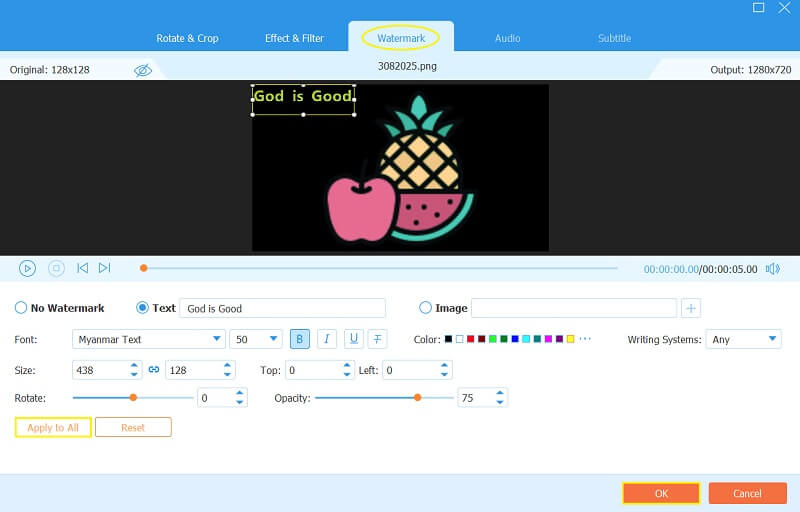 Step 4Set Up the Music
To spice your movie up, try to mix your music track on it. Go to the Setting and navigate on the Audio Track portion to do so.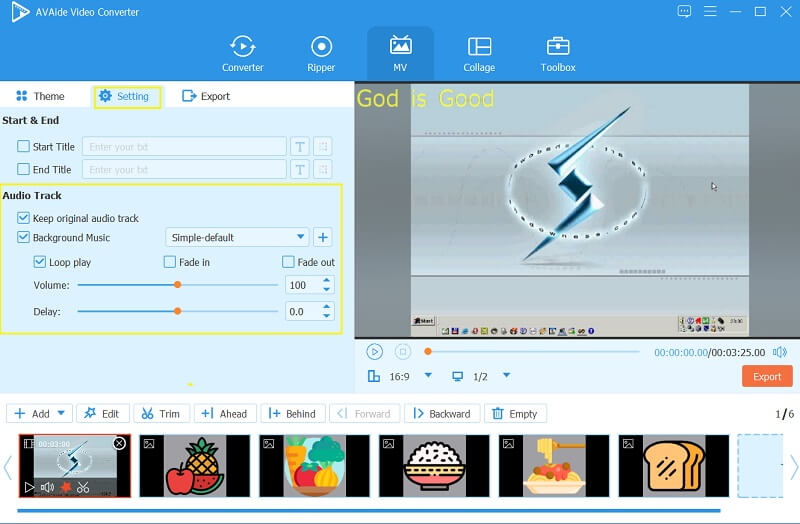 Step 5Save Your Movie Now
Finally, you can now save your movie by exporting it. Go ahead and hit the Start Export button within the Export portion.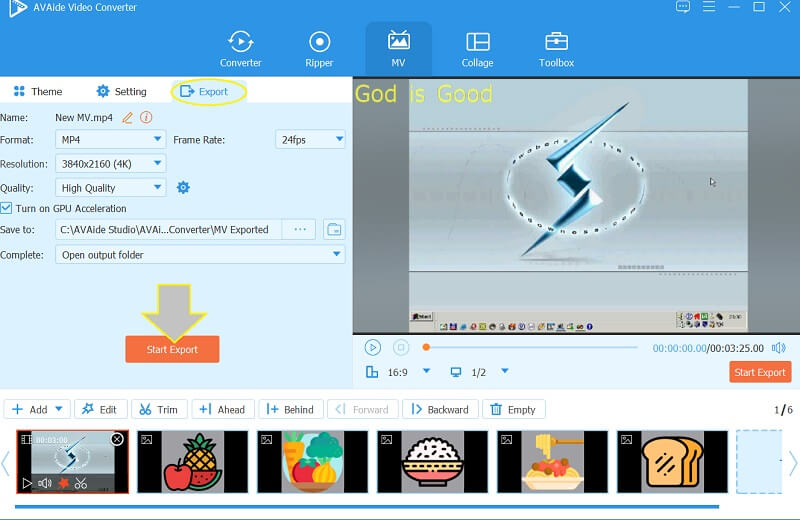 Part 2. Make Your Movie With Pictures Using Google Photos
Another way to create movies is through Google Photos. And how to make a movie in Google Photos?. This will be answered by the steps provided below. You know precisely that this application is infused with the other apps in the Email developed by Google or Gmail. And yes, this application is now open in creating movies using your photos and videos. Aside from that, Google Photos also enables the creation of personal albums, collages, and animations that play a crucial role in photo editing nowadays.
Step 1Launch the Google Photos on your device. Go ahead and click the Utilities from the menu bar, and click Movie.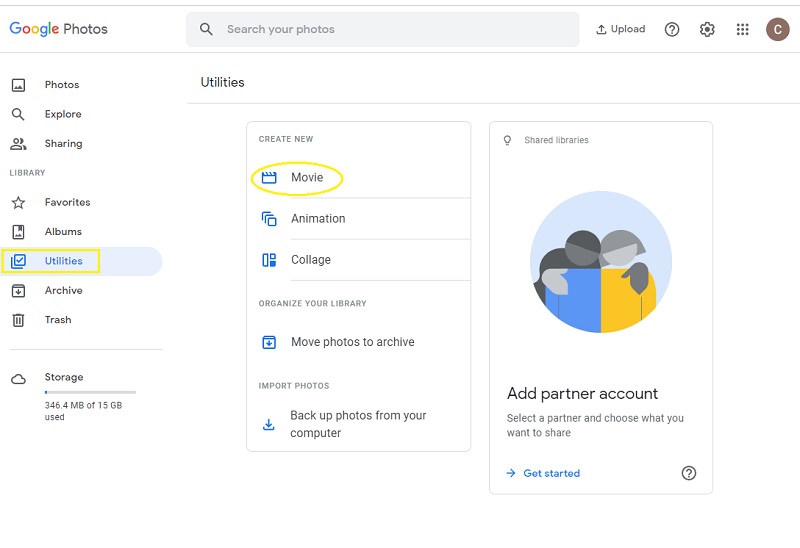 Step 2Click New Movie on the next interface. Then tick all the files you want to include in your movie, and hit Create.
Step 3On the next window, adjust the duration of the appearance of each file you uploaded to this short movie creator. Finally, hit the Save button.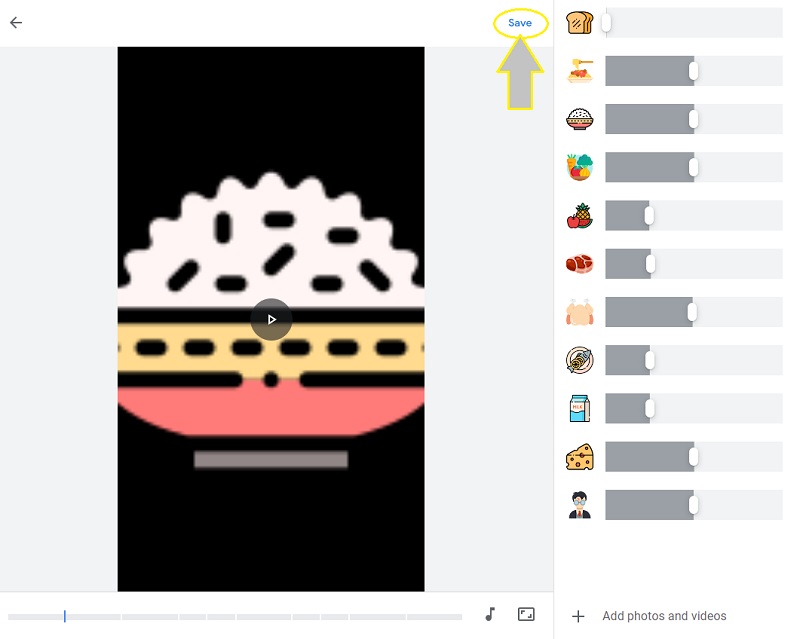 Part 3. The Best Way to Make a Movie With Photos on iPhone
If you are using an iPhone and find acquiring an app a hassle, use the photos instead. Yes, Photos can bring your images and videos into a movie via a slideshow. Furthermore, this built-in application can beautify your pictures by adding filters, adjusting the exposure, and cropping unnecessary parts of them. However, editing tools can only be used on an individual photo for those mentioned. On the other hand, let us now see the steps below on how to make a movie with photos on an iPhone.
Step 1Launch the Photos app on your iPhone, then click Select to let you tick multiple photos for your movie.
Step 2Once you select all the files, click the Upload icon, then hit Slideshow.
Step 3Subsequently, the movie will immediately play. Now click the Options tab on the right-bottom part of the screen to see adjustments options you can use. Then, click Done.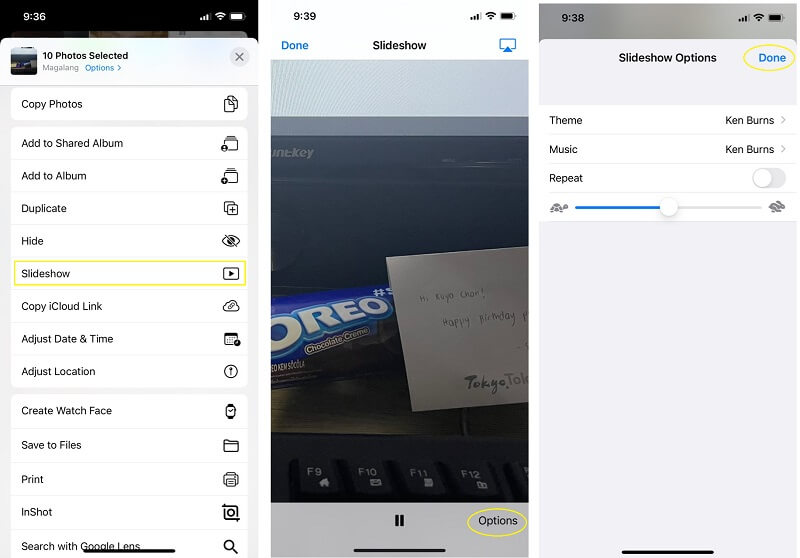 Part 4. How to Make a Movie Online
Finally, let us create a movie using the most reliable Movie Maker Online. For those who don't want to download any software but want to experience a significant experience making a movie with photos and music, this online tool will suit you. In addition, this movie maker will enable you to create your masterpiece by using its superimposing effects, video slicing, transitions while letting you combine the clips with audio for free. However, a user will only be allowed to create a 10-minute long movie. On the other hand, let us try it by following the simple steps provided below.
Step 1On its movie maker feature, click Add Files and upload all images you need. Then, tick the box to accept the terms and click Use Anonymously on the popped-up window.
Step 2Navigate on the setting tools it shows on the interface of this short movie creator. Take time to add effects, text, and music.
Step 3Once you have your desired beautification, hit the Make Video tab to save.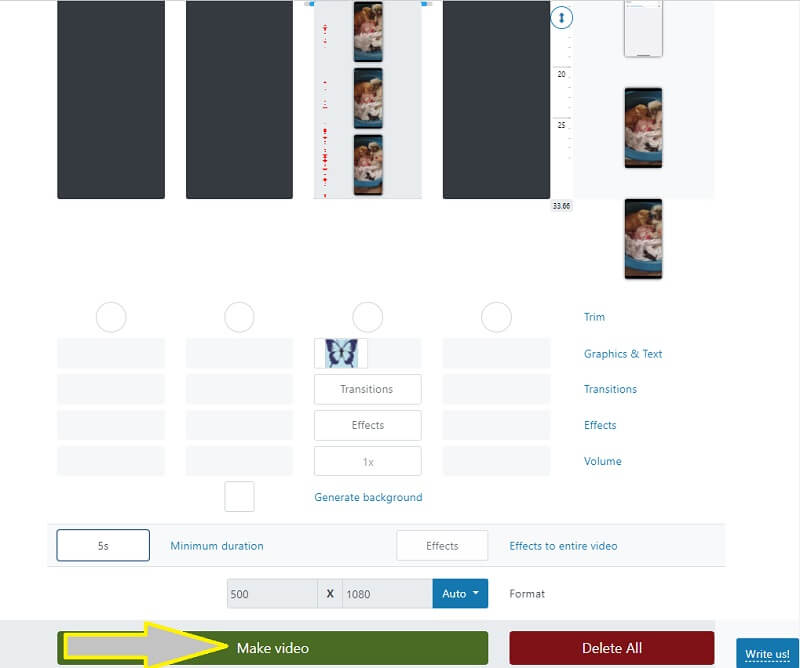 Part 5. Questions Raised Regarding Movie Making
Can I use Google Photos on my Android in making movies?
Yes. But unlike on the desktop, you will need to download it on your Android.
What movie maker can I use in Microsoft?
Windows Movie Maker is the moviemaker owned by Microsoft. And you can use it to crop videos on Windows computers. But, it was discontinued in 2017.
Can I make a movie using my iPad?
Yes. You can make a movie using a third-party tool like iMovie or a movie maker online.
Conclusion
You should know by now the tools and guidelines you must understand in making a movie with pictures. Indeed, it's practical not to acquire software. Still, if you are seeking a remarkable one, download the AVAide Video Converter, and look forward to the fantastic and creative video content you can produce for your blogs!
Your complete video toolbox that supports 350+ formats for conversion in lossless quality.