"Can I make a movie with google photos?"
Many people are raising this question nowadays. And to answer this, yes, you can. Google Photos is not only being used as a storage backing up your photos to the cloud service, but also it offers users utilities that will help them on their tasks such as animation, collage, and movie making. For this reason, many have gained interest to the point that they are fond of using the platform of Google.
Hence, many are still puzzled about how they can transform their photos into such a beautiful movie using this application. Fortunately, by reading this article, you will be able to know the right utilization of google to make a video from photos. So to cut the excitement, let's get it started.
Part 1. How to Create a Movie Using Google Photos Properly
As mentioned previously, Google enables users to create movies out of their hundreds of photos. As a user, you can do this in two ways, first using your desktop or Mac, and the second is by your mobile phone. Yes, this movie maker is accessible on both platforms, and that will partially answer your question about how to make a movie on google photos. And to give you more details about it, this free tier can count the uploaded video and photo files in its 15 GB free storage within the Google services. Another good thing about it is that it also identifies objects by analyzing them in the photos, such as people, places, and things due to its computer vision.
In addition, Google Photos also offers users exciting features such as animation, and collages. However, many still think it lacks wonderful features, unlike the others. Anyway, without any further adieu, let's go to our target and see how it works on creating movies using the desktop.
Steps on How to Make a Movie in Google Photos on Desktop
Step 1Sign in Your Account
First and foremost, you must go and visit the official website of Google Photos. Then, sign in by using your Google account.
Step 2Navigate on the Movie
On the main interface, click the Utilities tab from the menu bar and click Movie.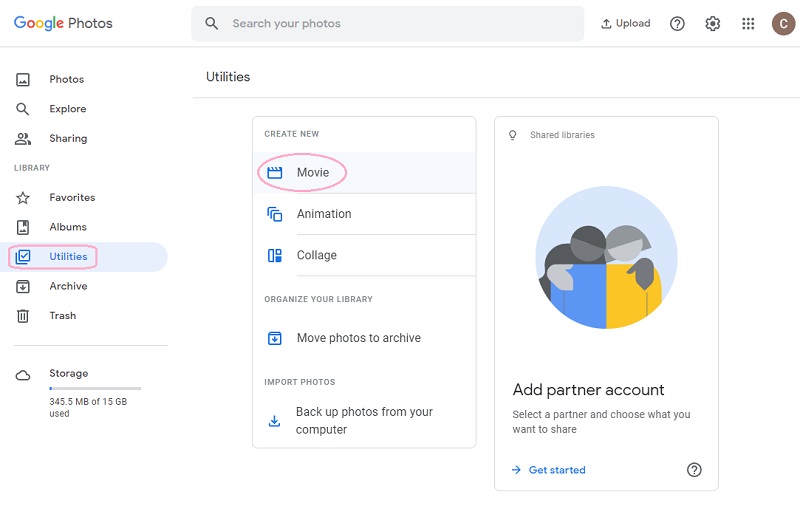 Step 3Choose a Theme
On the next page, choose among the themes it offers. Note that you can only use the themes if you have enough matters each requires. Hence, we will be using a non-themed one this time, so let us click New Movie.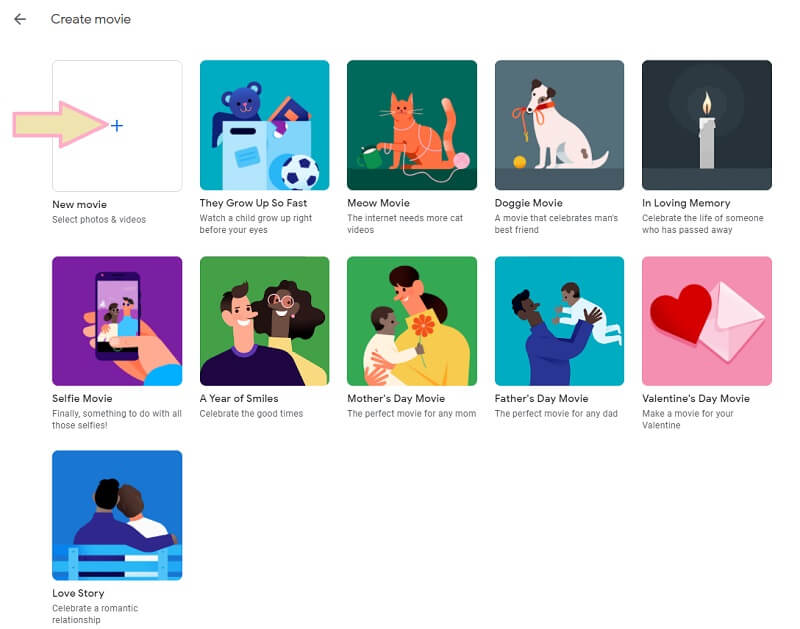 Step 4Create the Movie
Toggle all the photos to make a video from Google Photos. Then, click Create, located on the right top corner of the page. Wait on the process to finish, then click Save.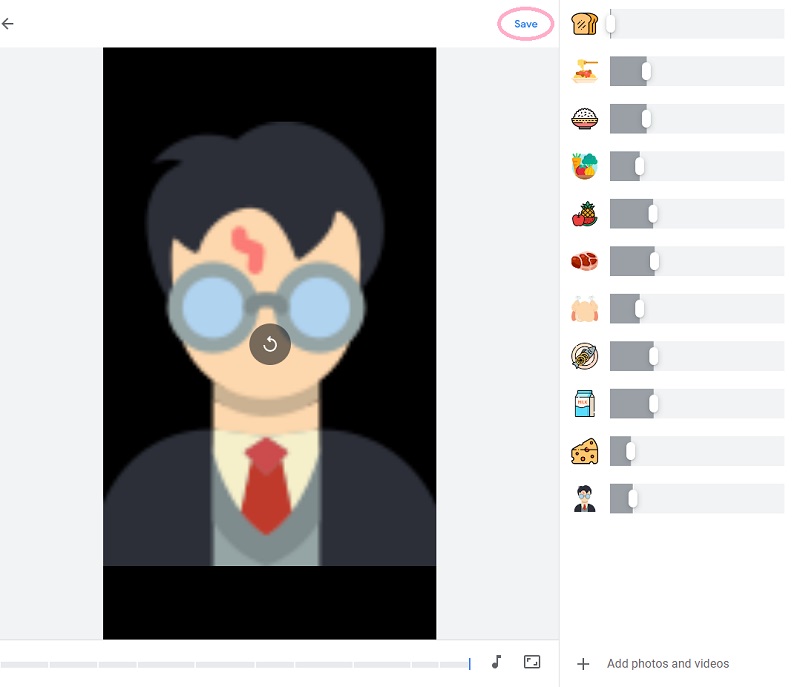 Note: The steps on the desktop are also applicable on iOS and Android devices.
Part 2. The Much Better Way to Create a Movie Using the AVAide Video Converter
Honestly, the AVAide Video Converter is the much better, more professional, yet most straightforward way to create your movies. Furthermore, it allows users to share their movies to multiple online social media in real-time, not like Google Photos. In addition, this software will give you thousands of options of themes, filters, effects, and video enhancer tools that will provide more radiance to your video content. Like Google, this too makes a video from photos, and believe it or not, it can turn your Movie into a personal one with your name or image printed on it as the watermark!
There are a lot of beautiful tools and features you can use in AVAide Video Converter. Imagine having a powerful movie maker, a video collage maker, a homemade DVD Ripper, and a video converter all in one! This software is really worth your installation, and it makes us so excited to share and show you the detailed steps on how to obtain a perfect movie using this excellent software.
AVAide Video Converter - The Phenomenal Movie Maker Today!
Make use of multiple tools this photo movie maker offers.
It will let you create up to 4K movie resolution.
Create a movie and transform them into more than 300 various formats.
It allows you to collaborate your music track on your Movie
Use exciting and personalized watermarks on your movies
Upload unlimited numbers of photos and videos.
Step 1Install the Software
Initiate the installation of the software on your computer of Windows, Mac, and Linux alike when you hit the download button presented above.
Step 2Add the Photos on MV
Launch the tool, and click the MV from the list features on the top of this photo movie maker. Then, start uploading your photos when you click the Plus sign or the Add tab located at the bottom of the interface.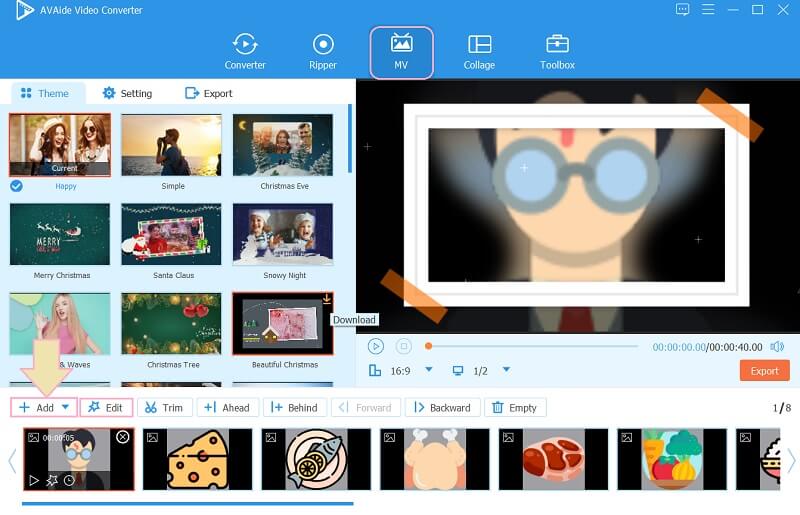 Step 3Add Filter and Effect
You will always have time to beautify your photos by adding effects and filters to them. To do so, click on the Edit tab, and start navigating on the Effect & Filter on the next window. Once done adjusting, click the Apply to All if you wish to have the same filter for all your photos. Then, hit Ok.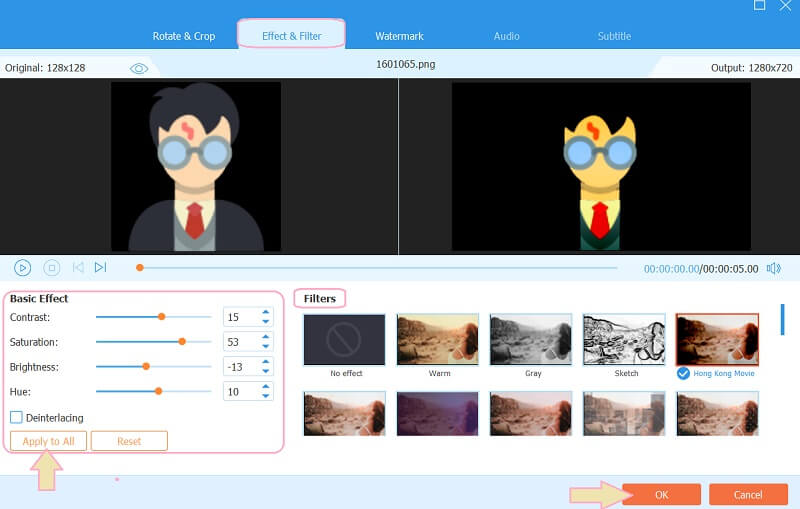 Step 4Customize the Audio Track
Upon choosing among the themes, your movie will acquire even the music. Nevertheless, unlike the Google Photos movie maker, this tool will let you customize an audio track, just go to Setting and click Plus sign to add your music.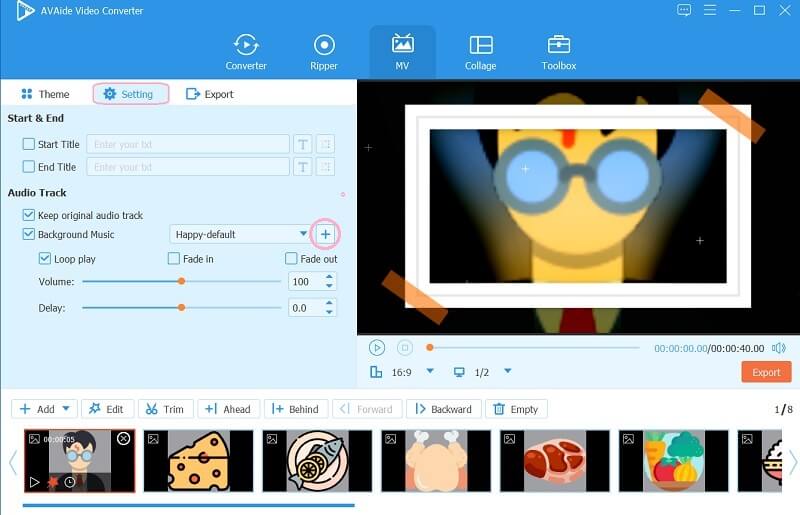 Step 5Save the Movie
Finally, you can now save the Movie by clicking Export. You can adjust and set the resolution, format, quality, and even the folder where you want to save the Movie on the export portion. Once adjusted, hit the Start Export button, and wait till the exporting process finishes.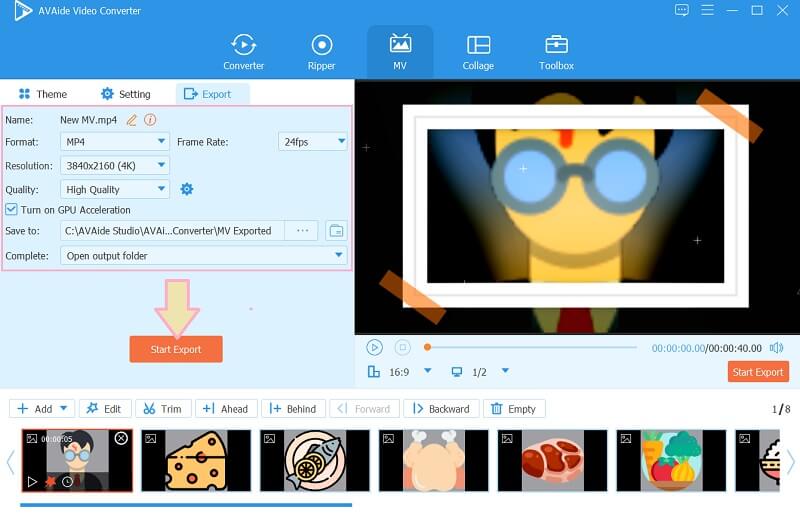 Part 3. FAQs About Google Photos
Is Google Photos free to use?
No. Google Photos is not free to use. In fact, its 100 GB storage starts at $1.99 for its price.
How to make a movie on Google Photos with Android?
Just launch the Google Photos, and toggle its Movie feature from the Utilities.
Can I share my movie to my social media account from Google Photos?
No. Google Photos won't let you share your newly made Movie to your social media account. What you would do is that you need to export the file first, then upload it from your device.
Conclusion
Indeed, Google Photos may look pleasing and easy to use. Hence, it limits your creativity in making beautiful movies due to its limited features. Thus, using the AVAide Video Converter will let you make a Holywood-like video even from Google Photos. Therefore, don't settle for less. Download the AVAide Video Converter Now!
Your complete video toolbox that supports 350+ formats for conversion in lossless quality.