We cannot deny the fact that videos captured hand-handled are sometimes shaky, noisy, and blurry. But this doesn't mean that we can already get rid of them because we can still fix them. This fixing solution may sometimes require professional skills, but it doesn't mean that a beginner like you and I cannot handle it. In fact, we can use many beginner-friendly software and apps to do the task quickly yet efficiently. For this reason, we outline in this article the best video stabilizers that you can use on your computer or mobile devices. Therefore, without further ado, let's quickly get into the said solutions by reading the entire content below.
View all programs
Part 1. Best Video Stabilizers for Windows and Mac
1. AVAide Video Converter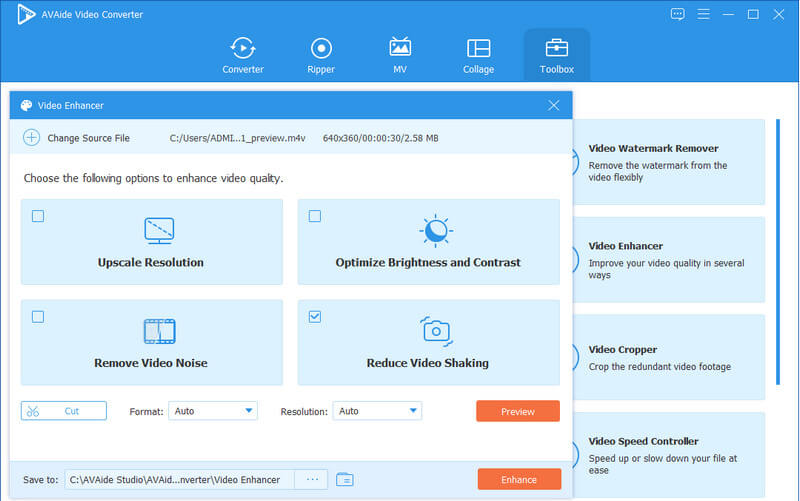 If you are looking for an all-out software that works perfectly in enhancing your videos, then you should know the AVAide Video Converter. Yes, it is a video converter that is also named the best video stabilizer software for Windows and Mac. This ultimate converter comes with a jaw-dropping toolbox containing all the powerful video editing selections, including but not limited to a video rotator, trimmer, speed controller, cropper, merger, color corrector, reverser, enhancers, and many more. On top of that, it rings the bell to be a deserving multifunctional software, for it also transforms into the most powerful DVD ripper, movie maker, and collage maker all in one.
Here's more, being the best solution to fix shaky videos, it also improves videos with noise, blurry, and the ones with substandard quality. What's more impressive is that it enables you to fix those mentioned video problems with just a few clicks! For this reason, no one regrets acquiring this excellent video stabilizer!
Pros
Intuitive, flexible, and reliable video editor.
It works multifunctionally.
It is best for beginners.
Professional-like outputs to produce.
It supports 4K, 5K, and 8K videos.
It comes with hardware acceleration.
With advanced technologies for high-quality outputs.
Cons
It has free and paid versions.
2. Pinnacle Studio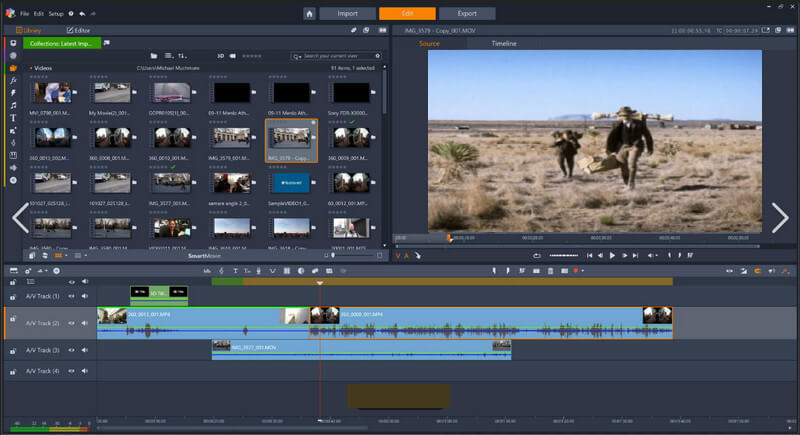 Another software that hits on top is this Pinnacle Studios. It is software that not only works as an advanced video editor but also as a screen recorder. Furthermore, it gives users the satisfaction of playing and editing the 3D and 4K movies. However, Pinnacle Studio is not a free video stabilization software that requires users to purchase it prior to installing it.
Pros
It offers advanced editing tools, effects, and transitions.
With an intuitive interface.
It is also flexible in screen recording.
Cons
The video stabilization feature is in the paid version.
The free trial version has very minimal features.
Not that best for beginners.
3. iMovie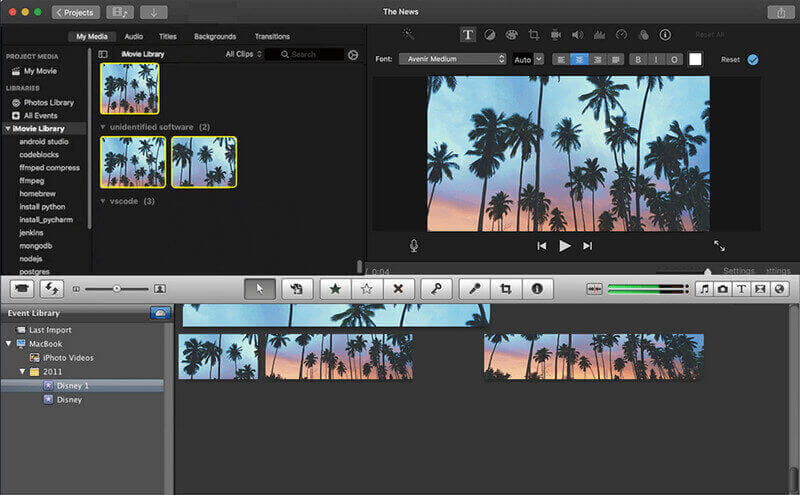 The well-known media player on Mac, the iMovie, is next on our list. And yes, you can also use this software to fix your shaky videos. iMovie video stabilization runs or works on all Apple devices, and Apple users can easily acquire it on their devices for free. Moreover, this software provides enough selections on audio video editing and screen recording features.
Pros
Flexible on many Apple devices.
It supports 4K videos.
It is free to use.
It comes with advanced effects.
Cons
It is limited to Apple only but not Windows.
It lacks the other essential advanced video editing tools.
Part 2. Best Video Stabilizing Apps for Android and iPhone
1. Emulsio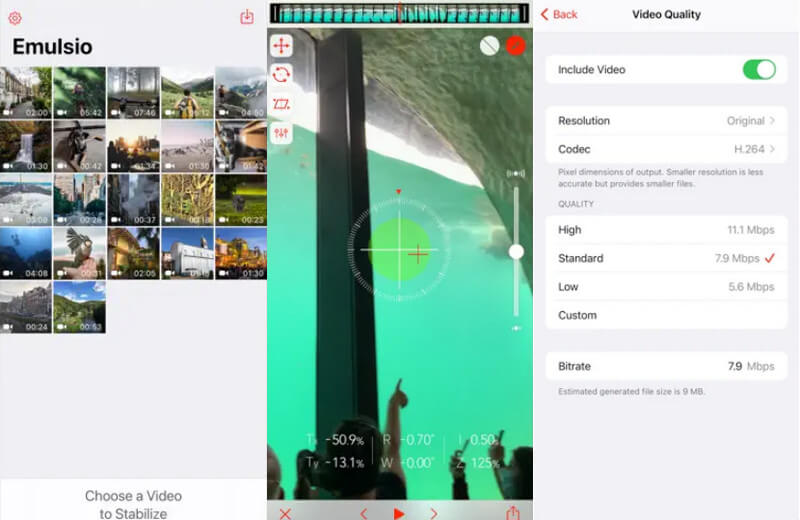 Emulsio is an excellent video-stabilizing app that you can get on both iPhones and iPads. It professionally edits your videos to make them more appealing to watch. This is why Emulsio got the sympathy and approval of users to be one of the best iPhone video stabilizer apps. This app lets users see a preview of the video while adjusting its stabilization strength when it comes to stabilizing videos.
Pros
It processes the video rapidly.
It provides video transcoding besides stabilizing.
Easy to use.
Cons
It cannot run with Android.
The editing features are not that much.
2. Magisto Video Editor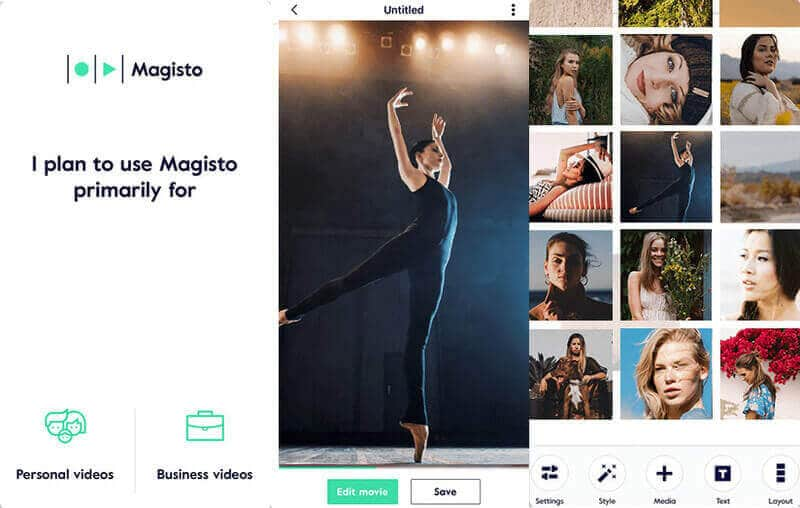 The next app that you must know about is the Magisto Video Editor. As its name suggests, it is an app that works to fix your video for free. It lets you enhance and fix your bad quality video files in no time, for it is an app that is AI powers. In fact, by just bringing your problematic video to this video stabilizer app's interface, it will immediately provide you with the essential settings and selections you need.
Pros
It comes with AI-powered enhancement tools.
It lets you make slideshows and collages.
Cons
It occasionally crashes when being used longer.
3. Shaky Video Stabilizer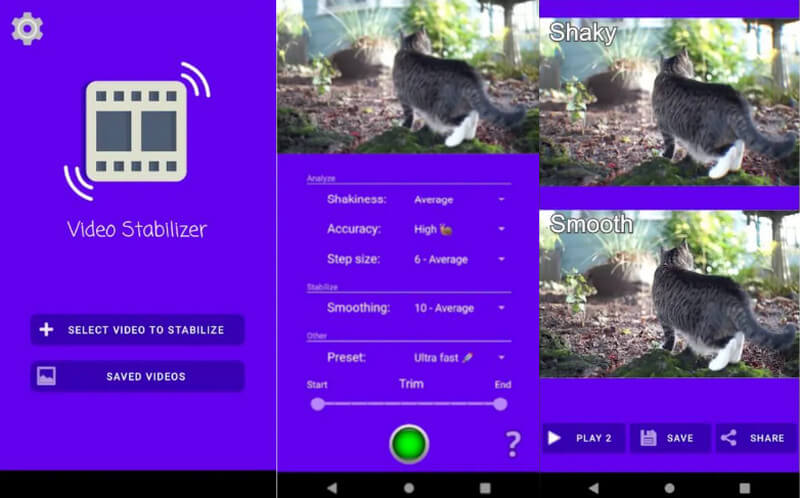 Another app that made it to the spot is this Shaky Video Stabilizer. It is an app you can acquire from the Google Store and is available online on Android. Furthermore, it is a free tool but supports in-app purchases. Moreover, it usually supports the typical video formats of Android, such as MKV, 3GP, and MP4. Despite that, this best smartphone video stabilizer provides users with multiple settings to fix blurry videos that include smoothness, accuracy, and shakiness.
Pros
It provides a preview mode.
It comes with other essential video editing tools.
It is easy to use.
Cons
Work only on Android.
It sometimes glitches after the installation.
Some of the video editing tools don't work well.
Part 3. Bonus: How to Stabilize a Video with AVAide Video Converter
Luckily, this part is added to give you the proper procedure for stabilizing your video. Complete yet easy guidelines are provided for you to follow quickly. In addition, we chose to use the best video stabilizer software in this article, the AVAide Video Converter. So, without any more delay, let's all see and learn the guidelines below.
Step 1Ensure that you have the right software on the type of computer you are using. AVAide Video Converter provides Windows and Mac versions, so acquire in accordingly. Thus, once you have the software, launch it and go directly to its Toolbox.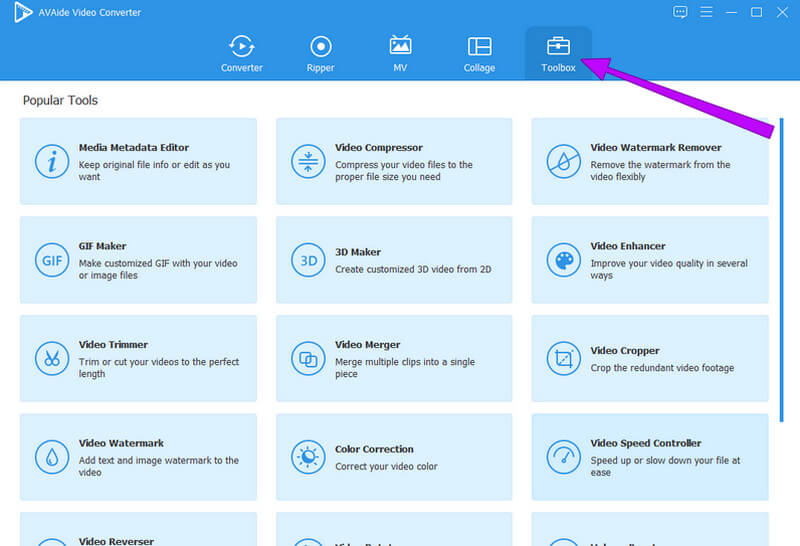 Step 2Now reach to the toolbox's Video Enhancer selection. Tap the Plus icon once you reach the inside of the selection, and import your shaky video. Then, on the new window, tick the Reduce Video Shaking enhancement or all the selections in there.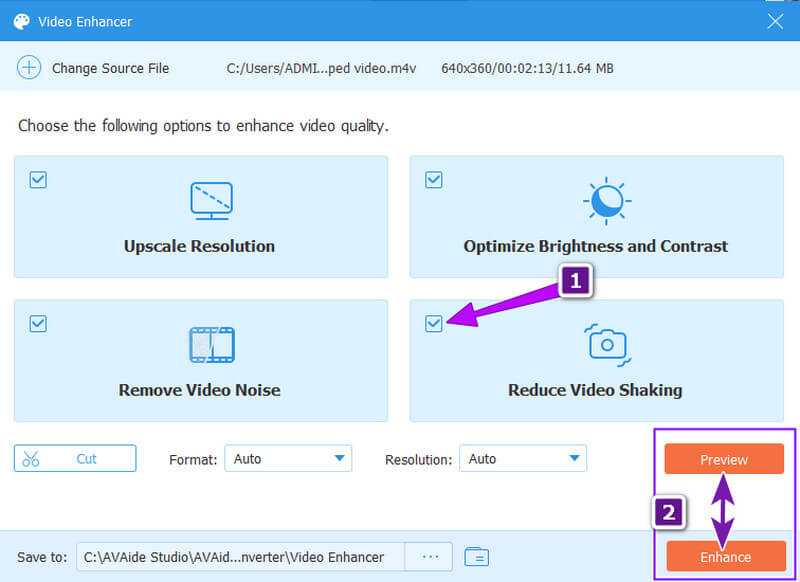 Step 3After that, hit the Preview button to check your video file before and after changes. Subsequently, hit the Enhance tab to proceed with applying the changes.

AVAide Video Converter
The most comprehensive media converter to convert video & audio & DVD without quality loss.
Part 4. FAQs about Stabilizing a Video
Is there a video stabilizer online?
Yes. There are online video stabilizing tools available. However, functionality-wise, downloadable software and apps are much better to acquire and use.
Will I still get the same file size after fixing shaky videos?
No. Fixing or enhancing your videos will add a little to their file size. This is particularly true if you made more than reducing the shake, like upscaling, reducing noise, etc. This is because fixing videos may add some to their pixelation and other elements.
Can I stabilize my videos for free?
Yes. The video stabilizing apps we have on the list, especially the AVAide Video Converter, offer free trials and even versions. This way, you can enjoy and test for yourself their efficiency. But please, don't take them for granted. Acquire or purchase their worthy features for a much better experience.
Conclusion
There you have it, the lists of the best video stabilizers on desktop and mobile. You can now retain the videos you have recorded with extra effort. Scrutinize each of them before deciding which one to utilize often. However, based on the tryouts made in this article, we can still confidently recommend the AVAide Video Converter since it utilizes AI to upscale your videos and reduce the shaking.
The most comprehensive media converter to convert video & audio & DVD without quality loss.