Screen recording has been one of the most relish tasks for youngsters today, especially on recording their games, whether on mobile or computer devices. However, most of the game players who tried to record their ultimate play were disappointed due to the watermark given by their screen recorder. Hence, if you have also felt dismayed with the same matter and felt the need to fix the problem by searching for the best screen recorder with no watermark, you found the right post. Therefore, let's not delay this any longer and quickly study the seven online and offline tools that we have gathered for you.
Part 1. Top 7 Watermark–Free Screen Recorders
Top 1. AVAide Screen Recorder
Amazing Non-Watermark Screen Recorder – AVAide Screen Recorder
Record screencast with a customizable watermark.
Comes with a phone, webcam, microphone, and audio recorders.
Comes with as time recording.
Infused with advanced recording preferences and presets such as mouse clicks effects, trim, adjust volume, screenshot, etc.
[pros-cons-1 pros-1="you can download it on Mac and Windows." pros-2="Produce outputs in various formats." pros-3="It allows users to screenshot while recording." pros-4="It provides schedule recording." pros-5="The interface is featured-generous yet straightforward." cons-1="It is not totally free." /]
Top 2. OBS Studio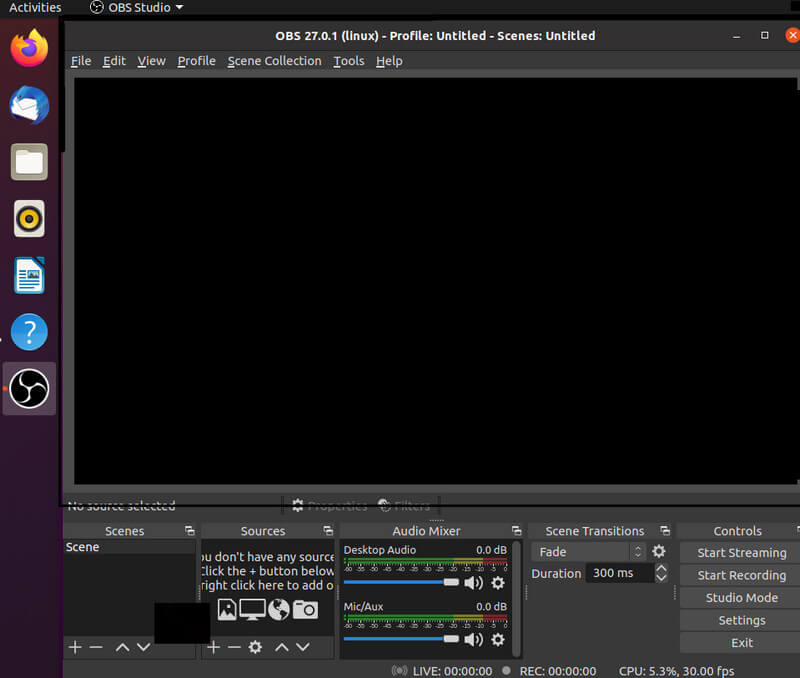 Another desktop software on the list is this OBS Studio. This open-source software is one of the free best screen recorders for PC without watermarking its outputs. Not just that, it also performs well in mixing recorded videos or audio while creating scenes to make the recorded video fascinating. Like the previous tool, OBS Studio offers different recording means, such as webcam and windows, along with the various video editing configurations in the recording interface. However, as professional as it looks, it gives beginners frustration, confusing them a bit.
[pros-cons-1 pros-1="It is free software." pros-2="It comes with good editing tools." pros-3="Equipped with effortless transitions." pros-4="Supported by Mac, Linux, and Windows." cons-1="It sometimes lags and crashes." cons-2="The interface looks confusing to beginners." cons-3="It has no undo selection." /]
If you've experienced having the OBS window capture black, click here to fix this issue.
Top 3. Screencast-O-Matic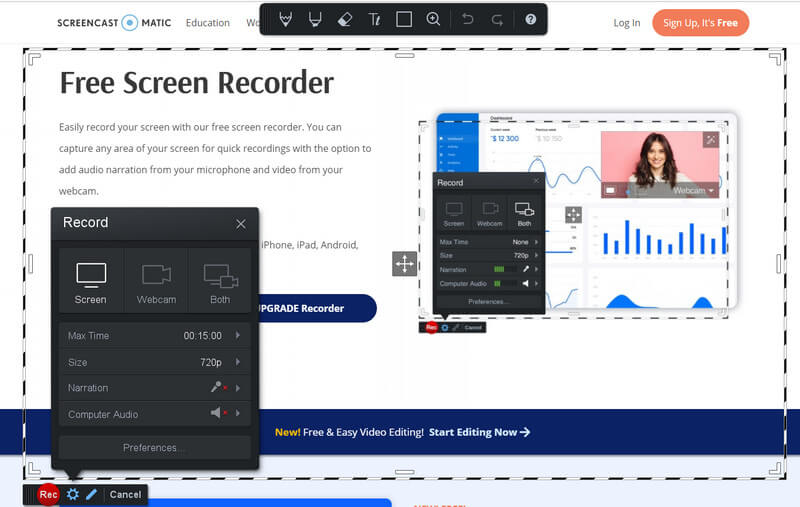 Screencast-O-Matic is an online screen recorder with no watermark on the outputs. In addition, with its deluxe, premier, and business plans, users will be able to make unlimited videos, capture screenshots, publish videos, and edit videos smoothly. However, if you are asking for its free version, Screencast-O-Martic offers visible watermarks on its outputs. In addition, you won't enjoy the fundamental and limited duration of the recording it gives, unlike on its Pro versions.
[pros-cons-1 pros-1="It also gives offline access on desktop and mobile devices." pros-2="Come with integrated tools." pros-3="Unlimited recording for the Pro versions." pros-4="Offers online video sharing." cons-1="It requires Java." cons-2="It has a challenging interface." cons-3="No watermark feature is only in Pro versions." /]
Top 4. Icecream Screen Recorder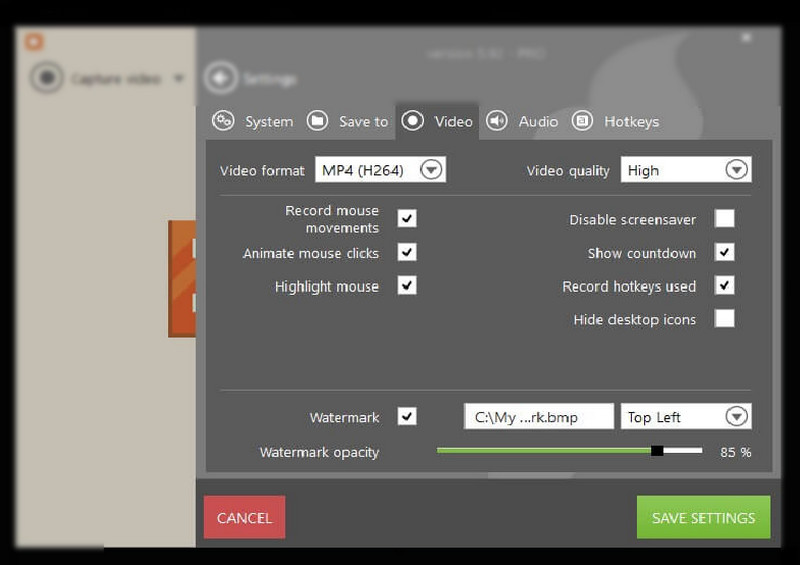 Next comes a delightful free Windows screen recorder with no watermark, the Icecream Screen Recorder. Actually, this software works with Windows because it also runs perfectly with Mac computers and Android phones. Meanwhile, it lets you record the screen and the webcam and audio, making it perfect for recording your gameplays, video calls, and many more.
[pros-cons-1 pros-1="It's flexible to use on different devices." pros-2="It supports web sharing." pros-3="It comes with screen display adjustments." cons-1="It only allows a five-minute recording for the free version." /]
Top 5. Hippo Video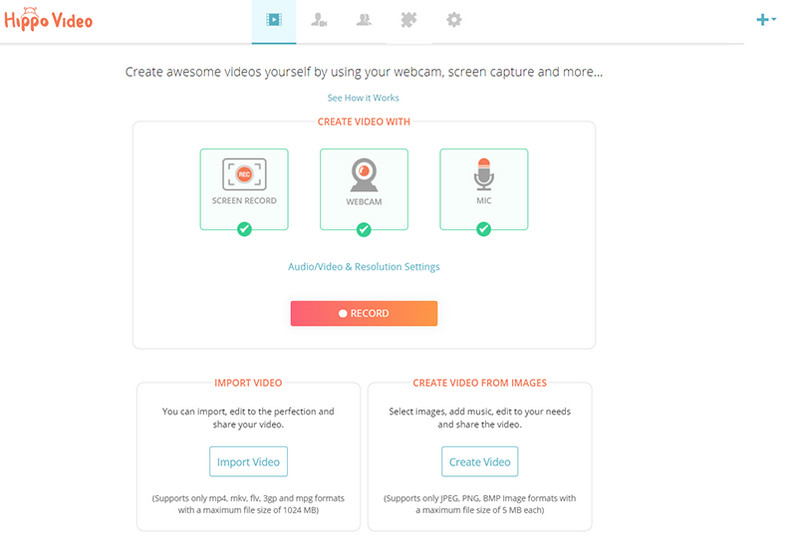 Next is a professional-like screen recorder that offers a 7-day free trial to users. Yes, you read it right. Hippo Video can only give you a free service for a week. However, during those trial days, you will be able to have a full-packed experience with this no download online screen recorder's beautiful features, such as the non-watermark, video sharing, and editing tool, together with its mic and webcam recorders.
[pros-cons-1 pros-1="Non-watermarked outputs." pros-2="It comes with annotation, crop, and add text tools." pros-3="Flexible to different types of browsers." cons-1="The free trial only lasts for seven days." cons-2="The loading process takes time, even with reliable internet." /]
Top 6. ShareX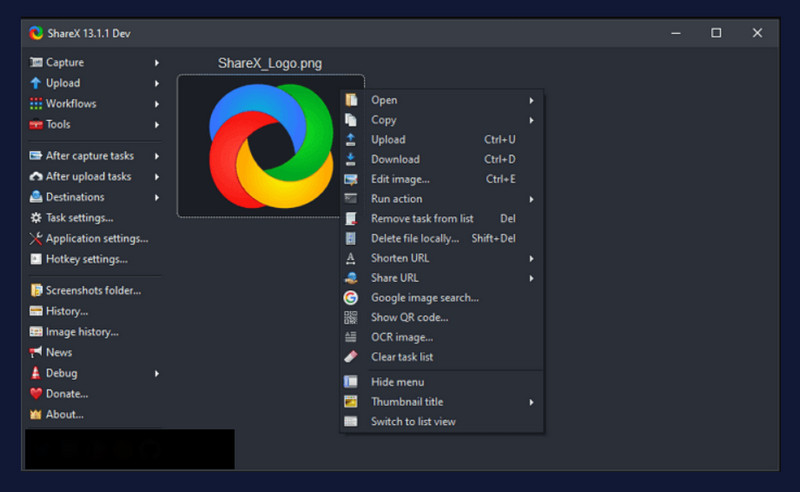 ShareX is another desktop software that shows exquisitely great when it comes to screen recording. It is open-source software that gives the impression of being a free tool. Despite that, ShareX offers great selections that can help you produce good quality outputs such as effects, recording regions, and more. In addition, this free Windows screen recorder has no watermark on its videos, within the unlimited recording duration and file size.
[pros-cons-1 pros-1="It lets users screen record without a limit." pros-2="It supports web sharing of the newly registered file." pros-3="It is an entirely free tool." cons-1="It has a simple interface." cons-2="It lags and crashes at times." /]
Top 7. Loom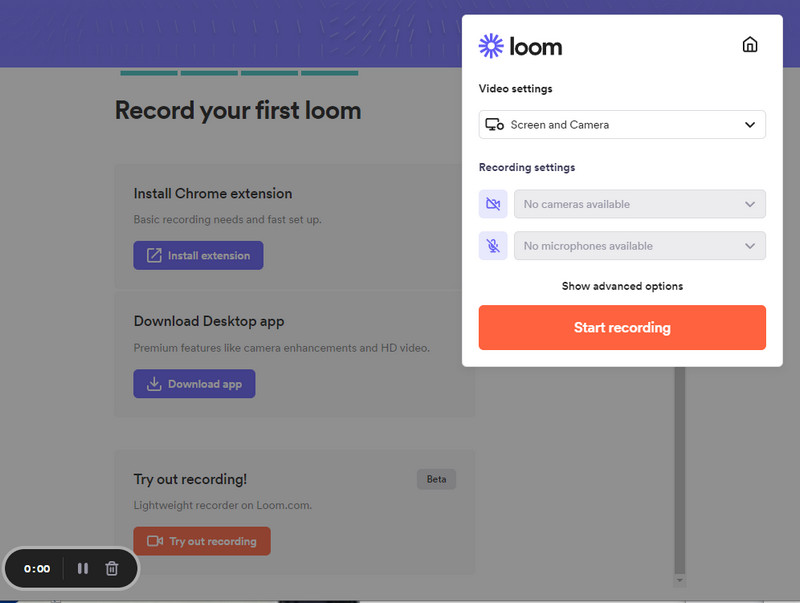 Lastly is an online screen recorder with the name of Loom. Althoug, having it in the last spot doesn't define it as the least among the others. Loom possesses what the previous tools have, such as web sharing, video editing, and production of high-quality with non watermarked videos. However, these mentioned features that this no watermark online screen recorder only apply on its premium plan.
[pros-cons-1 pros-1="With a free trial." pros-2="It presents a neat and straightforward interface." pros-3="It allows users to add texts to the videos." cons-1="The outstanding features are in the paid plan." /]
Part 2. FAQs Regarding Online Screen Recorders
Does the AVAide Screen Recorder have an area selection?
Yes. AVAdie Screen Recorder gives manual and automatic area selections and the resolution options in the same section.
Can I use the QuickTime Player to record my game on Mac?
Yes. Apple's QuickTime Player is a Mac software capable of screen recording. QuickTime also contains great tools editing tools and can convert video files. To screen record on Mac, you can also use AVAide Screen Recorder to help you capture games on your Mac.
What is a free video game recording software for Windows 8?
OBS Studio is the free, open-source software that can record your video game for free in Windows 8.
Conclusion
Almost everyone is getting their screen recorder since this kind of tool plays a crucial role in our lives today. In addition, it is the mean that gamers use to capture their exciting games and upload them online to gain funds through views. Hence, it is essential that the screen recorder constraints no watermark. Choose wisely and get the best screen recorder, just like the AVAide Screen Recorder! You can use it to record Snapchat, capture gameplay, and more.
Capture the best moment with AVAide Screen Recorder. Screencast, customize, and share in seconds.