Are you looking for a free online screen recorder yet want the best one? Have you realized the benefits of having an online screen recorder, wherein you won't need to download any software, plus you will be able to access it anytime, anywhere? Well, you've got yourself on the right page, for we will bring you to what you desire. For that reason, see the eight online tools that demonstrated great encounters with users with a screen recording task and therefore tagged to be one of the best. This way, you will be able to see not one or two but many choices to choose from. So, brace yourself and get ready to contemplate on great features and benefits the following online screen recorders give.
Special Recommendation: AVAide Screen Recorder
If you still long to get great software for your PC, along with the presented eight excellent free online screen recorders, it is the most recommended desktop solution due to its award-winning features, the AVAide Screen Recorder. This magnificent software has proven to be in its top place, being the best desktop screen recorder. Why? It is incorporated with multiple tools such as the webcam, audio, game, phone, and window recorder. And it is a video recorder that can record and produce high-quality outputs. Not to mention the presets it offers about the sound, camera, output, mouse, and more, that you can customize based on your preferences.
The Most Practical Screen Recorder - AVAide Screen Recorder
It generously gives incredible features and types of recorders.
Downloadable on Windows, and macOS.
With a volume mixer, sound setting, and sound source selections.
Enable users to schedule recordings.
It comes with hardware acceleration to protect your device.
Part 2. Top 8 Best Online Screen Recorders
Top 1. AceThinker Free Online Screen Recorder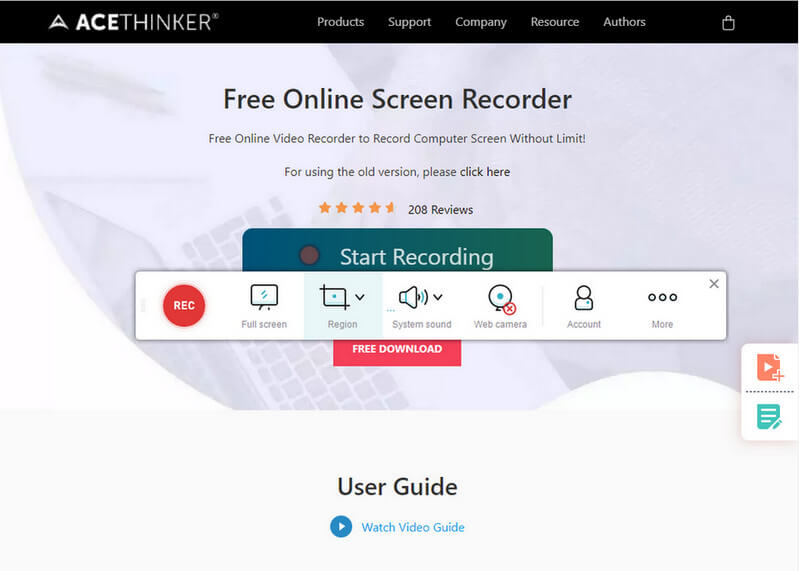 AceThinker is one of the top leading screen recorders today. Furthermore, this famous web program owns an easy-to-understand interface, which is infused with relatively good features and supports numerous various formats. Though it comes as a free program, it still gives first-time users the privilege to experience it completely. Try it now with your Windows or Mac device.
[pros-cons-1 pros-1="It comes with an editing feature." pros-2="It is an entirely free online screen recorder." pros-3="It supports various formats such as AVI, WMV, MOV, and MP4." pros-4="It can upload recordings directly to video streaming websites" cons-1="The editing feature is not enhanced." cons-2="Doesn't have full functionality." /]
Top 2. Clipchamp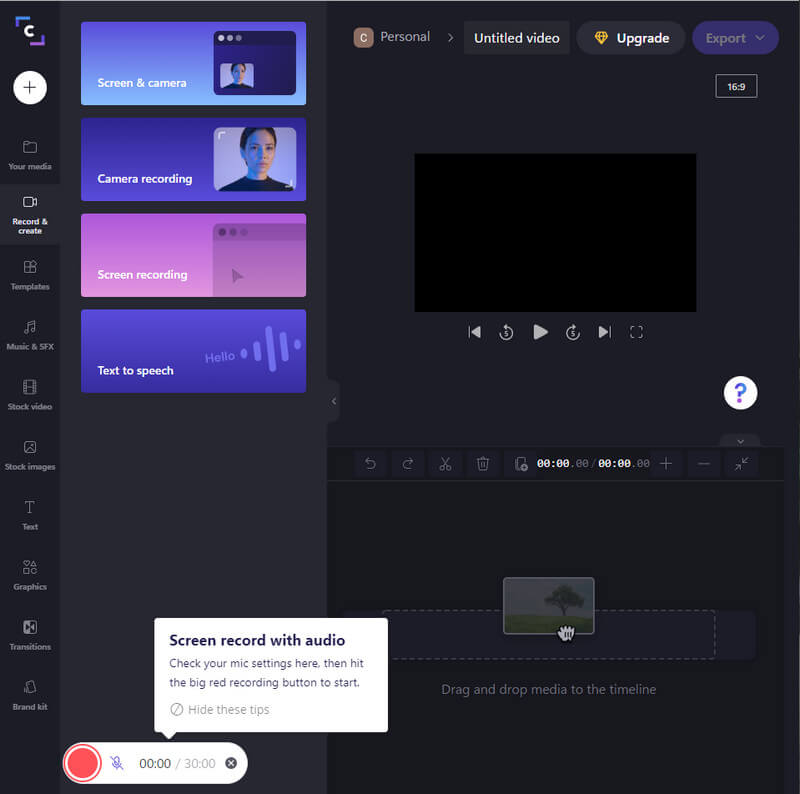 If you don't mind a watermark on your screen recording, as long as the tool is free and powerful, then you should consider Clipchamp. Clipchamp is one of the top choices due to the following reasons. First, it lets users use it unlimitedly for free with its free version. Clipchamp also comes with professional video editing features such as adding filters, titles, text and trim. And lastly, it supports the most-used video formats.
[pros-cons-1 pros-1="This free online screen recorder has enough attributes." pros-2="It supports different types of saving integrations." pros-3="It comes with professional video editing tools." cons-1="The outputs have watermarks." cons-2="Videos are produced with 480P quality only." /]
Top 3. Media.io Screen Recorder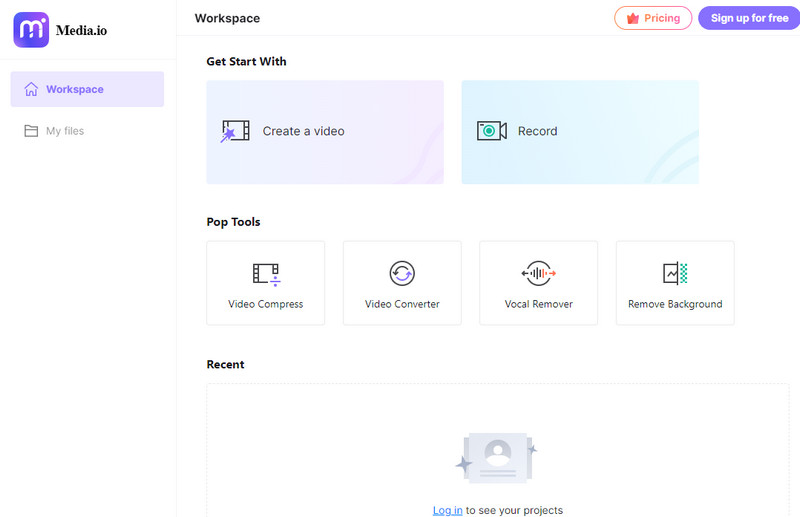 Media.io Screen Recorder is a rookie screen recorder available on Windows, Mac, Chromebook, and Linux OS. In addition, it comes with a video editing feature that will enhance your recording for free. The good thing about it is you can also access it using your mobile device since it's based on the web. Plus, it allows users to record the screencasts with different screen sizes, which you can customize after the recording. However, this no download online screen recorder might cause a little confusion for first-time users because it doesn't have a recording display of your screencast.
[pros-cons-1 pros-1="It is more accessible than the other tools." pros-2="Comes with a user-friendly interface." pros-3="Various screen size selections." pros-4="With editing features." cons-1="The recording process is confusing." cons-2="You need to have an account when exporting the recording." cons-3="It is not a totally free tool." /]
Top 4. Screencapture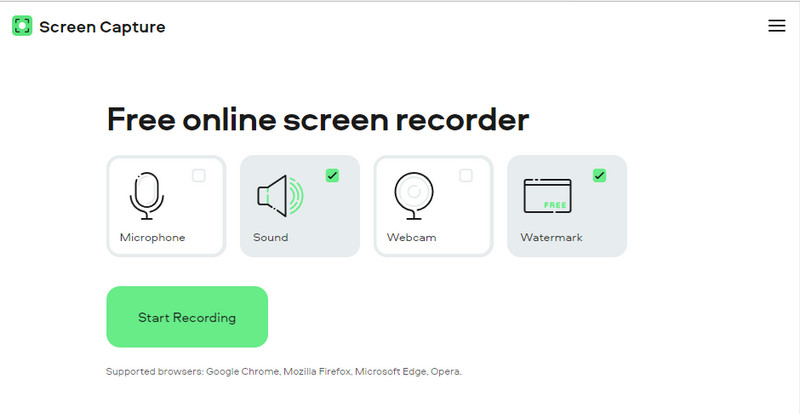 The next stop is Screencapture, a free online tool that gives users the complimentary service in screen recording. Furthermore, many relish the different functionalities in capturing screens and capturing the sound and camera. Yes, it is an online screen recorder with a face cam that produces an HD-quality output swiftly. However, since it's a free tool, we can't deny the fact that every output it makes comes with a watermark on it. But this won't fret you if you are willing to acquire a subscription from its premium account.
[pros-cons-1 pros-1="Produce a good quality video." pros-2="It is a free tool." pros-3="Many good ratings and positive comments from users." cons-1="Editing tools come from the premium tool." cons-2="It produces watermarked outputs." /]
Top 5. Screencast-O-Matic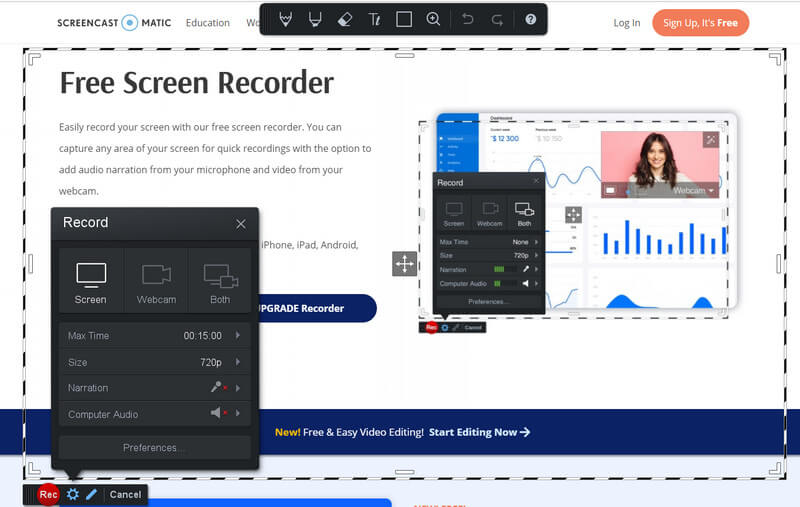 Another excellent screen recorder to try is this Screencast-O-Matic. This tool allows you to upload or post your newly screen-recorded video online directly. That being said, this free online screen recorder also allows you to record online videos with 640x480 to 800x600 video resolution while enabling you to put some labels as overlays.
[pros-cons-1 pros-1="It supports web sharing." pros-2="It supports webcam recordings." pros-3="With essential video editing tools." cons-1="The outputs on the free version have watermarks." cons-2="It requires Java to use." cons-3="It can't record the audio on Mac computers." cons-4="The interface is confusing." cons-5="It offers a limited time for recording." /]
Top 6. Screencastify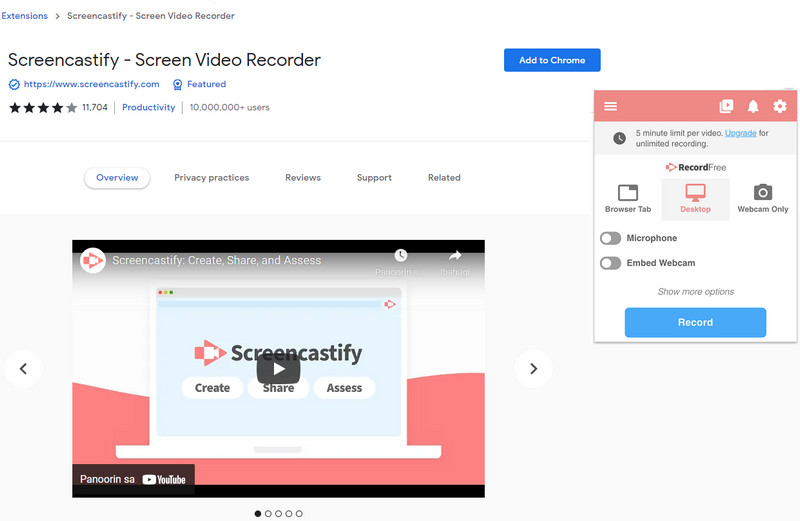 Screentcastify is a hype screen recorder that has lots of features for free. Furthermore, it lets you record your screen using its simple interface that comes with annotation tools to produce significant outputs. As it is workable for everyone, we cannot deny that this online screen recorder with audio also gives its best for business professionals, teachers, and students.
[pros-cons-1 pros-1="It can run offline." pros-2="Outputs don't have watermarks." pros-3="It produces HD quality outputs." cons-1="The free version can only record for 5 minutes." cons-2="To access the additional tools, you need to upgrade your plan." cons-3="It requires adding on Chrome." /]
Top 7. Covideo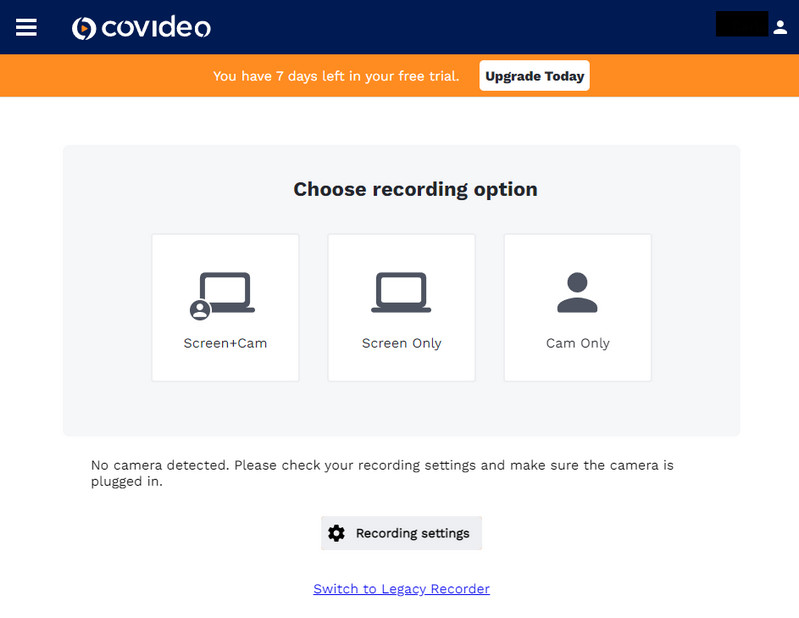 Another online tool that will prove its power for free within seven days is this Covideo. Furthermore, this tool work with the help of a browser extension that shows no problem at all. However, having its free trial won't allow you to record audio, for it doesn't have an option. But, you will get to record the screen and cam simultaneously in this online screen recorder's simple interface.
[pros-cons-1 pros-1="With a free trial." pros-2="Possesses a neat and straightforward interface." pros-3="You can use it on mobile devices." cons-1="It has minimal features." cons-2="It crashes while uploading videos." /]
Top 8. Nimbus Capture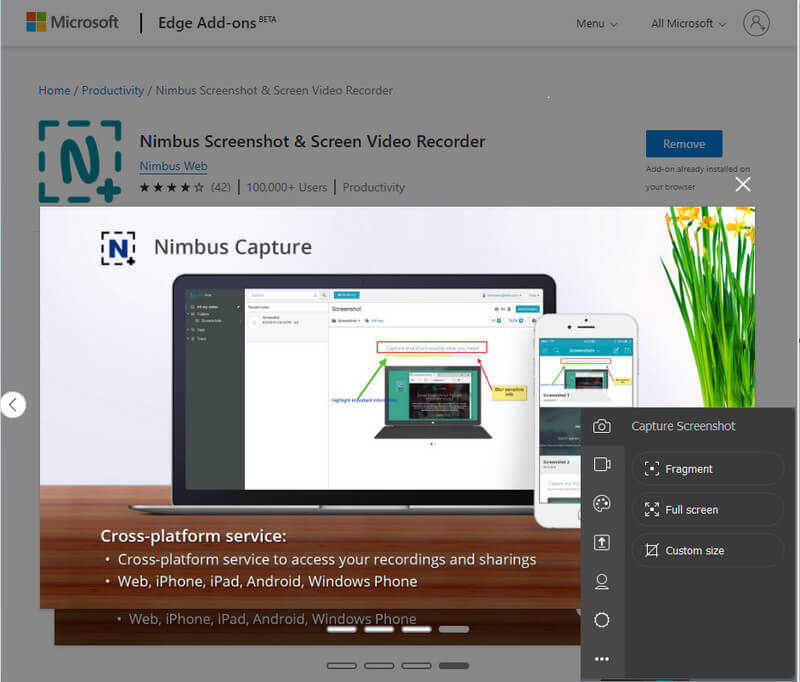 Nimbus Capture is an excellent solution to capture screens by video recording or via screenshots. In addition, it allows users to use its webcam recorder and customize their outputs with the frame rate and resolution for free.
[pros-cons-1 pros-1="Can capture photos while recording." pros-2="With annotation tools." cons-1="Many of its great features are in the premium plan." cons-2="It doesn't support Linux OS." /]

AVAide Screen Recorder
Record screen, audio, webcam, gameplay, online meetings, as well as iPhone/Android screen on your computer.
Part 2. FAQs Regarding Online Screen Recorder
Can I screen record my Zoom call using an online screen recorder?
Yes. An online screen recorder can be able to record your Zoom calls. Zoom itself has its default call recorder that you can use without the help of a third-party tool.
What free online screen recorder with face cam can I use on my Android?
If you are looking for an online screen recorder with a face cam, you can try the Clipchamp, as it can also be accessed using your Android.
Does the recorded video from a free online screen recorder have a watermark?
Not all free online screen recorders leave a watermark on outputs. There are some that are generous enough to give a non-watermarked video for free.
Conclusion
Online screen recorders are indeed beneficial. After learning the best tools that you can use, we expect you to have your choice by now. AceThinker is the most dominant as it is what people shout, but if you need a desktop solution, nothing beats the AVAide Screen Recorder!
Capture the best moment with AVAide Screen Recorder. Screencast, customize, and share in seconds.