We've all known that a screen recorder is practical when we want to demonstrate something that we see on our computer monitor. Screen recording is a simple way to communicate more clearly. Furthermore, everyone will always be on the same page when we say that screen recorders are always easier to use. In line with that, we will go over the top nine most reliable and recommended open-source screen recorder tools below. May this review assist you in determining which recorder is best suited to your grind. Let us begin the review without further ado.
Part 1. Most Recommended: Best Screen Recorder for Windows and Mac

If you're looking for the best screen recorder for Windows and Mac, there's a handy tool that will undoubtedly make your life easier. Among the applications on the list is AVAide Screen Recorder. Users will be able to record their entire screen or a specific region of their screen using this recording tool. With this powerful screen recorder, you can record computer screens, thrilling gameplay, live stream videos, online lectures, favorite tunes, or save a screenshot on your Mac or Windows.
Furthermore, It also captures high-quality audio, which is ideal for recording output. Both the system card and external devices can record audio. However, there are some extra features available. These are the options for quickly deciding on the resolution of your video recording before the process. AVAide Screen Recorder is also a great free screen recorder with a face cam, and it is an excellent recorder.
Pros

It must be simple to use.
It can export to several different formats.
It should be able to record the entire screen and a specific area or window.
It can record videos from external sources.
Cons

You need to download it on your computers.
Part 2. Top 8 Best Open-Source Screen Recorder
1. CamStudio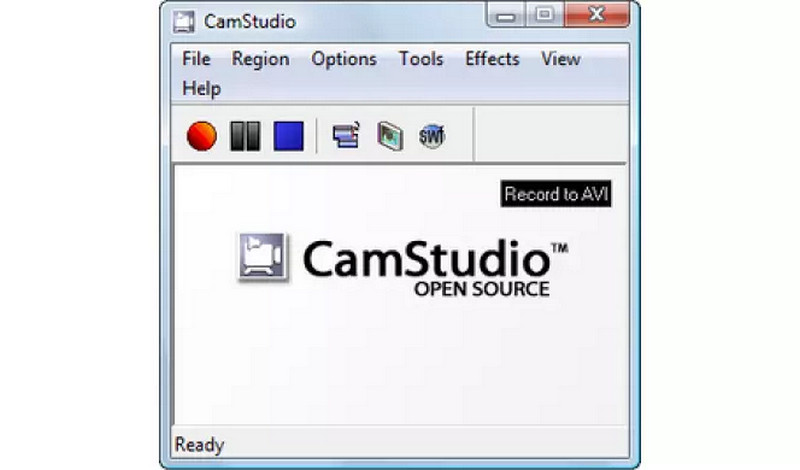 This program is free, open-source software that can be used for personal and commercial projects. However, if you are creating for Facebook or do not want to use your voice, you can use it to record a portion of your screen and add captions. The best part is that it does not include a watermark. We regret, however, that CamStudio lacks the post-capture editing tools that you will find elsewhere.
Pros

There are no watermarks.
It is available for free.
Cons

The only format available is SWF.
Susceptible to malicious software.
Not up to date.
2. Simple Screen Recorder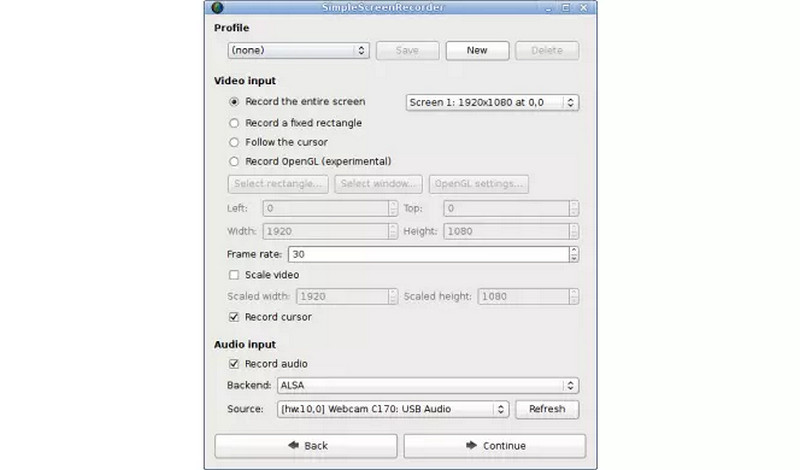 Suppose you're looking for another screen recorder software. In that case, The Simple Screen Recorder is open-source software that can be used to record games and other applications that are running on your display screen. The open-source screen capture software is easy to use and mighty, with many features and a user-friendly interface.
Pros

Can record screen partially or entirely.
Offers pause and resume functions.
Preview support during recording.
It Shows video recording stats.
Cons

Only for Linux.
3. VirtualDub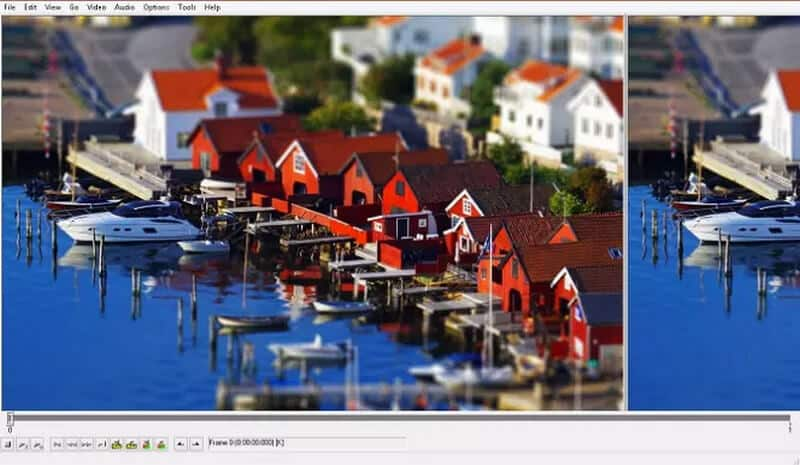 This free and open-source screen recorder is compatible with 32 and 64 bit Windows systems. Furthermore, it includes a powerful video editor, allowing you to fine-tune your screen recordings within the same app. It is a fast and lag-free screen recorder. It has advanced features like noise reduction.
Pros

Set the frame rates.
Monitor the input level in real-time.
Control it with shortcuts and a keyboard.
Cons

The video editor is quite simple.
This open-source screen recorder is only available for Windows computers.
4. OBS Studio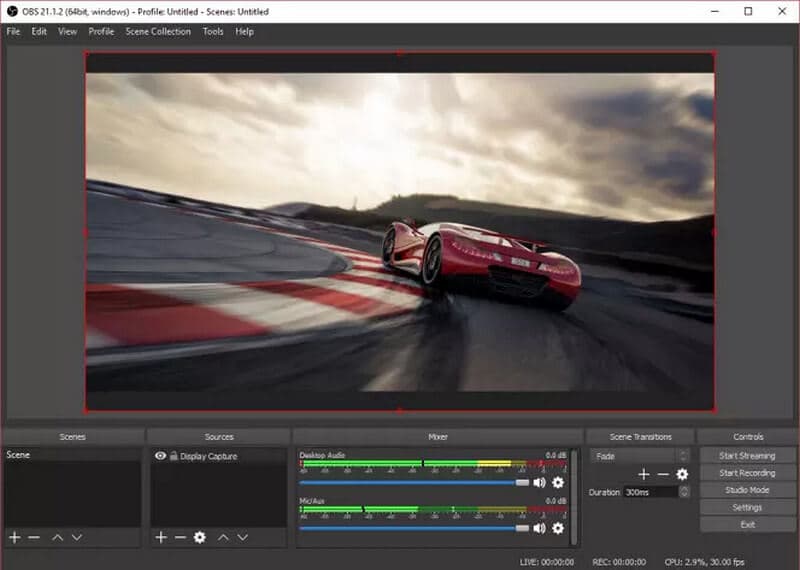 This helpful tool is open-source software that is not intended for novices. It is, however, primarily intended for those who want to stream on YouTube or Twitch. It can, however, be used to record what is happening on your Windows desktop. You can control the program with customizable hotkeys and use the built-in audio mixer to create high-quality videos. OBS includes live streaming capabilities not available in native programs for major operating systems.
Pros

During the broadcast, you can switch from one source to another.
It's simple to edit and design.
It is simple to connect to streaming services.
Cons

The user interface could use some work.
Specifications are limited.
5. ShareX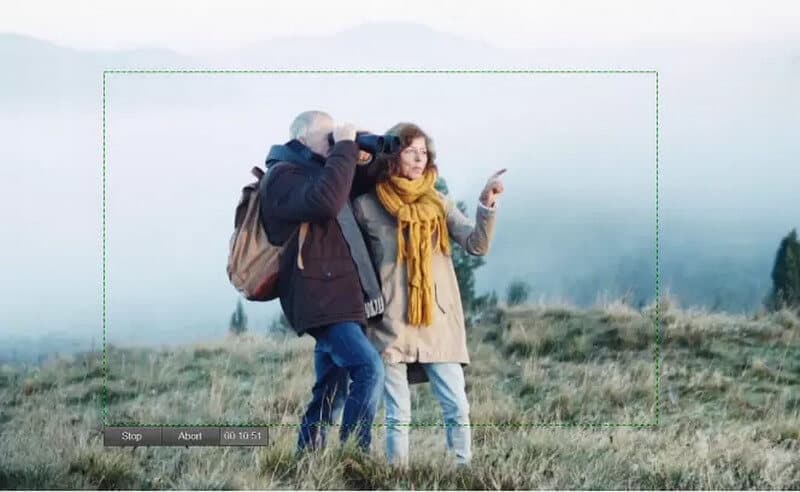 This is a free and open-source Windows video recorder. Because there is no watermark or time limit, you can use the completely free recorder to capture the entire screen, window, or a specific area; if you don't want OBS but want OBS-level quality, this is an excellent alternative. The project's source code remains hosted at GitHub's code development and code-sharing platform. The software is available for Windows Windows 7, Windows 8.1, and Windows 10.
Pros

You can edit the recording image directly.
Lightweight, user-friendly, and ad-free.
You can save the video as a GIF.
Cons

The interface is not intuitive.
6. Vidmore Screen Recorder

Vidmore Screen Recorder is on the list. This software is a versatile video recorder that can capture any activity on your screen and record HD video and webcam. This Mac screen and audio recording software can capture various audio sources to meet your needs, such as system sounds, microphone voice, or both. Separately recorded audio clips also provide you with greater control over the sound of more complex projects. It's also suitable for only recording audio projects such as podcasts or audiobooks, which can be saved in a variety of formats. The audio file's quality can be adjusted at your request. Before saving the recorded audio file, you can listen to it first.
Pros

The user interface is straightforward.
Different video outputs are supported.
Easy to use.
The delay timer is supported.
Cons

This open-source screen recorder is only available for Windows computers.
7. UltraVNC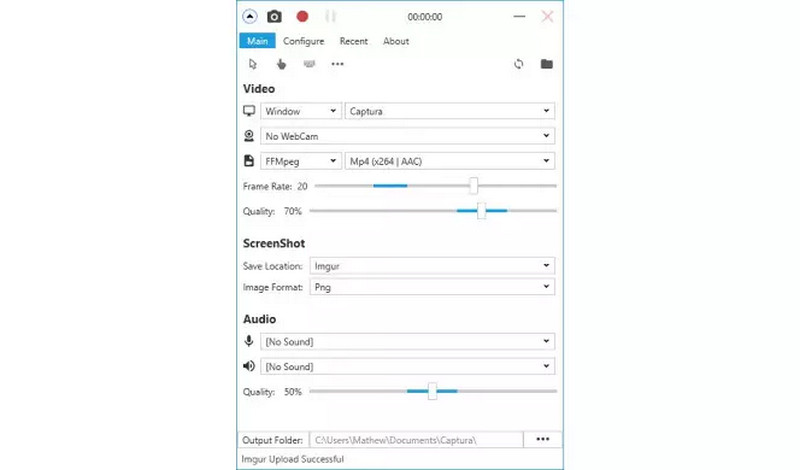 This screen recorder is based on the source code of the old CamStudio. It was not created from the ground up by the developers. To speed things up, they added and removed some codes. The software even acknowledges the original creators of the software. However, it retains its uniqueness.
Pros

You can transfer files.
It works with the vast majority of browsers.
Cons

Router changes on the server's network are required.
It does not allow for remote printing.
8. ScreenCam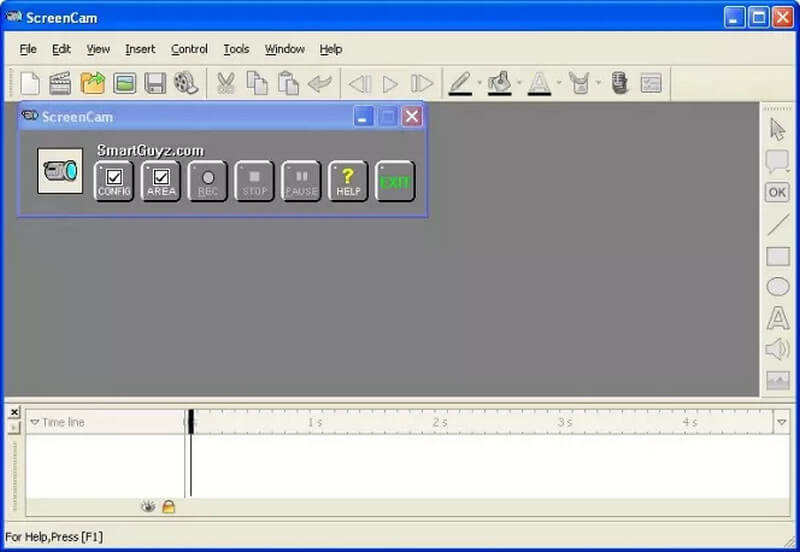 ScreenCam is a Windows-based screen recorder designed for Windows Vista, Windows XP, Windows 7, and Windows 8. There is even a version for Android. It offers a virtual camcorder that you can use to record everything on a Windows desktop. It adds quality interactivity to the elegant package.
Pros

Videos can be exported to the internet.
High-performance recorder.
Easy to use.
It doesn't require root access.
Cons

Problem working on Windows 98.
Extended Reading
Best Webcam Recorder
Best Screen Recorder for Chrome
Part 3. FAQs about Open-source Screen Recorder
Is audio captured during screen recording?
When you record your screen, you can also include video and audio. Use microphone audio from your computer's built-in microphone or an external microphone to narrate your video. Moreover, you can record the sound that comes from your speakers, which is referred to as system audio.
Is it safe to use a screen recorder online?
Yes. Using an online screen recorder is risk-free if you select the right tool for the job.
How long will the screen recorder be active?
The only limitation to screen recording is the amount of space available on your hard drive. Is it possible that the device went to sleep while recording?
Is it OK to screen record?
Technically, suppose the video content is original creative work and copyright protected. In that case, it's not legal to make a copy of it without the permission of the video author or owner. And any file downloading, conversion, or capture behavior would be an infringement.
Are screen recordings confidential?
Maintain the confidentiality of your recordings. Because you do not need to create an account and the recording is made directly on your computer, it remains with you. There's no need to be concerned about sensitive information being uploaded.
Conclusion
We can see massive screen recorders with unique features. Choosing the best among the rest, on the other hand, is critical. In that case, AVAide Screen Recorder is a good choice. It could help you save money and time. You can start with the overview and features. On the other hand, if you think this post is helpful, please share it with others right away so that they can benefit as well.