Screen recording has been dramatically improved and simplified by research and development to the point where any computer user can do it with a few mouse clicks. We researched and compared the ten best free screen recording software available online and offline and presented them in this guide. We hope that this article has assisted you in selecting the best screen recorder for capturing video on your computer based on your specific requirements.
Part 1. Top 10 Best Free Screen Recorder
1. AVAide Screen Recorder

AVAide Screen Recorder is a versatile online screen recorder with advanced features such as customizing the recording area, capturing system audio and microphone, and even adjusting the output video format. This application can record video gameplay, streams, video and audio calls, and any other video-audio activity on the screen. It is entirely free to use both online and offline. In addition, This is the best option if you don't mind having a watermark on your output. The screen recorder can also be controlled using hotkeys.
AVAide Screen Recorder – Record Screen with Optimal Quality
It can record high-quality video and go as high as 4K resolution.
Even though you aren't professional, you can manage to do recording here.
You can record microphones, internal audio, and cameras simultaneously.
The screen recorder is available in Windows and macOS.
Pros

It captures any online video, video call, or gameplay on multiple platforms with no loss of quality and clear audio.
It is a free screen recorder that anyone can use. All media are supported.
You can check all of your completed products in the recording history list with a single click.
Cons

The option to record the lock-in screen is not available.
You must have internet access to screen record.
2. Screenr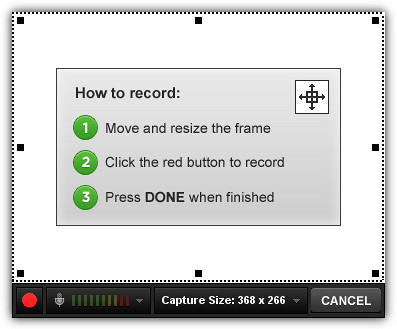 When it comes to online and offline software, this screen recorder tool is at the top of the list. Screenr's PRO plan, which begins at $19 per month, is geared toward business users. Still, it also provides free access with limited features. It's a Java-based online app that lets you record for free for 5 minutes. You can specify the recording area as well as the microphone. Even though this method makes creating a free account much more straightforward, not all users are willing to connect their accounts to Screenr.
Pros

It does not need to be installed. The program is available online.
Videos are effortless to embed.
It may contain live commentary or narration.
Cons

It is not possible to share private videos.
It does not support the addition of captions to movies.
It doesn't let you include webcam footage in your screencasts.
3. HyperCam 2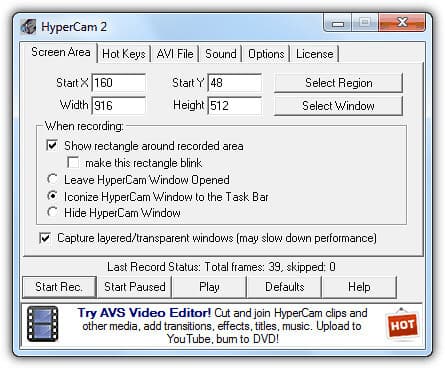 The same people who made HyperSnap, an excellent screenshot tool, created this screen recording software. The most recent version of HyperCam 3 is now maintained and sold by a different company. In contrast, the previous version 2 is still freely available. The HyperCam 2 can record the screen and sound, as well as layered or transparent windows. The ability to move the captured region is a handy and unique feature. The video recordings are in AVI format, and there is no video editing software available.
Pros

The app is simple to use.
Freeware that captures computer activity as films.
Cons

The output format is set in stone.
The software does not come in a free version.
4. Bandicam
This tool is a shareware program, but it offers ten minutes of free recording time with a watermark. The only format in which the recordings are saved is AVI. Bandicam was added to the list because it can capture video game screens using OpenGL or DirectX hooking. Furthermore, because it uses very little CPU power, it is intended to run on slow computers. It's a fantastic tool for anyone looking to record video game gameplay or create Windows tutorials. It's an excellent choice because of its simple controls and good results.
Pros

All-in-one screen recorder that lets you record your computer's screen.
simple-to-use user interface.
It has advanced recording capabilities.
Cons

It is only compatible with Windows. It does not work with Mac, Android, or Linux.
It is not suitable for recording high-quality, high-frame rate games.
5. Jing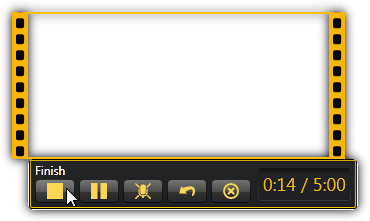 This software is the little brother of Camtasia, one of Techsmith's most potent and popular screen recording and video editing programs. There is a five-minute recording time limit, and no video editing is permitted. In terms of screenshots, it includes fundamental image editing tools for adding arrows, text, frames, and highlights. You can save the captured image or video to your computer or upload it to screencast.com.
Pros

It is a simple and accessible piece of software.
It is straightforward to make a quick recording.
It encourages shorter videos.
Cons

Installation is required for non-web-based applications.
Initially, the Save button was hidden.
There aren't many features.
6. Webinaria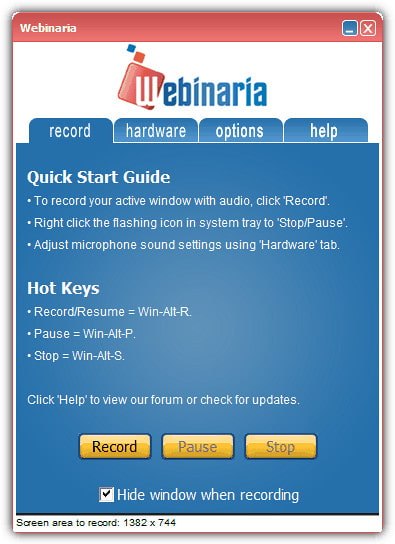 This open-source desktop recorder can record your computer's screen, camera, and sound without restrictions or watermarks. The output file can be saved as an AVI or FLV file or uploaded to Webinaria's website. Using the simple video editor, text can be added to the recording. Moreover, this program is fantastic for e-learning and even demonstrating software features. Software developers can use this application to reduce the amount of technical support required during the process and explain otherwise difficult-to-explain facts in seconds.
Pros

While recording, it does not appear to slow down the system.
The user interface is straightforward.
Cons

Creates large AVI files.
The editor is unreliable and frequently crashes.
7. ScreenCastle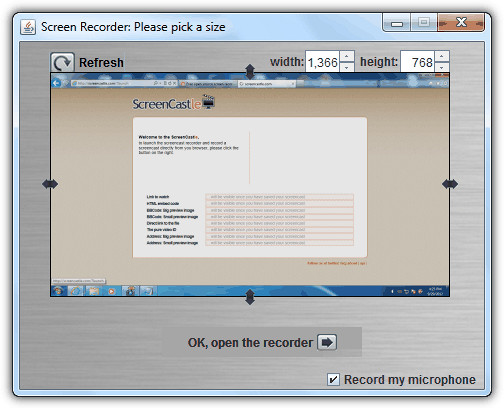 This tool is a Java-powered online application. The recordings have no time limit and no watermark. You can record your microphone and choose the region in which to record. The clips are then posted to a webpage where you can share the link to watch the video or even directly download it. ScreenCastle is the most user-friendly screencasting software available despite its lack of features.
Pros

It's simple, responsive, and simply fantastic.
allows you to experiment with various tools to improve the design.
Cons

The software was not designed to work at high resolution.
Making consistent sound quality is difficult.
8. SCREEN2EXE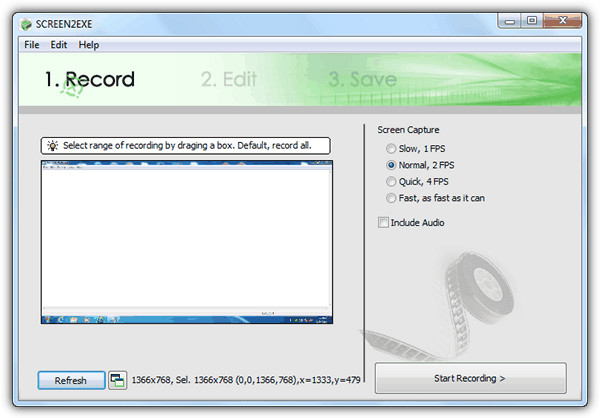 This software is a one-of-a-kind screen recording software because it can generate an executable file, allowing you to play the video without relying on the media player software or codecs installed on the computer. In addition, it also can try to reduce the file size by removing identical frames. Annotation, image, zoom/focus, mosaic, delay, cut clip, and audio-redub are simple editing tools.
Pros

This screen recorder has good support.
It is risk-free to use.
Cons

It can be challenging to use at times.
When uploading the video, it has been reported to slow down.
9. OBS (Open Broadcaster Software)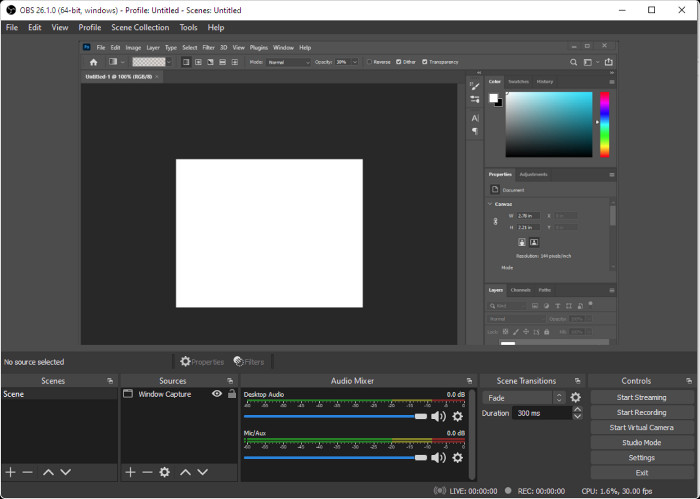 This software is a popular open-source screen recorder for live streaming recording. Scenes can be created from various sources, including images, texts, window captures, browser windows, webcams, capture cards, and more, and then switched between seamlessly using custom transitions. Unlike many of its free competitors, OBS Studio includes a plethora of features and settings. However, all of this may appear to be overkill for those looking for the quickest and easiest way to shoot a video.
Pros

Supports a wide range of streaming services.
There are no watermarks on it.
There is no time limit for recording.
Cons

The program has been reported to crash frequently.
It is not appropriate for quick screen recording.
10. Debut Video Capture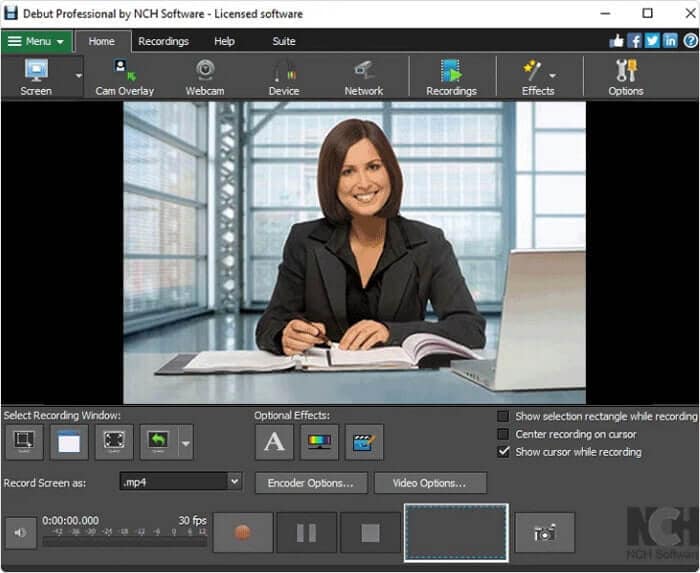 This is a free screen recorder for Windows that can record videos for almost any task. It has an unusual and out-of-the-ordinary interface, but it has advanced functionality. Make mouse highlighting spotlights, show keystrokes, change the background to video, images, or color, add a watermark or logo to your video capture, and even schedule a recording. Moreover, This type of program is advantageous when creating a video tutorial because it can record what happens on screen as a video, allowing you to show how to do anything. It is effortless to use; it will automatically recognize USB devices. You will only need to configure some personal video properties preferences.
Pros

Recording time is unlimited.
Captures images from a network IP camera and other devices.
Several output formats are available.
Cons

Editing options are limited.
Outdated user interface.
There are no interactive or animated features.
Part 2. FAQs about Free Screen Recorder
Are websites capable of detecting screen recording?
If you use screen capture software like NinjaCapture to take a photo or record a web page on your desktop, they won't be able to detect it. The answer is no; websites cannot see user activities such as screen capture.
Which app is the best for screen recording?
Suppose you are looking for the best screen recording software. In that case, we highly recommend AVAide Screen Recorder, OBS or Open Broadcaster Software, Bandicam, and Debut Video Capture because they are professional software that will undoubtedly lighten your load.
Is a screen recorder available in Windows 10?
You can record your screen in Windows 10 for free using the built-in tool Game Bar. You can only record up to four hours of screen time at a time, and you can only record one application at a time. It is not possible to record your desktop or the file explorer.
What is the definition of a free screen recorder?
Using a free screen recorder, you can record your screen with audio. It will then allow you the option to save the recording to your device. The recorded audio can be heard in the browser.
Conclusion
The article examines the top ten free screen recorders in detail. It provides an excellent screen recording experience when recording gameplay videos, lectures, and other content. In addition, if you want a quick and easy action! You can launch AVAide Screen Recorder, which is the most highly recommended. This excellent software is a top-of-the-line screen recorder, as well as a webcam recorder if you want to produce a high-quality recording. It's also available on several different platforms. As a result, there's no need to be concerned about transferring to Windows, or Mac. Why limit yourself to a single supported platform if you want to make a difference? Instead of settling for A-OK, choose the best screen recorder for you.