Choosing an audio recorder program is simple, especially if you know what you need or what features you need, whether you are a novice or a highly experienced pro. A powerful audio recorder like Audacity will provide you with numerous advantages. Apart from capturing audio, it also allows you to listen to your favorite songs. Allow yourself to examine the most appropriate audio recording software for you instead of reading several articles on the internet or trying out numerous audio recorders. In this article, let's look at Audacity as an excellent audio recorder with simple instructions.
Part 1. How to Record Computer Audio on Audacity
Audacity should always be on the list for a quick and easy audio workaround. If you need a professional tool to handle your audio recording, Audacity can help. This professional audio recorder has already assisted millions of podcasters in their audio recording journey. Furthermore, this audio tool is available for Mac, Windows, and Linux users. It provides a spectrogram view of audio for quickly visualizing and selecting frequencies. It also has a noise profile that allows you to remove background noise from audio. This is especially useful when there is buzzing.
Conversely, the bass and treble boost will allow you to produce a deep or manly tone. You can use this free audio enhancer to enhance your music's bass if you want to. Take a look at the video below to see how to use this audio software in the simplest way possible.
Step 1Download the Audio Tool
First, launch the audio tool, and install/download it by clicking the download button.
Step 2Click the Record Button
After you've downloaded the tool, click the record button, and it will automatically start the recording.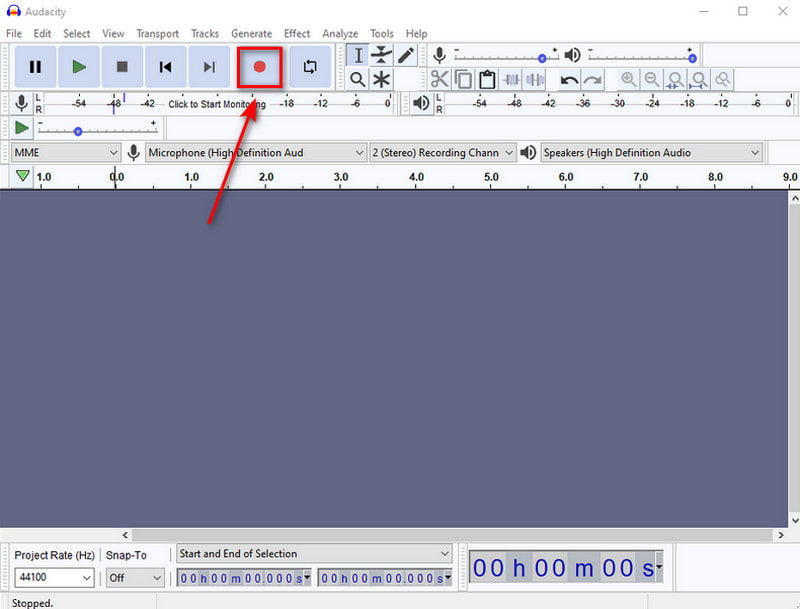 Step 3Click the Stop Button
You can now click the Stop button if you're done with your audio recording.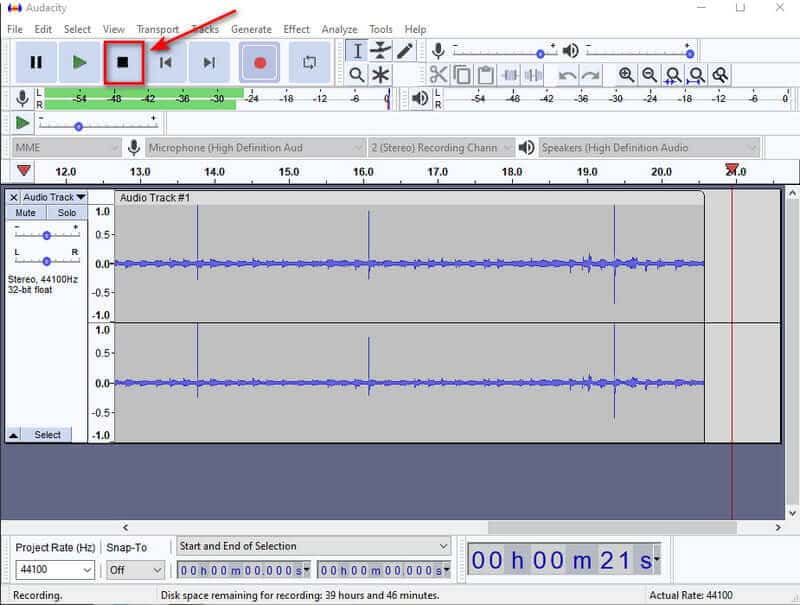 Step 4Export and Choose Format
Lastly, you can now save your final output by clicking the Export button, then choose your preferred format, including MP3, MAV, OGG, etc.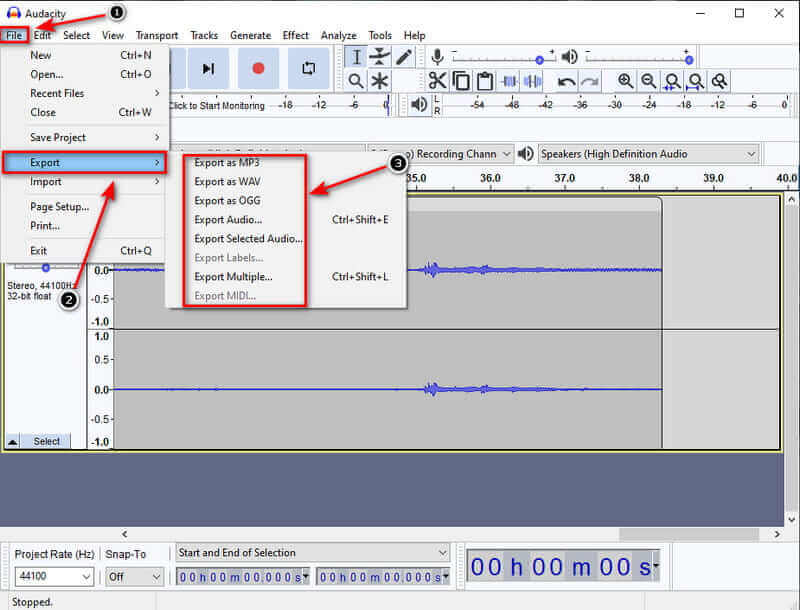 Part 2. Best Alternative to Audacity to Record Computer Audio
1. AVAide Screen Recorder
AVAide Screen Recorder is one of the more recommended tools if you need an advanced audio recorder. Users frequently complain about background noises, so with the help of its new additional noise cancellation, you can record without being bothered by minor background noises. In addition, you can select an output format to ensure that it is compatible with the device to which you are transferring the data. This software has a fantastic user interface that allows users to interact with the software without doing anything complicated. So far, we recommend this as the best audio recording app for Windows or Mac. In that case, let's go over the AVAide Screen Recorder's most essential features.
AVAide Screen Recorder
Record system sound and microphone simultaneously with no restrictions.
It can export high-quality audio.
Other advanced features are also available for a comprehensive tool.
Compatible with Windows and Mac.
Step 1Launch AVAide Screen Recorder
First and foremost, download the AVAide Screen Recorder by clicking the download button. It will not take you an eternity. In just a minute, you will instantly download it.
Step 2Choose Audio Recorder
Select Audio Recorder, and the mini floating bar will show on your screen. In this area, you can now activate the system sound and the microphone you have.

Step 3Start Recording
By clicking the REC button, you can now begin recording. Then the recording will start after the three seconds interval. If you've finished recording, kindly click the Stop button.

Step 4Export Recorded Audio
Lastly, you can now start exporting the audio recording by clicking the Export button below and clicking the Complete button to download the recording on your drive.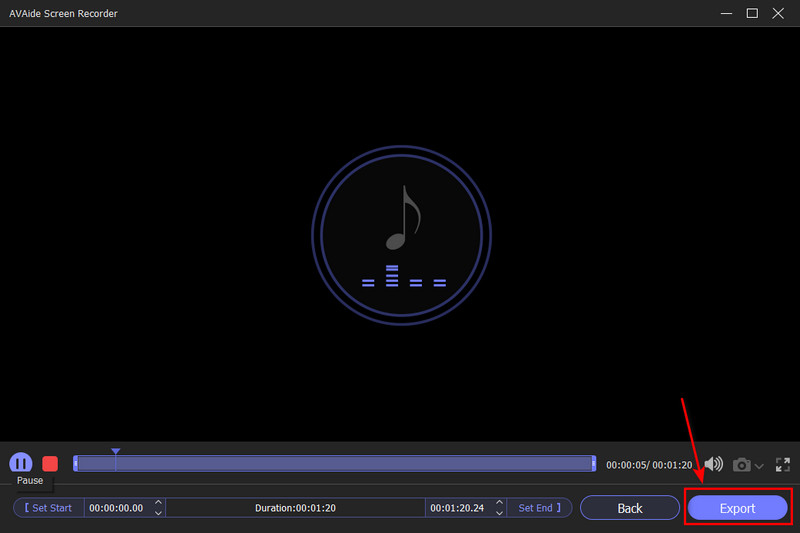 2. Windows Voice Recorder
This program is an option if you're looking for a different tool to record audio. It is simple and has the necessary functionalities to record and share audio tracks. It is simple and has the essential functionalities to record and share audio tracks. In that case, Windows Voice Recorder is a simple application that necessitates the use of microphones. In addition to basic recording, the built-in microphone on your device, a webcam microphone, or any microphone will suffice. If you need to make a quick audio recording on your Mac, this is a good option because you won't have to download anything, and it's entirely safe for use. Follow the steps below, including everything you'll need to get started with audio recording.
Step 1Install the Software
You can start the built-in program by clicking the Get/Install button. Launch the app from the Start menu to record audio on your desktop.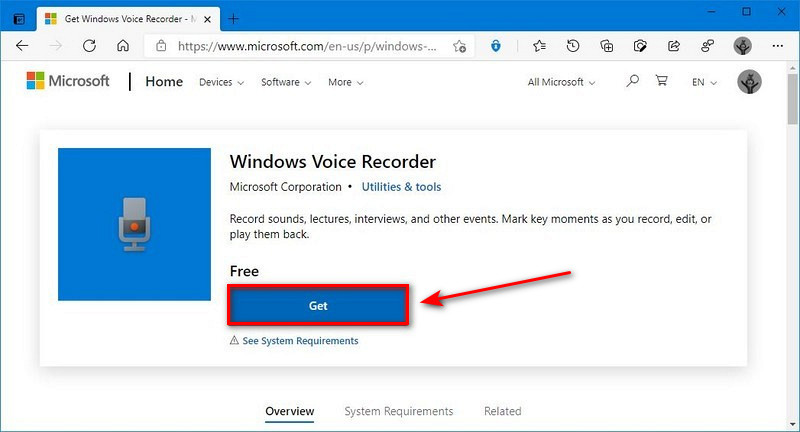 Step 2Start Recording
To begin recording, click the Start button, search for Voice Recorder, and click the Record button. However, you can start recording by pressing Ctrl + R on your keyboard.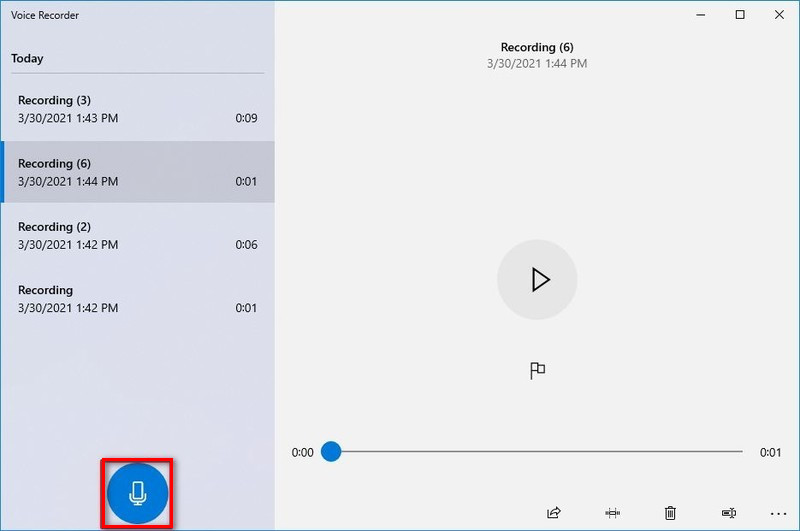 Step 3Click the Stop Button
To stop recording, click the Stop button. You can stop recording by pressing the Backspace, Spacebar, Enter, and Esc keys simultaneously.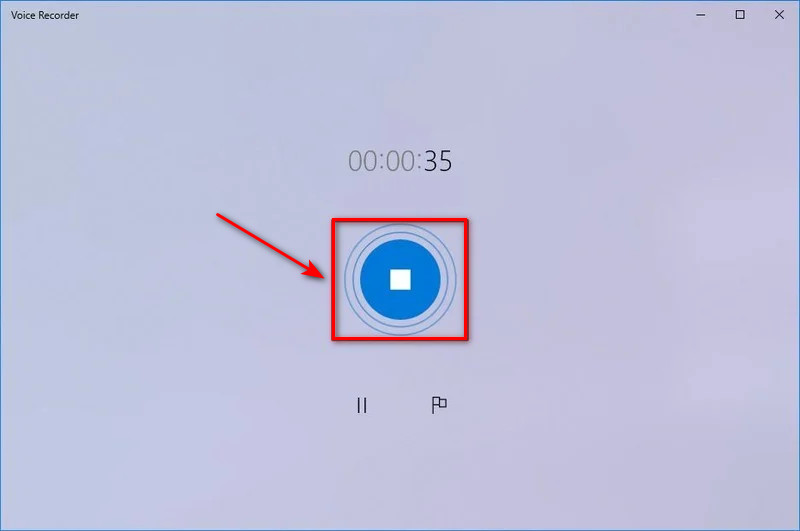 Part 3. FAQs about Audio Recorder
How can I improve the audio in a video?
Suppose you want to improve the audio quality of your video clips. In that case, you can use video editing software such as Quicktime and Audacity. These apps can correct the sound and improve it further by removing unwanted audio parts.
Is it safe to use a voice recorder online?
Rev is the best option for a simple and effective online voice recorder. It is completely free to record your voice and download the MP3 file. This tool is encrypted, so only you have access to your recordings.
Can you only record audio?
8K TVs finally became available in sizes and prices that the average TV shopper could consider this year, but 8K adoption is still stalled by one glaring omission: there is still no 8K content.
Is it possible to use my iPhone as an audio recorder?
You can use the iPhone as a portable recording device to record personal notes, classroom lectures, musical ideas, and more with the Voice Memos app located in the utility folder. Editing tools such as trim, replace, and resume can help you fine-tune your recordings.
What is the purpose of an audio recorder?
A voice recorder registers sound and converts it into an audio file that can be easily transferred to another device. They are available in various features, with multiple bells and whistles–both as standalone recording devices and smartphone apps.
Conclusion
We discovered that the recorders here have excellent recording potential through our tests. However, suppose you want a writer that outperforms the competition. In that case, we recommend AVAide Screen Recorder as the best and easiest-to-use audio recorder of all time.