You may have heard how this Actions Screen Recorder can greatly assist you in recording your screen. This popular program has been making names due to its features on gameplay recording. We know how popular online games are nowadays. In fact, a lot of game players are making profits out of this by posting their gameplays online as their vlog content. On the other hand, are you sure that this screen recording from Mirillis is the only one that fits the gameplay recording task? We mean that many recording tools can do this job.
Fortunately, you have made your way to reading this post. Because we will tackle all the features, benefits, drawbacks, even the steps on how you will use the Action game recorder efficiently, hence, without further adieu, let's start the ball rolling.
Part 1. An Overview of Action Screen Recorder
Action is a screen recorder owned by Mirillis that claims to be the most advanced screen recording platform today. This screen recorder of Mirillis has been simultaneously being updated until it reaches the support of real-time 4K HDR video for broadcasting experience as its latest update as of 2020. In addition, it has multiple features that support capturing online gaming, presentation, meetings, and more. Just like the other, you can use the Action Screen Recorder for free when you acquire its 30-day free trial and expect it to be lesser in potency. While many are getting hooked on this screen recorder, many users are disappointed to know that it only works on desktops operated by Windows only.
Features:
◆ It has a facile and intuitive interface that depicts all the presets and parameters needed for screen recording.
◆ It contains the HUD Display, which shows the framerate information, status icon, 3D engine detector, and many more.
◆ Strong live streaming that integrates online streaming sites easily.
◆ High-resolution recording, with the support of MP4 and AVI videos for export.
◆ Green mode that works to remove the background when using a webcam.
Pros

Requires low CPU usage
It can record a webcam.
It enables audio recording.
Cons

It is not totally free.
No Mac version.
No display custom.
Not able to adjust bitrate.
It contains a watermark
Minimal support of video format.
How to Use the Mirillis Action Screen Recorder
If your device is operated by Windows 7,8,8.1,10 and Vista, you will likely succeed in obtaining this screen recorder. For this reason, you can rely on the guidelines below for you to follow in using it.
Step 1Customize the tool once you install it for you to improve its optimization. On its main interface, look for the Area mode, under the Video Capture option, for you to get the framerate display.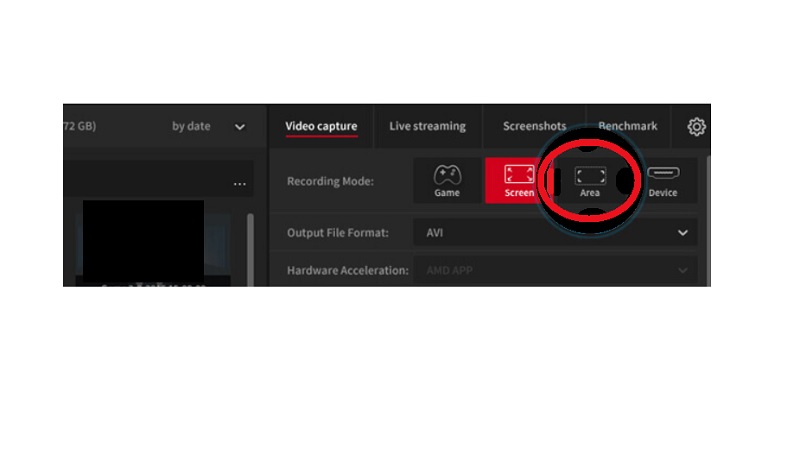 Step 2Once you get the framerate display, long-press the mouse to hold it. If you need to adjust the area, click the SHIFT + Arrows on the keyboard. Then, hit the red circle indicating the Record key to capture the screen using this action game recorder. You need to hit the same button to stop the recording.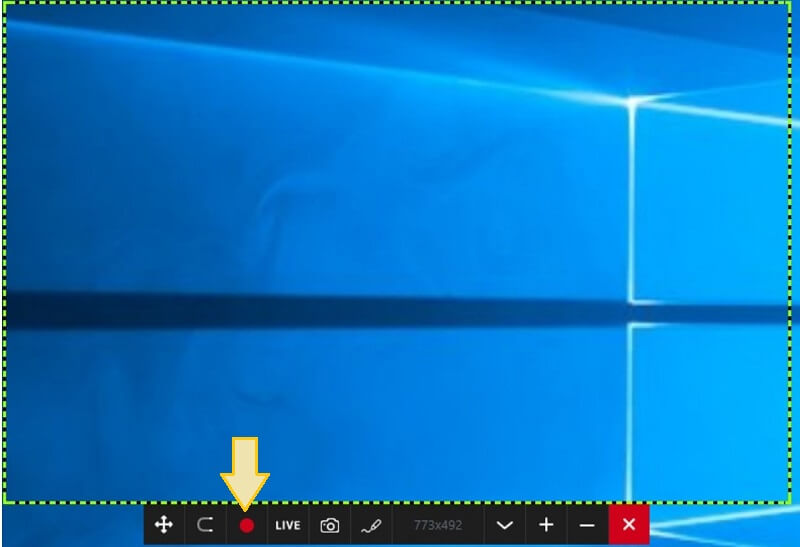 Step 3After that, bring yourself to the interface again to check for the recorded video. Note that you can export the video to your favorite online video streaming site directly once you choose from the options in the interface.
Part 2. The Best Alternative to Action Screen Recorder
If you are looking for a flexible, still multifunctional tool, same with the previous screen recording, AVAide Screen Recorder is the one that will cover it. This rookie software remarkably provides powerful features and tools on Windows, Mac, and iPhone. In addition, this screen recorder can capture the game's action, detail, and highlights you want to capture in 1080p quality. Not to mention, its audio recorder allows you to change the sound source while recording.
Also, unlike the previous tool, AVAide Screen Recorder gives its best features even with its free trial version! With unlimited assistance in catching highlights, it's freely giving you the chance to shoot the screen showing the best event on your video. See? It has everything you need!
Features:
◆ HD recorder that records gameplays and videos to high quality.
◆ Screenshot feature that works in one click.
◆ Video editing tools like trim, drawings, volume optimizer, and more.
◆ Music, computer audio, mic, and audio call recorder.
◆ The picture-in-picture feature is the same as the Action game recorder.
◆ HUD bar display.
Pros

Straightforward interface.
It allows webcam recording.
It produces non-watermarked outputs.
No Ads bugging.
It requires low CPU usage.
Cons

Not totally free.
How to Use the AVAide Screen Recorder
Step 1Acquire the Software
Click the download button presented above to get this fantastic screen recorder quickly.
Step 2Choose a Recorder
Launch the software, and choose among the recorders you want to use. You may choose either the Video Recorder or the Game Recorder action to capture. On the other hand, you may explore the More icon to see the other recorders you can use.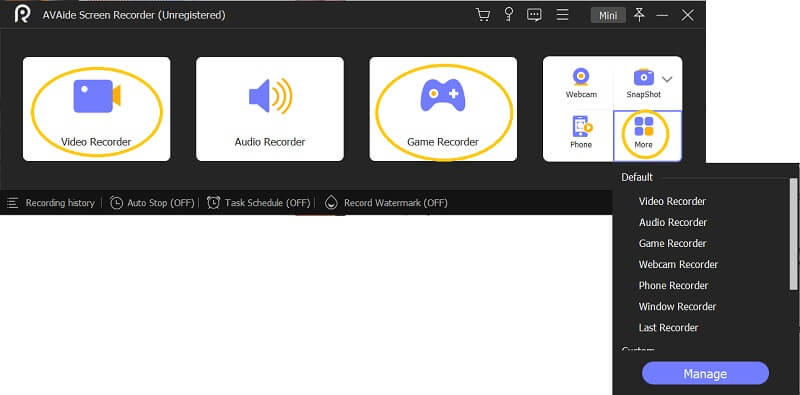 Step 3Configure the Recording Display
Now, configure the framerate by toggling ON the display section and choosing whether the Full or Custom. Then, on your screen, feel free to adjust the panel accordingly.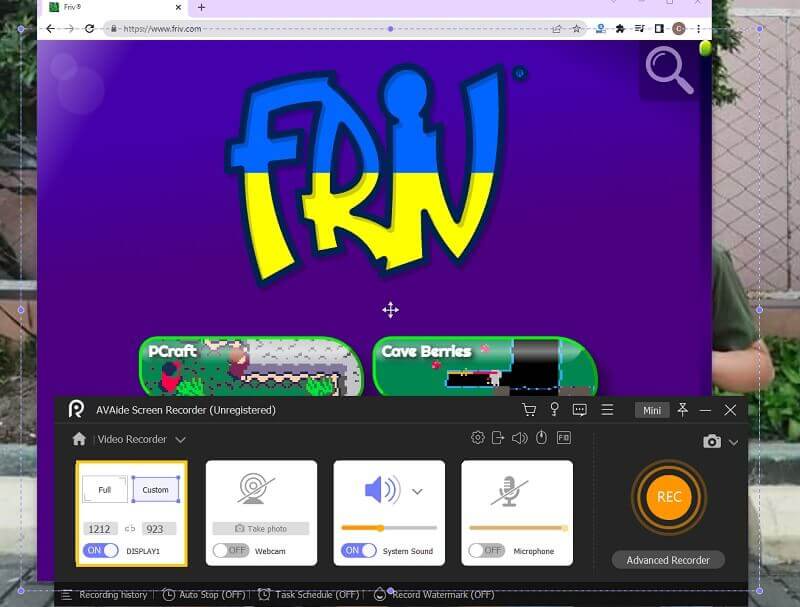 Step 4Begin Recording
After adjusting, you may proceed to record. Click the REC button, and enjoy recording your screen. Hit the Stop red icon from the HUD bar display when you're done.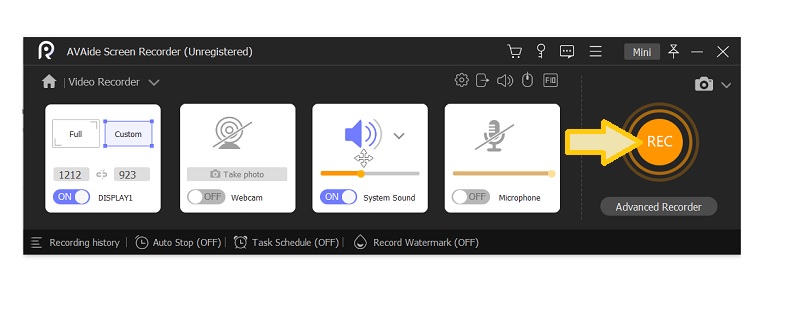 Step 5Export the Recording
Upon hitting the stop button, a new window will appear. You will get to trim the recording and take some screenshots by clicking the Camera icon. If you're good with the output, click the Export.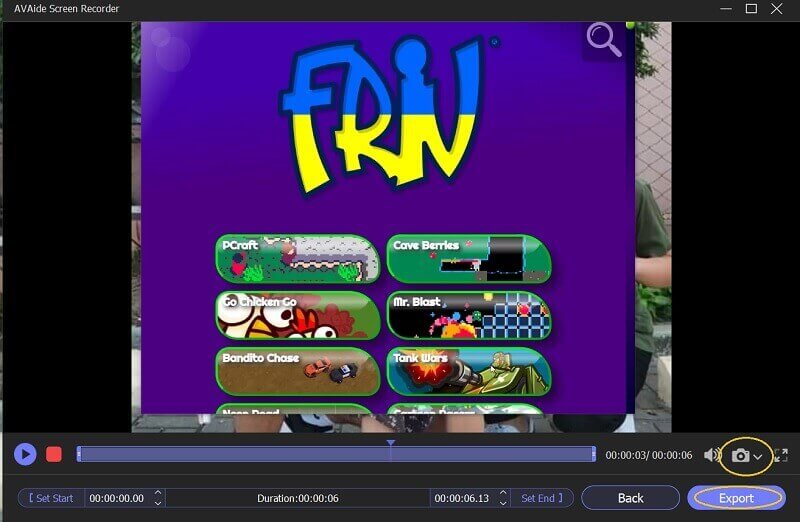 Part 3. FAQs About the Action Screen Recorder
Can I record my games in Action Screen Recorder on Mac?
Unfortunately, you won't be able to use the Action recorder on your Mac. It is because this software doesn't have a Mac version yet. Therefore, if you don't have any medium to record your game besides Mac, use the AVAide Screen Recorder!
How much do I need to avail myself of the Game Recorder of Mirillis?
Even though the Mirillis game recorder offers a free trial, it will only last 30 days. Hence, if you decide to purchase, it offers $19.77 for a start.
Which is better? Action or AirShou Screen Recorder?
Both of them carry beautiful features and tools. However, technicality and efficiency-wise, the Action Recorder gets higher votes than AirShou Screen Recorder.
Conclusion
Now you have enough knowledge about the Action Screen Recorder, and it's time for you to validate if it's worth installing or not. Indeed, it's great software to record your game, but unfortunately not that flexible enough to serve you. For that reason, we recommend you to use AVAide Screen Recorder and get the chance to have the most flexible and powerful recorder in history!