Furthermore, since most of the talks are spontaneous, you must have a reliable recorder to get everything in detail, not a recorder that stops suddenly or, in most cases, produces noisy and grounded sound quality. No one would like to waste their time with a substandard voice recorder. Therefore, by looking at the content of this article, we will introduce you to the best voice recorders for Android.
Android phones have their default voice recorders, yes. But, this won't supply users with great features and reliable performance. After all, you know this fact; you're here looking for the best alternatives, right? Therefore, let's begin reviewing these top 10 hot picks of the experts, and see what will suit you most.
Part 1. Top 11 Best Voice Recorder for Android
Top 1. AVAide Screen Recorder
If you opt to record using your computer device besides the voice recorder for Android, nothing can beat the power of the AVAide Screen Recorder. Yes, this screen recorder can amazingly produce the best quality of voice, audio, and music for you. What makes it more interesting? It can record your audio from your Android comfortably and securely! Furthermore, it comes with robust features along with other recorders such as video games, phones, and more! The simple steps that you can follow below can lead you to record your voice from Android instantly!
AVAide Screen Recorder - Phenomenal Recorder for Android
It records your voice, music, and videos from your Android efficiently.
With vast support of various file formats.
It allows external microphones and headsets in recording.
A virus-free software that can be acquired easily.
It comes with the most intuitive interface.
Step 1Launch the tool after you acquire it for your computer device. Then, choose the Phone Recorder from the interface. Then, pick the Android Recorder from the next window.

Step 2After that, follow the given steps you need for your Android to connect to the software.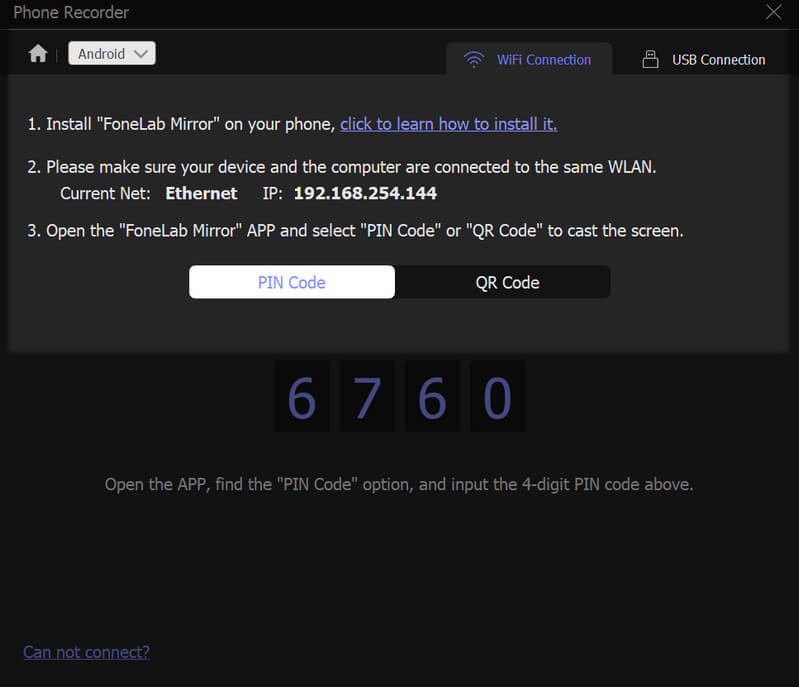 Step 3Once you successfully link your phone to it, you may start the task. On a new window, customize the preset depending on your preference, then, hit Record. A floating bar will appear, where you can find the stop button, click it anytime you want. Then, save the file.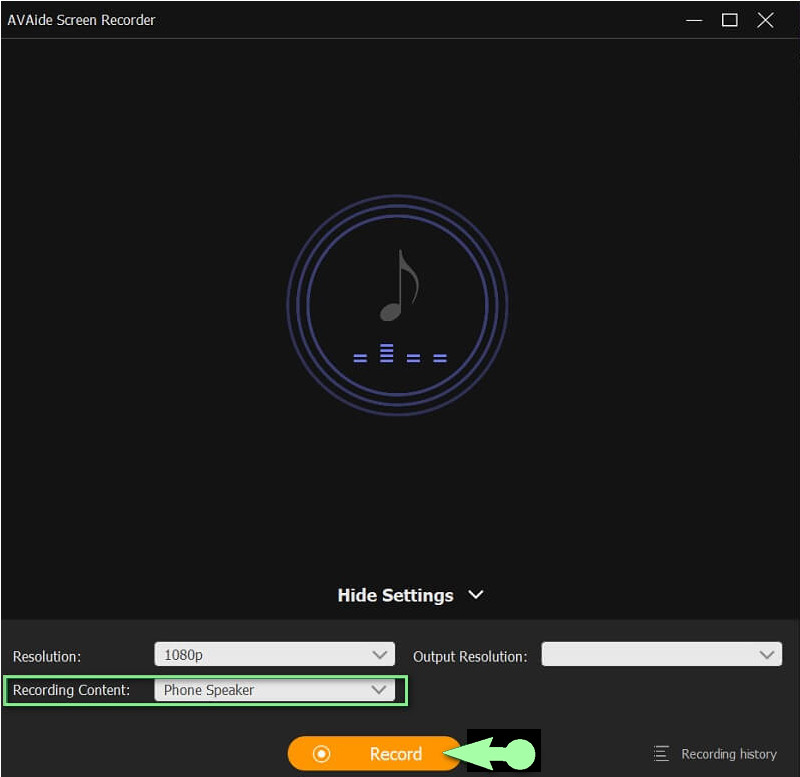 Top 2. Smart Recorder
Smart Recorder is one of the best voice recorder apps for Android. As its name suggests, it has innovative features that enable users to record high-quality audio files within its fascinating and easy interface. In addition, as part of its beautiful features, it offers a live audio analyzer and battery life preservation. However, recording phone calls using the Smart Recorder is not permitted.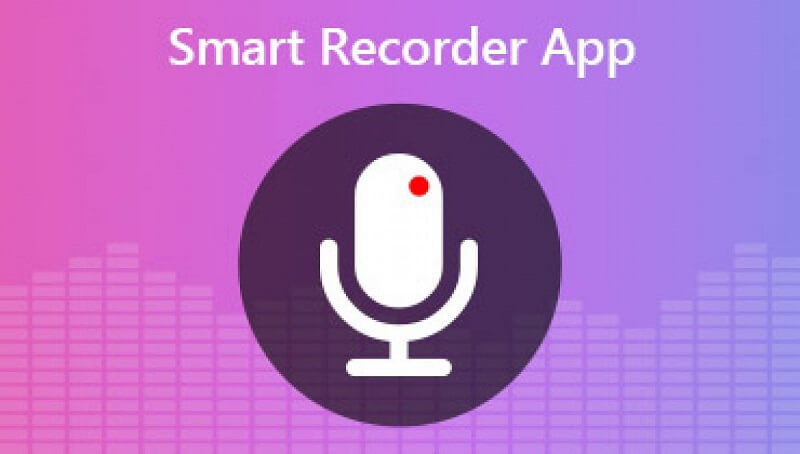 Pros

It enables users to adjust the sample rate.
Keep the file according to your preference.
It offers to skip silence mode.
With a facile interface.
Cons

No phone call recorder tool.
Exclusively for Android.
Top 3. Easy Voice Recorder Pro
Second, on the list, is this Easy Voice Recorder Pro. It is a fantastic voice recorder app for Android due to the limitless recording session it offers to users. For this reason, long lectures, meetings, and other long conversations can be easily captured while compressing them in smaller files. Despite that, this Easy Voice Recorder Pro enables users to increase the quality of the recording by allowing them to connect their high-end mic to the recording.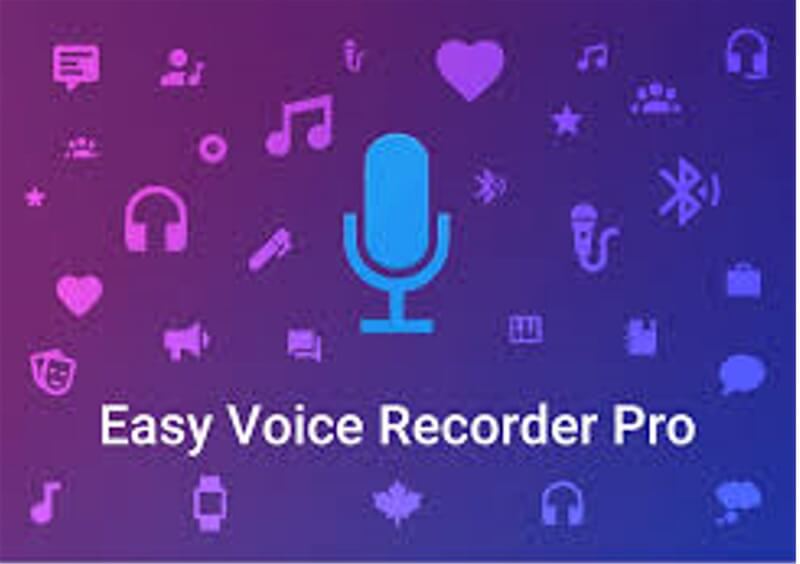 Pros

It allows users to make their recordings as their ringtone.
It has wide-range support for various audio formats.
It enables stereo recording.
Uses an easy to use interface.
Cons

Its editing tools are limited.
It's not free from ads.
Top 4. Hi-Q MP3 Voice Recorder
No experience in recording lectures, interviews, and long conversations? Don't worry because this HiQ MP3 Voice Recorder will provide you with the easiest and most efficient procedure on how to record voice on Android. However, this will only be possible if you upgrade to its pro version because the free version only limits the recording to less than 10 minutes. But, it assures you that you will get an excellent audio recording experience if you upgrade to its pro.
Pros

It offers modern tools.
High capabilities in file management.
It comes with a straightforward interface.
Cons

Upgrade to pro to experience most of the tools.
It doesn't permit recording using an external mic.
Top 5. Neutron Audio Recorder
Neutron Audio Recorder has made everything perfect in recording audio while maintaining its professional-like atmosphere. This voice recorder for Android offers basic recording enhancements tools and powerful features such as the 60-band equalizer, DSP filter, silence detector, metadata editor, configurable digital filter, direct access to USB, and more. However, it is pretty confusing for newbies based on the kind of interface.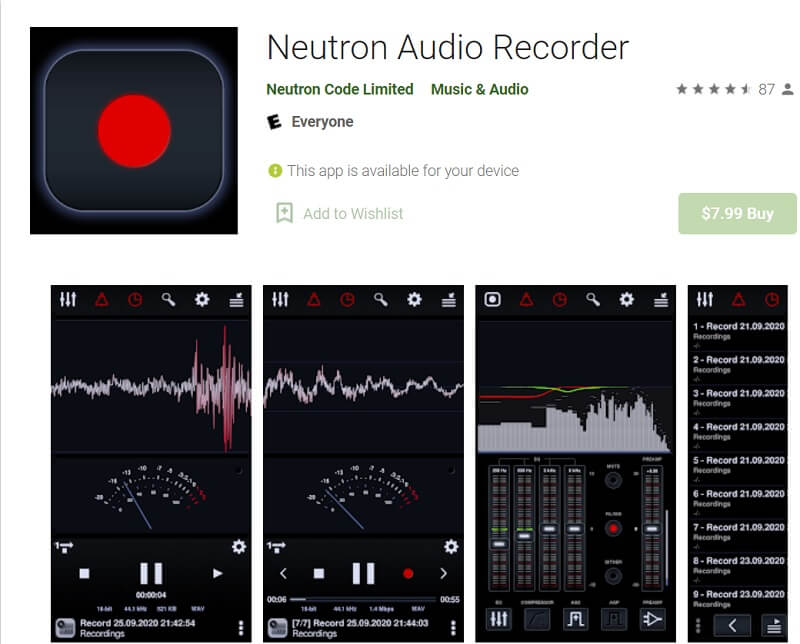 Pros

It supports other OS as well.
With wide-range support of different formats.
Able to store outputs on an external drive.
Cons

Confusing for beginners.
Top 6. Voice Recorder
Next in line is this free Voice Recorder that amazingly performs without any restrictions. Moreover, it offers an audio spectrum analyzer that works to visualize the sound freely. Not to mention its power to preserve your phone's battery by resuming the recording even when your screen is off. It is one of the best voice recorder apps for Android, yes, but since it's a free tool, you would find it bugged by many ads. Nevertheless, many are still hooked by this due to its additional sharing capabilities, which makes the users easily send their recordings to their friends.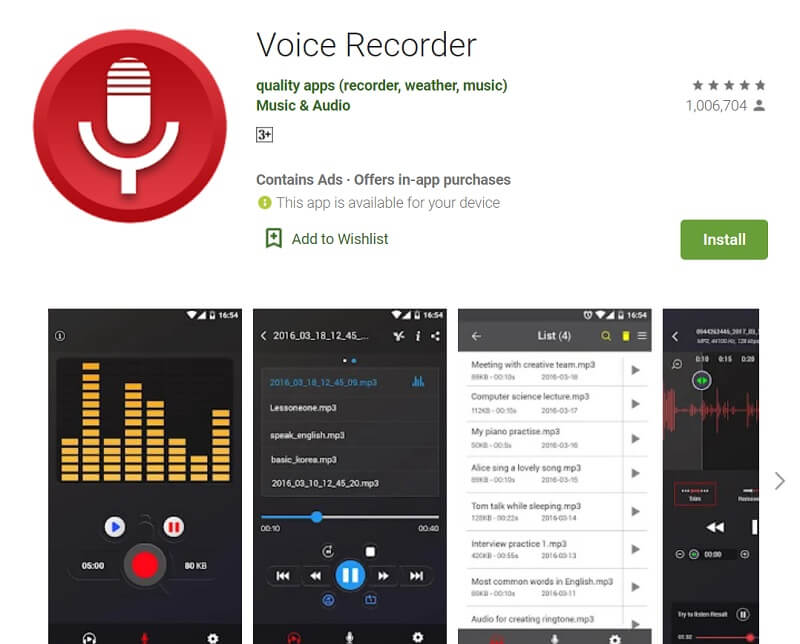 Pros

It's a totally free app.
Easy to navigate.
It comes with a calibration tool.
Cons

Not audio editing tools.
Only supports two types of audio formats.
Many ads are popping up.
Top 7. RecForge II Audio Recorder
Another gratis recorder for your Android is this RecForge II Audio Recorder. Yes, this tool is a free app that enables you to record in stereo or mono mode aside from giving you access to connecting various types of external mics. In addition, this voice recorder app for Android comes with essential tools that can edit the tempo, pitch, and playback rate of the recorded files. Not to mention its ability to perform even while using other apps simultaneously. However, since it's a free tool, expect it to be running with ads at some point.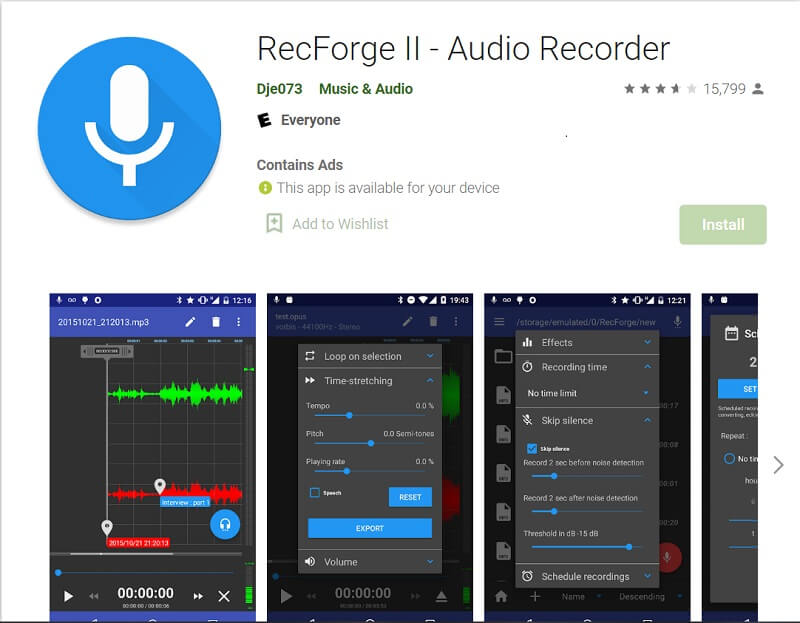 Pros

It offers audio enhancers.
With wide support on different audio formats.
The tools are versatile.
It allows sharing the outputs online.
Cons

Confusing for beginners.
Some file formats have a limited duration.
Many ads are popping up.
Top 8. Music Maker Jam
Music Maker Jam offers tons of in-app purchases that can turn your recordings incredibly great. No wonder why it's chosen to be one of the best voice recorder apps for Android because this tool allows users to apply effects, with more than 300 mix packs supported by multi-channel recording. So, if you love music that also loves composing songs, this Music Maker Jam is for you.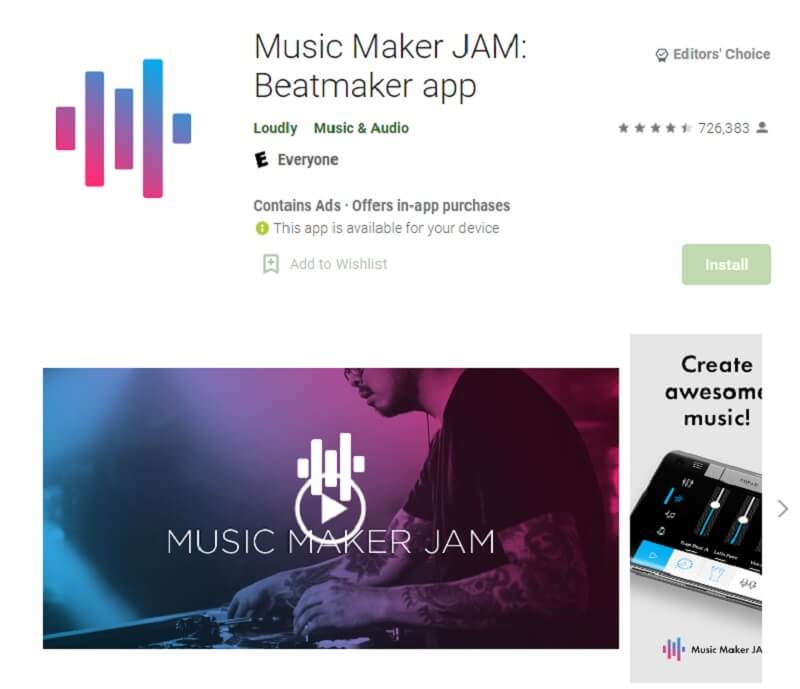 Pros

It comes with eight-channel mixers.
It offers powerful audio editing tools.
It lets you use its 300 mics packs.
Cons

It's for musicians.
It contains ads.
It's free, but you need to purchase in-apps.
It doesn't support any external mic.
Top 9. ASR Voice Recorder
Next on the list is this flexible ASR Voice Recorder that is rich in editing tools for your recorded files. If you want to experience how to record voice on Android professionally, the ASR Voice Recorder can be a good choice. Moreover, it allows you to edit your recordings to control their playback speed, skip their silence, add notes to them, and re-arrange them more. In addition, it can be connected to external devices such as microphones and headsets to experience more personal and higher quality.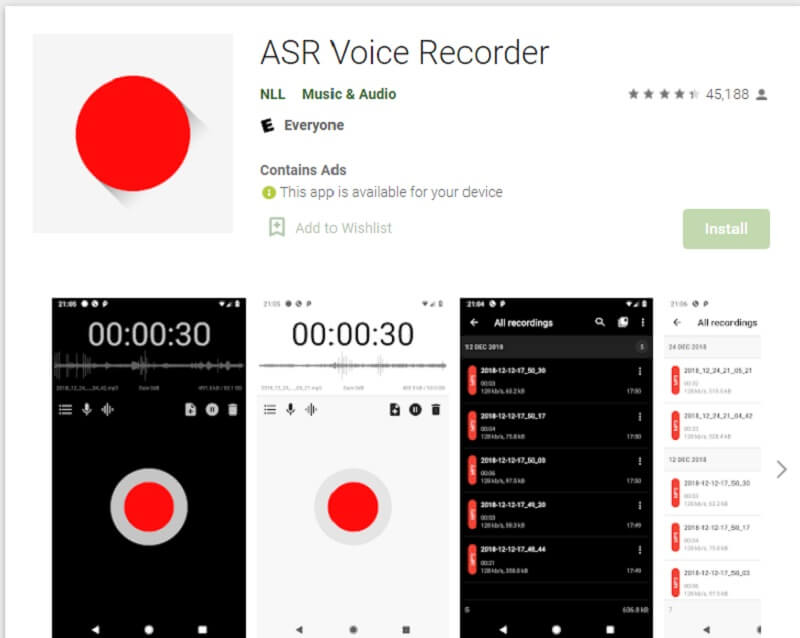 Pros

A free tool with great recording options.
Supports multiple audio file formats.
With an easy sharing capability.
It allows various uploads from different drives.
Cons

It's not ads-free.
It doesn't have audio transcription selections.
Top 10. Otter: Meeting Note, Transcription, Voice Recorder
Otter is an adorable voice recorder app on Android that is an incredible game for transcribing live recordings. This means it is capable of editing real-time recordings with its editing tools that enable collaboration, photo, and slide applications within its AI speakers on the go. However, unlike the previous apps, the Otter Voice Notes can't give a full gratis program. Although it offers a free trial version, still all its wonderful and potent aspects are in its pro version.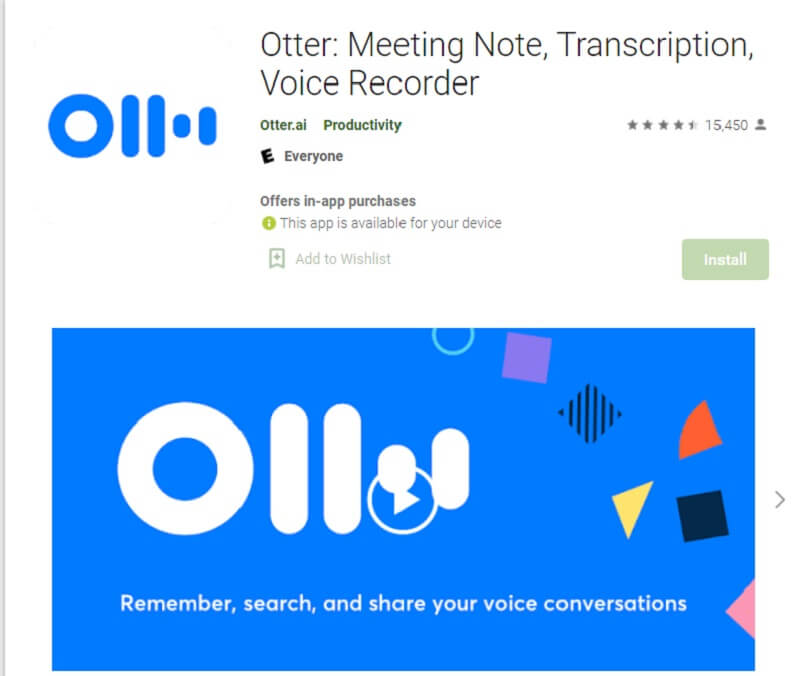 Pros

It makes collaboration easier.
AI powers it.
It records quickly in one tap.
Cons

The pro and in-app purchases are pricey.
Its features are best for teams.
Top 11. Tape-a-Talk Pro Voice Recorder
Finally, our top 10 best voice recorder apps for Android are the Tape-a-talk Pro. The Pro version comes with everything you need, including high recording quality, basic editing tools and settings, multiple themes, no ads, and integrated cloud storage. Moreover, this app will also enable you to use your external mic for a crystal created sound.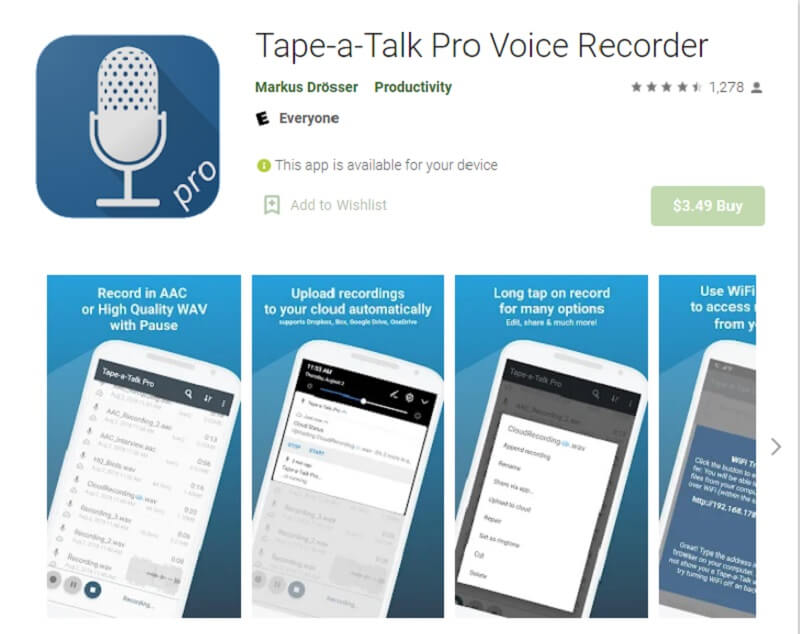 Pros

It works on many fronts in a recording.
Comes with a noise-canceling feature.
High-quality sound on output.
Cons

With a working issue on Note 9.
Not that user-friendly.
Part 2. FAQs About Voice Recorder on Android
What is the name of the built-in voice recorder for Android?
The built-in voice recorder of your Android is named Recorder. If you can't find it on the tools, try to search for it in your apps.
How to record voice on Android in speaker mode without a third-party tool?
No. iMovie is exclusive to editing videos and doesn't have the ability to record screens.
Can I record my phone calls using my Android?
Yes. Most of the latest Android phones have a built-in phone recorder. You will find it once the call is ongoing.
Conclusion
There you go, the ten best audio recorders you can use on your Android. Indeed, all of them come with a great front within a reliable and remarkable audio and voice recording performance. However, as some of these voice recorder apps on Android also perform well on computer devices, the most amazing will always be recommended, just like the AVAide Screen Recorder. You can also use it to record audio on your iPhone, grab your voice from the microphone, and capture FaceTime calls with ease.