Android phones have been very in demand these days. Because aside from having this device for communication purposes, they are mostly used for mobile gaming due to their processor, which best handles most of the online and offline games. But, are you one of the multitudes of people who love to play mobile games such as Roblox? While others are content with playing alone, many are still fond of making a vlog about their games for a profitable reason, more or less. In many cases, the vloggers themselves turn into mobile game recording as their content. But whether it's for the vlog or not, you still need the best screen recorder for Android with this task!
Part 1. 9 Best Screen Recorder for Android
1. AVAide Screen Recorder

If you opt to record your Android screen using your desktop, then AVAide Screen Recorder should be the one to use. In fact, this amazing screen recorder has been labeled as award-winning software due to its flexibility, jaw-dropping features, and tools. Moving forward, if you want to experience a smooth, intuitive, powerful, and efficient screen recording procedure, shift to this AVAide Screen Recording. Not to mention its ability to record the Android screen on your PC using its phone recorder!
Pros

With a wide range of support in different output formats.
It supports Windows, Mac, iOS, and Android devices.
It comes with a built-in video editor.
No watermarks and ads.
Cons

It will require you to download it.
You need to purchase it to access other features.
2. AirShou Screen Recorder

AirShou is probably one of the most popular screen recorders today. Who would not know this full-featured app that applies to using the camera and drawing on the screen while recording? In addition, it also allows users to create animated GIFs and produce recorded videos with and without watermark while setting up an unlimited duration in the recording. Moreover, this Android screen recorder works with internal audio, making it popular as one of the best audio recorders of all time.
Pros

It gives HD quality output.
Offers an intuitive interface.
It is an Ads-free tool.
Records audio in a noise-canceling feature.
It supports emotions on a small overlay window.
Cons

It isn't easy to install.
It is sometimes lagging.
3. AZ Screen Recorder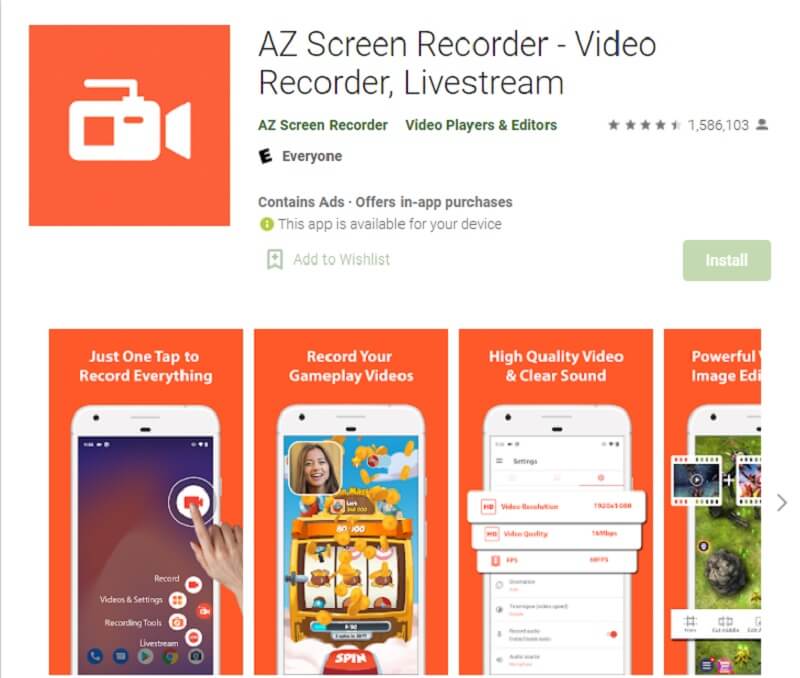 AZ Screen Recorder is one of the most remarkable screen recorders for your mobile device. If you are looking for an app with enormous features, it should be on your top list. Imagine this app will let you webcast your screen tag along with its other features that enable you to make an animated GIF, screenshots, and draw while you record on the Android screen. But of course, no app is perfect, for even this AZ Screen Recorder holds its drawbacks.
Pros

It comes with a video editor.
It has hassle-free utilization.
It allows users to use the front camera on webcasting.
It records with external audio.
Cons

The outstanding features are only on the Pro version.
The free version has a lot of Ads.
With playback issues sometimes.
4. SCR Screen Recorder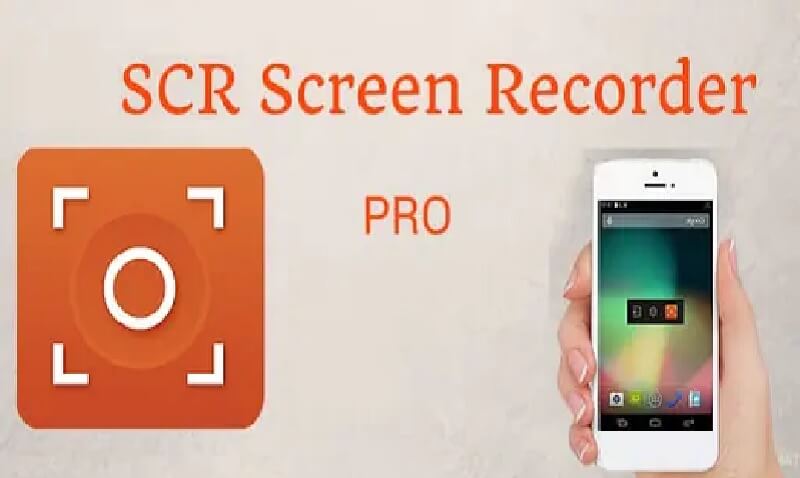 Next on the list is this premium video recording producer SCR Screen Recorder. Furthermore, it has great features that will embellish your video even before recording it. Part of its fidelity, this best screen recorder for Android enables users a complete monopoly on the entire settings on the video by providing many resolutions, encoders, and audio sources to bring a wonderful experience with them.
Pros

With a wide range of support on various mobile devices.
It produces high-quality outputs.
It comes with an intuitive interface.
It comes with video editing features.
Cons

The free version produces watermarked outputs.
All the great features are only on the pro version.
Ads are everywhere.
5. RecMe Screen Recorder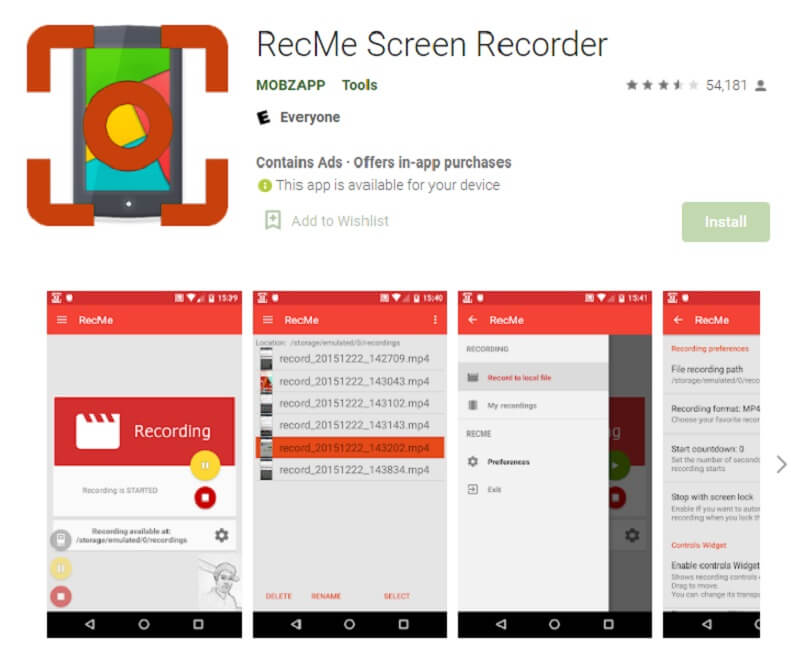 One of the factors to consider the app the best is its capability to record unlimitedly, just like what this RecMe does. Furthermore, this app allows users to take screenshots while in a current recording session tag along with its powerful features that can enhance your recorded video, screen drawing, image overlay, and more!. Oh, not to mention that this Android screen recorder also records with internal audio. All of these make it real on the top of the list!
Pros

It requires no root.
It produces high-quality screencasts.
With a built-in mic.
It comes with a lovely interface.
Cons

No rear and front camera overlays on the free version.
The free version is full of Ads.
6. DU Recorder

Now, if you are looking for an app that will let you edit the video right after the recording, use the DU Recorder. Yes, you read it right. This fantastic app will let you enhance the video in real-time using the same interface you used in recording. Despite that, just like the previous app, DU Recorder doesn't also require you to root your device just to install it. In addition, this best screen recorder for Android lets the users use face cam external mics to record the screen with audio. However, just like others, it comes with free and paid versions that are seemingly very easy to distinguish.
Pros

With a straightforward interface.
You can personalize the watermark.
It allows background and music applications.
It can produce animated GIFs from the recorded video.
Cons

With Ads bugging while using it.
It sometimes crashes.
7. Mobizen Screen Recorder
Mobizen Screen Recorder made it to the best apps in 2016 selected by Google. Well, why not? It has one of the cleanest recording procedures without a recording button, via the hidden air circle mode. Furthermore, it has tons of features, including the face cam function, multiple editing tools, full HD screen recording, and limitless duration capabilities. No wonder even today, Mobizen Screen Recorder is still one of the best screen recorders for Android.
Pros

Chosen by Google to be one of the best.
High-quality outputs.
It comes with a prebuilt video editor.
It allows putting background music on the video.
It has no limit in screen recording.
Cons

It produces outputs with a watermark.
Ads popping everywhere while using it.
8. MNML Screen Recorder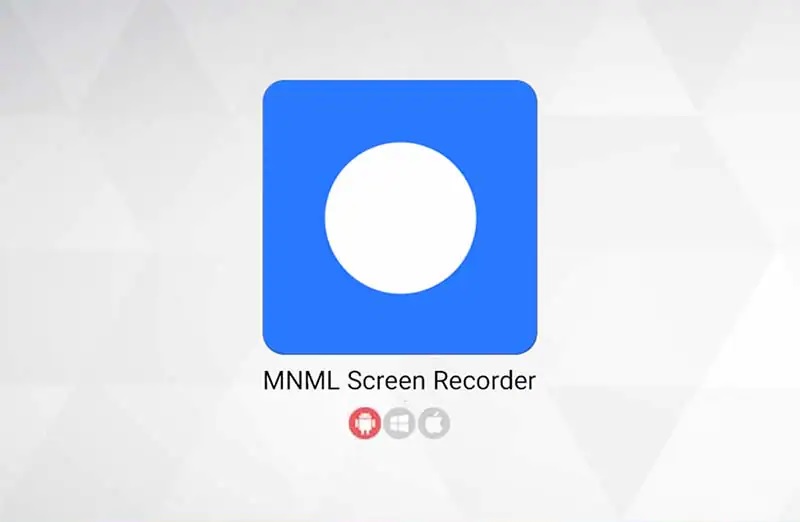 If you are looking for a stylish interface, the MNML Screen Recorder is the best with it. This free screen recorder app will give you excellent tools and features without letting you think that it is overwhelming. And it is because of its easy-to-use interface that is why even its procedure in screen recording can be done most smoothly and quickly. Consequently, just like the others, this best screen recorder for Android won't eat ample space on your device, making it easier to acquire.
Pros

It is hassle-free to use.
It's completely free.
No watermark on the outputs.
Cons

The tools are not that much.
It sometimes crashes.
9. Rec (Screen Recorder)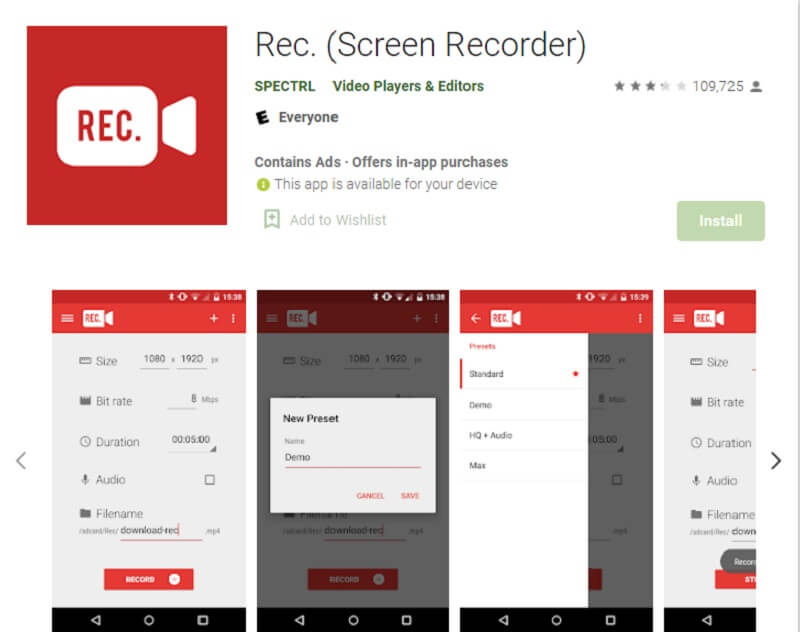 Last but definitely not least is this Rec. This intuitive app lets users record their screen in five minutes, yet with the high-quality screencast with its free version. On the other hand, if you will avail of its premium version, it will let you record up to 1 hour with better and higher quality. However, Rec requires device root for it to bring out its greatness. Despite that, it is still counted to be one of the best screen recorders for Android and is continuously sought after by professionals.
Pros

It comes with an intelligent process.
Its interface looks good.
Allows customizing timers in a recording.
Cons

It's pricey.
Part 2. FAQS Regarding Android Screen Recorder
How to record the Android phone screen on a PC?
This is an interesting task to do if you only use a prime screen recorder software on your PC like the AVAide Screen Recorder. This tool has a phone recorder that can easily record your Android screen using a mirror method.
Can I record my mobile screen even without a third-party tool?
Yes. Most mobile devices have a built-in screen recorder. However, that built-in app can only give you a very limited feature.
Can Android's default screen recorder record audio as well?
Yes. The built-in screen recorder enables you to record the system and microphone sound.
Conclusion
To conclude, the apps presented here are nothing but the best. However, even though some of these eight best screen recorders for Android have their desktop version, the AVAide Screen Recorder still hits on top of them. With it, you can capture Android & iOS screens, record FaceTime calls, save online meetings, and more. Therefore, if you seek a great screen recorder for a PC or Mac, this powerful tool is what you need.