To capture audio using a technology platform, audio recording software is used. It is necessary to have both professional and amateur audio recording software. Users can record their own or another person's voice and save it to their preferred location. Furthermore, these programs allow you to manipulate audio to meet the needs of a specific project. Aside from that, the best audio recording software includes various tools for polishing recorded audio that we will discuss in this article.
Part 1. Top 10 Best Audio Recording Software
1. AVAide Screen Recorder

There's an excellent tool for you if you're looking for excellent audio recording software. This software is more than just a screen recorder; it also includes a webcam recorder, a game recorder, and an audio recorder. You record any sound in high quality, such as 320kbps. Users can also choose a file type to ensure that the data is compatible with the device to which it is being transferred. This software has an outstanding interface that allows users to interact with it without doing anything difficult.
Pros

Allows you to record audio and video simultaneously for free.
It can record any sound that comes from your computer.
Functionalities that are simple to understand and have a professional appearance.
Cons

It is necessary to install the software.
2. Wavepad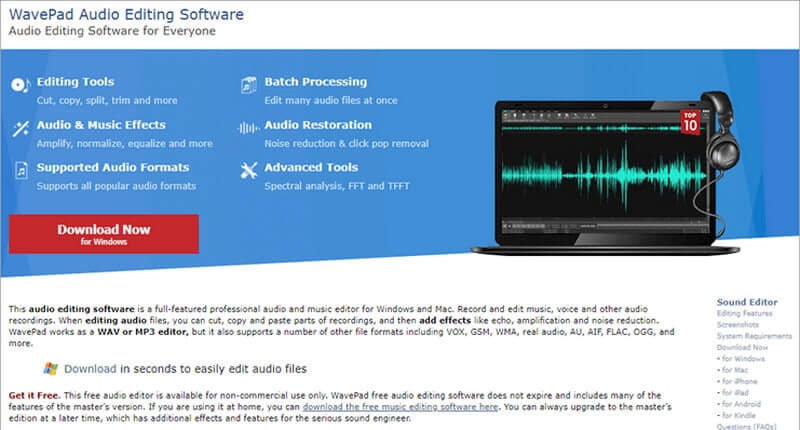 WavePad is close to the top of the list. It has a clean and straightforward user interface. Still, it also includes many advanced features, earning it a spot on this list. WavePad can record audio, mix it, remove background noise, and edit silences. Furthermore, the tool has a highly customizable toolbar that allows users to drag and configure software tools at their leisure. This will enable users to create a more personalized experience.
Pros

The best aspect of this program is the high quality of its end product.
It is a wave editor that allows users to have more control over the final product.
Cons

The program is unable to work efficiently with multiple files.
This program's mp3 editor does not produce high-quality results.
It only supports a single audio track.
3. Ardour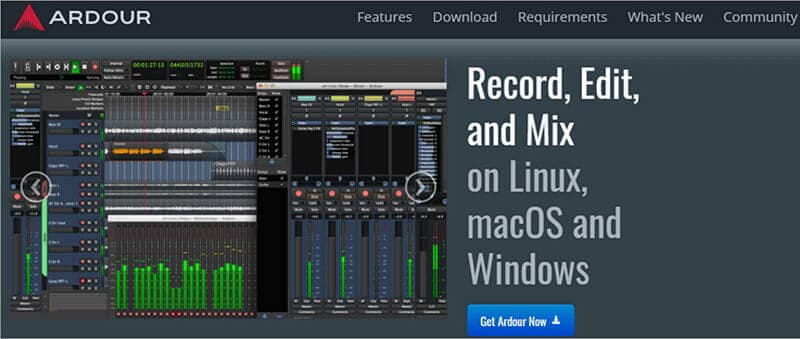 Ardour is more concerned with improving the only recorded voice. It is open-source software that works with almost all current operating systems. It has an easy-to-use interface and a slew of intuitive features that help to improve the quality of recorded audio. You can easily cut, stretch, and split your recorded audio here.
Pros

A plethora of plugins and add-ons are available.
Recording on multiple tracks.
Drag and drop the audio file into the editing window.
Cons

It is not user-friendly.
There are too many plugins.
Pre-built releases do not come cheap.
4. Ocenaudio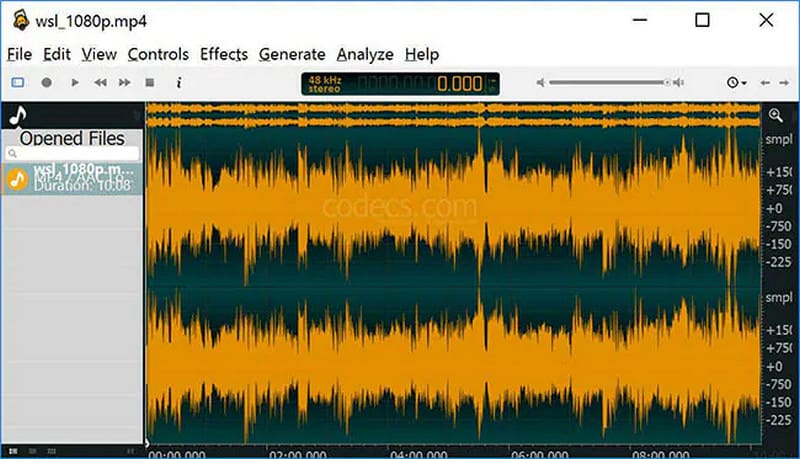 This audio recording tool is one of the intelligent editing software that handles all aspects of audio recording. It is an excellent audio recorder, but it is most useful as a refined and powerful audio recorder. Furthermore, the tool allows users to apply various audio effects and preview them in real-time while editing is still taking place. You can also listen to, edit, or apply effects to multiple parts of the same audio simultaneously. As a result, it is compatible with Windows, Mac, and Linux.
Pros

It is a quick and straightforward audio recorder.
It has a live preview.
You can listen to the audio and apply effects to it.
Cons

The file cannot be loaded directly from a CD by the program.
The work rate is slow because the program cannot be run on multiple screens.
5. Audacity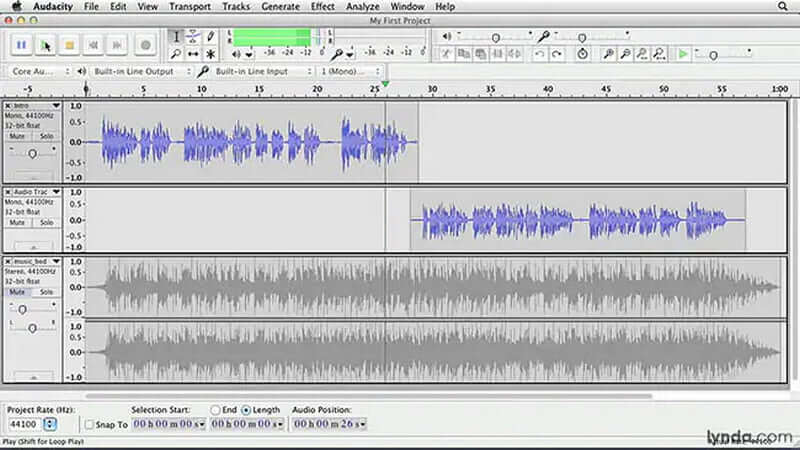 It is a piece of free software used to record audio professionally. This high-performance program ensures that recorded audio is shared across multiple platforms. The built-in panel has been upgraded and is now highly advanced.
Pros

This program also supports multitrack editing.
It is a portable program that can be used to correct pitch.
Anyone can use the simple user interface.
Cons

This program's noise reduction tool requires an upgrade.
The ability to record to tape is currently unavailable.
When opening the software, there is occasionally a lag or a break.
6. Sound Forge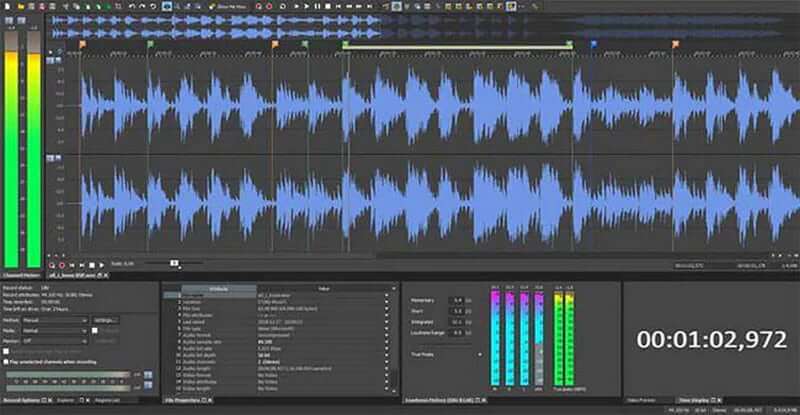 This software is best suited for users who want complete control over the audio editing process. It is highly advanced and ensures that all work is done precisely. From Red Book CD creation to sound design and mixing, this program gives users complete control and authority over the process.
Pros

With one-click solutions, users can efficiently process audio tracks.
This program has simplified audio digitization and restoration.
It can quickly complete a wide range of audio editing and mastering tasks.
Cons

This program does not support multiple VST GUIs.
The program only provides 32 bits of power, which is extremely limited.
Every time, saving large files takes a long time.
7. MixPad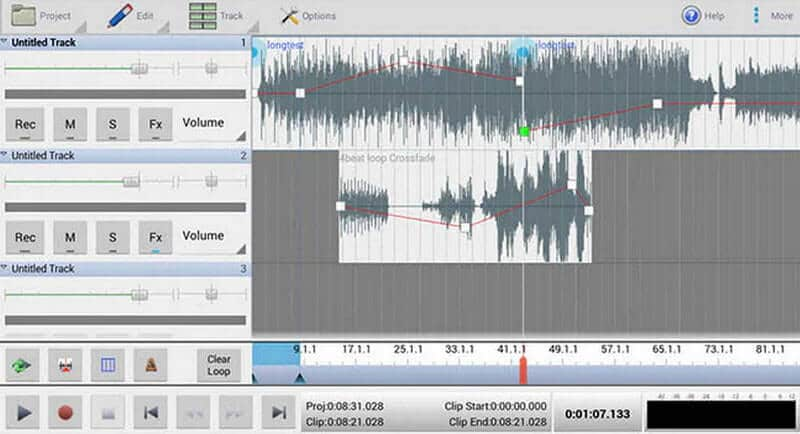 This platform has dramatically simplified audio processing and mixing. The program's interface is straightforward, allowing for careful audio data processing. The program also supports cloud storage, ensuring that the user's hard work is always safe and secure. In addition, the program can mix an unlimited number of tracks simultaneously. Depending on the circumstances, multiple or single ways can be processed simultaneously.
Pros

The latency rate is meager, and the program also supports ASIO for accurate processing.
Simple and straightforward, but by no means deficient.
Audio effects such as EQ, compression, and reverb can be applied flawlessly.
Cons

Only sample rates of up to 96 kHz are supported, which is less than the sample rates supported by most other mixers.
The program only allows for exporting sound files up to 32 bits in size.
8. Wavosaur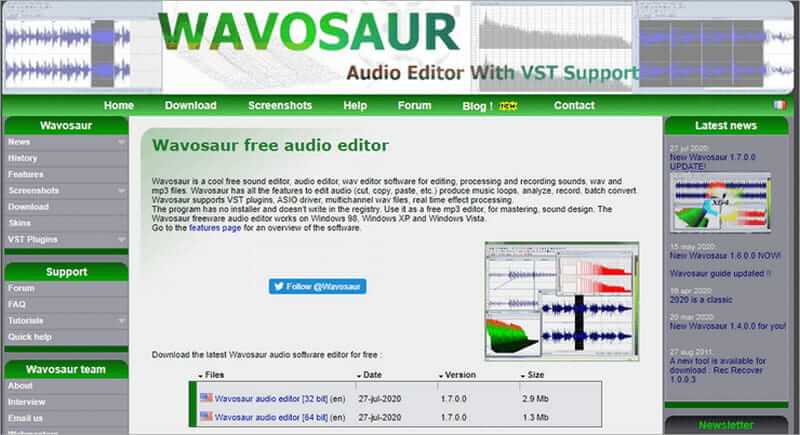 Wavosaur is yet another in a long line of powerful audio processing tools that includes a sound recording feature. Wavosaur's offering is relatively straightforward. It is a tool for recording, editing, and mixing audio for various purposes. It also has a clear interface that does not overwhelm its users with unnecessary aesthetics. In addition to recording, the tool can be used for audio conversion, music loop production, sound design, and much more.
Pros

It is wholly virus-free and ad-free software.
It runs and processes quickly and without crashing or freezing.
It supports VST plugins.
Cons

For a beginner, the interface is complex and confusing.
It can only handle small audio files.
When loading large files, some errors may occur.
9. Adobe Audition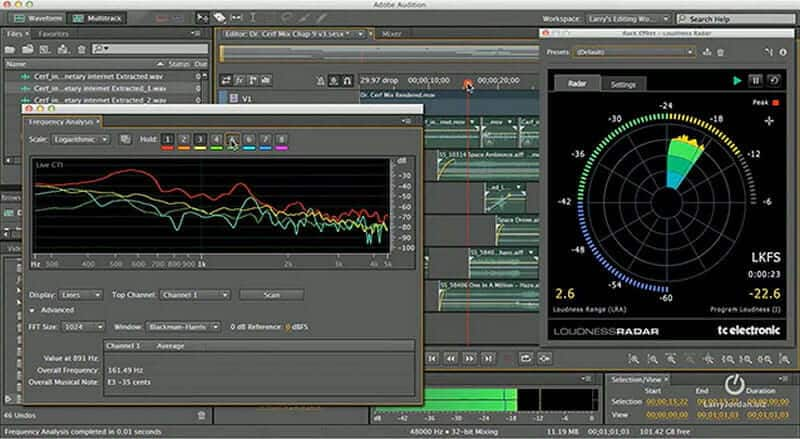 This recording software is widely regarded as one of the best and most advanced programs. It is a program that will help the user progress, and it is backed by years of Adobe experience. It is highly recommended for all users who want to record audio professionally. It also includes multitrack, wave editing, and audio restoration tools to assist you in achieving the best results.
Pros

The audio break can be flawlessly repaired.
The platform can be used to create amazing podcasts.
It includes excellent presets and effects that make editing a breeze.
Cons

The interface is high-tech in nature and takes some time to master.
Because it is expensive, not all users can afford it.
Because complete MIDI sequencing isn't yet supported, it's only audio.
10. Spek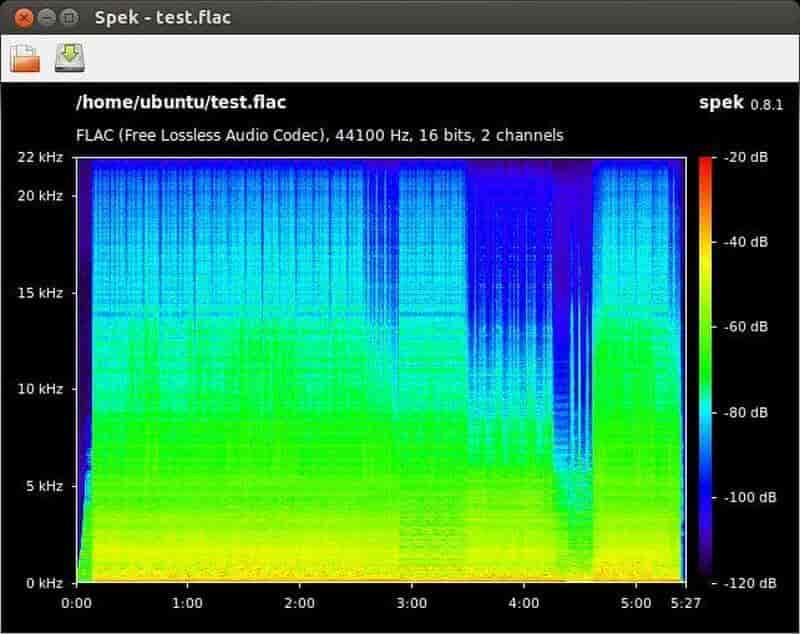 This audio recording tool is free and allows users to bypass the issues that other audio recorders issue. The interface is simple to learn, and thus the overall usage is simple. The software is well-known for providing lossless quality. It also works with the FFMPEG library. Furthermore, the program's drag and drop support is highly efficient, and the program supports standard audio formats.
Pros

The program's spectral density range is also adjustable..
The spectral density rulers allow for time auto-fitting.
Cons

The program is licensed under the GPLv3 license, which is now defunct.
The codec names are hidden, as are the audio signal parameters.
Part 2. FAQs about Audio Recorder
How long can you use an audio recorder?
It depends, so check your recordings' file type, audio format, and data rates. So long as it has sufficient power and space.
What exactly is the function of an audio recorder?
Using a recorder to capture audio not only aids memory but also improves factual precision, providing a basis for accuracy and efficiency in professional, academic, and personal contexts. As a result, we believe that having voice recorders on hand is a best practice whenever possible.
What is the significance of screen recording?
Screen recording allows you to capture what is happening on your screen and save it to your computer for later viewing. Taking screenshots of what happens on your screen can be helpful for various reasons, such as replaying a presentation or webinar or creating a video game tutorial.
What causes recorders to make such a horrible noise?
The recorder sounds terrible for a variety of reasons. The good news is that it isn't required! The recorder sounds awful because it is being misplayed or a low-quality instrument. If it is damaged, it may also make a loud noise.
Conclusion
To wrap it up, selecting the best audio recording software is difficult because many options exist. Still, to lighten your load, we highly recommend choosing and trying the most outstanding software for audio recording, AVAide Screen Recorder. You can install and test it, and it will undoubtedly assist you in illuminating your needs!