Google Chrome is a well-known web browser that plays an essential role in streamlining our daily activities. With its widespread popularity, it assists us in various ways, including searching for specific content. However, we may need to record our favorite audio from Chrome if we do not have permission or authorization to download it. To help you out, we've compiled a list of the top ten best Chrome audio recorders, which you can find below.
Part 1. Top 10 Best Chrome Audio Capture
1. AVAide Screen Recorder

Features:
The recording can be easily cut into multiple segments.
It is a free voice recorder that does not impose any hidden fees on its users.
Also works as a screen recorder for Chrome.
It works with both Windows and macOS.
Pros

It can record any sound that comes from your computer.
Allows you to record audio and video simultaneously for free.
It is simple and easy to use.
Cons

The tool must be downloaded first.
2. Cloud Audio Recorder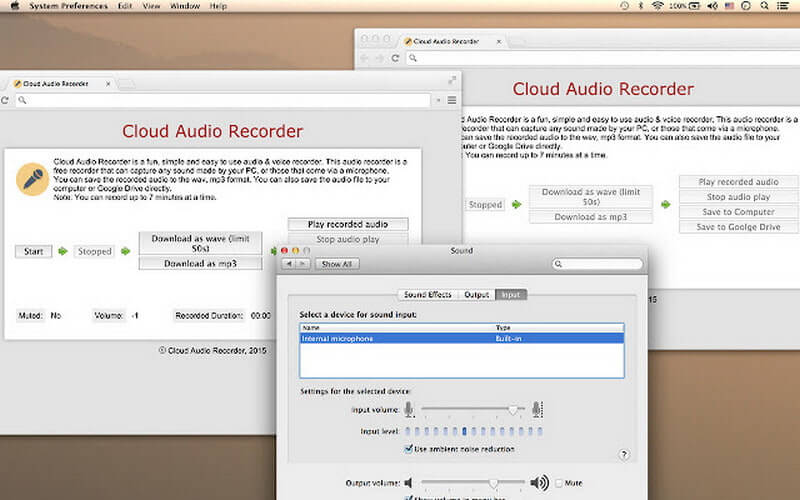 This recording software can easily record both video and audio activities. Users can record audio from a microphone or generate it by the computer. We can easily capture audio from any browser using this Chrome Audio Capture tool. Depending on your needs, you can also adjust the volume level, select the desired input device, and use noise reduction features.
Pros

Every device is compatible with the Audio cloud recorder software.
Voice recorder tool that is simple to use.
It supports a variety of plugins that make your document more interactive for the audience.
Cons

Inadequate processing power.
At times, the application does not run smoothly.
It causes sound problems.
3. Online Voice Recorder

The simple chrome audio capture program is a dependable program for inexperienced users. It is not only straightforward to use, but it is also entirely free for its users. It doesn't cost any extra fees to activate or use its supplemental features. Users can also be assured of complete privacy when using this chrome audio recorder, as data access by anyone other than the user is prohibited. There is no data being uploaded to the servers for storage.
Pros

There is a Chrome extension for it.
It has a wide variety of export options.
It has a simple user interface.
Cons

You must sign up.
The interface is intuitive.
4. Apowersoft Free Online Audio Recorder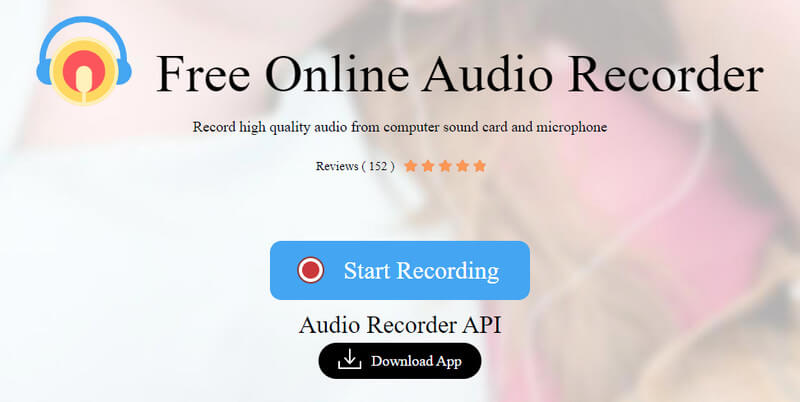 This innovative application enables you to directly capture any audio from your computer's sound card and your microphone. On the other hand, you can record streaming audio, voice chat, radio, and other media. Chrome audio is available in MP3, AAC, FLAC, WMA, and M4A formats. Furthermore, it provides an excellent platform for management to organize your audio recordings better. Because of its simple user interface, Apowersoft Free Online Audio Recorder is a superior free audio recorder for Google Chrome. It is not necessary to install any plug-ins.
Pros

Completely simple-to-operate.
It is free, open-source, and requires no installation.
It works with both Windows and Mac.
Cons

It is a hassle to use at times.
Have to install the latest version of the software.
5. Audio Capture for Chrome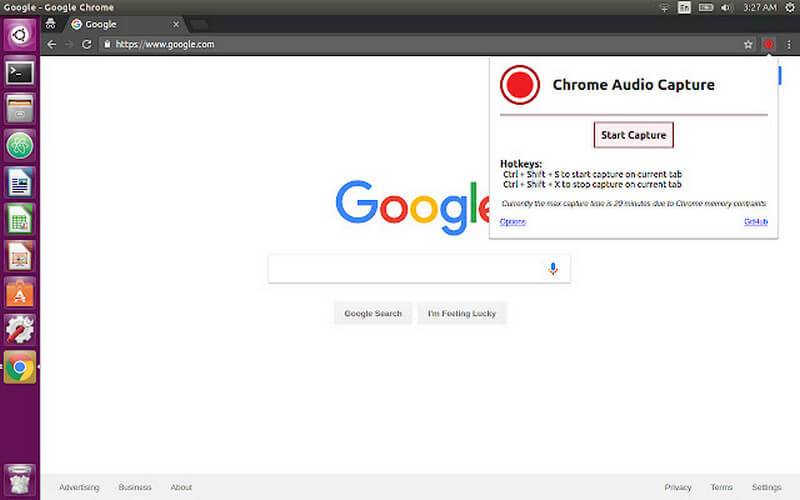 This audio recorder also functions as a Chrome browser extension. It can record the audio that is currently being played by Vimeo, Youtube, and a variety of other websites. There are also hotkeys for quickly starting and stopping recording. This add-on is relatively simple to use. It can help you save your recorded audio in MP3 and WAV formats. You should also be aware that there is a 20-minute recording time limit.
Pros

Simple design with no complicated features.
With hotkeys for quick operation.
The MP3 file that was recorded is of high quality.
Cons

There are occasional glitches and limited output formats.
The maximum recording time is 20 minutes.
6. WQRI Recorder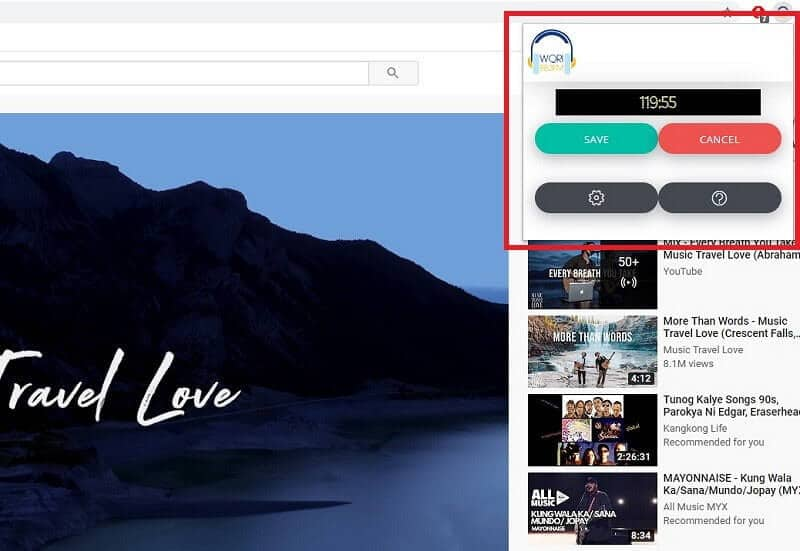 WQRI Recorder is an excellent application for recording audio from Google Chrome. WQRI mutes the audio from the video when you start recording on a video site like YouTube, indicating that it is already recording the sound. It is intended to record your voice in a podcast session or for personal use. WQRI Recorder allows you to change the record time limit from 1 minute to 120 minutes straight or remove it entirely to record as much as possible. Audio files can be saved as MP3 or WAV.
Pros

You can mute and unmute the video while it is being recorded.
It is possible to record music from YouTube and other popular music video websites.
Cons

Count on the network status.
7. Reverb Recorder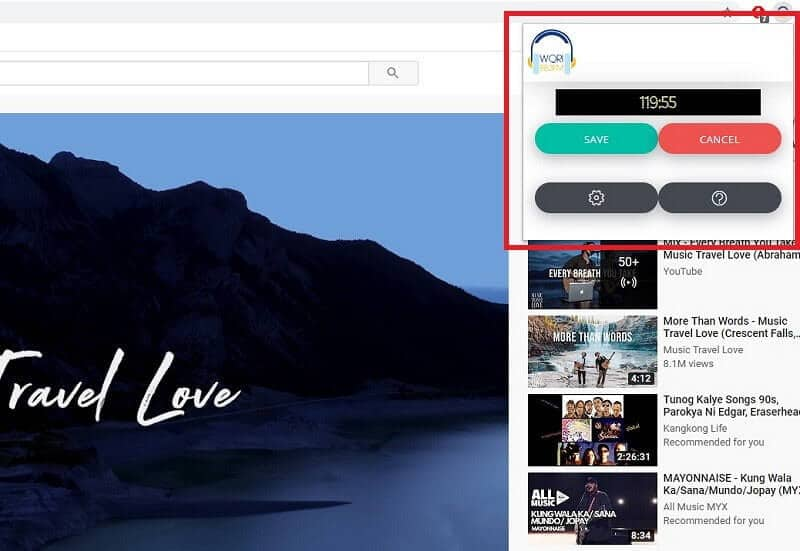 This recording tool is here to close our list of Chrome audio recorders. Your voice notes can be recorded and shared online. Aside from that, it can generate links for you to embed on Twitter or websites and in emails, forums, and other places. You can easily incorporate the recorded audio into your posts if you're a blogger.
Pros

Recording tool that is simple to use.
Chrome works well with it.
Obtain a link for sharing and embedding recorded audio.
Cons

With a restricted output format.
8. Joyoshare Audio Recorder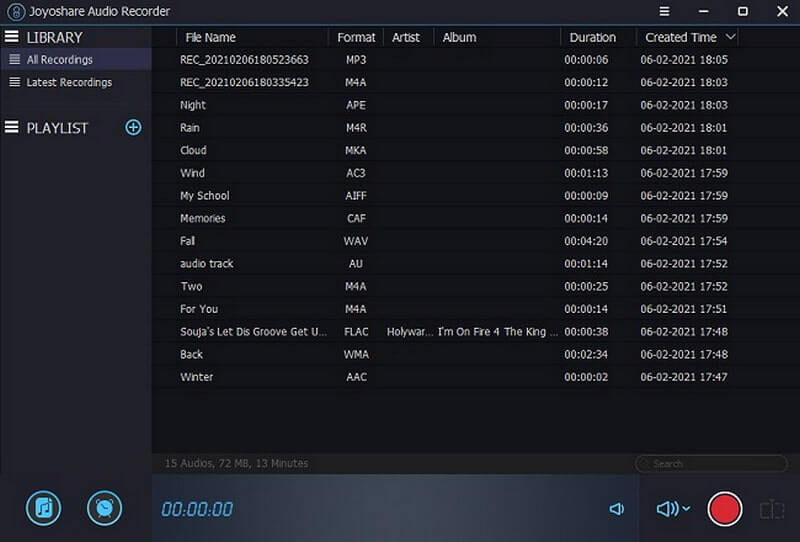 This desktop-only audio recorder allows you to record high-quality audio from Chrome. Aside from streaming audio, its advanced sound capturing technology will enable you to capture possible audio desktop activity. It also includes full support for system and microphone audio, exported as MP3, AAC, WAV, M4A, M4B, and FLAC. Using the built-in task scheduler, you can even create a recording assignment in advance.
Pros

Support for 16 different audio output formats.
Split the recording and delete the mute automatically.
ID3 tag detection, recognition, and correction for captured audio.
Cons

Recording times are limited.
9. Virtual Voice Recorder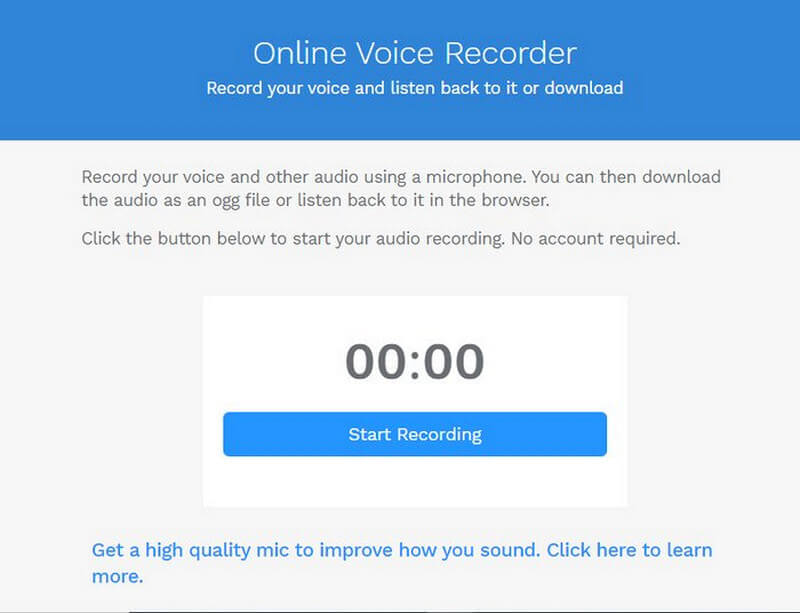 Another chrome audio recorder that easily records your voice and audio is available. After downloading them to your device, you can listen to them. This free chrome voice recorder does not support recording any external software such as Adobe, Flash, etc. You can get high-quality audio by downloading it.
Pros

It is a free voice recorder that does not impose additional fees on its users.
It is a web-based voice recorder that simply web browsing can be accessed.
Cons

It is deficient in advanced features.
10. Rev Online Voice Recorder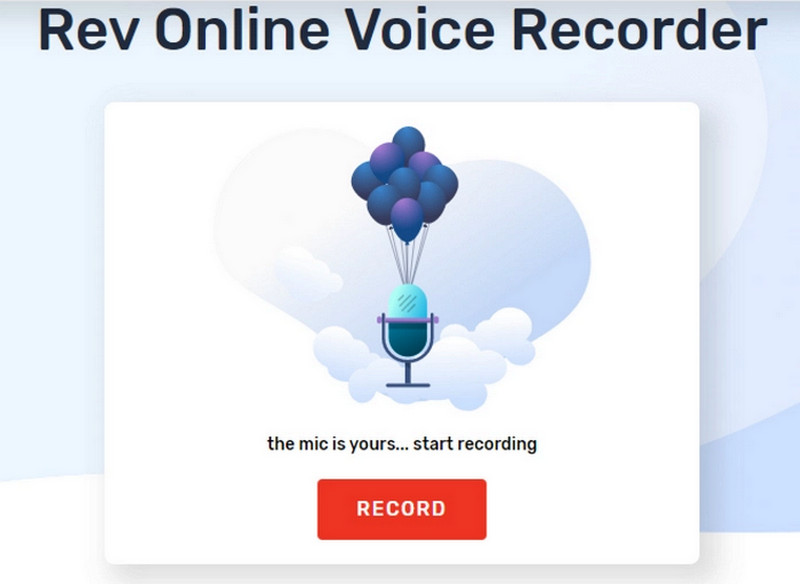 This is a free Chrome extension that allows you to record audio. Your audio and recordings can be saved in MP3 format. You can download your audio inaccessible MP3 form after recording it with this cloud audio recorder, which is entirely secure. Moreover, It also provides free mobile phone applications that allow you to easily record your business calls in high-quality mode and edit those file recordings within the app itself.
Pros

It gives you complete access to your recordings.
It offers absolute security and safety to its users.
Cons

It occasionally fails.
It must be challenging to use at times.
Part 2. FAQs about Chrome Audio Capture
Is it legal to record on Chrome?
Absolutely! Recording on Chrome is unquestionably legal if your content is educational, personal, and not commercial. If you reproduce the audio files as if they were your creation, you will be breaking the law.
Is there an audio recorder on Google?
No, Google does not permit the recording of internal audio. There are several reasons for this, one of which is your safety. Another issue is copyright; people will not download music or other audio; instead, they will record it and use it. However, Google has enabled this component as needed in the most recent version of Android.
Where does Chrome audio Capture save its recordings?
Chrome Audio Capture enables you to record any audio in a currently playing tab. Multiple tabs can be captured at the same time. Captured files will be downloaded to the Chrome Downloads folder and saved as.wav or.mp3 files.
Conclusion
Each of the above Chrome audio recorders has been handpicked and listed here because of its outstanding features. You can benefit from its stress-relieving function regardless of which one you choose. AVAide Screen Recorder, in particular, is one of the most recommended and best audio recording software of all time. Go ahead and give it a shot!