Pick the right tools to make your photos clear. Don't let your photography level hinders you from acquiring the best photo editing app. This only means that even when you are a newbie in photography, you can still have a great editing companion with professional outputs. It will be our pleasure to help on this matter, for we know how essential it is for you to know how to make a picture clearer. For this reason, we have gathered the five best solutions for various platforms such as online, offline, and mobile. So, what are you waiting for? Get yourself ready, and explore the critical information as you continue to read the context below.
Part 1. How to Make the Photo Clearer Online
AVAide Image Upscaler
If you want a great online solution to enhance your photo, then the AVAide Image Upscaler should be number one on your list. It is a free photo editor that magically fixes and transforms blurry photos into a crystal clear display. What makes it interesting is that it has this one-click ability that lets users quickly claim an output with excellent quality.
In addition, this image quality enhancer is compatible with the most popular image format, such as the JPEG, while giving users unlimited credits for free. On top of that, you won't need to register or create an account to use it because as soon as you reach its website, you can immediately start the task.
As part of its amazing features, this online tool supports photos with up to 3000 x 3000px. Additionally, it works as a photo enlarger to enlarge the photo to 2, 4, 6, and 8 times bigger than the original scale. Not to mention, its no watermark policy on all of your outputs. Therefore, here are simple guidelines on how to make a picture bigger and clearer.
Step 1Get your browser ready using your desktop, Mac, and mobile, and visit the tool's main page. From there, click the Choose a Photo button and select the photo you need to enhance.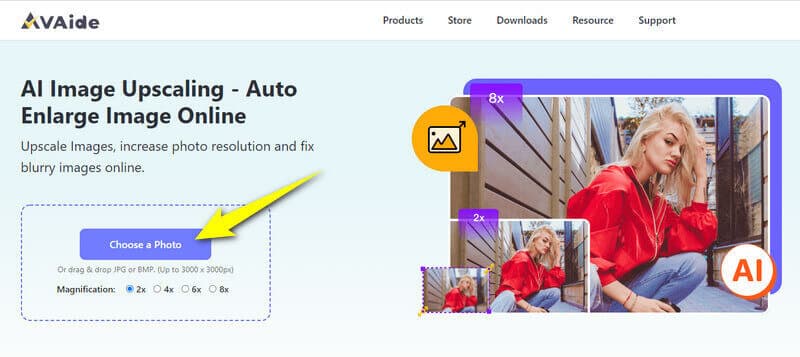 Step 2You can probably see your uploaded photo with a clearer display than before. This tool will automatically magnify or enlarge the photo twice from its original scale. But, if you want to enlarge it more, choose among the Magnification selections.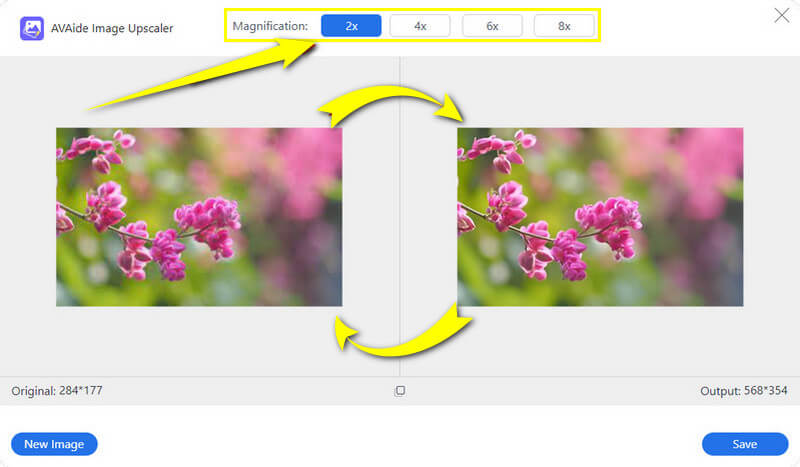 Step 3In no time, you can already save and export your photo by clicking the Save button. Then, click the New Image tab located across the save button to upload another photo.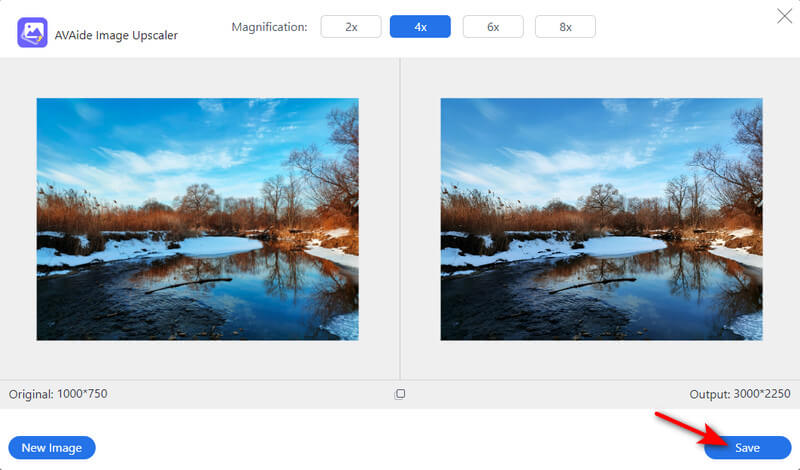 Fotor
Another method to teach you how to make a picture clearer online? Then, use Fotor. Fotor is a web-based photo editor with full-packed tools for enhancing photos. This excellent program lets you enhance the radiance, sharpness, and highlights aside from reducing its blurriness. However, to use it, you will need to sign up or even subscribe to its plans, although it offers a free trial version. Nevertheless, Fotor is one of the best choices to make your photos HD. Hence, here are the steps you can follow if you have decided to use Fotor.
Step 1Once you reach its main page, hit the Edit a Photo tab to get to its main interface.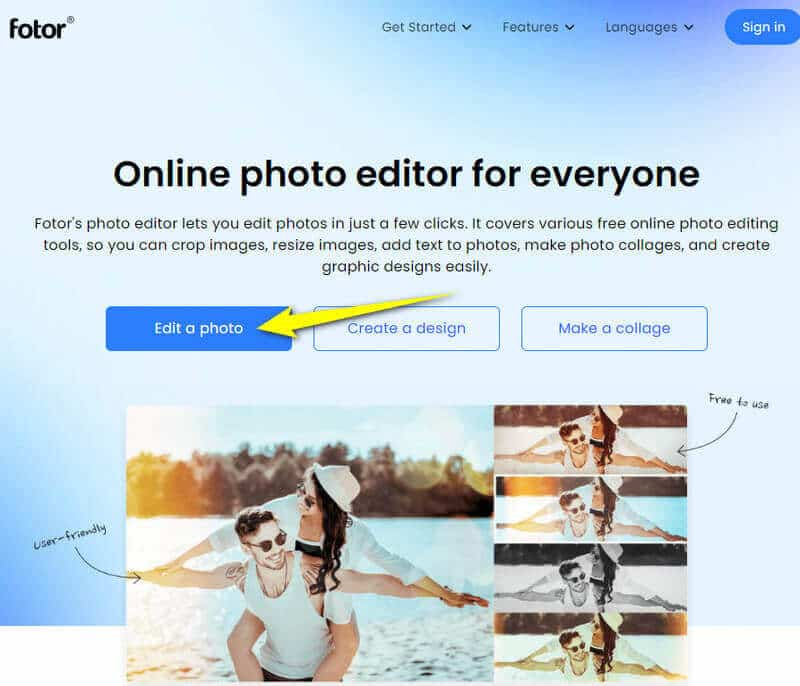 Step 2Now, drag and drop your image to the center of the interface. Then, hit the 1-Tap Enhance tab to ease the job.
Step 3After a while, hit the Download button to export your photo.
Part 2. How to Make the Picture Clearer on Windows and Mac
Adobe Photoshop
Adobe Photoshop is a one-stop photo editing software. It is capable of whatever job you need to do with your photos. Furthermore, Photoshop has numerous options, like filters, 3D, layers, styles, patterns, shapes, and more. However, it is not the software to use if you are new to photo editing, for it offers tools and procedures that are pretty challenging for a beginner to understand. Still, it is powerful software and quickly solves your how-to make a picture clearer question. So, feel free to follow the steps below to learn how it works.
Step 1Open your photo file using Photoshop. Go to File and click the Open selection.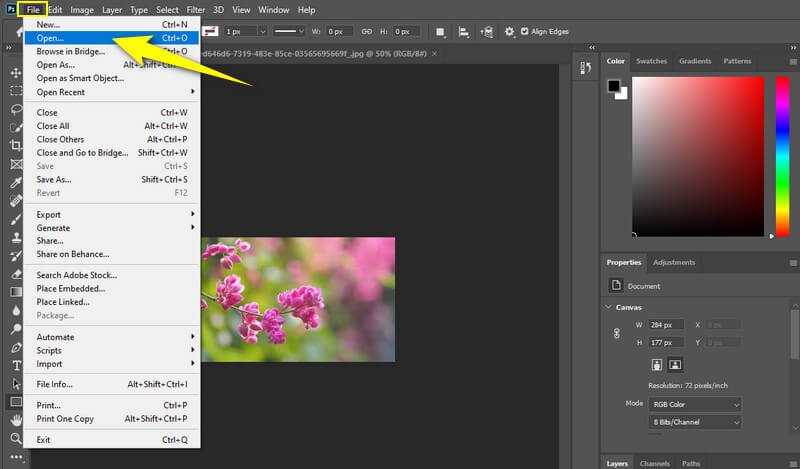 Step 2Now head up to the Filter option, and choose to select Sharpen; follows up by clicking Smart Sharpen. Then, a popped-up window will appear where you need to make some adjustments.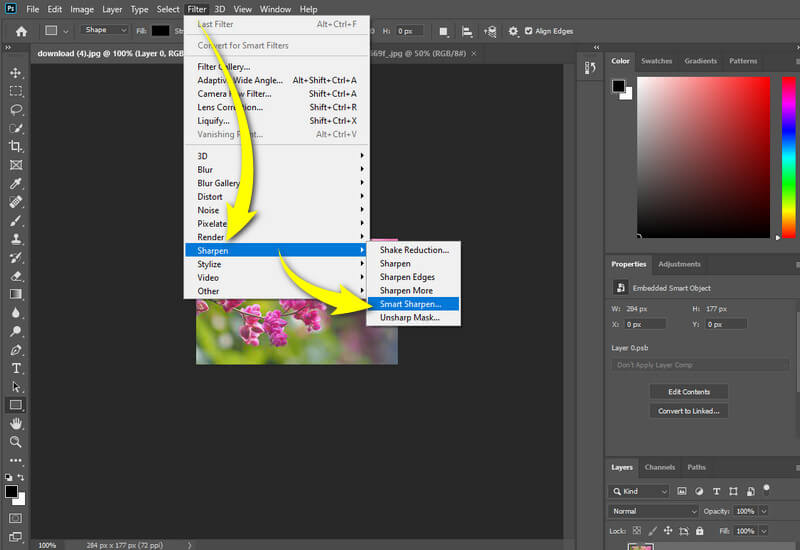 Step 3Next to that, head to the Layers setting and click Smart Filter. Then, on your keyboard, click CTRL+i to invert the mask and B to access the brush tool. Now, go to the photo and paint the area you want to sharpen. After that, save the photo by going to the File and Save As.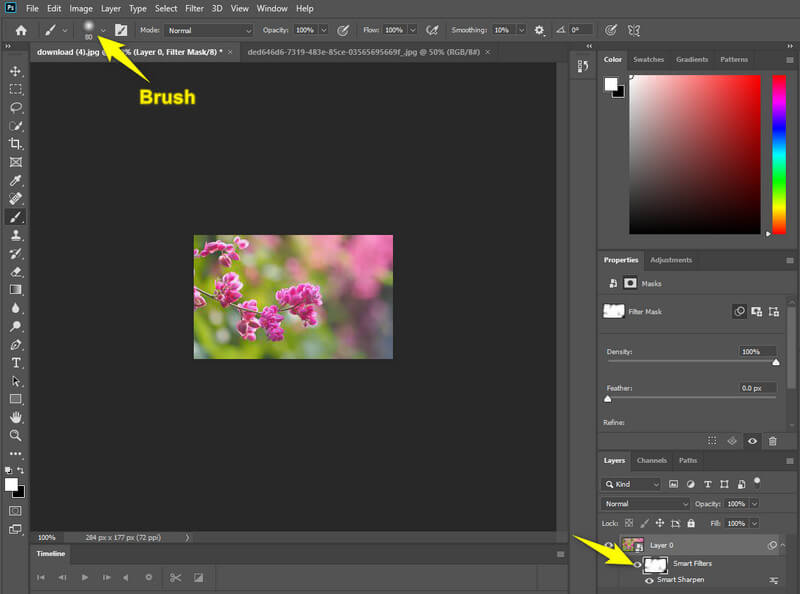 Open In - External editor support for Photos [For Mac]
Open In is not an entire software; it is only an extension app of Photos on Mac. So, this will be very interesting for those who don't want to consider downloading full software for security and space storage reasons. Furthermore, Open In is a free app you can acquire from your apple store, with system compatibility with macOS 10, 11, or later. In addition, it comes with an essential tool to clear your photos. Acquiring it won't take time, as long as you search in on your apple store and download the plugin. After that, you can follow the simple steps on how to make a picture clearer.
Step 1Open your photo file using your Photos app.
Step 2Hit the Edit tab, and click the Extension selection to see the Open In plugin extension.
Step 3Once the extension is in use, go to the Perfect Clear setting and hit the Save Changes button after.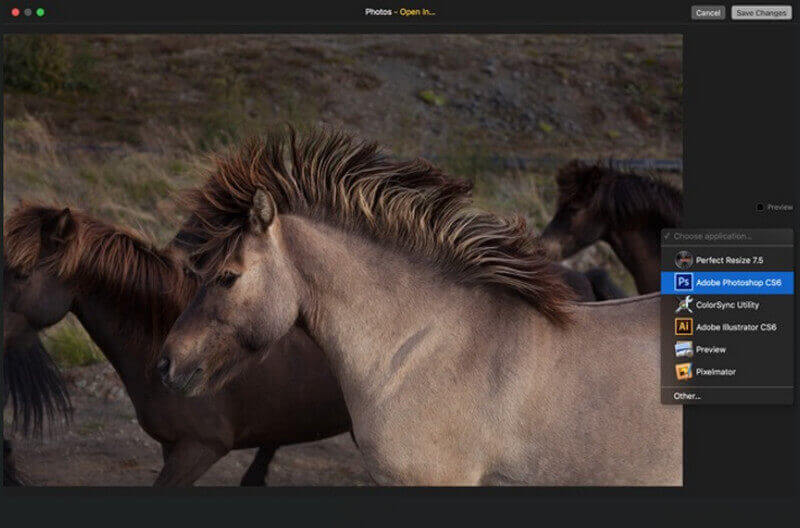 Part 3. How to Make the Photo Clearer on Mobile
Remini - AI Photo Enhancer
Remini - AI Photo Enhancer is an app you can download on your Android phone. This app lets you efficiently enhance your photos, such as the old and blurry ones, for it uses an artificial intelligence technology that helps it do the work correctly. In addition, Remini - AI Photo Enhancer supports in-app purchase tools for those who want more items in photo editing. However, although you can acquire it via free download, Remini will require you to create your account first before you can start navigating it. Remini will give you a week for its free trial, a duration when you can test all its features well. After that, you will need to decide whether to continue with the pro version or not. Regardless, please follow the guidelines below on how to make a picture clearer on Android.
Step 1Acquire the app on your mobile device. Open it, and make time to create your account.
Step 2After signing up, tap the Enhance tab and upload the photo you need to enhance. Now for the free trial, please take note that you need to tap the Enhance Watch Ad to process the enhancement for free.
Step 3After that, the tool will bring you to the preview screen. Drag the bar left to right to see the before and after changes of the enhancement. Then tap the Download button to export the new photo.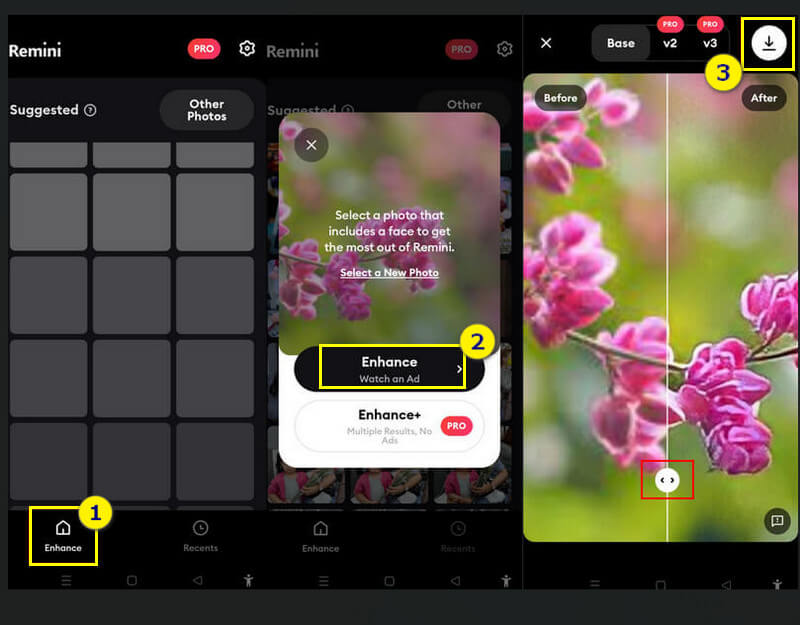 Snapseed
Snapseed is an app from the apple store that is infused with advanced editing tools that will level up your photos. On top of that, Snapseed comes with a details option that will help you deblur and clean your photo easily. So, if you are an iPhone user, try this app and follow the steps on how to make a picture clearer on iPhone below.
Step 1Get the app from your apple store, and launch it. Then, tap the Plus icon or the Open tab to upload your photo.
Step 2Now tap the Tools selection, and choose the Details option. Now on the popped-up window, adjust the Structure and Sharpening settings.
Step 3After that, tap the Check icon to apply and save the changes.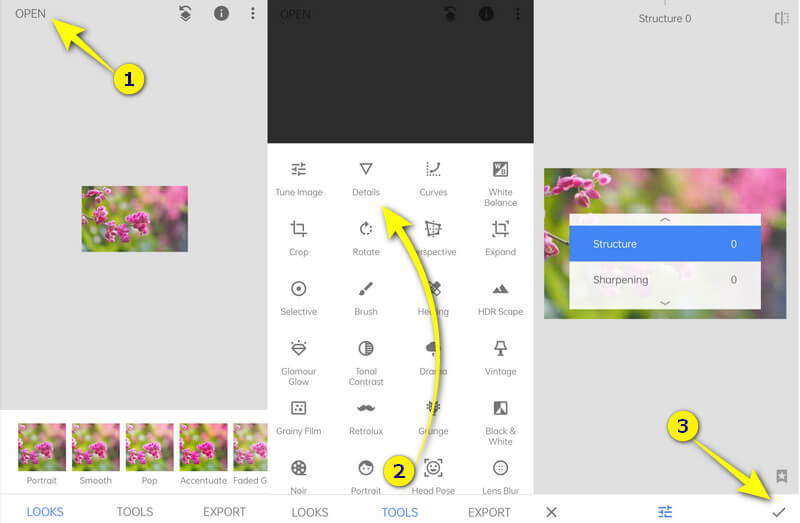 AVAide Screen Recorder
Record screen, audio, webcam, gameplay, online meetings, as well as iPhone/Android screen on your computer.
Part 4. FAQs on How to Make the Photo Clear
Can I make the BMP photo clear?
Yes. If you want to enhance your photo with BMP format, you just need to follow the guidelines above. This is most especially with the AVAide Image Upscaler, for it intently supports BMP files.
Can I enhance the photo without installing an app on Android?
Yes. Android phones have built-in photo editing tools so that you can use them for your pictures.
How can I make the photo clear without a watermark?
You can use a watermark-free program like the AVAide Image Upscaler for this matter. Otherwise, your will need to purchase or subscribe to the premium versions of the other apps.
Conclusion
After reading the tutorials on how to make a picture bigger and clearer, we are pretty sure that you can finally do the task easily and smoothly. See to it that you only choose the one that will suit your platform and standard. With that being said, let us hear your thoughts, concerns, and directions with this solution.
Use the Best Image to 4K Upscaler Online
Our AI technology will automatically enhance the quality of your images, remove noise and fix blurry images online.
TRY NOW