Many of us love to capture the precious moments we have ever since. It is because most of us treat photography as an art besides being a history keeper and recorder. Furthermore, taking photos has become more accessible and smooth to handle since phone cameras emerged. For this reason, even tools that can beautify the photos, such as image deblurring, enhancing, upscaling, etc., have started appearing, which even an ordinary person can handle. However, not all you see on your software or app store are capable and eminent as you think. Therefore, if you are looking for eminent solutions to unblur your photos, then you should see our solutions here.
Folks, we bring not only one but five unique tools that you can use to deblur your photos easily. We will also give you their complete tutorials to equip you to handle them before you acquire them on your device. Therefore, let's begin by reading the entire content below.
Part 1. The Best Ways to Unblur an Image Online with Tutorials
1. AVAide Image Upscaler
AVAide Image Upscaler is one of the most promising image editors you will surely love. Why? Because it has the most powerful technology, you can easily use it to adjust your images' display by enhancing, deblurring, removing noise, and upscaling them in just one click! It is shocking, but it is undeniably true since that technology is AI-powered. So, you won't need to stress yourself just to beautify your images. On top of that, this AVAide Image Upscaler is free of charge. Imagine deblurring your hundred of photos without requiring you a single penny, and without downloading and installing any software!
Despite that, AVAide Image Upscaler can also produce a watermark-free output, even if it's done in a maximum editing procedure. Learn more about it by looking at the tutorial on how to unblur an image online below.
How to Use AVAide Image Upscaler to Unblur Photos
Step 1Visit this link to reach the main website of the tool. Upon reaching the page, hit the Choose a Photo button for you to be able to upload the blurry image.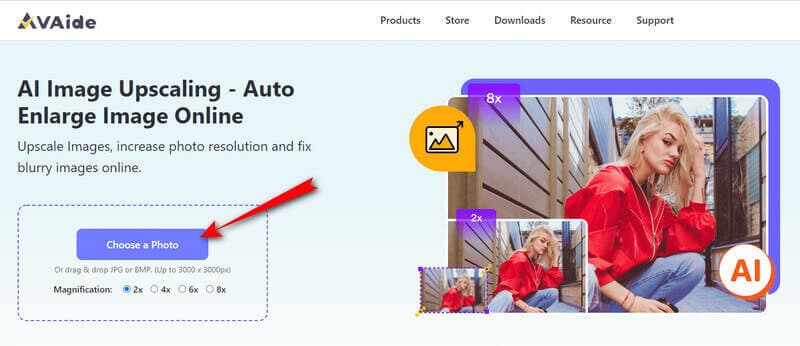 Step 2You will already see the changes once you upload the photo. See by the preview how the clear your photo from being blurry. Then, you can adjust the Magnification by hovering over the selection above the pictures.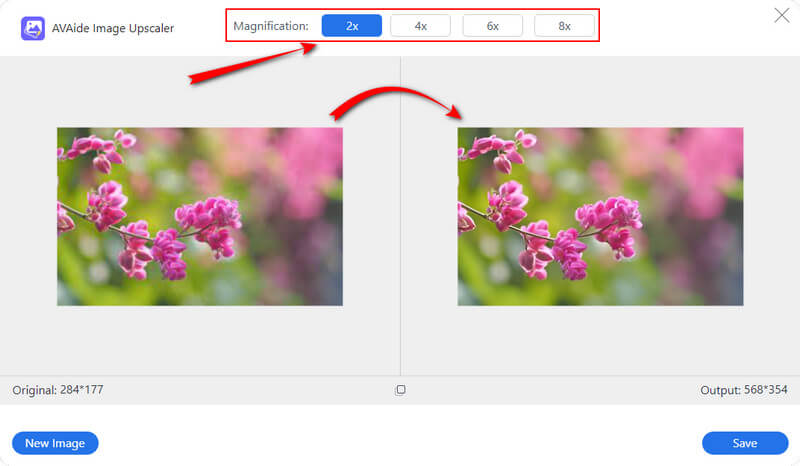 Step 3You can already claim your output in less than a minute by clicking the Save button. See that hitting won't eliminate the window, so if you want to unblur other pictures, just hit the New Image tab.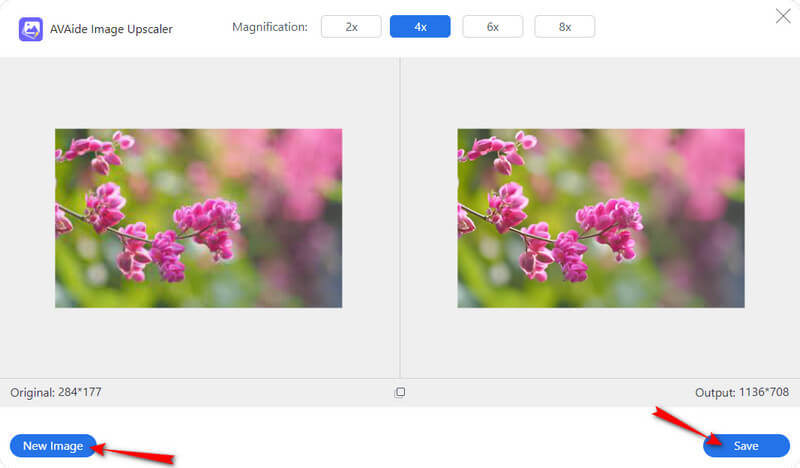 2. VanceAI Image Sharpener
Another way to deblur an image online is through VanceAI Image Sharpener. Furthermore, as part of its name, this online tool uses an artificial intelligence technology that works in its enhancement procedure. Without a doubt, VanceAI Image Sharpener, like the AVAide Image Upscaler, tops its rivals in providing excellent quality outputs. However, unlike the other, this image sharpener only gives users three monthly credits for the free trial. Otherwise, you should purchase its premium plans for continuous utilization. On the other hand, this tool can offer many options and solutions, such as background remover, enlarger, denoiser, and more. But to learn its procedure in deblurring a photo, here are the guidelines your should follow.
How to Unblur an Image Online with VanceAI Image Sharpener
Step 1Get to the main website of the tool and sign up with your email account. Once you're there, hit the button that says Upload Image to get your blurry image in the interface.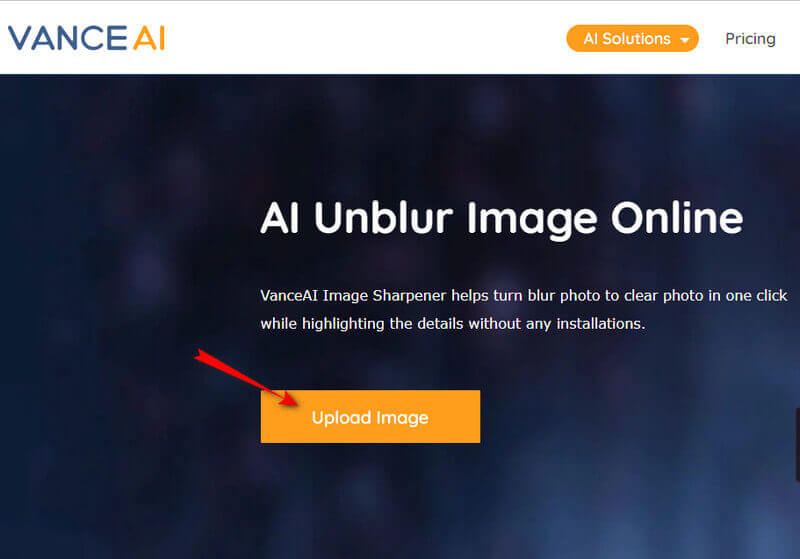 Step 2On the main canvas, navigate the adjusting bar under the Sharpness for the manual parameters. After that, click the Start to Process button to begin the unblurring process.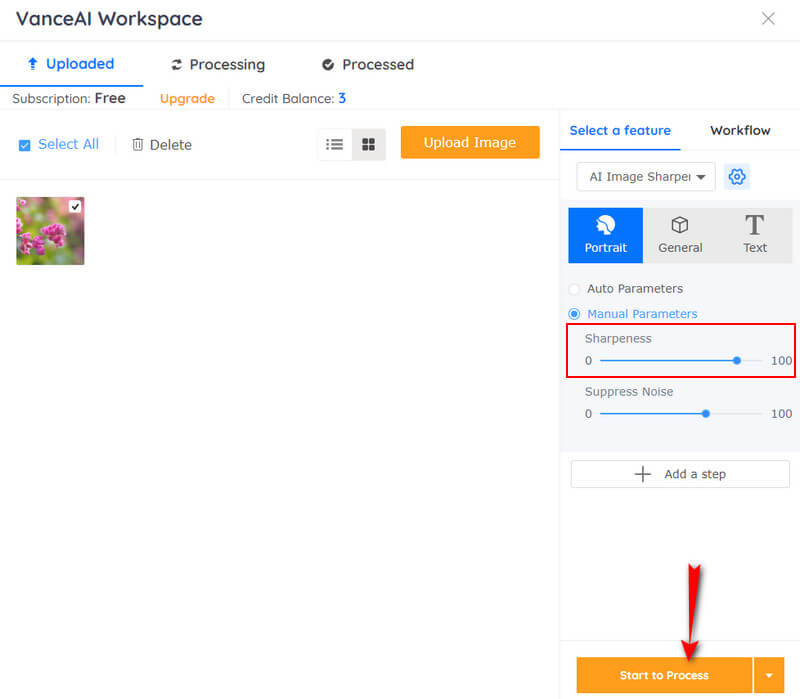 Step 3After the unblur process, check the output on the Processed page. Then, click Download to acquire the newly enhanced photo file.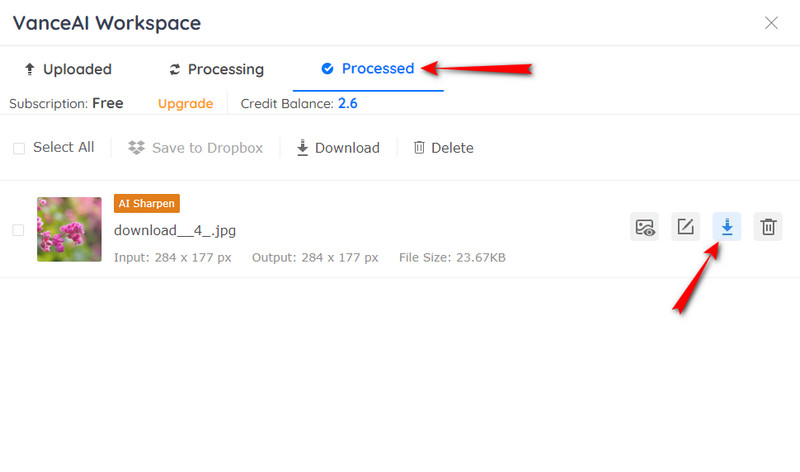 3. PicWish Photo Enhancer
To complete our online solutions, we present to you PicWish Photo Enhancer. It is an incredible photo enhancer that uses artificial intelligence technology with all of its tools, such as background remover, photo retouch, face enhancement, and many more. On top of that, similar to AVAide Image Upscaler, users can use it for free. However, when it comes to enlargement, PicWish Photo Enhancer can only make images bigger up to 4 times, not unlike the AVAide, which can magnify up to 8 times. Anyways, to show you how its deblurring image procedure works.
How to Use PicWish Photo Enhancer to Unblur Photos
Step 1Go to its official website, and start to import your blurry photo by clicking the Upload Image button. Alternatively, you can just drag the photo from your device and then drop it on its interface.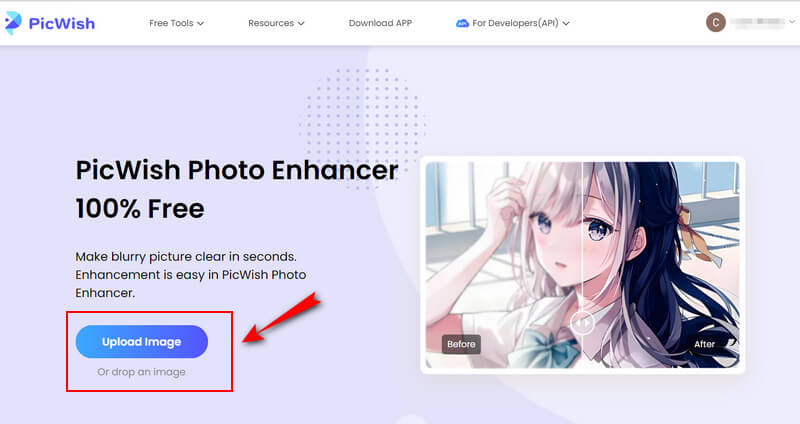 Step 2After uploading, a canvas where you can see the preview will appear. From there, you can drag the panel bar to see how magical your photo got gone through.
Step 3Then, hit the Download button at the right top corner, leading you to the signup window. Log in using your email account, and the download procedure will start.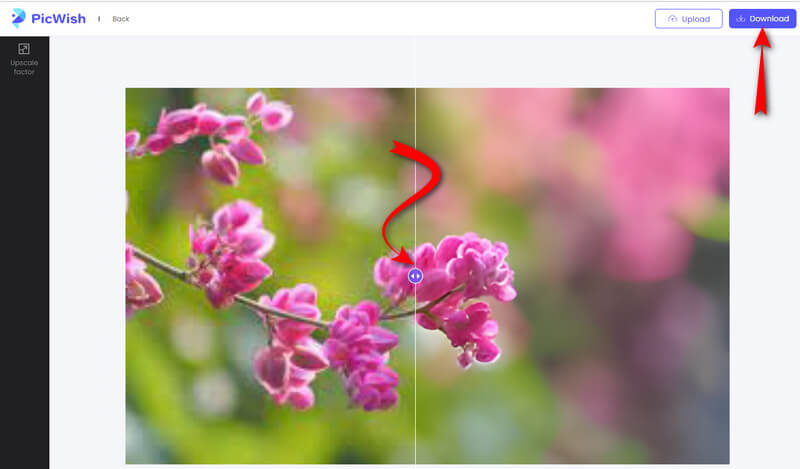 Part 2. Guidelines on How to Unblur an Image on Android and iPhone
Here are the two apps that we highly recommend for the options you can use using your mobile devices.
1. Remini - AI Photo Enhancer
Remini - AI Photo Enhancer is an app you can acquire on the apple and play store. It edits the old, blurry, and damaged photos efficiently with the help of its artificial intelligence technology. Furthermore, Remini supports in-app purchase items to help you with your photo editing task on Android and iPhone. However, you will need to create an account after downloading it for free. After downloading it for free, Remini will give you a 7-day free trial, which can be enough duration to check out its ability and capability. Anyways, if this information makes you decide to use it, follow the guidelines on how to deblur an image on Android and iPhone below.
Step 1Go to your play store and download to install the app. After the successful download, launch it and sign up with your preference.
Step 2After that, tap the Enhance selection and look for your blurry photo to upload. If you choose to use the free trial, you need to tap the Enhance Watch Ad selection for you to start the process for free.
Step 3Consequently, the preview page will appear after the ad. Navigate the navel at the center to see the before and after. After that, hit the Download icon on top of the screen to get the new file.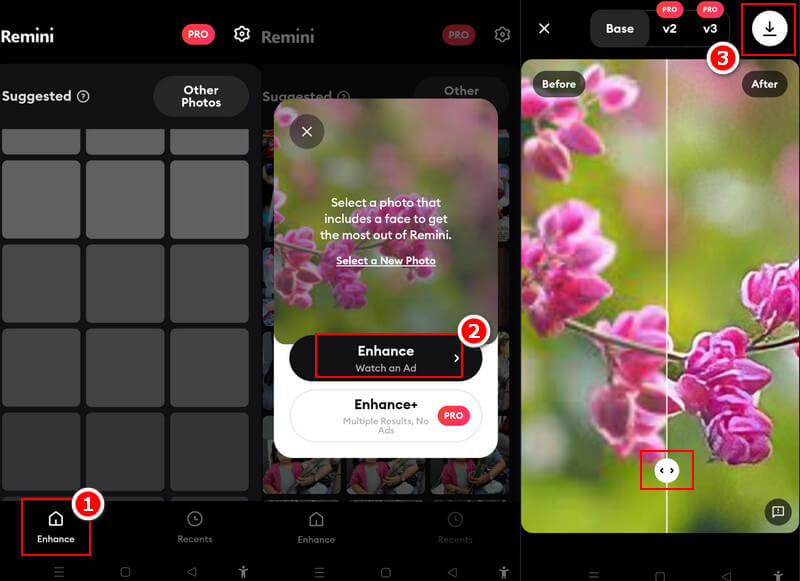 2. Pixelup - AI Photo Enhancer
Next on the mobile apps, we have for you is the Pixelup - AI Photo Enhancer. It is also a great app that can turn your blurry and old pictures into HD displays using the app's AI technology. In addition, Pixelup won't only let you enhance the photo but colorize the black and white photos, animate them, and share them with one tap. Despite its free download, this app lets you decide if you want to subscribe to its weekly, monthly, and annual subscriptions, with unlimited access to its features. Anyways, if you want to try this app, then follow the guidelines on how to unblur an image on iPhone, same with Android using Pixelup - AI Photo Enhancer.
Step 1Get the app from your apple store and launch it. Then, tap the blue Plus icon at the center bottom-most part of the screen to upload your photo.
Step 2Once uploaded, click the Enhance selection among the tools at the bottom. Then, a popped-up window will appear where you must select the Watch an Ad option to enhance the photo for free.
Step 3After that, you will see the result in a new window screen. Adjust the slider to see the result of the enhancement, and then tap Done to get the new photo.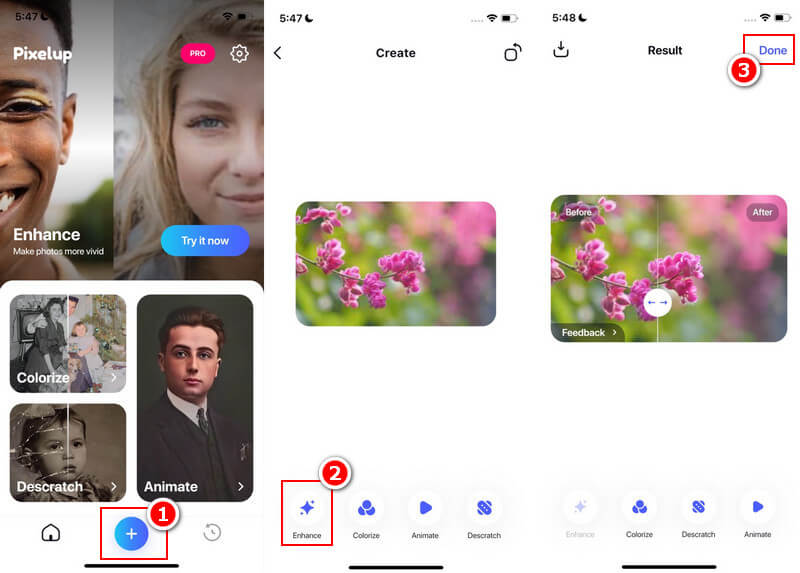 Part 3. Reasons Behind Having Blurry Images
There are reasons why you may have blurry photos. By determining them, you will be able to prevent having ones as well as doing this task.
◆ Unstable Camera - The stability of your camera has a big impact on making your captured photos blurry. Therefore, please make sure to stabilize or better use a tripod when taking pictures, especially when using a DSLR.
◆ Moving Subject - Capturing a moving subject may lead to blurry photos. So, setting your camera on a higher ISO or shutter speed would be much better.
◆ Dirty Camera Lens - Sometimes, having a dirty camera lens affects the quality of the photo and makes them blurred. With this being said, make sure to clean your camera lens frequently.
◆ Wrong Focus - This may be the matter that primarily causes blurry images. You have to make sure to always set the proper focus on your object.

AVAide Video Converter
The most comprehensive media converter to convert video & audio & DVD without quality loss.
Part 4. FAQs about Unblurring Images
How to unblur an image on Course Hero?
To unblur the photo on a document with the Curse Hero, you must open the document and select the inspect selection after right-clicking it. After that, head to the source and hit bg, and get to open a new tab. Finally, modify the URL by typing -html-bg-unsplit.png and check the deblurred file.
Will my photo get blurry after compression?
There is a big chance for your photo to be blurred after compression. This is due to having a lesser bitrate after compressing the file. But you can use photo restoration tool to fix your blurry pictures.
Does unblurring increase the file size?
Yes. Deblurring tends to increase the file size. It is because deblurring modifies the sharpness of the image, which affects the size of the photo.
Conclusion
All the great online and mobile apps are present in this article. By using them, you will be able to unblur images most conveniently. We hope that you accept and utilize all that has been said in this post, and don't hesitate to send us feedback. Finally, follow this resource center for more solutions on different tasks you must comply with.
Use the Best Image to 4K Upscaler Online
Our AI technology will automatically enhance the quality of your images, remove noise and fix blurry images online.
TRY NOW