Enhancing photos has been an essential thing to us nowadays. Well, aside from it being one of the necessary solutions for a detective to solve a case, it is also because it's on the trend nowadays. And most social media sites require different resolutions. So, if you notice, you will see tons of questions on how to increase the resolution of an image on your browser or sometimes even on your social media feed. We cannot deny the fact that not all have great cameras on their phones. As a matter of fact, there are still some who are using old models, and even if they use the most extravagant camera, they still experience awful shots, especially during those unexpected and fast events.
Good thing there are various editing tools to the rescue. However, not all you see out there are efficient in enhancing your photos. Luckily, by reading this article, you will get to meet the best programs for your different platforms and give you the best solutions on how to increase the resolution of an image. Hence, let's not delay this any longer and proceed to the essential information below.
Part 1. The Most Efficient Way to Upscale Photo Resolution Online
Suppose you want to use an online solution to upscale the resolution of your images. In that case, there is nothing you should use than the AVAide Image Upscaler. It is a most excellent online solution that provides the easiest yet efficient navigation to produce upscaled photos. And before we proceed to learn how to upscale an image with it, let us educate you more about it. Yes, it is the easiest, for it will only let you enhance the resolution of up to 3000x3000px in just a single click. Maybe you might think that we are just exaggerating this. Still, this upscaling image tool is powered by an artificial intelligent technology, which helps it work into excellent outputs instantly.
As part of the many powerful products of AVAide, this AI Image Upscaler will definitely gain your trust, as it provides you with high security for your information and files. You will surely love how you can freely own your outputs without a watermark, despite being an online tool. Therefore, to see how excellent this tool is, see the steps to make high-resolution images efficiently.
Step 1Access your desktop and your browser, then visit the official website of this image Upscaler. Note that you don't need to download any software and register to access it.
Step 2Now, the moment you land on its page, choose among the Magnification options, then hit the Choose a Photo button to add a file. After that, a popped-up window of your local folder will appear. Choose then the photo that you need to upscale.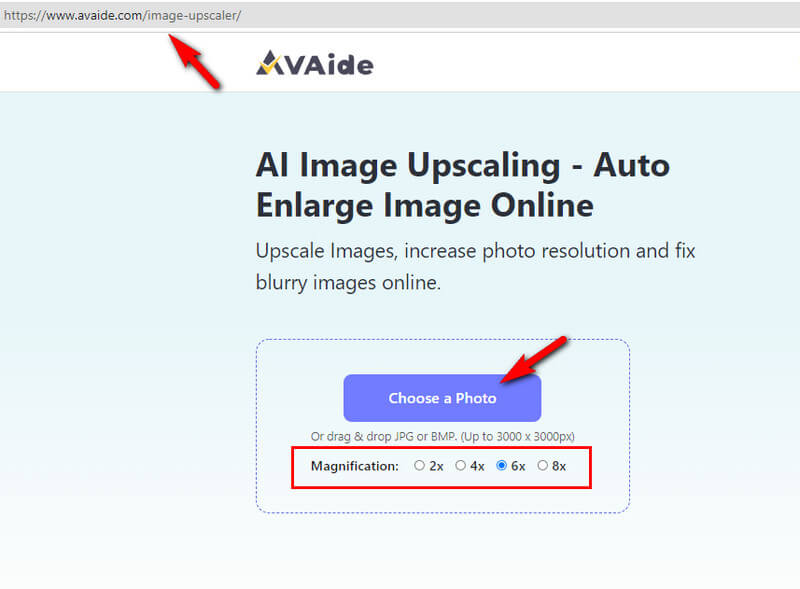 Step 3After that, the enhancing process will immediately start. After seconds, you will be presented a preview of your output together with its original photo. You can move your cursor to the original photo to see how it made a photo higher resolution and make a comparison of the two.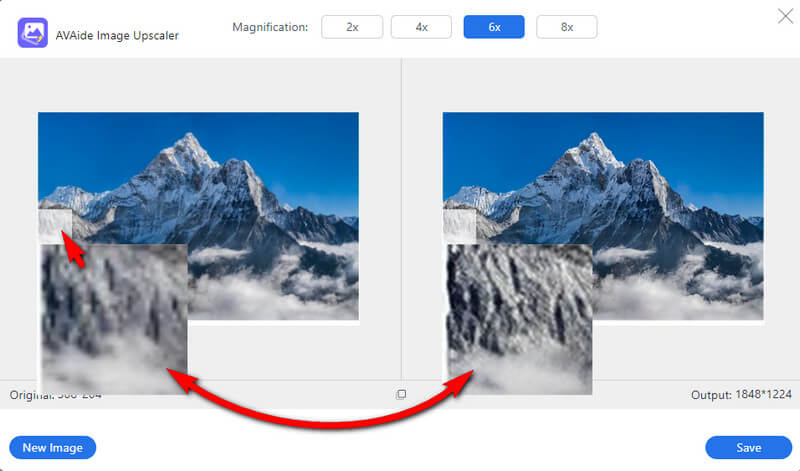 Step 4This time, feel free to click the New Image button, just in case you want to change the photo file. Otherwise, you may finish the session by clicking the Save button. Then, hitting the said button will download the photo file to your device.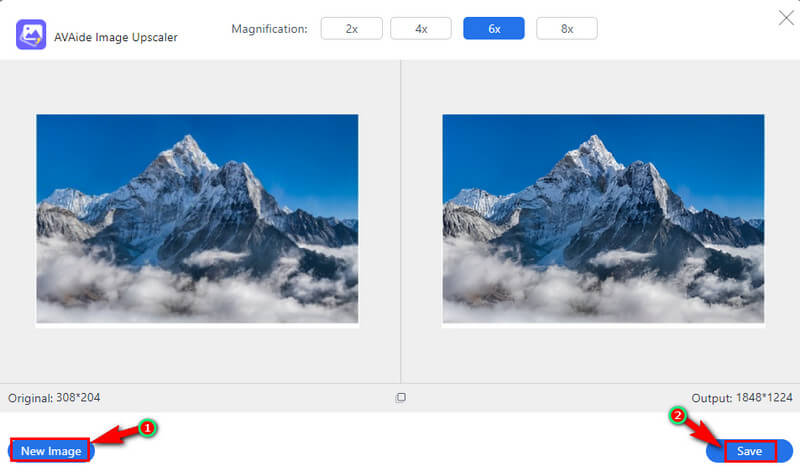 Note that this AVAide AI Image Upscaler Online is the ultimate image quality enhancer on the web. You can enjoy its features below.
1. Upscale image resolutions up to 3000 x 3000 px.
2. Improve the quality of your images to their finest in less than a minute.
3. Work with various image formats such as JPG, JPEG, and BMP.
4. No registration and payment is needed.
5. Let you preview the result in real-time.
Part 2. Steps on How to Increase Photo Resolution in Photoshop
Adobe Photoshop is indeed one of the most popular image editors worldwide. This is why many desire to utilize it, but not all would want to acquire it due to its price. In addition, the process of using it is not as easy-peasy as you think since it has an interface that looks challenging for beginners. However, many professionals still treat it as their best companion due to the tremendous enhancing kits it contains. One of those features you can enjoy is its image resizer, wherein you can upscale your photo up to 200% or higher. Therefore, if this excites you to know how to make a picture in a higher resolution in Photoshop, well, then see the simplified guidelines below.
Step 1Launch your Photoshop software and open the image you need to upscale in it. Then, go to the Edit menu and click the Preferences. After that, scroll down from its options and select the Technology Previews.
Step 2Then, on the right side of the interface, under the Technology Previews, tick the Enable Preserve Details 2.0 Upscale box. Apply the changes by clicking the OK button after.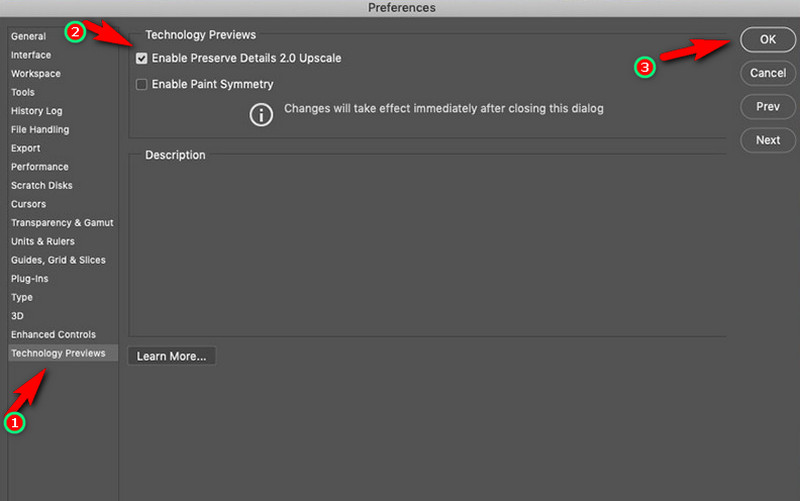 Step 3After that, you must hit the Image menu and select the Image Size option to see the settings of the image resizer. Then, navigate the Dimensions, Width, and Height to your preferences. Also, don't forget to tick the Resample box, and from the Automatic selection, change it to Preserve details 2.0. Then, hit the OK button, and save your newly upscaled photo. And that's how to increase image resolution in a simplified manner.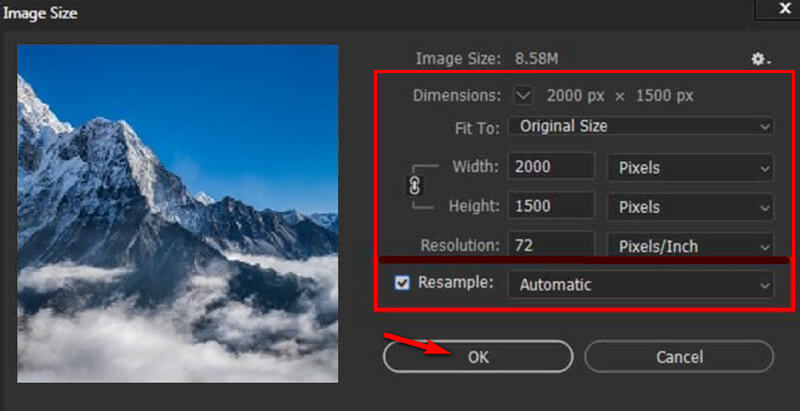 Part 3. How to Improve Photo Resolution in Your Phone
This part will give you two classifications wherein you will learn how to do the task on your Android and iPhone built-in cameras. As you can use a third-party app to do the job, but this method is the most sought-after based on research.
1. How to Upscale the Photo Resolution in Android
Step 1Change your camera resolution by launching the camera app. Look for the Setting icon among the menu shown on the screen.
Step 2On the setting management, choose the Picture Size selection. Then, choose among the choices your Android is giving you.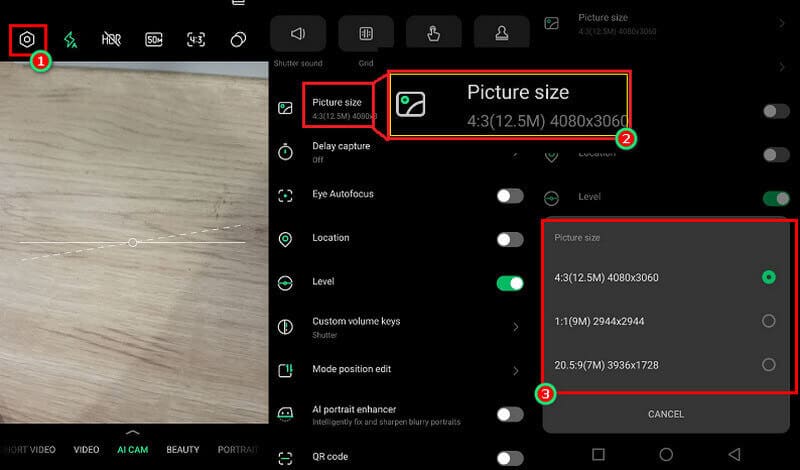 2. How to Upscale the Photo Resolution in iPhone
Step 1To increase the photograph on your iPhone, go to the Settings app. Then, open your iCloud menu and click the Photos selection to activate the photo library after clicking the Download and Keep Originals option. Please note that you must save the photo to your picture app.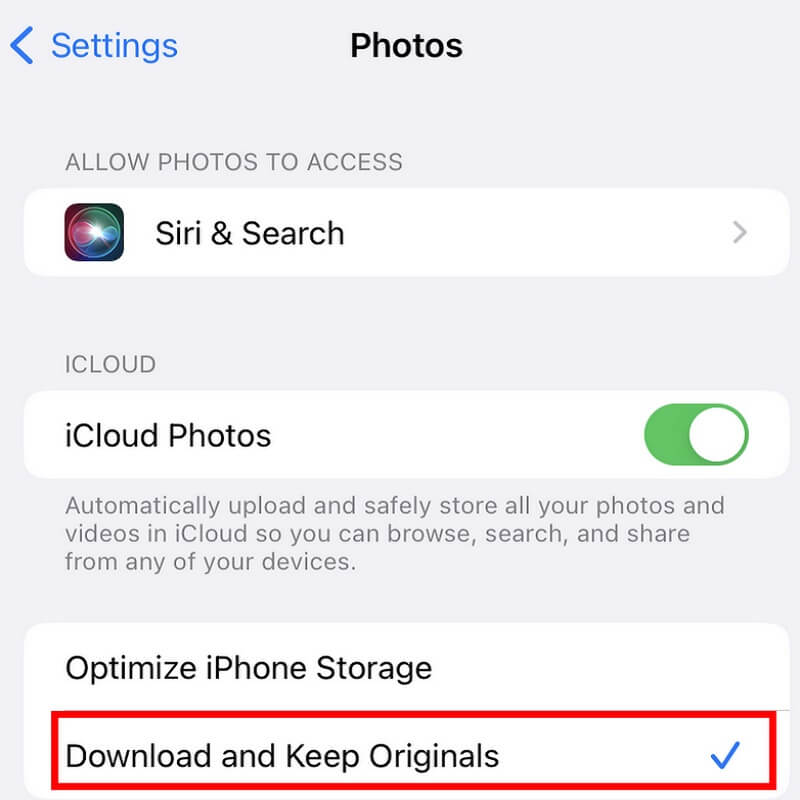 Step 2Now, tap the Camera option on the settings, then go to the Formats option. On the next window, tap the High-Efficiency selection. This way, all the photo files will have this kind of resolution.

Please note that this method only applies to the pictures you are about to take and will not be applicable to your existing pictures.

AVAide Video Converter
The most comprehensive media converter to convert video & audio & DVD without quality loss.
Part 4. FAQs about Improving Photo Resolution
How long does a tutorial video last?
It depends on your video content. However, research says that a video should only last up to 6 minutes as it is the longest engagement people can give as their interest.
Is improving the photo resolution mean converting to a different format?
There are upscaling image tools that will produce you an output that they support. For instance, the tool only supports JPG, and your output will be in that format even if you import a PNG photo. Therefore, to answer your question directly, it is yes.
Are scaling and cropping an image the same?
No. Scaling an image is when you change or resize its dimension. On the other hand, cropping means you are removing some parts of the image within the exact resolution.
Conclusion
Now that you have learned how to increase the resolution of the image using the most desired software today, we expect that you can do the task anytime without hassle. In addition, all your worries and questions on how to comply with the image standard of various social media sites have been answered. Feel free to send us your feedback, and watch out for our other articles that are related to your needs. And finally, try the magnificent ability of the AVAide Image Upscaler, especially the AVAide Video Converter, for your video conversion and enhancing tasks.
Best Online Tool to Increase Image Resolution
Our AI technology will automatically enhance the quality of your images, remove noise and fix blurry images online.
TRY NOW