You may have your own reason why you want to increase the resolution of your photo. But one thing is for sure, you have seen the importance of doing it. On the other hand, Adobe Photoshop is a proven photo editing software that provides its users with a unique solution for their photo assignments. For this reason, we are here to guide you on how to increase the image's resolution in Photoshop because it is not as easy as others think. Furthermore, as part of our generous kindness, we will also let you see the most straightforward yet most fantastic alternative of Photoshop when it comes to photo beautification. If this information excites you, you must continue reading the helpful information below.
Part 1. How to Increase the Photo Resolution Using Photoshop
Adobe Photoshop is software for editing raster graphics by Adobe Inc. Furthermore, Photoshop is a well-known software that works not only for photos but also for the customization of video files. This program offers tons of advanced editing tools and beautiful features that everyone hard to resist. However, you will find it unavailable until a subscription happens. This means that one should subscribe to its creative cloud plan for him to be able to utilize and get updates on the program's late features.
Perhaps you are wondering how much it will cost you for a subscription. Well, that depends on the plan you want to avail yourself of. The good thing is that Photoshop will let its new user enjoy it for free with its 7-day free trial, which significantly impacts others to try it. Anyway, the steps below will help you make a photo with high resolution in Photoshop.
Step 1Start by successfully installing the software to your device. After that, launch it and prepare to import your photo by clicking the File tab. Then, click the Open selection for you to be able to browse your file storage. Note that you can also make it to this step by clicking the CTRL+O on your keyboard for its shortcut.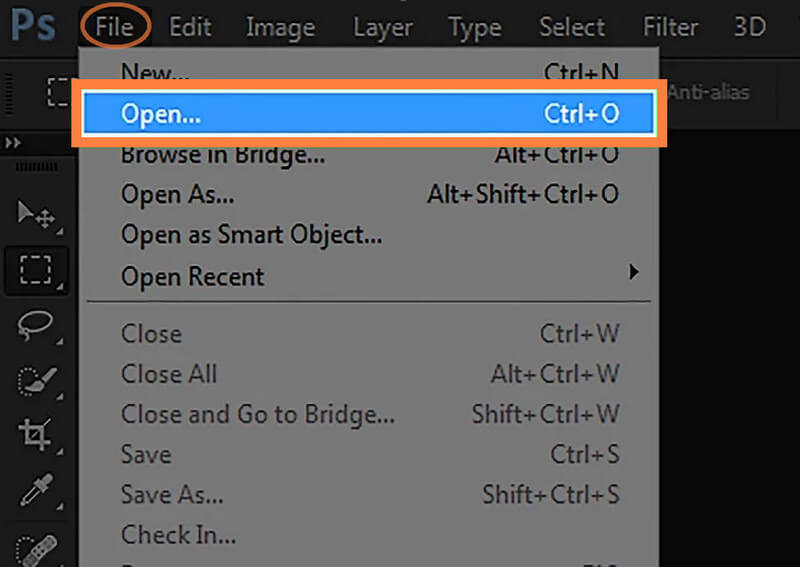 Step 2Now once your photo has been uploaded, you go to the Image option, which is located next to the File tab. Then, from the image setting selections, select the Image Size option. Again, you can access it by the hotkeys the software provides. To access photo size, you can click the ALT+CTRL+I to make a photo high resolution in Photoshop faster.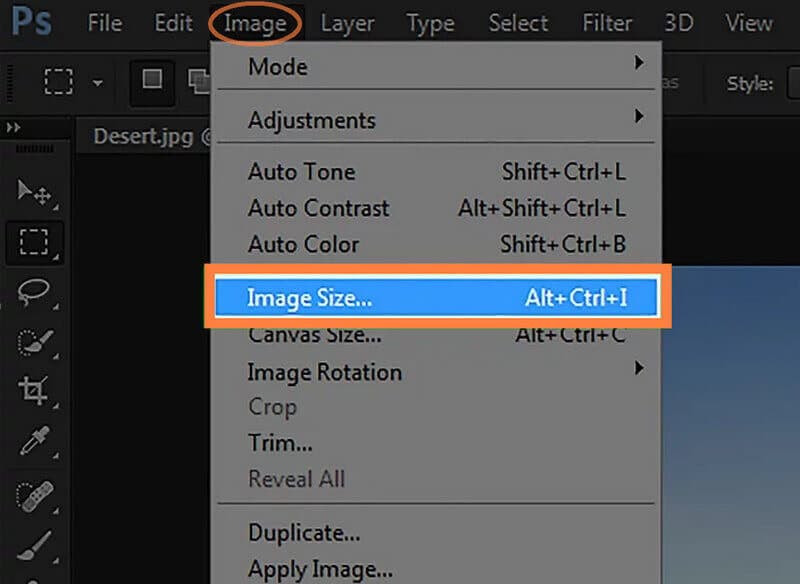 Step 3When the image size settings appear, it's time to navigate it to meet your preferred resolution. Go and adjust the Width, Height, and Resolution of the photo to the one you need. Then, don't forget to tick the Resample selection and adjust the bar in the Reduce Noise setting.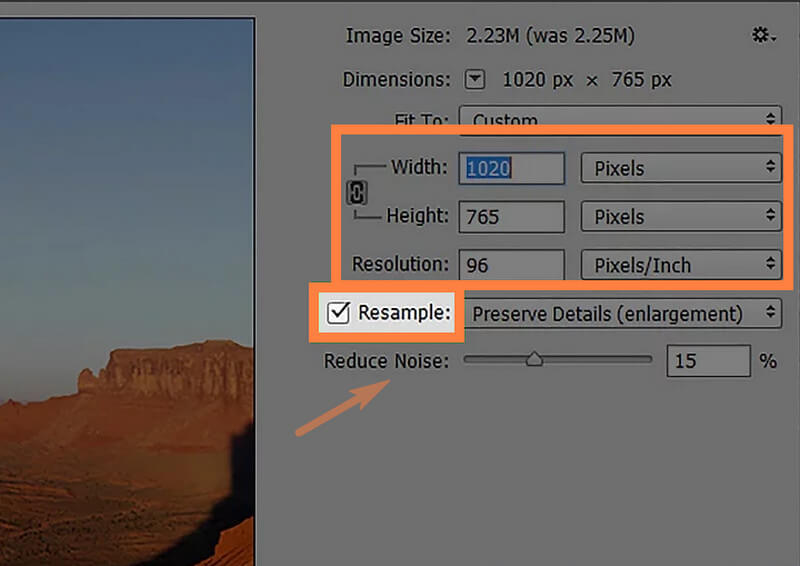 Step 4Finally, hit the OK button to apply the settings you've done. Then, proceed to keep the changes by clicking the Save tab from the File menu.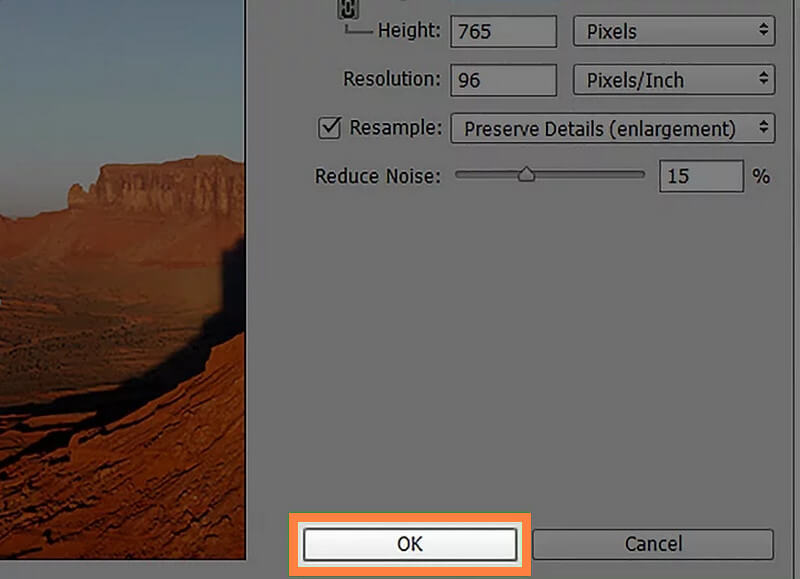 Part 2. A Much Easier and Accessible Way to Increase Photo Resolution
Now, if you opt to do the task much easier, try the AVAide Image Upscaler. It is an accessible online image editor that is equipped with artificial intelligence technology. Through that, the process of increasing the photo resolution was made easy with AVAide Image Upscaler. Imagine you can already see your output in just seconds you uploaded your photo. Furthermore, it doesn't only work to upgrade the resolution because it also automatically refines the photo quality and makes it a perfect one! Not just that, because it can enlarge your photos up to 800 times more.
Another good reason to try this AVAide Image Upscaler is its ability to enhance photos continuously. This means that you can immediately work on the next photo right after the other for free. There's more; this tool will let you be amazed by its magnifier, in which you can be able to check every detail of your newly enhanced photo and of the original one. Therefore, we conclude that this is the best tool to make low-resolution pictures high-resolution besides Photoshop.
How to Increase the Photo Resolution Online
Step 1Load Your Photo File
Initially, go to your web browser and visit the page of this powerful image enhancer. Once you're on the page, click the Choose a Photo tab to upload your photo. Otherwise, you can drop your photo file in the same interface area after dragging it from your folder.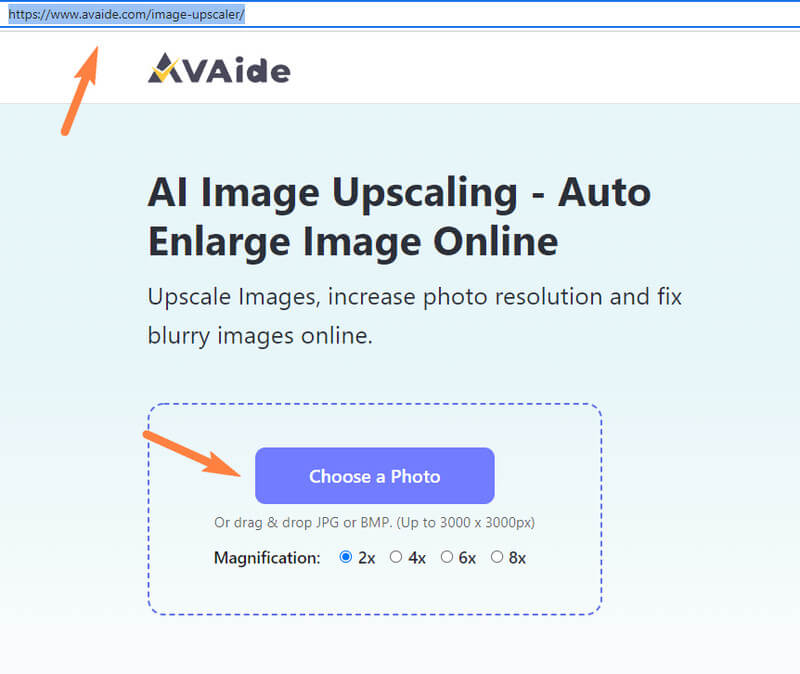 Step 2Choose Enlargement
The next thing you need to do is to choose among the Magnification options before or after uploading the photo. You will see the options above the photos in the new window if you choose after.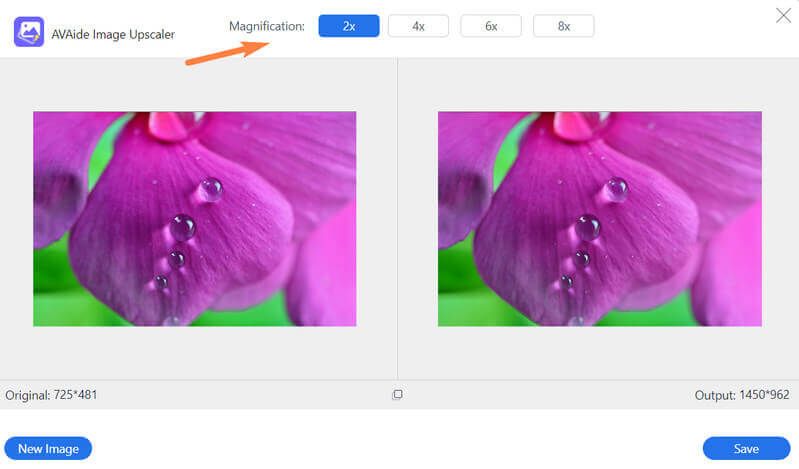 Step 3Check and Save
Now check the output photo and compare it to the original. If you're already good with it, then you can now hit the Save button, then you can immediately have the enhanced photo via download.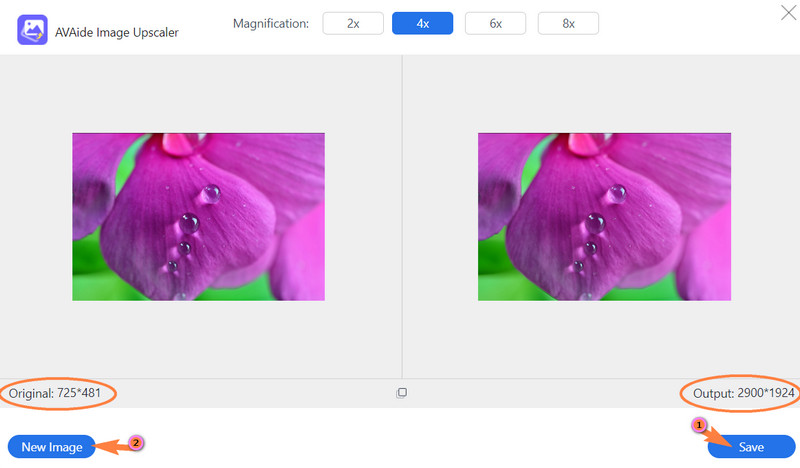 Tips:
If there are still photos you need to work on, click the

New Image

button after you click

Save

.

AVAide Video Converter
The most comprehensive media converter to convert video & audio & DVD without quality loss.
Part 3. FAQs about Increasing Photo Resolution
Are DPI and image size the same in Photoshop?
Yes. So if you will change the DPI, it will also change the image size.
What is the ideal resolution for printing?
If you want to print your photo, we recommend you to have it in 300 dpi or higher. It is because if you have it lower than 300, your photo will become blurry.
Why do I need to increase the resolution of my photo?
You need to increase the resolution of the image for many reasons. However, the typical reason behind it is that you increase the photo resolution will make it look clear.
What is the resolution of a photo with 8x10 size?
A photo with an 8x10 size has a 2400x3000 resolution, which is the best resolution for a photo.
Conclusion
Now that you know the proper way to increase the image resolution in Photoshop, you can work with the software without fumbling. Indeed, using Photoshop is challenging. For this reason, many can't appreciate its unique features due to lacking utilization experience. However, if you really can't handle it, you can always try a much easier yet powerful photo enhancer. This way, you can produce enhanced pictures for free unlimitedly. So, to have this, use the AVAide Image Upscaler to increase the resolution of your photos online now!
Use the Best Image to 4K Upscaler Online
Our AI technology will automatically enhance the quality of your images, remove noise and fix blurry images online.
TRY NOW