Having a reliable photo resizer can turn your images into various sizes without compromising the photo quality. However, aiming for the right tool is not that easy because many programs are on the market today. But this is not a reason to be frett anymore, because as you read this article now, you will be able to see the reliable and efficient resizers that wort your trust. Therefore, let's not waste time anymore, and let's proceed to the much-awaited part, which will introduce you to the best tools in town.
View all programs
Part 1. 5 Best Photo Resizers Online
1. AVAide Image Upscaler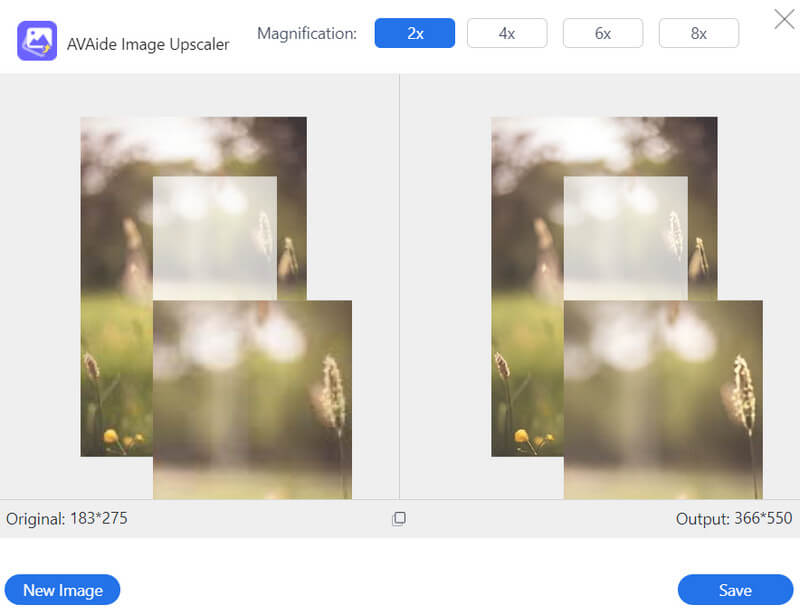 AVAide Image Upscaler is the best choice for an online photo resizer. It is because this program meets all the standards for being the most outstanding tool to resize your photos. Let's start with its interface; everyone shall agree that it has a facile interface that everyone can easily navigate. Next to that is its ability to transform images. The AVAide Image Upscaler has this AI technology that provides a one-hit procedure that can transform the photo into a high and lossless quality that makes it to the following standard: the ability to produce excellent quality outputs.
Pros
Resize and enhance the photos simultaneously for free.
No need to register and sign up.
Resize the photos up to 8x losslessly.
Support up to 3000x3000px of photos.
It has a rapid transformation of photos.
This free image resizer doesn't keep a record of your photos.
Cons
No editing features since it uses AI technology.
2. Birme: Bulk Image Resizing Made Easy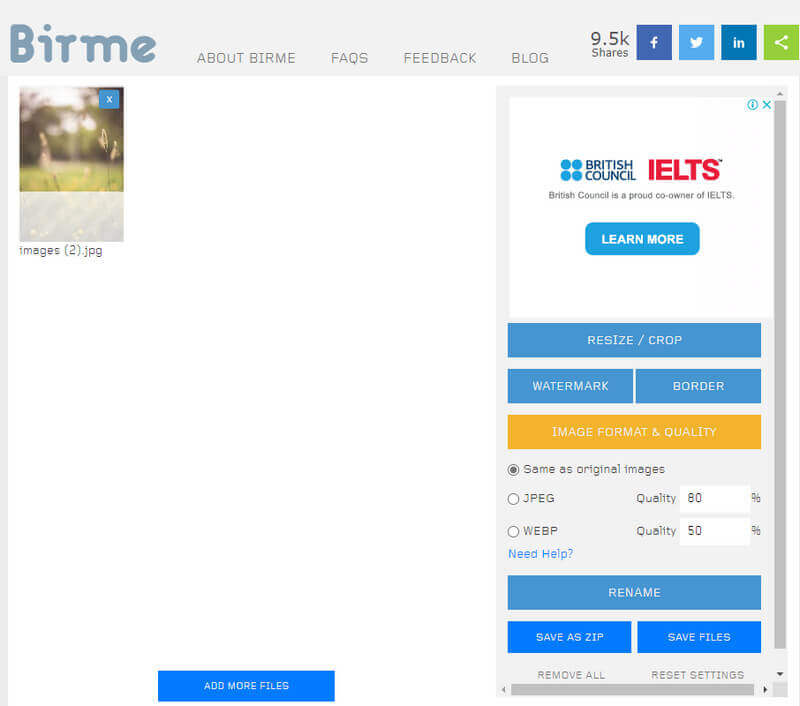 Next to the best online resizer is the Birme which stands for Bulk Image Resizing Made Easy. It is an online program that can resize bulk images simultaneously, as its name suggests. Aside from that, it also gives options for you to adjust your photos' format, quality, and watermark. What makes it unique is its preview feature of your photo that shows the changes you make immediately.
Pros
Customize watermark.
Editing features are visible.
Batch photo resizer.
Cons
The preview of the photo is only for the output.
3. Resizeimage.net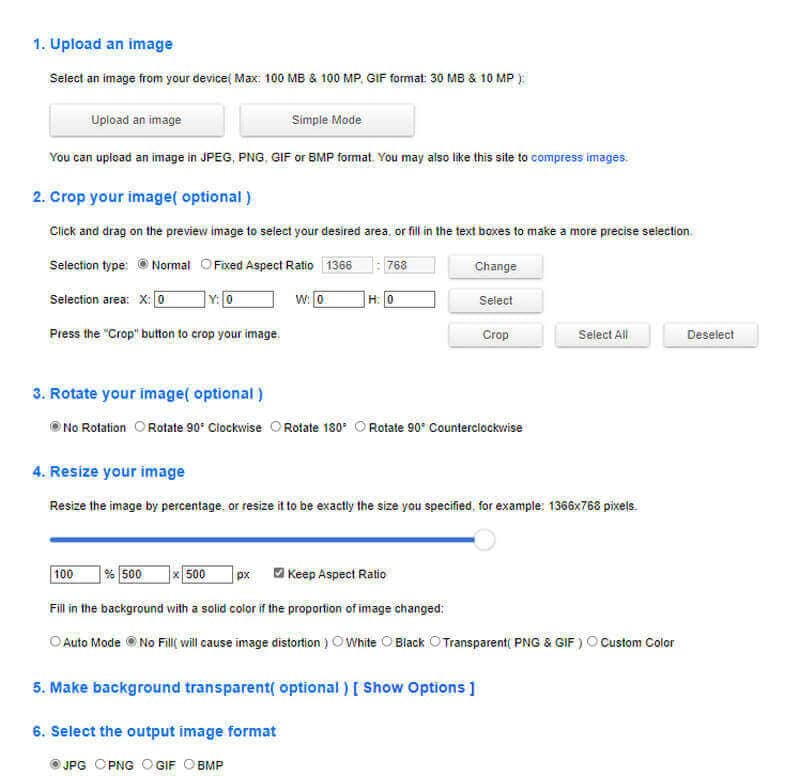 Resizeimage.net provides you with so many options to do for your photos. Upon reaching its webpage, you will notice tons of selections such as crop, rotate, background, output, and optimization, which all can be set for a higher quality of your photos. Aside from that, this tool is also flexible to compress your image and can make a GIF all for free.
Pros
Versatile with many editing options.
It's free to use.
No watermark on the outputs.
Cons
The interface is congested.
With ads on the page.
No preview of before and after photos.
4. Promo Image Resizer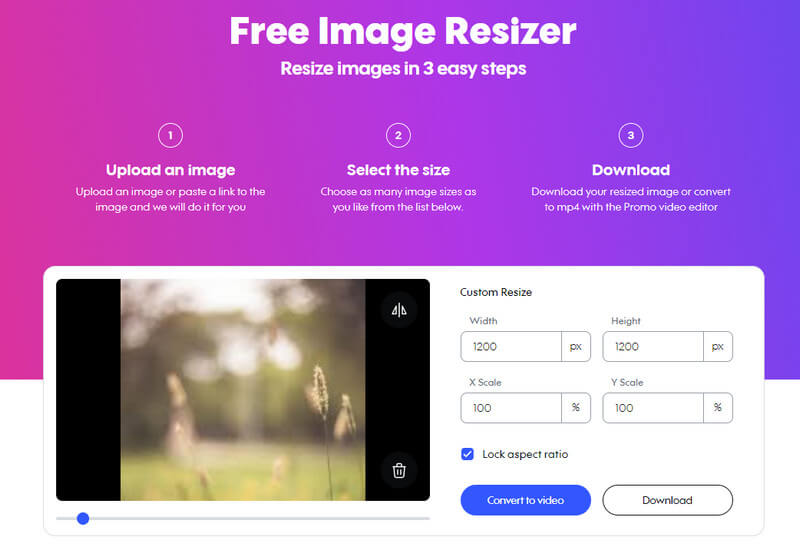 Next is an exclusive photo pixel resizer that automatically lets you resize your photo up to 100x100px for your social media. In addition to that, it can also allow you to customize your resized photo where you can put text, thumbnail, and cover to it right after the resizing process. However, if you don't want these additional styles on your photos, you can just drag and move them to vanish.
Pros
Provide multiple previews of different sizes for social media platforms.
It's free.
Can resize pictures to banners.
Cons
Poor output quality.
It requires registration before the process.
5. Simple Image Resizer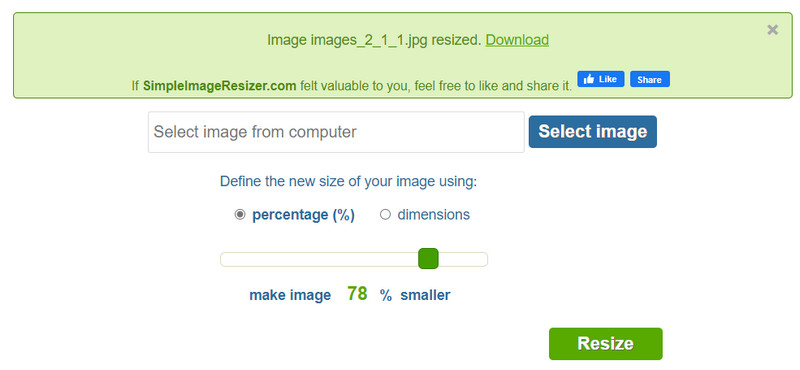 Simple Image Resizer has been proven by its title, for it has the most straightforward interface among the online picture resizers. It's a hassle-free tool, for it has a straightforward interface. Despite that, this Simple Image Resizer enables you to resize your photos into the ones fit for blogs, email attachments, and various social media platforms.
Pros
With fantastic support for different image formats.
No watermark.
It is free to use.
Cons
So many ads on the page.
Resize the photos manually.
Part 2. 3 Best Resizers on Windows and Mac
If you are looking for the complete function software, you should see the three best resizers below.
1. Adobe Photoshop
First on our list is this popular Adobe Photoshop. The software is known to have an extraordinary photo editing capability. When it comes to resizing, this photo pixel resizer will make you customize the size and the pixel dimension as an efficient procedure. Indeed, this software's outputs are explicitly good, which is why professionals prefer it over other photo editors. What's more, you can easily improve the resolution of images in Photoshop.
Pros
Flexible.
Tons of great functionalities.
Hig quality of outputs.
Cons
Not advisable for a non-experienced user.
The system requirement is high.
2. DVDFab Photo Enhancer AI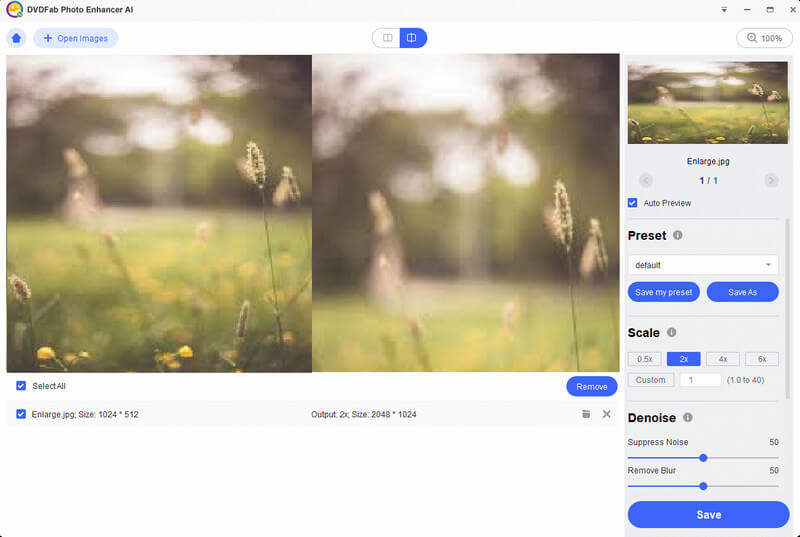 The next software that will surely capture your heart is the DVDFab Photo Enhancer AI. It is a good choice if you are a beginner and, at the same time, a Windows user. Furthermore, this software will allow you to have clear and stunning photos, reducing the blur and noise and improving the details of their display.
Pros
It enlarges and enhances the photos up to 40 times.
It supports the most popular image formats.
It works with AI technology.
Cons
Limited OS compatibility.
3. AKVIS Magnifier AI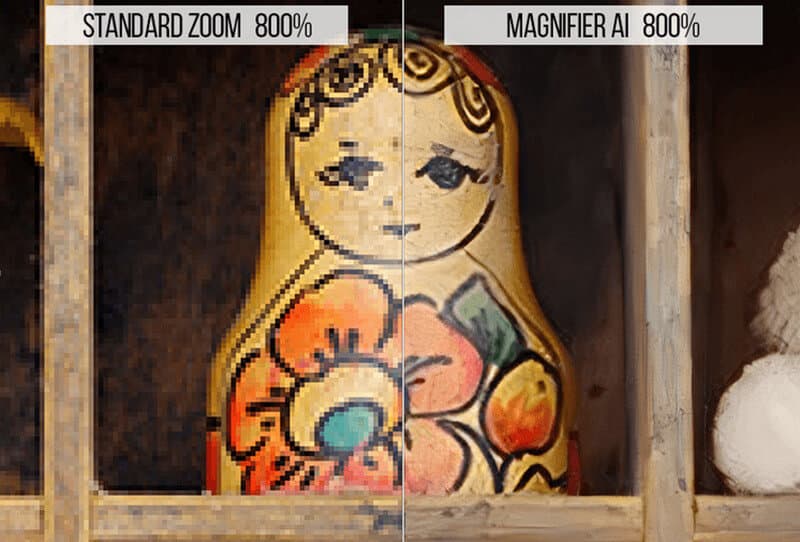 Let's now move on to another best photo resizer tool, the AKVIS Magnifier AI. It is the software that you can obtain on Mac and Windows. Furthermore, it can resize photo size by up to 800% without affecting the quality of the image with the help of the neural networks it uses. However, just like Photoshop, and DVDFab, AKVIS is also paid software. As a matter of fact, many are hesitant to try it, for it is pretty expensive to acquire.
Pros
It uses advanced technology.
Can enlarger the images up to 800%.
Produce good quality outputs.
Part 3. 3 Best Photo Resizer Apps
And now, to complete your needs, we bring you the best photo resizer app for Android and iPhone.
1. Picsart Photo & Video Editor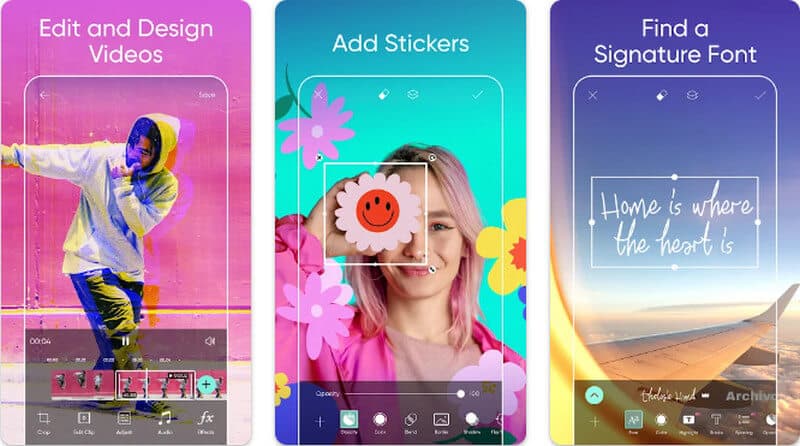 Picsart will let you enjoy editing the photos and your video files. Furthermore, it is an app infused with different features, including a real-time collaboration. In addition, it provides you with essential tools and unique options such as background and object eraser, adding glitching effects, and applying double exposure effects.
Pros
It comes with a collaboration feature.
Tons of features and editing tools.
Cons
It gets buggy at times.
It only offers a 7-day free trial.
2. XGimp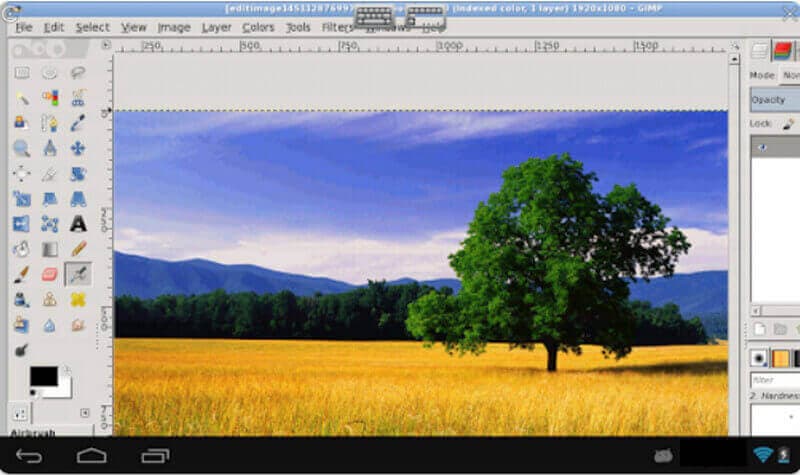 XGimp is another photo editing app that is an expert in beautifying photos. The moment you launch this best free app to resize photos, you will immediately notice its desktop-like interface with a landscape orientation. This appearance is unusual for a mobile app, so it creates a good impression on users.
Pros
It comes with advanced features.
Free to use.
Memorable interface.
Cons
It occasionally crashes.
3. Instasize Pic Editor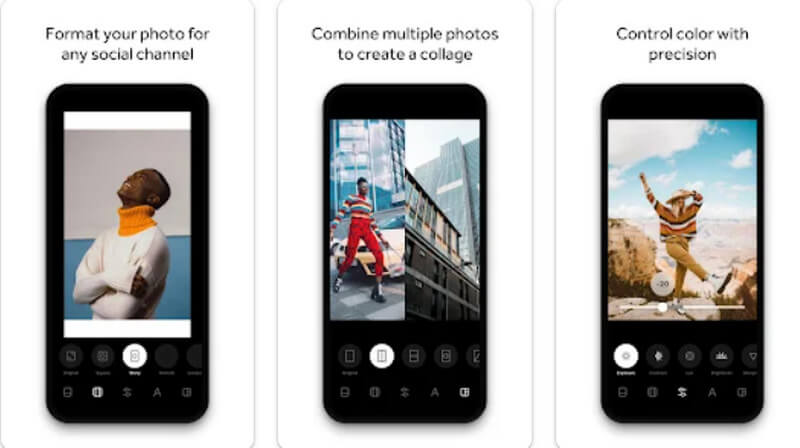 Perhaps you already have an idea the moment you read the name of this app. And yes, this Instasize Pic Editor can instantly do the task for you. Furthermore, it offers users tons of editing tools, hundreds of filters, and borders for collage making. On top of that, this app allows you to choose a canvas for your photo when resizing and quickly get you to the size you desire.
Pros
Multifunctional app.
Easy to use.
Infused with essential retouching tools.
Cons
It only gives a 3-day free trial.
Its interface is too plain.

AVAide Video Converter
The most comprehensive media converter to convert video & audio & DVD without quality loss.
Part 4. FAQs about Photo Resizing
Will I have the same photo size after resizing?
No. Resizing the photo will affect the file size due to the changing dimension that adds to or lessens the image content.
Will I have a pixelated photo after increasing the photo?
It depends on the photo pixel resizer that you use. Some tools leave your photos pixelated after the process. However, if you want to refrain from this, you must use the AVAide Image Upscaler then.
Can I still enhance the photo after enlarging it?
Yes. You can still improve the image quality after the enlargement. However, it will be challenging to enhance a photo if it gets pixelated.
Conclusion
Resizing your photo is risky, for it can lead you to the output that can either make you happy or disappointed. It is why we gathered the remarkable tools you can use to obtain the desired output. Try the tools and see their greatness for yourself!
Use the Best Image to 4K Upscaler Online
Our AI technology will automatically enhance the quality of your images, remove noise and fix blurry images online.
TRY NOW