There are times when you need to lower the image quality. Photos come in different qualities and sizes, and almost all modern camera devices nowadays produce high-quality photos. For this reason, photos with the said quality come with a larger file size that eats much memory on your device. This, unfortunately, leads your device to perform slower to even lagging. We cannot deny the fact that to resolve this issue, and many think that deleting photos with high quality should be done because that used to be the perfect solution before.
Fortunately, in today's technology, we are given another choice to preserve our precious photos and keep them for years. That is by lowering the standards or reducing image size without losing quality. Yes, you can do that! You should see this entire article to see how.
Part 1. How to Lower Image Quality in Three Ways
There are various programs online and offline that you can use to do the task. But we have the ones that you can access easily yet with proven great performance in lowering image file sizes without affecting their quality that much.
1. TinyPNG
First on the list that you should try is this free online file compressor, TinyPNG. It is a PNG and JPEG file compressor that lets you work on multiple photos at once for free. Uploading your files will never be a hassle, for it allows you to drag and drop them in its interface for a faster transaction. And guess what? It will never damage all the image files you use, for it compresses while not affecting their display. So, how to make an image smaller without losing quality in TinyPNG? See the following steps below.
Step 1Load the site of this tool after accessing the browser of your computer. And then, fix your eyes at the center of the interface where you can upload your images.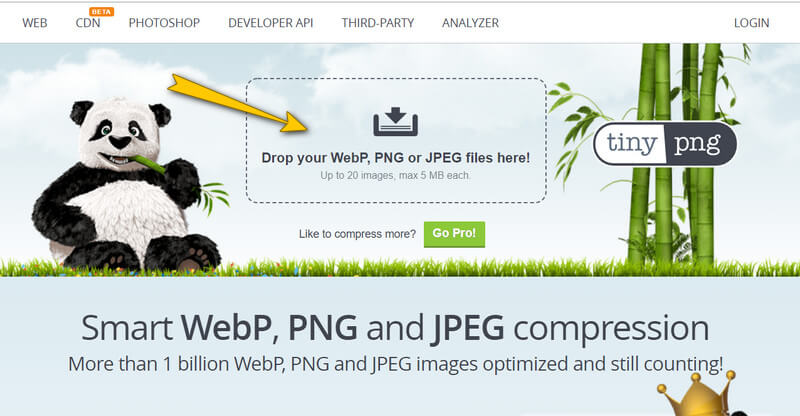 Step 2Now click the Import icon to upload your files. Alternatively, you can just drag your files from your file storage and drop them all at once on the interface. Please note that for its free service, you can only upload up to 20 files within 5MB.
Step 3This tool will upload and, at the same time, compress the image files you put in. Therefore, once you're done uploading after seconds, your compressed files are ready for download. Click the Download All button and wait for the zipped file after.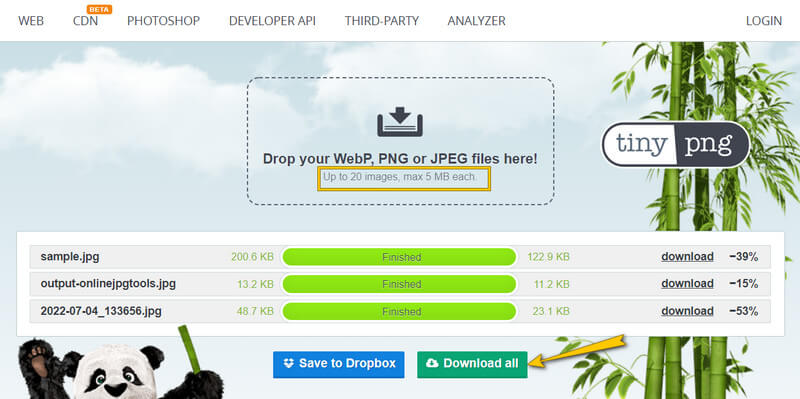 2. Adobe Photoshop
Adobe Photoshop is the next tool you must use to make a low image quality. It is a powerful software infused with many excellent tools for modifying your photo files. So, if you have Photoshop on your device, then you can follow the following guidelines to lower the size and quality of the photos.
Step 1Launch the software, and import the photo file into the interface. Click the File tab and choose the Open selection from there.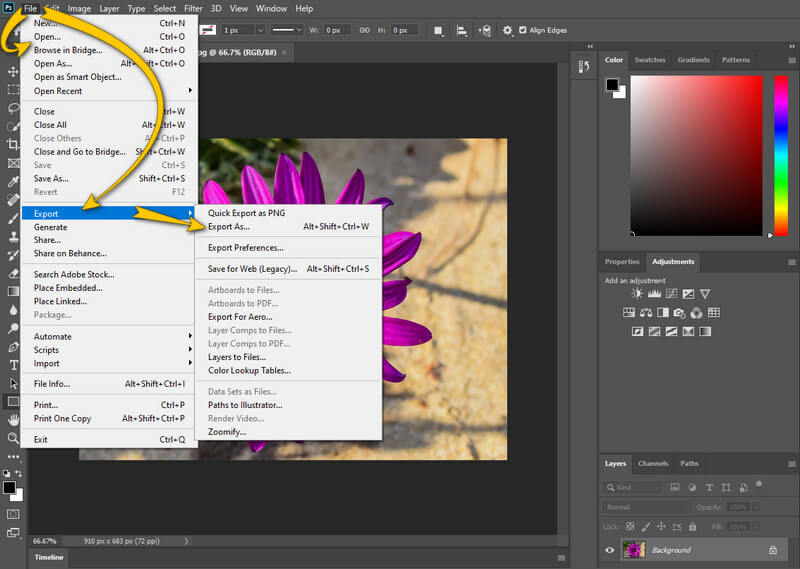 Step 2Now on the new setting window, head to the File Setting on the right side of the interface. And then, adjust the Quality lower using the adjusting bar. See how the file size changes as you adjust it under the small preview on the left side of the interface.
Step 3After that, you can save the newly downgraded file by clicking the Export button.
Aside from reducing image quality, you can increase image resolution in Photoshop easily.
3. ILoveIMG
Lastly, we have the ILoveIMG. It is an online tool that reduces photo sizes to free up space on your device. Unlike the first method, ILoveIMG enables you to import files from your computer storage, Google Drive, and Dropbox. Similarly, it can simultaneously compress multiple files within its clean and facile interface. So to see how to make an image lower quality using this lovely online solution, here are the steps to do so.
Step 1Visit the program's main website, and click its Compress IMAGE tool, among the others. Click the Select images button on the new page to upload your photo files.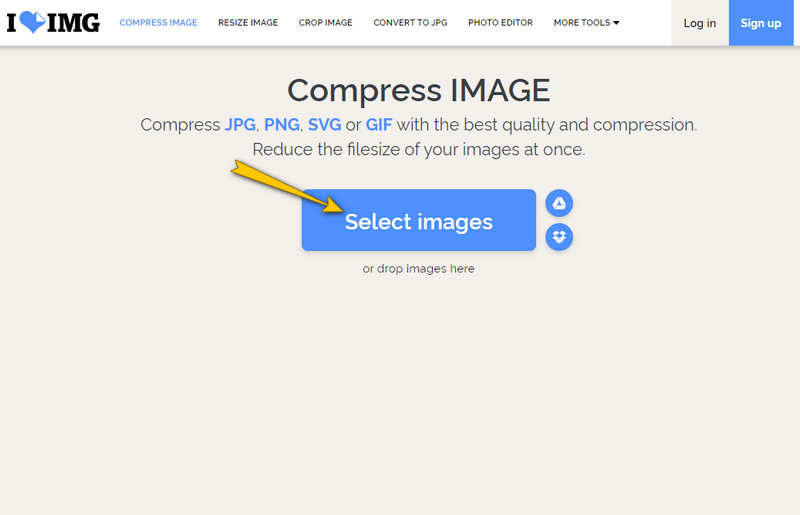 Step 2After that, a new window will appear where you need to hit the Compress IMAGES tab to start the process.
Step 3Wait till the process finishes, and download the shrunk file after.
Part 2. Bonus: Best Way to Upscale Image Quality without a Hitch
As a bonus part, we don't want you to miss the best solution to upscale your images in the easiest way possible. Suppose you want to revive your photos and bring back their excellent quality after downgrading the image quality with the reducer. In that case, there's nothing you must use except the AVAide Image Upscaler. Why? Because this online solution amazingly upgrades the quality of your photos in just seconds through its AI-powered technology that is committed to producing excellent photo files after enhancement. Not to mention its support for the photos with 3000x3000px and its ability to magnify them up to 8 times their original scale.
What else? It includes a helpful photo preview of the original and the output for you to compare the two photos thoroughly. Now, to prove its eminence, here is a comprehensive guideline on how to enhance image quality online.
Step 1To start, go to any browser you use on your computer or mobile device and visit the main page of AVAide Image Upscaler. Upload your file with a lower image quality by clicking the Choose a Photo button. Optionally, you can also set a Magnification before you upload a file.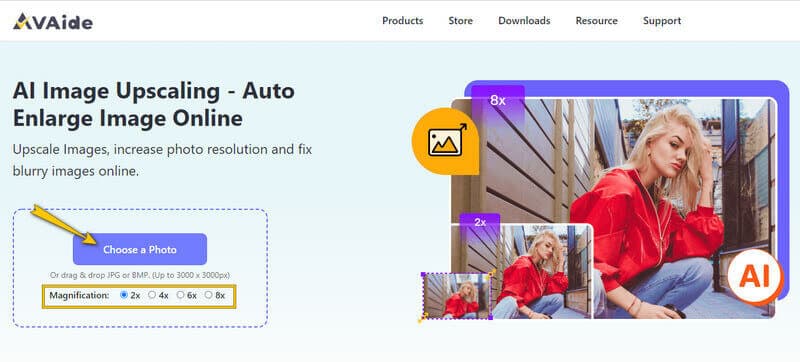 Step 2Once you successfully upload the photo file, the tool will bring it to its preview window. Check out the differences between the two.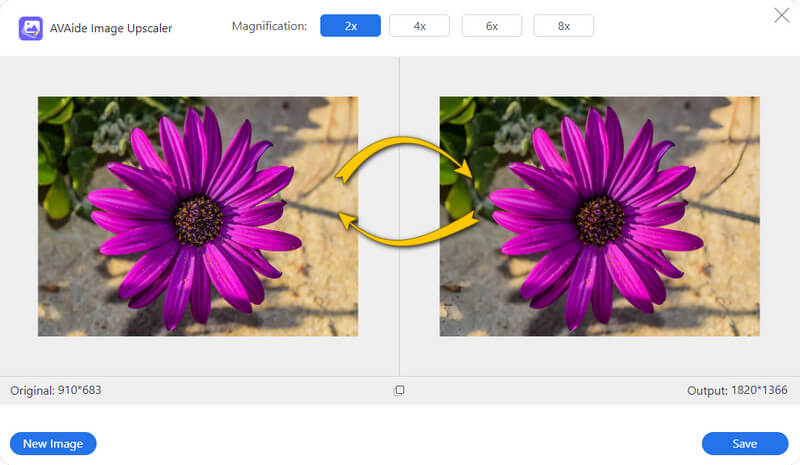 Step 3After that, hit the Save button to accept the changes and, at the same time, export the file. Then, to work on your next photo, click the New Image.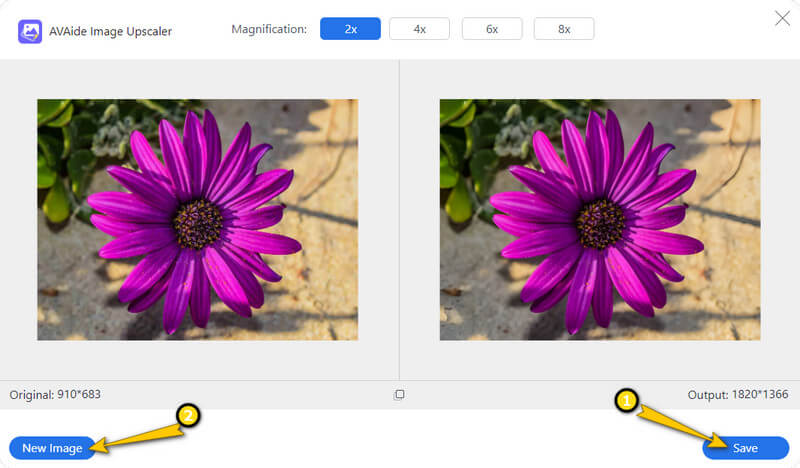 Note: You can use this fantastic tool to increase photo resolution online for free; it has no limit on uploading photo files.

AVAide Video Converter
The most comprehensive media converter to convert video & audio & DVD without quality loss.
Part 3. FAQs about Reducing Image Quality
Can I reduce the photo quality on my Android?
Yes, you can. You can use either the photo compressor app or access the online solutions we presented to you above.
Is the quality affected if I compress the photo?
Remember that modifying the size of a photo may affect the quality. Hence, you can limit the effect if you will only use a good compressor or resizer tool. Or you can turn to an image enhancer to improve the image quality after compression.
What low dpi can I use in an image?
72 dpi is the standard of a low-quality photo.
Conclusion
There you have it, the three best image quality reducers for you. Those tools can help you free the space of your device while keeping them still; hence if you need an excellent tool to bring back your photos' good quality and make images bigger, use the AVAide Image Upscaler.
Use the Best Image to 4K Upscaler Online
Our AI technology will automatically enhance the quality of your images, remove noise and fix blurry images online.
TRY NOW