For the ones who are new in the photo editing world, they find it frustrating to make an image bigger. We can't deny that many programs or photo editing tools claim to have a smooth and great experience, with their guarantee to produce excellent quality outputs still. So, users with little knowledge of the task tend to be frustrated because they really can't get what is expected. For this reason, this article is here to rescue you from that kind of disappointment because we will introduce the most trusted and tested online and offline solutions you shouldn't miss! Rest assured that these tools will provide you with the true meaning of great experience on how to make an image bigger without losing quality!
Part 1. 7 Magnificent Way to Make Photos Bigger with Losslessly Quality
1. AVAide Image Upscale
The first stop is the amazing AVAide Image Upscaler. It is an online tool that uses artificial intelligence technology in every photo transformation. For this reason, this tool will only require you a minute or less of your time to produce your expected output. You will be able to enlarge, unblur, denoise, and enhance your photos in just a single click. Furthermore, AVAide Image Upscaler is also dedicated to giving high-quality outputs, despite being a free tool. In addition to that, you won't ever see annoying ads on its page and interface while doing your task.
How to Make an Image Bigger Without Losing Quality
Step 1Open your web browser using your computer or mobile, and go to the official website of the AVAide Image Upscaler. From there, hit the Choose a Photo tab to import the photo you need to enlarge.

Step 2Once the importation and enhancement process is done, you may start the enlargement procedure. On the new interface, pick your desired magnification where you can resize the photo up to 6 times the original size.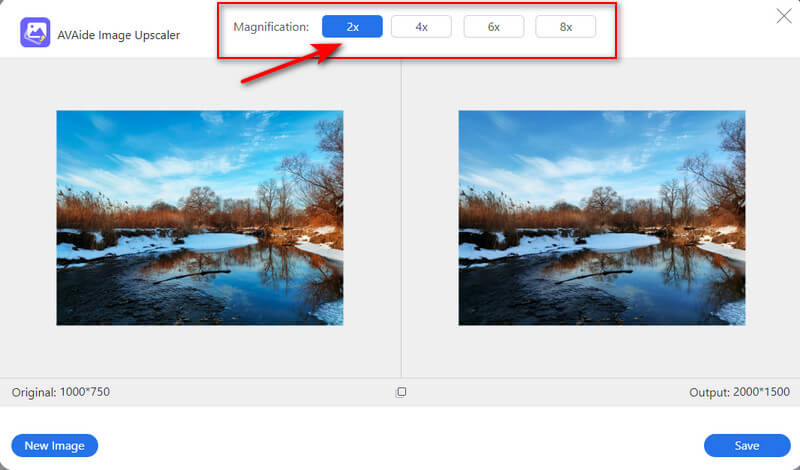 Step 3That's all it takes to resize your photos, and you can now hit the Save button for you to download the new file.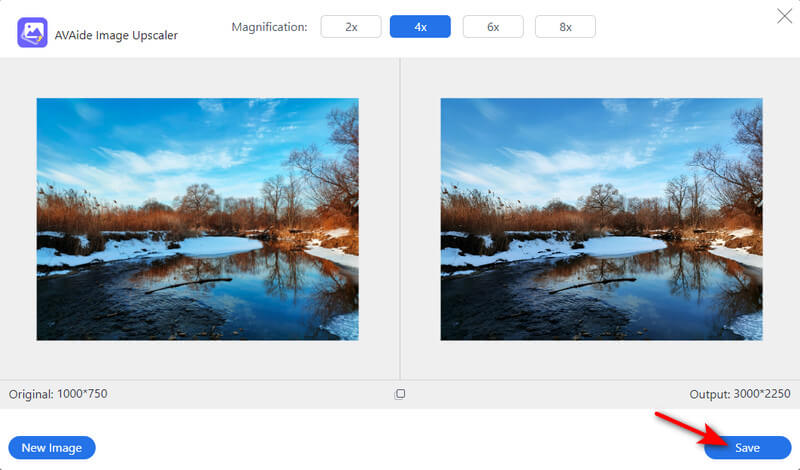 2. Adobe Photoshop
Next on the list is the popular Adobe Photoshop. If you are already familiar with Photoshop, you certainly know how powerful it is when it comes to photo editing since it is the software's expertise. Yes, it is not only a piece of hearsay information because many professionals trust this program. Photoshop enables you to enhance your photos with the help of its numerous tools, features, and selections. Moreover, you can use it to increase image resolution if you need. So to assist you on how to make an image bigger in Photoshop, please see the steps below.
Step 1Acquire the software to your computer device and launch it. Then, open the photo that you need to make bigger. After that, go to Image, and hit the Image Size selection.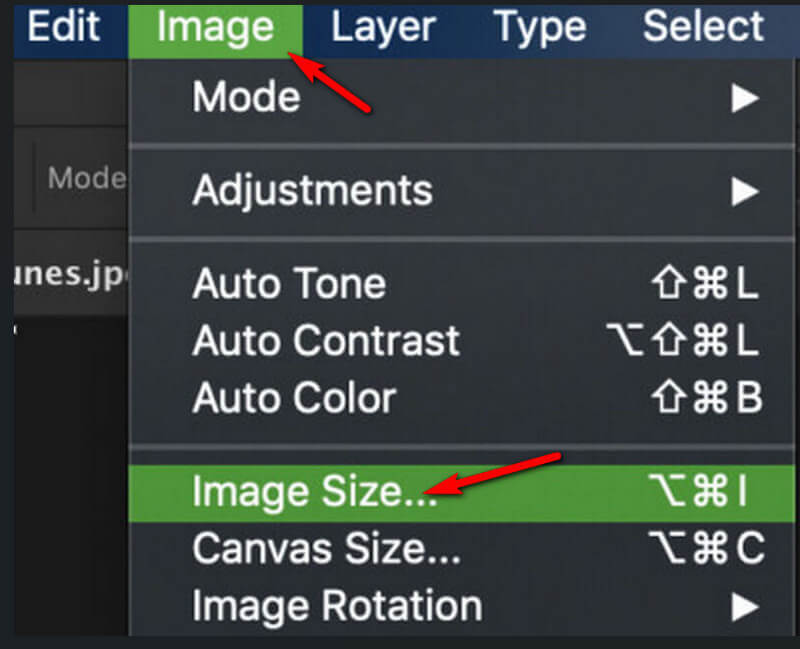 Step 2Going on the image size window, you may begin to make some adjustments. Start on the Dimension and Pixels. Then, start to adjust the image size with the Height and Width.
Step 3Once you get your desired enlargement, click the OK button to apply the changes you just made.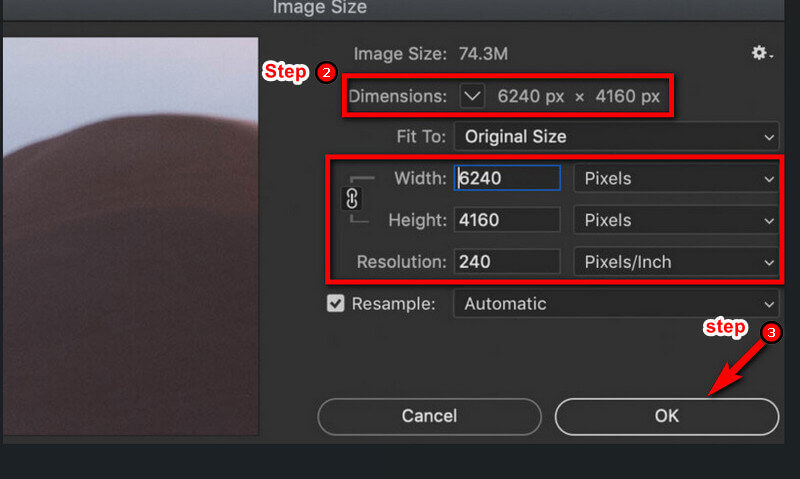 3. GIMP
GIMP is free and open-source software that you can have on Windows, Mac, and even Linux OS computers. It is now being popular as one of the best alternatives to Photoshop due to its remarkable ability to resize images while maintaining the image's good quality. However, unlike Photoshop, GIMP has limited features, which is why many use it only for timid resizing. And to show you how to make an image bigger with GIMP, the steps below are for you.
Step 1Launch the software, and import your photo by clicking File > Open. After that, go to the Menu and select the Scale Image selection.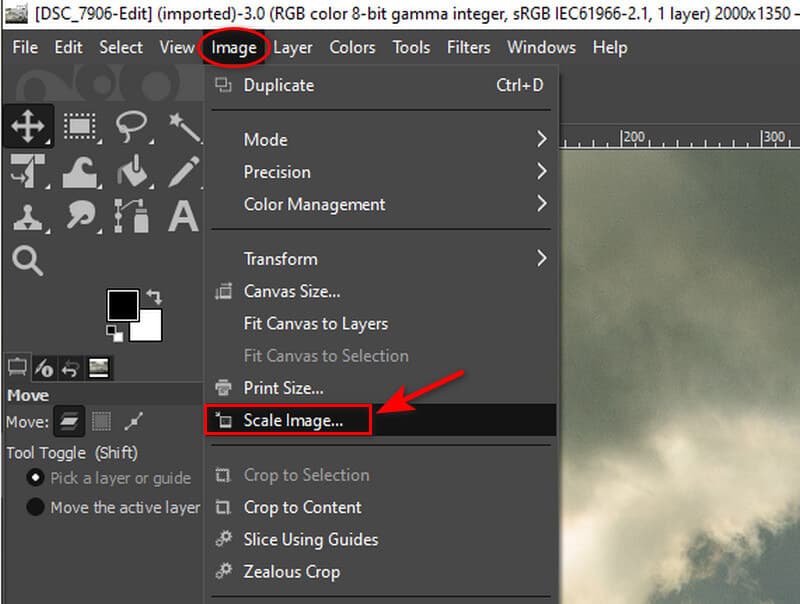 Step 2On the Scale Image window, start adjusting the size. Begin with the Width and Height selections, then the Resolution. After that, click the Scale tab to finalize and see the changes applied.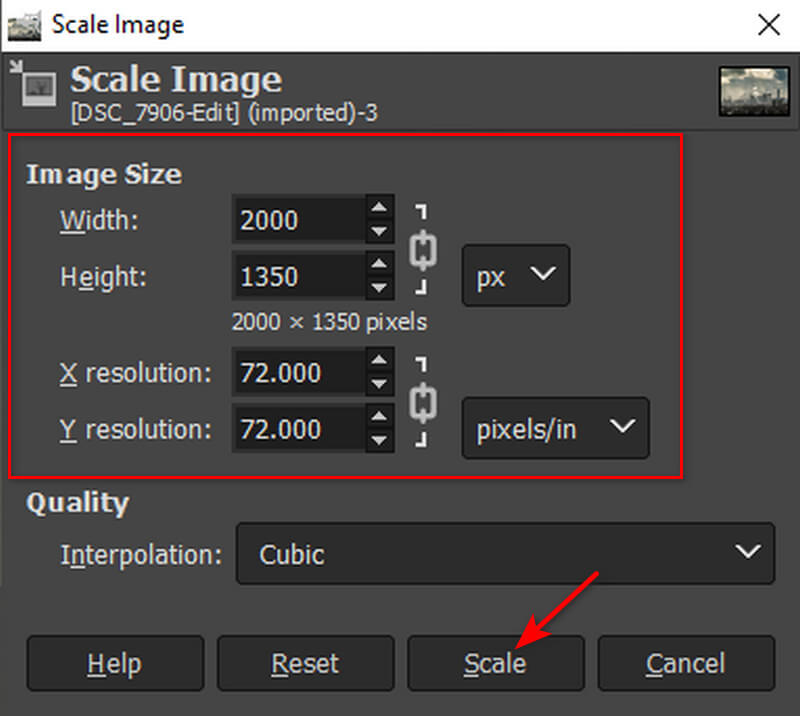 4. PICASION.com
PICASION.com is another online tool that is an intended GIF maker with a great solution to resize images. In addition, it also makes a name as a good glitter and avatar maker. With its straightforward interface, you will surely get to deal with it efficiently. However, PICASION.com might look messy at first due to the advertisement articles and other elements that congest its interface.
Step 1Visit the main page on your browser, and choose the RESIZE IMAGE selection.
Step 2After that, click the Choose File button and upload your photo. Once the photo is in, pick your preferred image's immensity when you click the arrow drop-down button in Size.
Step 3OThen, click the Resize Image button to start the process. Save the photo after.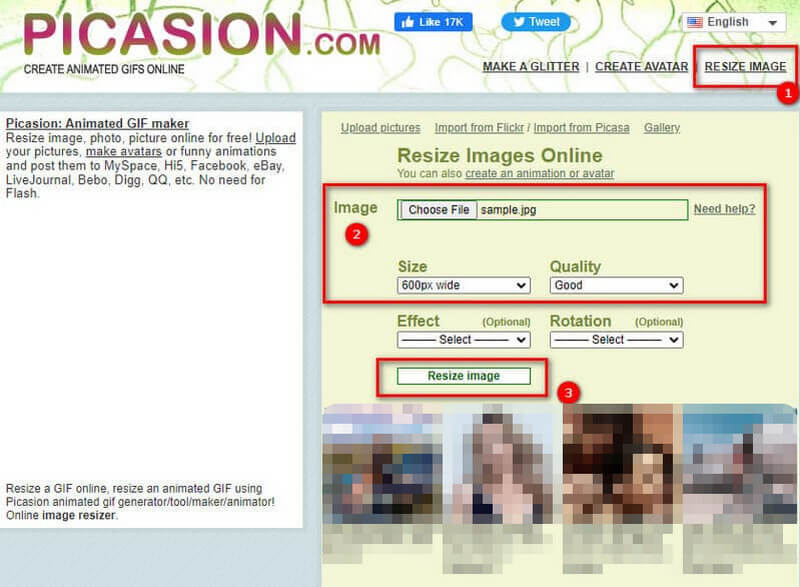 5. Promo Image Resizer
Another online image upscaling tool on the list is the Promo Image Resizer. It is one of those that have a simple and smooth procedure when it comes to resizing photos. In addition, this Promo Image Resizer allows users to import photo files not only from their computer device but also from URLs. However, this tool is solely intended for resizing unless you switch to its other powerful tools depending on your task.
Step 1Import your photo file by clicking the Browse or the Import from URL buttons.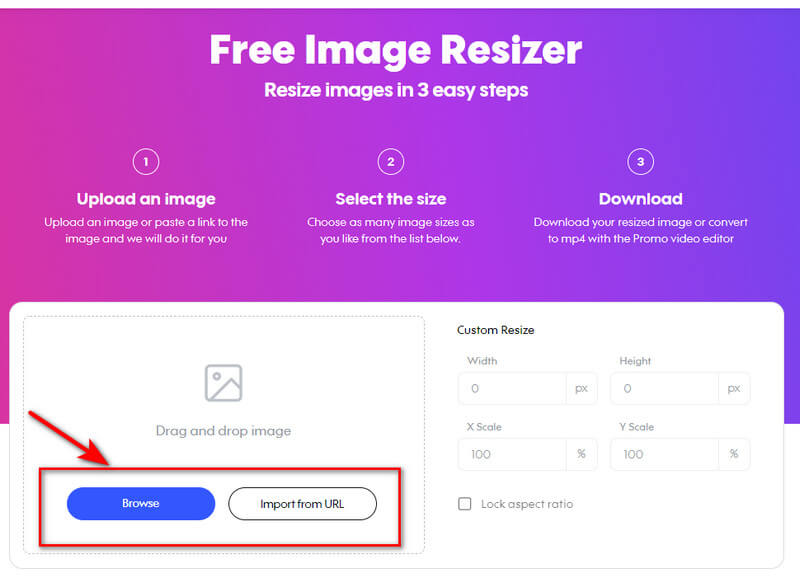 Step 2Enter your preferred size manually for the uploaded photo under the Width and Height selections. Also, you have the options for the Scale that you can adjust.
Step 3After that, hit the Download button to acquire the resized photo.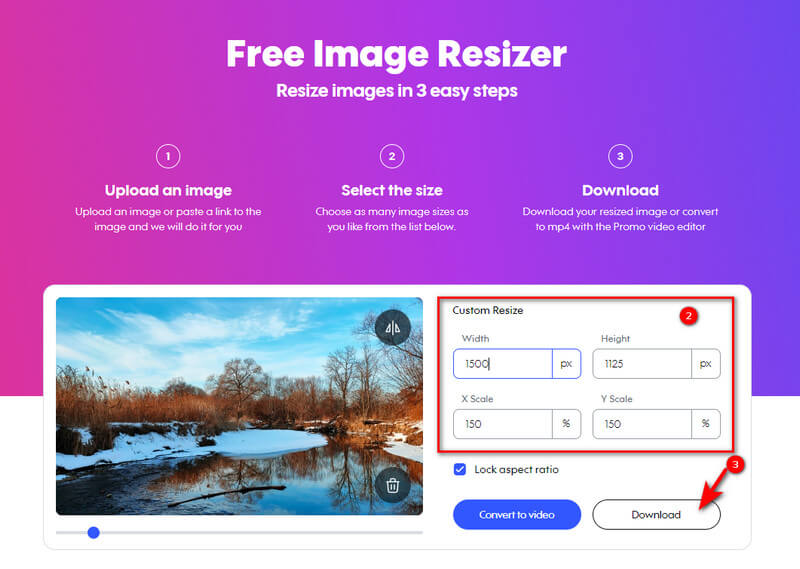 6. Irfanview
Irfanview is a photo editing software available on Windows. It offers an intelligent way to enlarge images with rapid technology that everybody loves. However, Irfanview has a pretty slick interface for newbies and is easy to get along with for the experts. Nevertheless, you can follow the guidelines below if you have decided to install this software on your desktop.
Step 1Launch the software and load your image by clicking Image > Resize/Resample. By doing this, the tool will bring you to the setting window where you can start resizing.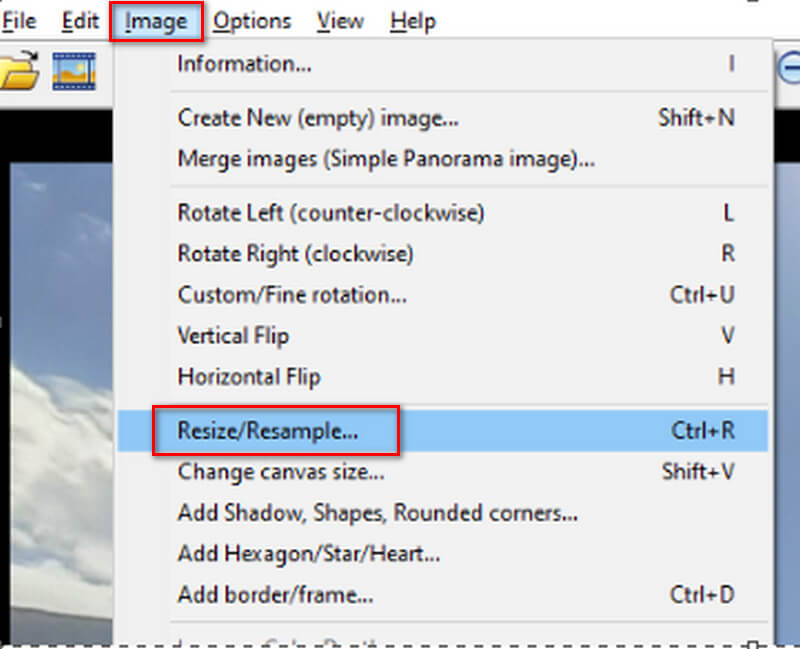 Step 2Now on the said window, toggle the Set new size selection, and enter your preferred size. Also, tick the Apply sharpen after Resample selection and the Resample(better quality). After that, hit the OK button to apply the changes you made.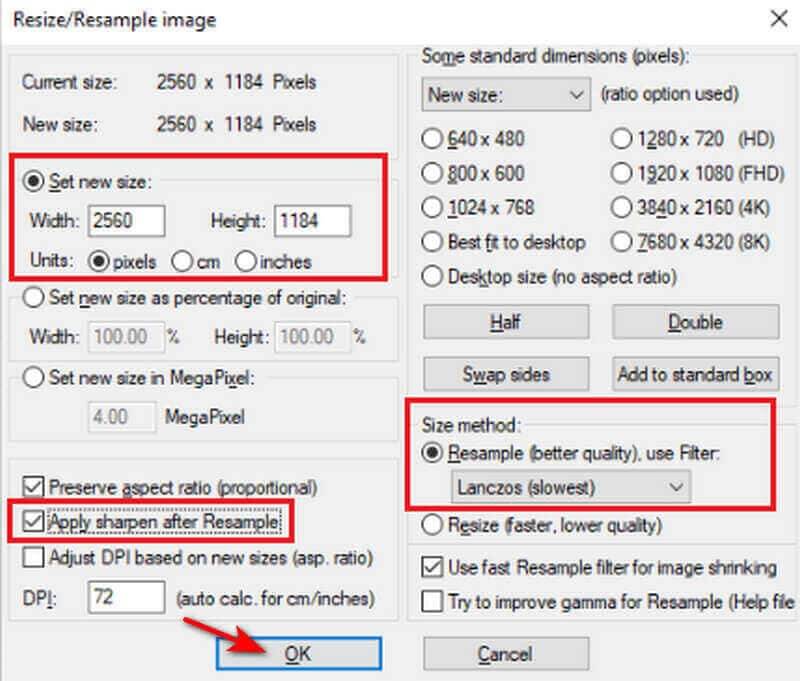 7. On1 Resize AI
Last but not least is the On1 Resize AI. It is premium software that you can avail of on Windows and Mac. It was formerly known as the Perfect Resize, which enables users to resize their photos intelligently with the help of its complete and powerful image editing tools. It is a standalone software and a good plugin for Lightroom, Photoshop, Apple Photos, and Capture One.
Step 1Download and install the software or as a plug-in, then launch it.
Step 2Now go to the Crop tool and navigate the Aspect Ratio setting as part of resizing the photo. After that, adjust the Pixel Dimension, then click the Done tab to apply the changes.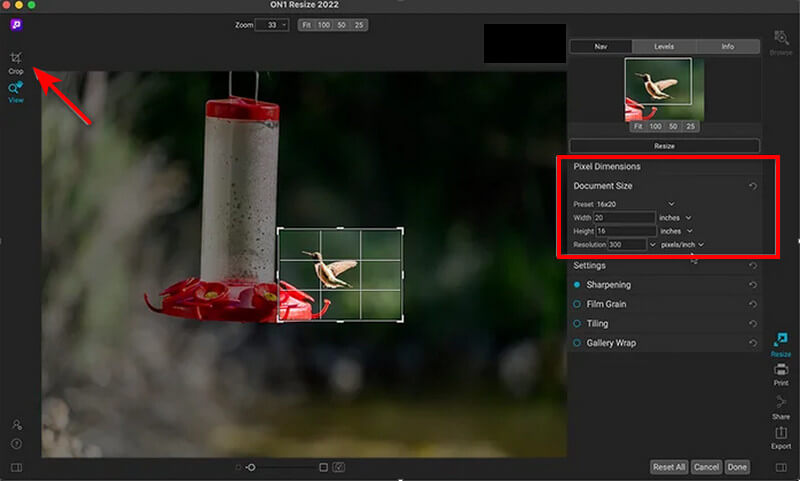 AVAide Video Converter
The most comprehensive media converter to convert video & audio & DVD without quality loss.
Part 2. FAQs about Making the Photos Bigger
How to make an image bigger on Mac?
If you don't want to install additional software on your Mac, you can try to use the Preview to enlarge your photo.
How do I enlarge a low-resolution image for printing?
Yes. A trusted image enlarger, just like the AVAide Image Upscaler, is what it takes for you to do that.
How can I refrain from having a low-quality photo?
Yes. However, reducing or downscaling an enlarged photo will definitely affect the quality.
Conclusion
Making the photos bigger will be more convenient if you use the right tool. So, don't hesitate to use the introduced online and offline solutions in this article, for we tested them individually. Therefore, we may say they are great at this specific task.
Use the Best Image to 4K Upscaler Online
Our AI technology will automatically enhance the quality of your images, remove noise and fix blurry images online.
TRY NOW