Are you hesitant to install an image enhancer software on your computer that you will eventually need to deinstall due to low storage? Then, you should know the most trusted photo enhancers online. These online tools will definitely give you the same quality output from the best software you have in mind. Furthermore, you will enjoy the privilege of using them without spending a dime. And as everyone knows, using an online tool doesn't have a system requirement. Therefore, your device can maintain free space storage. So if you are already excited to see the online tools we have for you, then continue to read the information below.
Part 1. 8 Great Ways to Increase the Photo Resolution Online
1. AVAide Image Upscaler
AVAide Image Upscaler is one of the strong suits of AVAide. It admirably works to increase photo resolution online for free, using its AI-powered processor. Amazingly, this image enhancer provides compatibility on both Windows and Mac. If you need to upscale your image, AVAide Image Upscaler will provide you with everything you need with just a single click of your mouse. Not just that, because the moment you upload your photo with low resolution, this tool will not just upscale the photo, but it will also enhance it until it reaches the finest your photo could ever have. Thus, to start up working photo enhancement, the steps below are provided to assist you.
Step 1Visit the AVAide's website and look for the Image Upscaler tool from the products. Then, to increase image resolution online, click the Choose a Photo button which is located at the center part of the interface, for you to import the photo file upon reaching the official page of the Upscaler.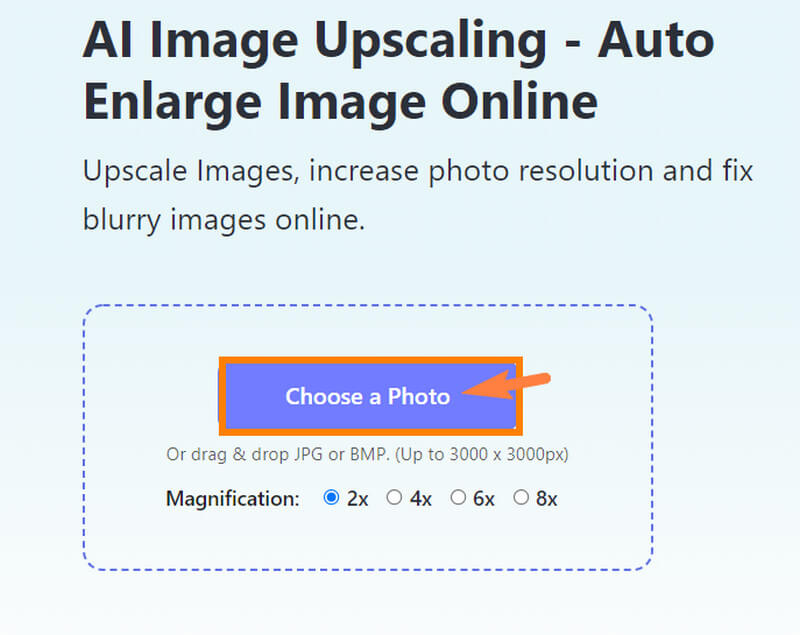 Step 2Once you click your photo file, this tool will automatically process the enhancement. Then, once the process is done, it will show you a preview of the before and after, in which you can check and compare. This time, you can customize the enlargement of your photo. How? Just go to the Magnification option and select our chosen size.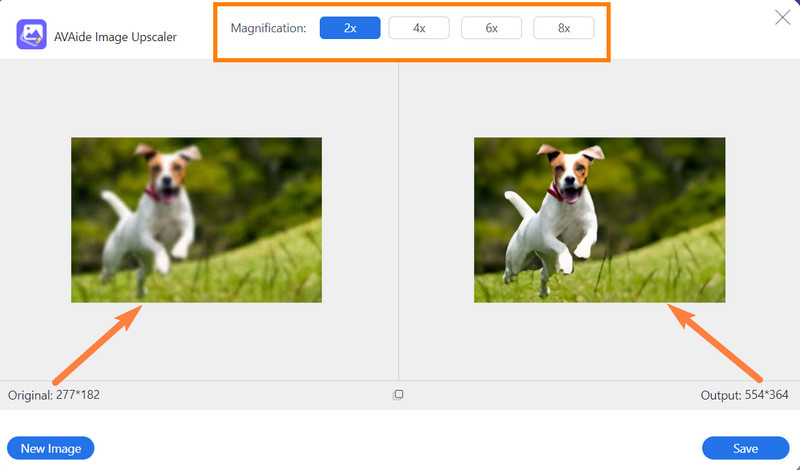 Step 3Lastly, after you enlarge the image without losing quality online and think all are good, you can now hit the Save button to export your enhanced photo. Otherwise, you can still have a choice to change the photo by clicking the New Image selection.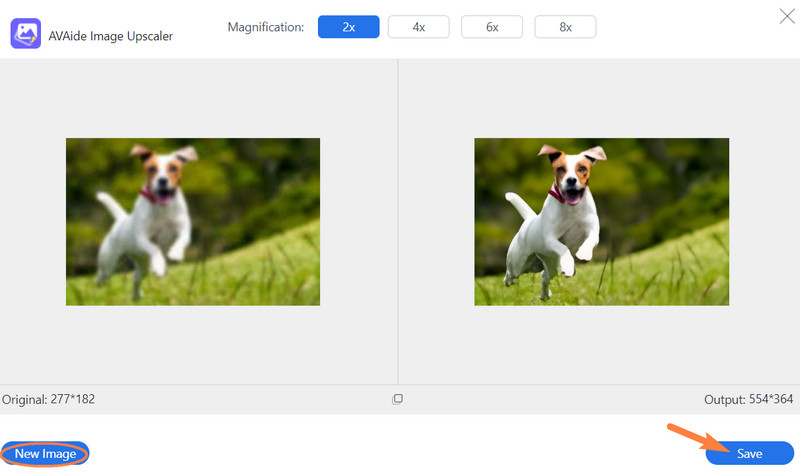 2. Let's Enhance
Let's Enhance is another free online solution that can enhance your photos. This tool should be on your list if you want to use a high-quality photo editor online. However, unlike the previous tool, Let's enhance will require you to create an account before accessing it. In addition, for its free usage, it will allow you to edit only five images. So, to increase the resolution of images online using this tool, rely on the following steps.
Step 1Go to its official website and register as a new account. After that, click the Folder icon and start to upload your photo.
Step 2Now, go to its Operations option and customize on your preference, but under the Upscale type selection, you must select the Smart Enhance.
Step 3After that, click the Start Processing button to begin the enhancement process. Wait for the process to finish, and download the enhanced photo after.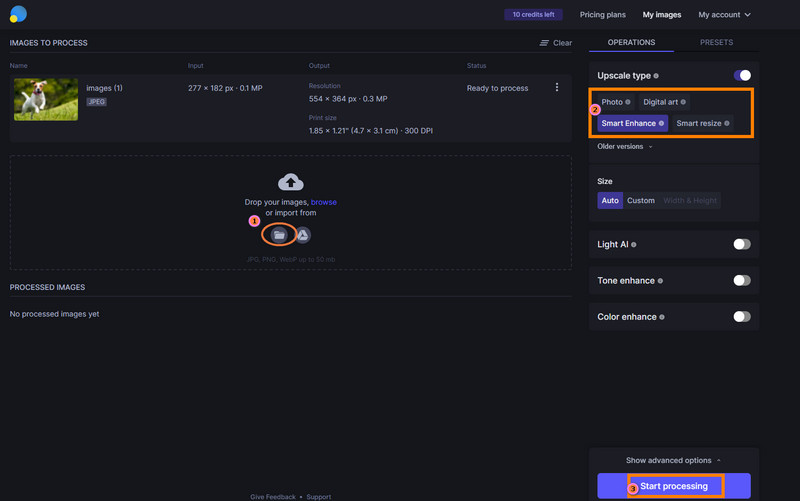 3. Upscale Pics
Next on our list is this simple but elegant online tool, the Upscale Pics. With this program, users are free to compress and remove the noise aside from increasing the photo resolution online. In addition, it also allows users to import their files via URL in its elegant interface. However, to import bulk files, you must use its pro version, which is a bit pricey for others.
Step 1Upon reaching its page, click the Select Image button for you to upload the photo file.
Step 2Now navigate to the settings located on the right part of the screen. Adjust the Increase Resolution slider as well as the Dimension to your preferences.
Step 3Then, hit the Start Processing button to begin the enhancement procedure. After that, download the image to your device.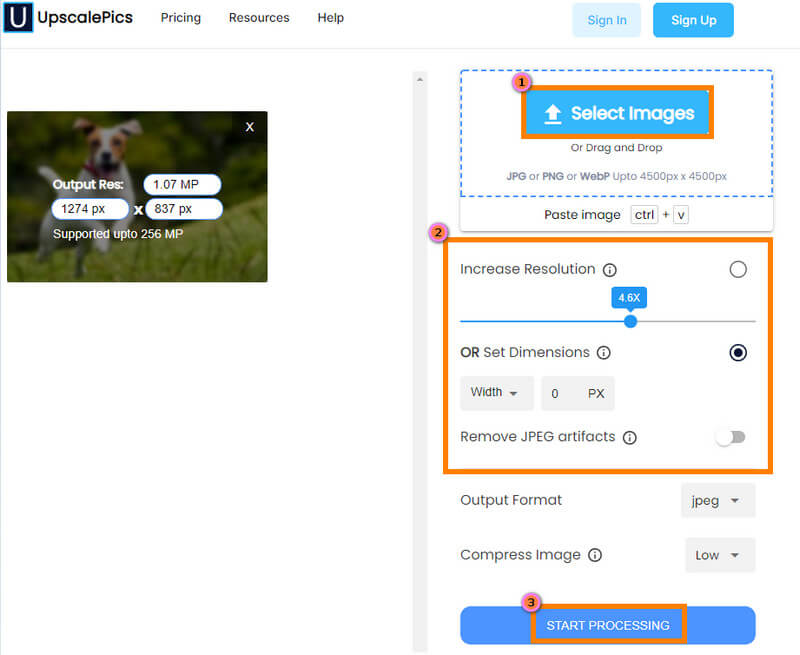 4. PixCut
Another great solution to improve image quality online is the PixCut. It is a program where you can deblur, add custom, and remove watermarks besides enhancing the photo. AI also powers it, so it works automatically on your various images.
Step 1Click the Upload Image button and load your photo once you reach the page.
Step 2The enhancement process will immediately start, which will be shown after a while. After that, hit the Download without Watermark button to export the file.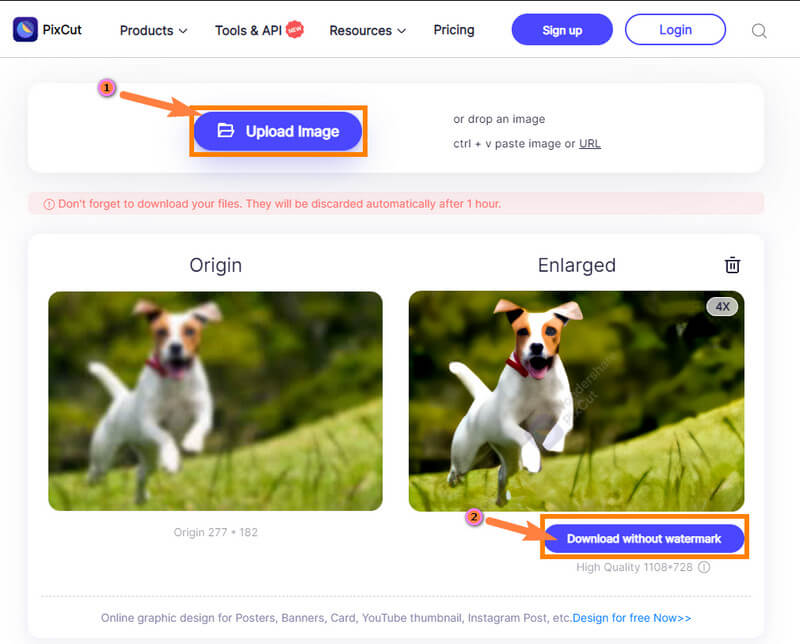 5. Fotor
Fotor is an online solution that allows users to manage their photos' color, brightness, size, and background along with its advanced editing features. And yes, Fotor will let you use it for free by choosing its free trial version. However, after the free trial duration, you will not get to access it unless you avail of its premium version. Therefore, if you want to know how to make low-resolution pictures high resolution online with Fotor, then follow the steps below.
Step 1Register by logging in to your email account upon reaching its website for the first time. After that, hit the Open Image tab, and browse for your photo.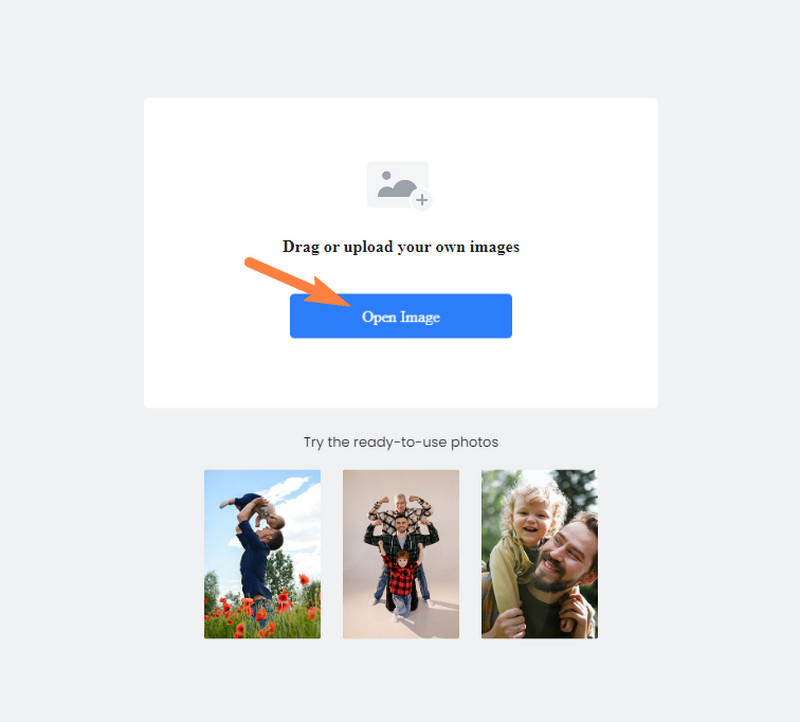 Step 2On the new page, hit the 1-Tap Enhance button. You can also navigate the Super-Resolution Enlarger selection for a better enhancement.
Step 3Lastly, click the Download button located a the right bottom-most part of the screen to export.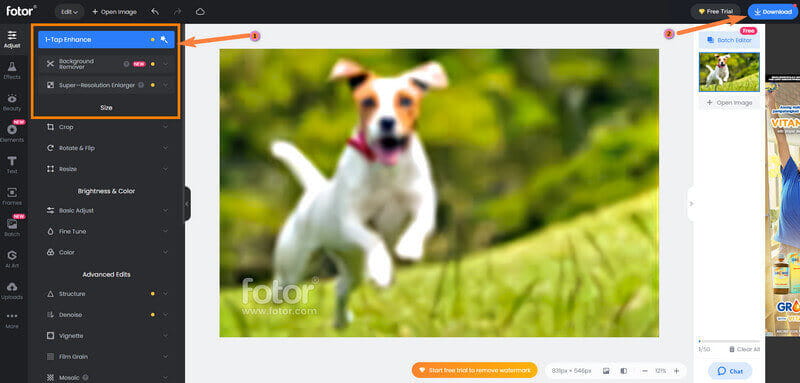 6. Online JPG Tools
Next is this online photo enhancer of JPG files. Yes, it is a tool that is dedicated to that specific image format for its input. Hence, it effectively increases as well as decreases the resolution of the photos and converts them to other formats. On top of that, it increases the resolution of images online within a straightforward procedure.
Step 1Click the Import From File selection under the Original part. Then, upload the photo that needs to be enhanced.
Step 2Then see the new photo under the New Quality part. Hit then the Save As selection to export the new photo.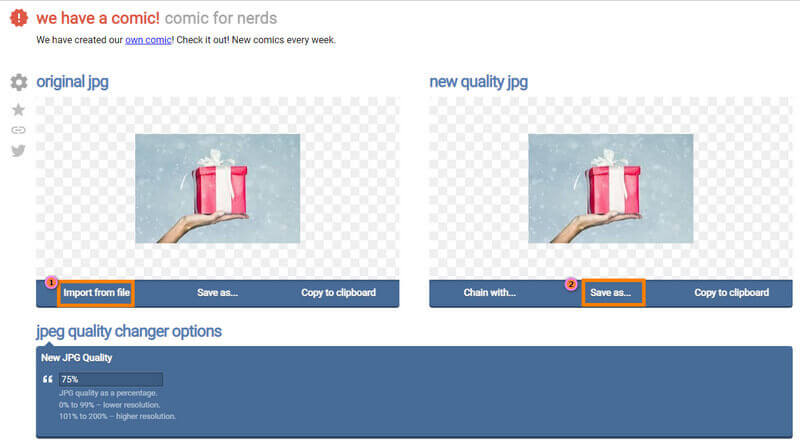 7. Smart Upscaler
Smart Upscaler is an online image enhancer of icons8. It is a tool that uses state-of-the-art AI or super-resolution technology to enhance and enlarge images. However, it freely works with watermarked outputs, which can only be removed if you subscribe to its prepaid package. Thus, if watermarks don't annoy you at all, then you may follow the steps below on how to make a picture higher resolution online with Smart Upscaler.
Step 1Hit the Browse tab on its interface, and you may start uploading your photo from doing that.
Step 2After a while, a preview of the original and enhanced photo will appear. If you are good with the product, then you can click the Download button to obtain it on your device.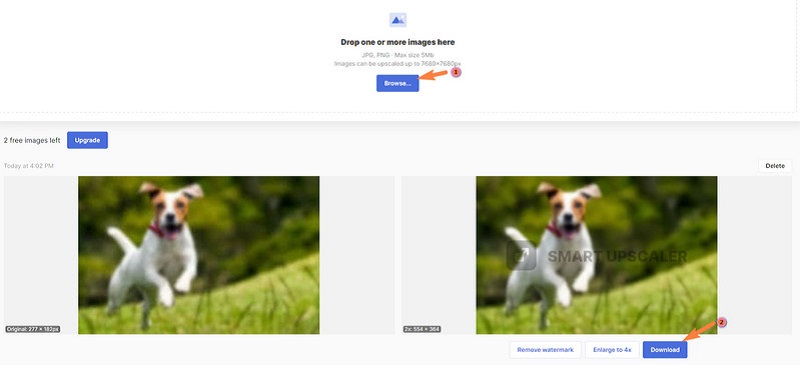 8. AVCLabs Online AI Image Enhancer
Last but not least is this AVCLabs Online AI Image Enhancer. As its name suggests, this online tool uses artificial intelligence technology to enhance resolution and boost the photo's quality. However, this photo enhancer online also has drawbacks that will affect your decision to use it. Thus, please rely on the guidelines below in using it.
Step 1Upload your photo by dragging it to the interface. Otherwise, you may hit the Click To Upload button.
Step 2When your photo is already in, feel free to navigate to Select a Feature or Scale. Then, hit the Start Processing button to begin the enhancement.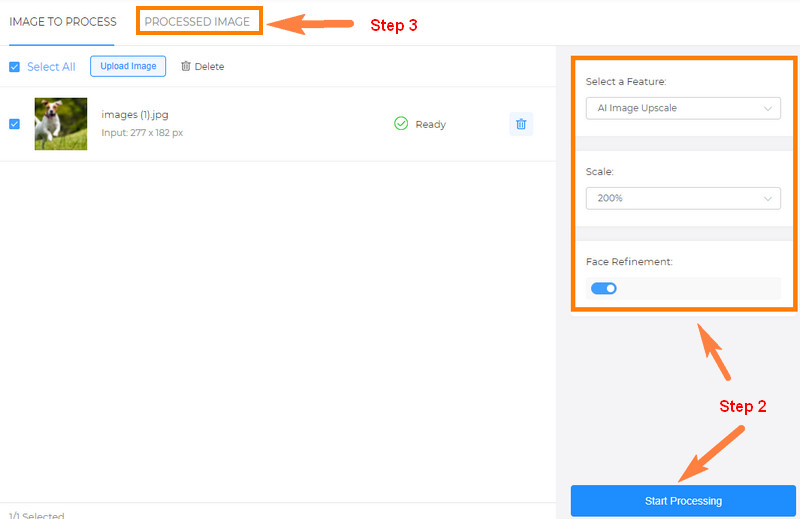 Step 3Afterward, go to the Process Imageoption to see your output.

AVAide Video Converter
The most comprehensive media converter to convert video & audio & DVD without quality loss.
Part 2. FAQs regarding Increasing Photo Quality Online Online
What is the highest photo dimension I can use?
The maximum image dimension you can have in your photo is 3000px. So, if you want to enlarge your photo, you can follow that dimension for the width and height.
How to increase the resolution of the image online using my Android?
You can access the AVAide Image Upscale using your phone, and this online tool will enhance your Android phone's photos for free!
Can I increase the quality of my images in Google Photos?
No. Google Photos is not capable of upscaling the resolution of the photo. However, it has various effects that you can apply to your photos. To increase image resolution, clicker here to learn more details.
Conclusion
Now that you have seen the eight magnificent photo enhancers you can use online, you can comfortably and smoothly enhance your images. You can use each of them on a different day, but if you want to cling to only one program, then choose AVAide Image Upscaler!
Use the Best Image to 4K Upscaler Online
Our AI technology will automatically enhance the quality of your images, remove noise and fix blurry images online.
TRY NOW