Why do you need a picture resolution enhancer? This question probably hits you while reading this article. Indeed, fantastic photography outputs are what everyone desires, even those who are not into photography. Well, who would like to see blurry photos with low resolution, right? However, as the saying goes, no one is perfect, as do photography. Therefore, there will really come a time when you will capture unpleasant pictures. For this reason, we give you numerous solutions on how to fix those photos of yours. So, without further adieu, let's get into the remedies below.
View all programs
Part 1. Top 10 Best Image Resolution Enhancers this Year
1. AVAide Image Upscaler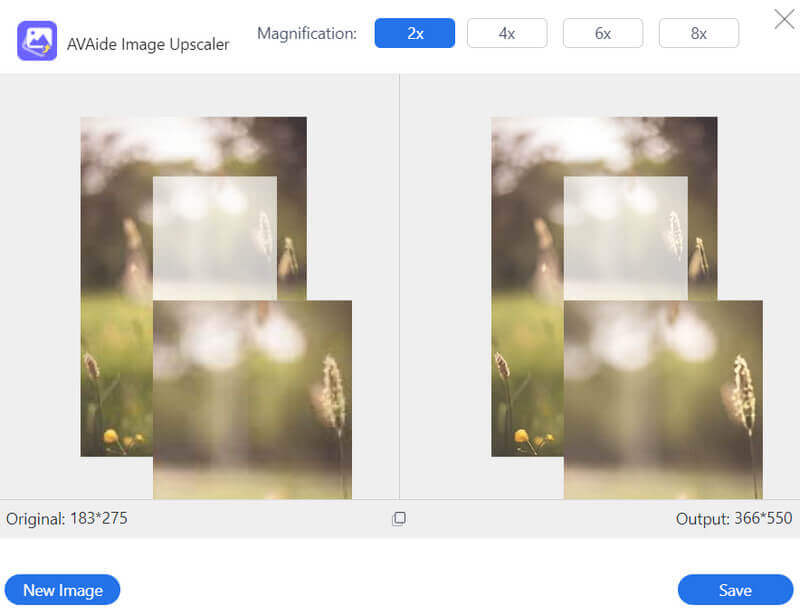 First to capture your heart is this online solution, the AVAide Image Upscaler. It is a complete solution that can bring a magnificent transformation to your photos by increasing photo resolution. It works in an artificial intelligence technology which makes the process into a different level of success. Imagine just uploading the photo, and it will instantly give you an outcome at the same time! This tool really is something to look forward to, for it can deblur, remove noise, and improve the quality of your photos without a limit for free!
Pros
It's entirely free.
No need to download any software.
No sign-up is required.
No watermark.
No ads.
Support 3000x3000 dpi photos.
It works in a few clicks.
With photo enlarger.
High-quality outputs.
Cons
It won't work without the internet.
It doesn't have editing tools visible.
2. Let's Enhance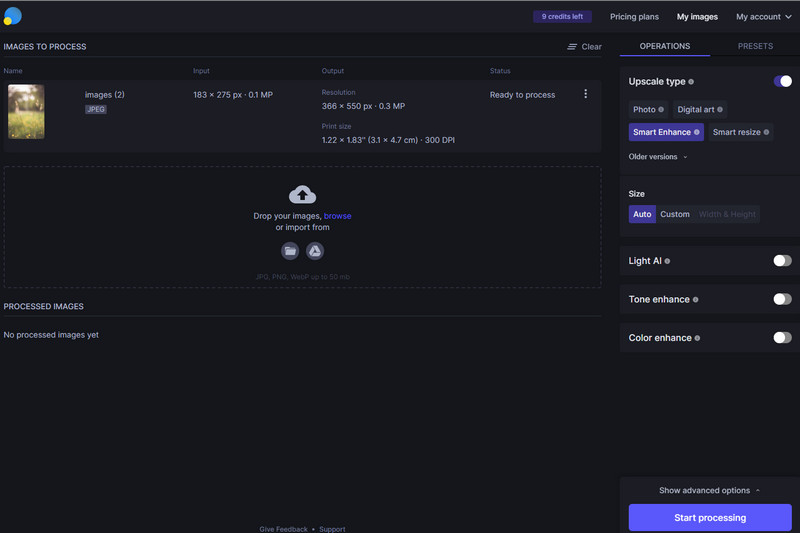 Another online AI-powered clear resolution enhancer on the go is Let's Enhance. This online solution lets you improve the hue, remove the compression and denoise, and improve the quality of your photos in just a few clicks. However, since it's AI-powered, there are no editing and effect selections that you will see on it. Nevertheless, it can upscale photos up to 16x.
Pros
High-quality outputs.
With options for size and upscale type.
It lets you import files from Google drive.
Cons
It's not completely free.
Limited credits for the free trial.
It lacks editing and effect tools.
Internet dependant.
3. Adobe Photoshop CC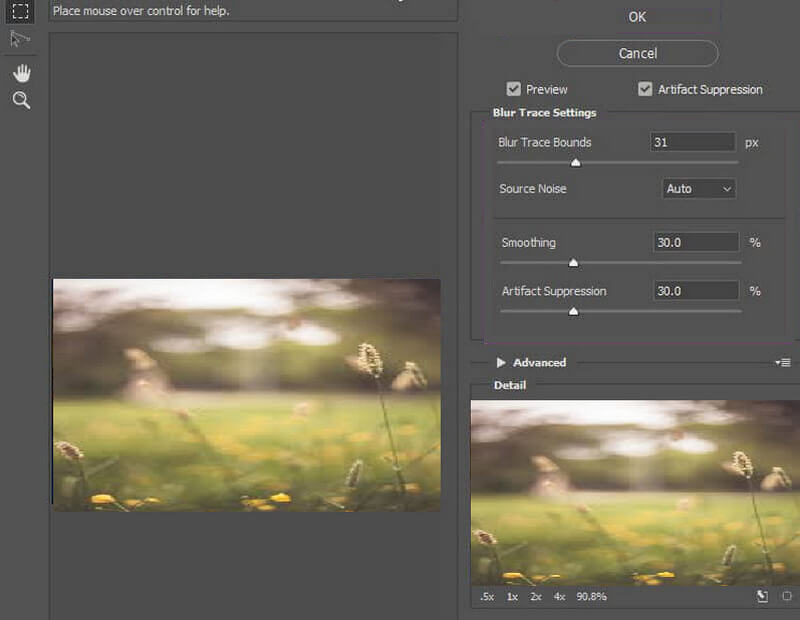 Adobe Photoshop is a popular resolution booster software. It is the one the professionals use, for it comes with powerful editing tools that help enrich the photos. Yes, Photoshop has technology that AI powers. It can replace your photos after analyzing them and figuring out where their sky is. In addition, it provides beautiful templates that were designed by artists, along with options for the enlargement, layers, and effects.
Pros
Edit your images in several ways.
With high-quality outputs.
It's for professionals.
Cons
Require much in your system.
Quite challenging for beginners.
It's not free.
4. Photo Pos Pro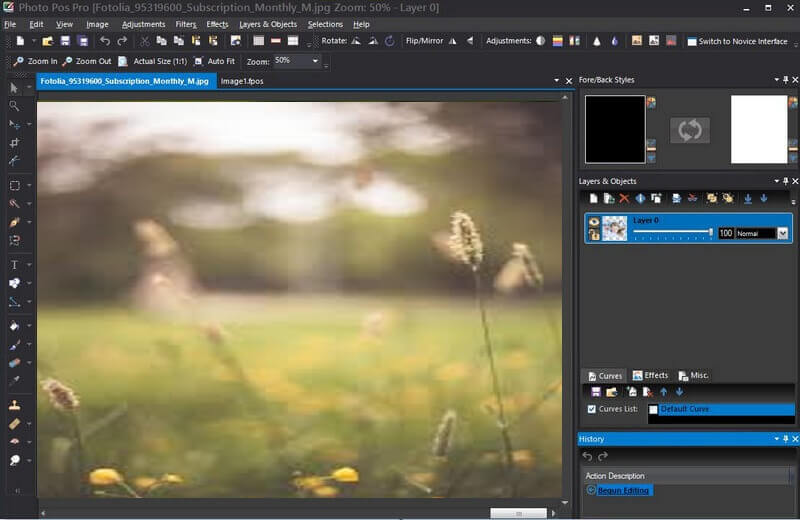 If you are looking for a resolution enhancer that works even with beginners, try the Photo Pos Pro. This software is also reliable in other tasks such as applying effects, frames, removing background, and collages. It is a tool for users of different levels because it has an intuitive interface for everyone. If you are afraid of availing its lifetime license, you always go for its free version that can give an output with a maximum of 1024x1024 pixels; otherwise, if you want higher pixels, avail of its paid version.
Pros
Easy to navigate.
Multi-purpose.
With support on various input formats.
Cons
Limited image resolution selection.
Available on Windows only.
5. Aurora HDR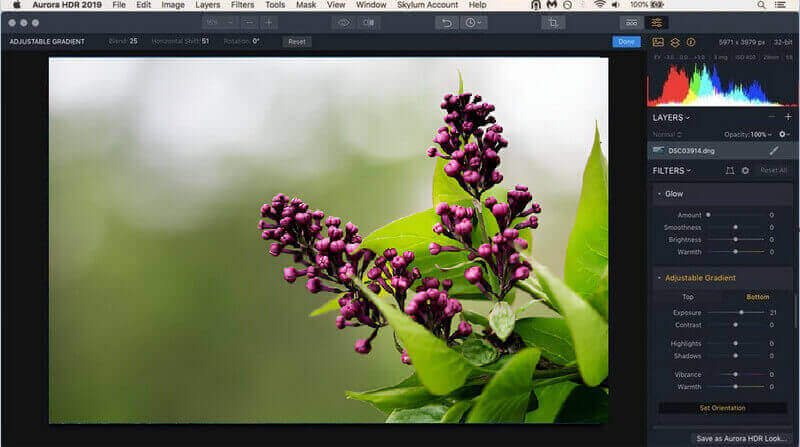 Aurora HDR is a powerful low-res photo enhancer that produces exceptionally high-quality outputs automatically. It has an artificial intelligence technology that works on everything in progress. In addition to that is its more than 100 properties of functions and tools, including noise reduction, color improver, lens correction, and many more.
Pros
With numerous functions of photo enhancement.
It supports LUts presets.
Many filters are available.
Cons
Not that user-friendly.
It is sometimes slow in the process.
6. Pixlr X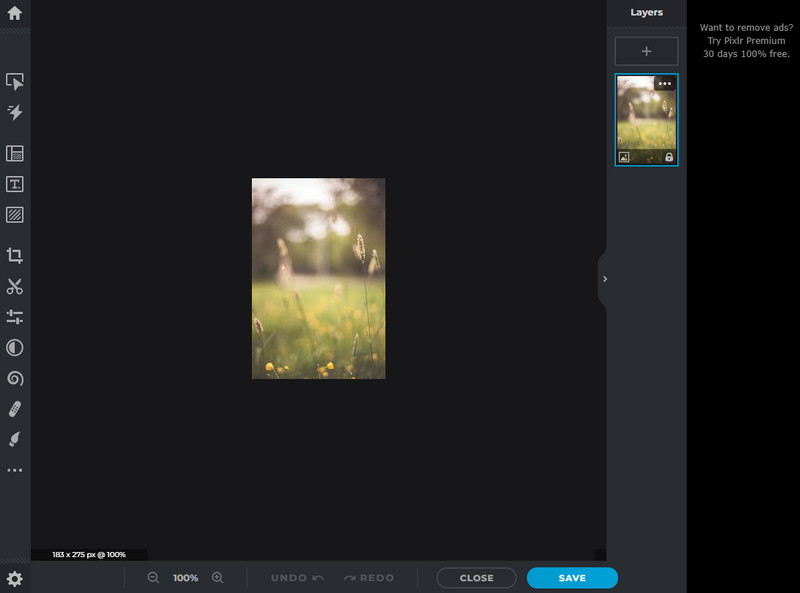 Pixlr X is another great online solution that works along with many attributes that you will love. It can handle and improve your photos' brightness, hue, color, and exposure. On top of that, this free photo resolution enhancer can also bring you various types of effects that can beautify your photos for free. However, its free version contains ads on the walls, which will only be removed when you avail of its premium package.
Pros
Easy to use.
It comes with multiple presets and effects.
Infused with advanced editing tools.
Cons
Internet-reliant.
It supports limited output formats.
The free version has ads.
7. Lumii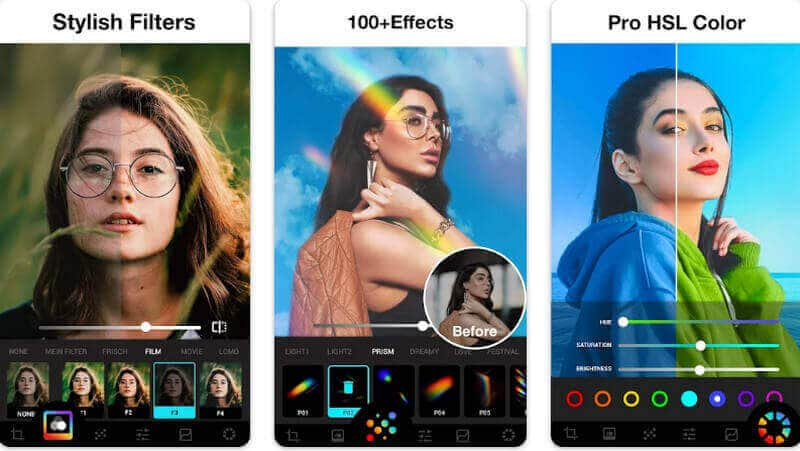 Lumii is an app that will provide you with qualitative photo enhancement features. It can transform your phone images into an extraordinary using its trendy effects tag along with its multiple editing tools. Moreover, it is a resolution enhancer that works for you in gratis, which means you will only spend a dime for its in-app purchases.
Pros
User friendly.
Come with essential photo editing tools.
Cons
Not a free-ad app.
It sometimes crashes.
8. Snapseed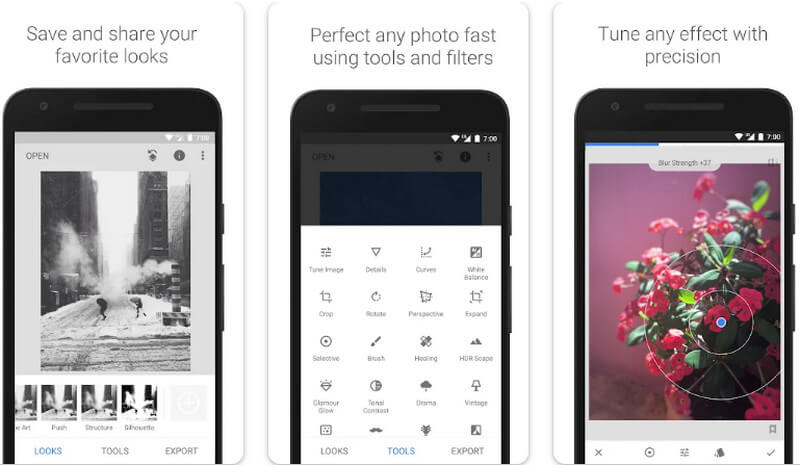 Snapseed is a powerful photo editing app that takes action with one tap. This is true with its face enhancer, which is one of its best attributes. It is why you need this app if you want to enhance your appearance in your selfie pictures.
Pros
It comes with beautiful filters and effects.
One-tap navigation on face enhancement.
Easy-to-understand interface.
Cons
Bugs are in the system occasionally.
9. My Heritage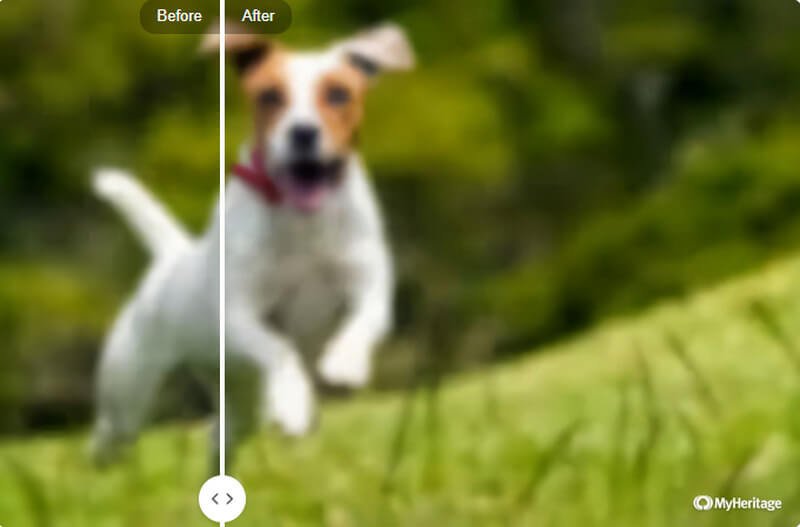 Pros
Enhance the photos instantly.
Ease to use.
Cons
The outputs are with watermark.
It requires registration before the enhancement process.
10. Microsoft Photos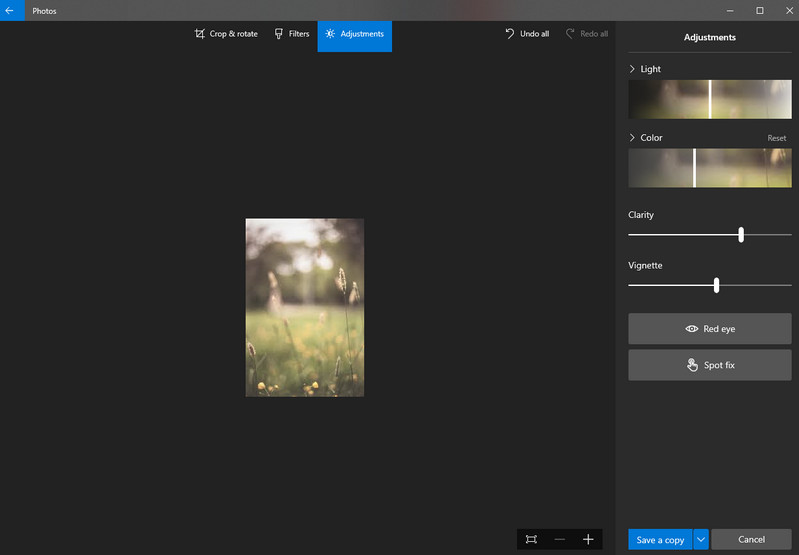 Last but not least is the Microsoft Photos. It is software that comes in a preinstalled manner on Windows 10 PCs. Furthermore, this free photo resolution enhancer has a responsive and easy-to-use interface, making it very intuitive for beginners. One of its highlights is its ability to automatically create albums based on groupings and dates.
Pros
It supports the most popular image formats.
It can directly edit the photos you just took on your PC's camera.
No need to download if you use the required Windows system.
Cons
It has no before and after preview.
Limited system support.

AVAide Video Converter
The most comprehensive media converter to convert video & audio & DVD without quality loss.
Part 2. FAQs about Enhancing the Image Resolution
How does an enhancer of a photo work?
A photo booster works on the part of the photo that needs more pixels. The enhancer will continuously fill the areas with colored shapes until it achieves sparsity.
Is Paint a free photo resolution enhancer?
Paint is free software, but it cannot enhance the resolution of a photo.
What are the benefits of enhancing image resolution?
Having a high-resolution photo will let you and your viewer appreciate the photo more. This is because if the photo has a high resolution, it means it has many pixels. More pixels will lead to a high-quality and crisp image display.
Conclusion
The ten enhancers in this article are all reliable. They all give the perfect impression of enhancing photos. However, if you are looking for the most efficient one, then we highly recommend the AVAide Image Upscaler. And if ever you need an enhancer for your videos, there is nothing you can lean onto but the AVAide Video Converter. Try it to believe it!
Use the Best Image to 4K Upscaler Online
Our AI technology will automatically enhance the quality of your images, remove noise and fix blurry images online.
TRY NOW